There are a lot of brick-building games out there, with some showing more promise of a comprehensive gaming experience than others. So naturally, you want to choose a game you won't regret downloading. One of these is Draw Bricks.
Draw Bricks is an offline game available to every Android mobile gamer out there, holding few requirements to be played and presenting more than you'd expect from a game of its size. But, unfortunately, this isn't enough information for you to decide on getting the game or not, so we've got you.
This article goes in-depth into everything you need to know about Draw Bricks, including the following aspects.
All About Draw Bricks
Key Features of Draw Bricks
How to Play Draw Bricks
How to Download Draw Bricks
Tips for Enjoying Draw Bricks Even More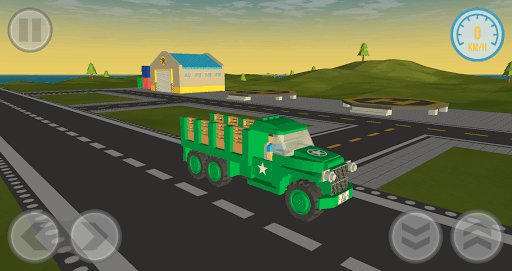 All About Draw Bricks
Released in July 2016, Draw Bricks is a game by Bruno Sousa that gives you all the freedom you can wish for in a brick-building game. You don't just create buildings or new landscape elements, but the game offers you the freedom and tools to create a whole community of your own, just with bricks.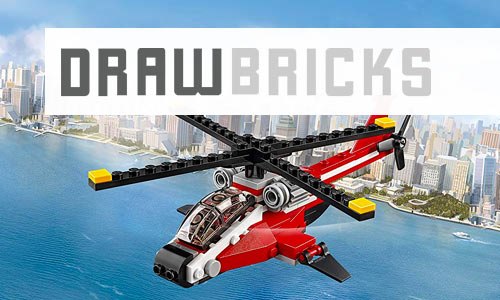 Although bricks are shaped like Lego blocks, you definitely get more value than Lego games typically offer you. With Draw Bricks, you have access to 200 different types of blocks in different textures and also have the freedom to customize these blocks to the color you want them in.
Draw Bricks is a fun 3D-building game suitable for both adults and children. These are adults and children who wish to channel their creativity into building a magnificent community of humans, vehicles, buildings, and landscapes with their mobile devices.
New pieces are added to the game regularly, and you enjoy improved game physics that brings a little bit of realism to the world you create.
Why You Should Download Draw Bricks
For a game with little publicity, Draw Bricks is one game you won't regret installing if you love building things. This is because it holds an average 4.2 rating on the Google Play Store from over 42,000 reviews.
The offline simulator has also enjoyed over 5 million downloads on the Google Play Store and is only rated 3+, meaning it is a game for all ages.
Key Features of Draw Bricks
Draw Bricks comes with a load of features geared towards channeling your creativity properly. These range from tools to build your characters, vehicles, buildings, and landscape to tools for integrating these and bringing them to life.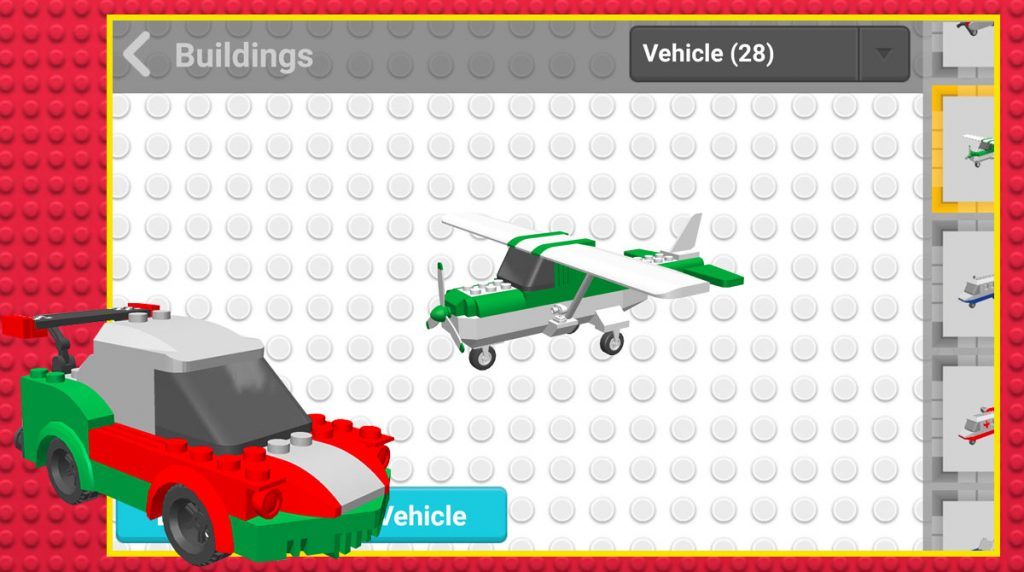 The most important feature you will find yourself using the most is the blank workspace. This is the blank platform that gives you the utter freedom to build the elements of your world.
This platform is accompanied by a blank board, building tools on the left panel of the screen, and a panel on the right of the screen where you choose your blocks and their colors.
The left panel is filled with tools like a cursor for panning around the object you are creating, writing tools for making inscriptions, filler tools, an eraser tool, and other tools you find in popular design software programs. Within the workspace, you also get to zoom in and out of the object you are creating with your fingers and add preformatted objects into the workspace for easier visualizations.
Preformatted Objects Available in Draw Bricks
Draw Bricks places a barrage of preformatted items at your disposal. These are items that serve as base textures for you to make edits and add to your world. Ordinarily, you have the basic building bricks with either one pin, two pins, or four pins. The other bricks have special shapes, like curved extensions, oval-shaped bricks, flower-shaped bricks, and door-shaped bricks.
There are those that look like cookers and fridges, among others. You even have bricks that look like whole humans, and these allow you to create a diverse community within your world. Preformatted textures allow you to easily create a world by adding elements that would've been rather difficult to create on your own.
You just edit the color and inscription on these preformatted textures. What's more, these textures are split into different categories for different types of elements you want to add to your world. For example, there are textures dedicated to creating buildings, landscapes, and different vehicles like cars, heavy-duty machinery, and airplanes.
How to Play Draw Bricks
Playing Draw Bricks is simple. The only hitch you may have is how to channel your creativity into building the elements of your world using the bricks at your disposal.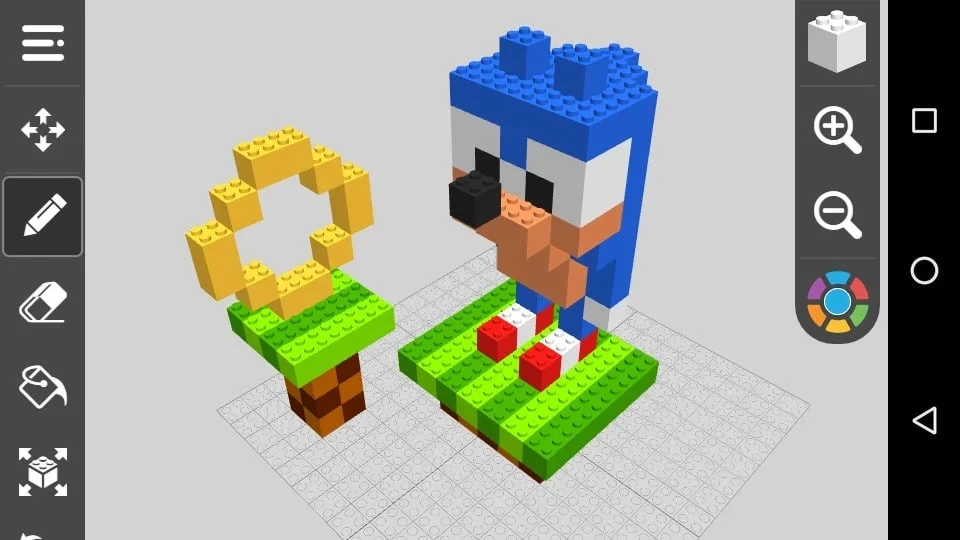 With your blank workspace, you simply select a brick from the top of the right-hand panel. Next, you select the color you want it to be from the bottom palette and tap where you want to place it on the blank board.
Once you place it on the board, you edit it using the tools on the left panel. These tools additionally include tools to move, expand, duplicate, rotate, and change the settings of how certain bricks behave, among others. You zoom in or out of the workspace by using just two of your fingers.
Once you are done with creating your world, you hit the menu button and take an image of it or save your work immediately.
Creating Unique Houses and Vehicles
Although the default mode of Draw Bricks offers you the complete freedom to create any structure of your choice, building certain structures for your world could be difficult. The developers recognize this and provide you with frameworks and templates for building unique houses, vehicles, and animated characters.
To use these, you go to the right-hand panel and select the "House" icon below the brick icon. Next, you select the category of unique preformatted objects you want to edit or import into your space.
These categories range from 26 templates for buildings to 33 templates for vehicles and 13 templates for animated characters like dogs, chickens, and even monsters.
How to Download Draw Bricks
Draw Bricks is only available on Android devices with version 4.4 and higher, and you can get it through the Google Play Store.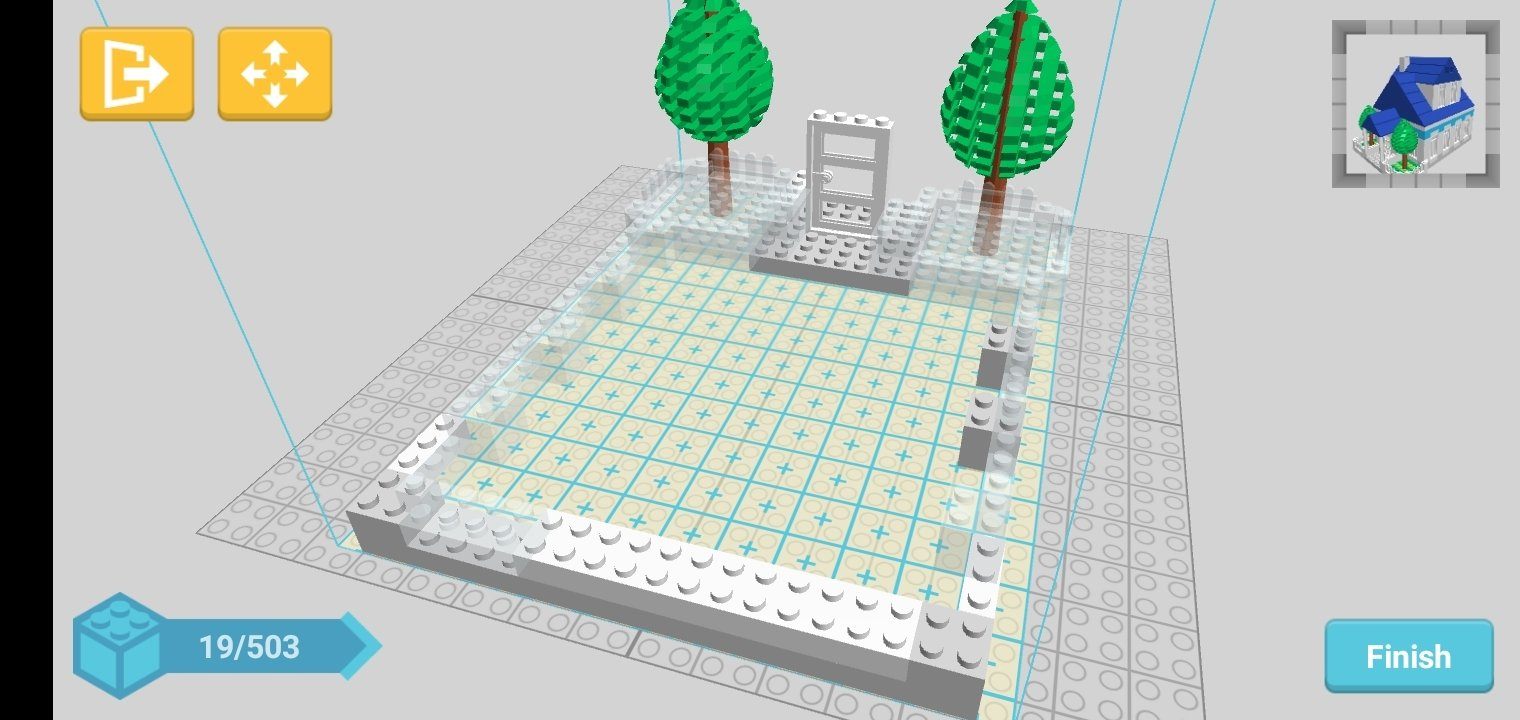 To download Draw Bricks, make sure you have at least 20MB of free space on your device. Once you have enough space, go to the Draw Bricks Google Play Store page and hit the install button.
The game automatically gets installed on your device, and you have access to the important bricks, templates, and features to comprehensively build your world.
Additional Resources
Draw Bricks gives you access to a comprehensive collection of brick textures and templates to enjoy the game to the maximum. However, you need to pay to enjoy an ad-free experience, and the game also has a store where you may purchase an additional premium pack.
This additional premium pack contains special objects like a mine worker, windows, a barrel, and a volcanic rock, to mention a few.
Tips for Enjoying Draw Bricks Even More
There is more enjoyment in Draw Bricks than just building houses, landscapes, and humans. Vehicles present you with the complete experience the game offers.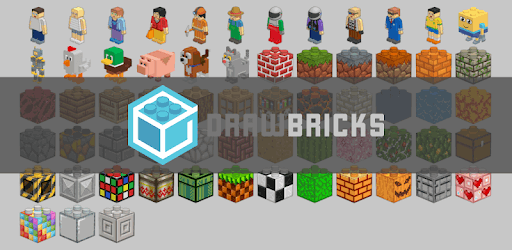 You build unique vehicles and get to drive them all around your world. By doing this, you see how your world looks from the perspective of the animated characters you have placed in it.
Airplanes are flown through the air, boats are driven on the sea, and you even have heavy-duty vehicles with the functionality to do what they are designed to do in the real world; carry and break down heavy structures.
When browsing through the vehicles category for unique objects, you can test out the different vehicles across multiple terrains and landscapes. The developers have already built these landscapes for this purpose.
Physics and Additional Features
As mentioned, the use of vehicles within the game offers you the most comprehensive experience. In fact, when you crash a vehicle, bits of it fall off, and these bits fall off depending on the part of the vehicle you crash. You even see an explosion if the impact is huge.
What's more, AI functionalities have been recently introduced into the game. What does this mean? Your animated characters like humans, monsters, chickens, dogs, and cats come to life within your world.
This brings the maximum level of realism you can achieve with a game that doesn't cost you more than 20MB.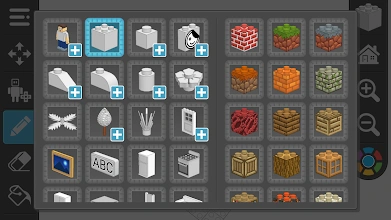 Conclusion
Draw Bricks is a 3D-building game that presents you with all the freedom to convert mere bricks into a world of interactive characters, communities, and landscapes. You don't just create these to admire but also get involved in your world by driving vehicles through it and seeing your characters to life.
If you are interested, get the game on your Android device by visiting the Draw Bricks Google Play Store page.