Keeping a child engaged on a rainy day is not easy, especially when you need to get some work done. Letting them play outside is out of the question, and you probably can't have their friends over because of the rain.
Mobile games are a suitable way to keep your child busy. You'll have time to do other tasks, and you won't worry about them catching a cold outside.
Stories World is a simulation game that engages a child's mind positively. Read on to find out all about the game's features and how to play it.
About Stories World
Features of Stories World Travel
How Do You Play Stories World?
How You Can Download Stories World: Travel
Tips for Success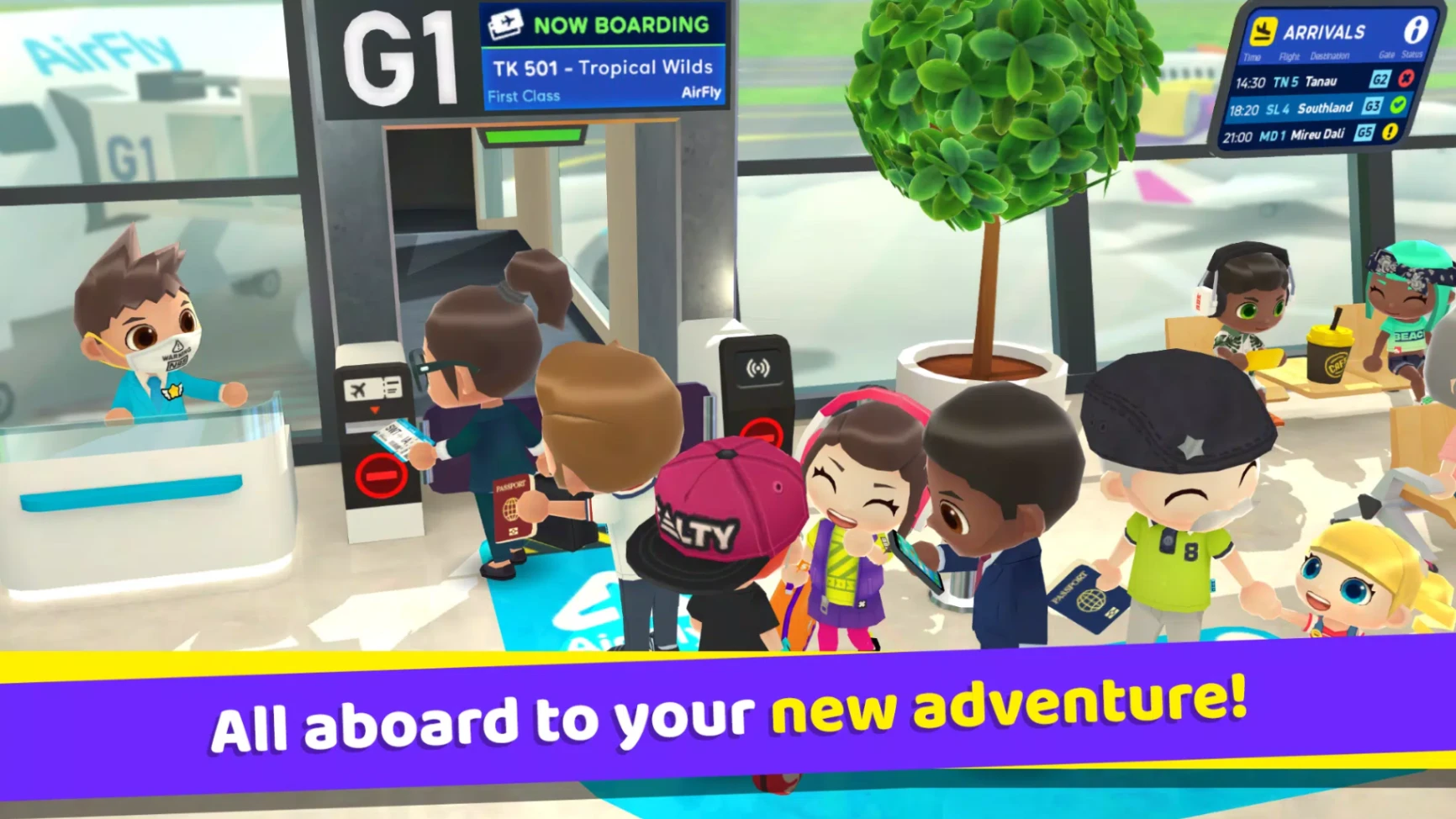 About Stories World
Stories World is a child-friendly game that allows your kid to explore their imagination and create their own travelling stories. There is no contest or level to win, so they're free to interact with the game characters however they please.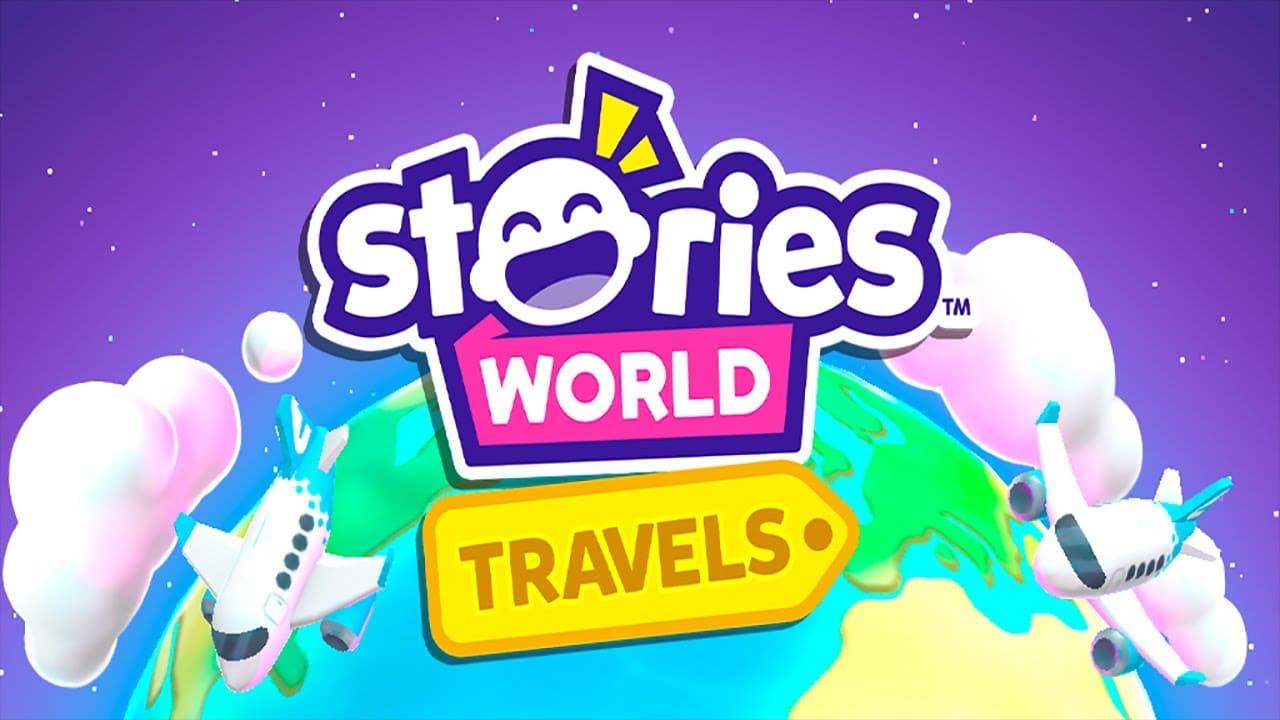 The game allows them to tour their city and travel to other destinations and fun islands. Unfortunately, some islands are locked, so you'll have to make a purchase to access them.
The developer of Stories World, Subara, is a game development company that creates gaming experiences for children. If you're having issues with the game, there's a support page on their website where you can find a solution.
On the Google Play Store, it's rated as a teacher-approved game. Other games from Subara are Urban City Travels, Daily Shopping Stories, and Sunny School Stories.
A Safe Game for Young Children
Subara created Stories World with children in mind. It's entirely safe for children from ages 3 to 12. Players don't need to read or respond to dialogue boxes, so your child doesn't need to know how to read before playing the game.
Unlike most games, Stories World is completely free of violent and sexual content. As a result, parents don't need to worry about what their child sees and does within the game.
Additionally, the game takes out the reward system that competitive games use to make players addicted. The absence of a reward system prevents gaming anxiety and addiction.
Features of Stories World Travel
Stories World's main feature is that it doesn't dictate how the game should go. Instead, it gives the players the characters, the environment, and the ability to travel from one place to another. It's left to you what stories your imagination can dream up.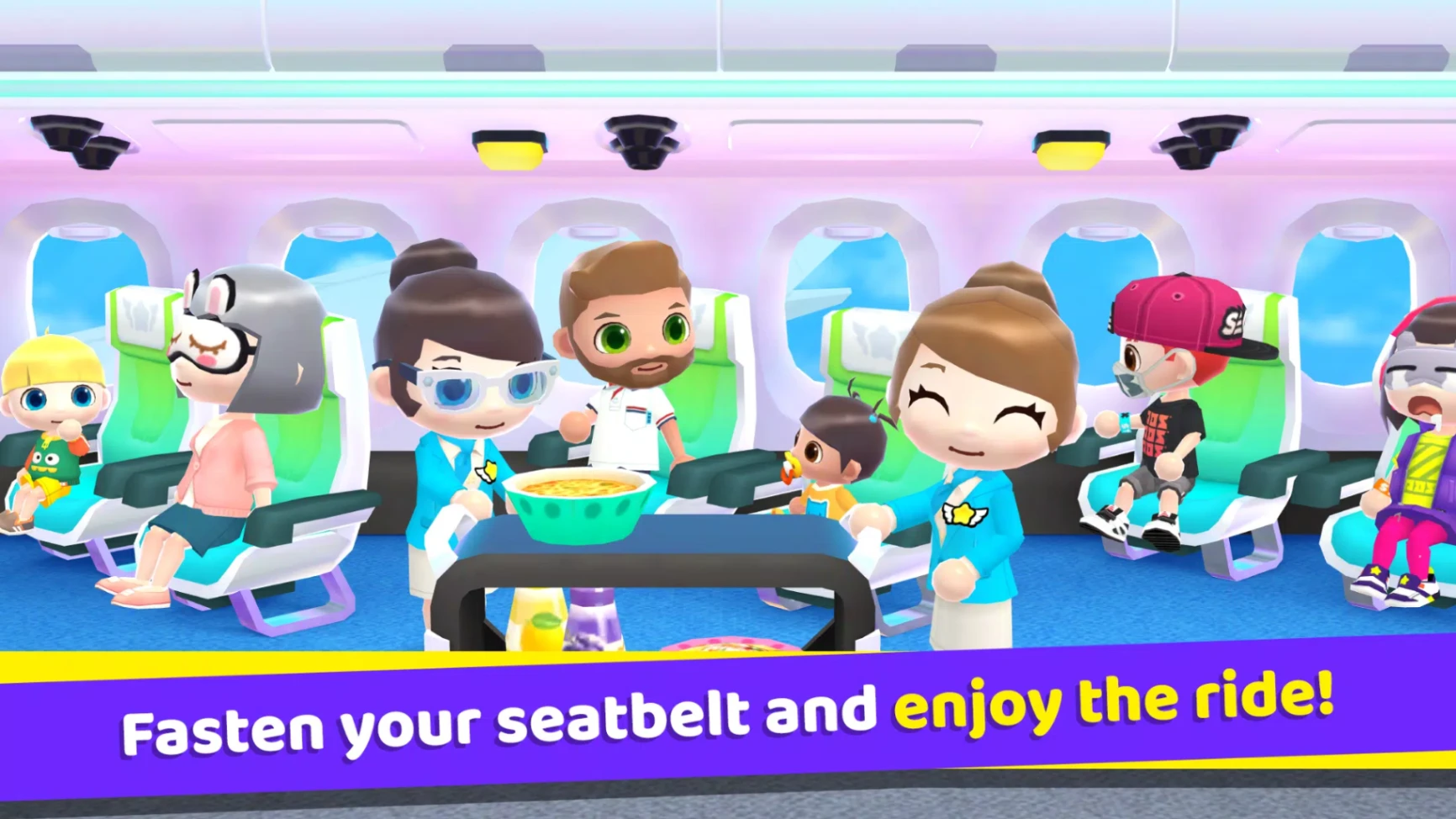 The game starts with one city, Blue Sky City, where you have the airport, an apartment, and a street kiosk. There are 19 game avatars to use to tell your game story. Some are airport staff, store managers, parents, and travelers.
Another feature to look out for is the travel feature that makes transportation within the game less complicated for its target audience. For example, tap on the earth icon to move from one location to another. It'll take you back to the city's aerial view, and from there, you can go anywhere you want.
The game store shows which areas you have access to and the places you don't yet own. Each city's cards show how many buildings or facilities it has, the number of avatars in that city, and the number of objects for interaction.
Ethical Gaming and Environmental Care
It's no news that our World is currently facing a climate change problem. In Subara's own little way, they're making an impact using the Stories World game.
How do they do this? Each time a player purchases a feature on the game, they fund tree planting activities. So far, they've planted over three hundred thousand trees.
With this feature, children who play the game will learn lessons beyond training their imagination. They'll learn to care about their environment and become more interested in playing their part in combating the adverse effects of climate change.
How Do You Play Stories World?
Stories World is a simple and easy game to play. Essential functions within the game, like moving your avatar, interacting with an object, or placing items in the avatar's hand, are as easy as tap, hold, and drag. Since there isn't a story or plot, you can give your characters names and group them into families.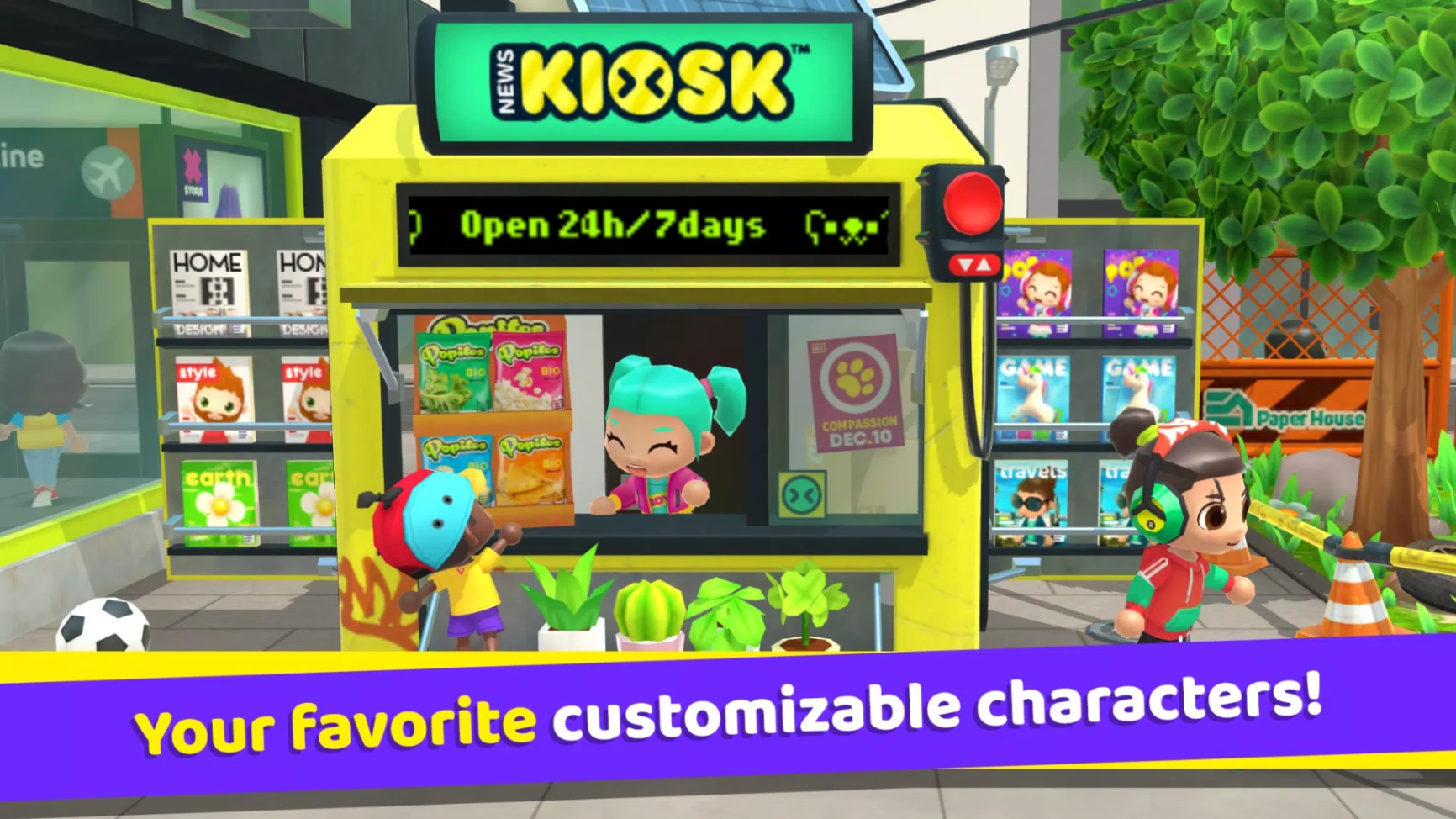 The game locations provide ample opportunity for your imaginations to explore. The Blue Sky City airport has a departure and arrival area where players help their avatars to buy plane tickets, go through security checks, and board a plane. Avatars can also purchase items like clothes, claim their baggage, and ride the elevator to the street.
There's a small kiosk on the street, an unruly garden, and the entrance to the apartment. Activities kids can do on the road are picking up trash, buying a drink from the vending machine, getting a flower pot, and tending to the garden.
The apartment has features for a family of three: a father, mother, and a baby. It has a kitchen where players can cook, serve the meal on plates, and feed it to the avatars. There's also the bedroom where your avatars can fall asleep and the bathroom where they shower.
Interacting with Your Game Avatars
Aside from all the traveling, another fun part of Stories World is how you get to interact with your avatars. Players interact by getting them ready for the day, changing their clothes, showering them, or changing their emotions and facial expressions.
To change their facial expressions, tap and hold the avatar's face, and a menu of emoticons will pop up. Pick one and watch your avatar's face transform into the happy, sad, or cute look you chose.
Move the avatar with your finger into the shower when it's shower time. The showerhead automatically turns on or off when you put the avatar in or take them out. When you've decided that they're clean enough, take the avatar out of the shower and dress them in fresh clothes.
How You Can Download Stories World: Travel
Players can download Stories World on Android and iOS devices. On the Google Play Store, the game appears as Stories World™ Travels. While writing this article, the game was ranked among the top ten educational games.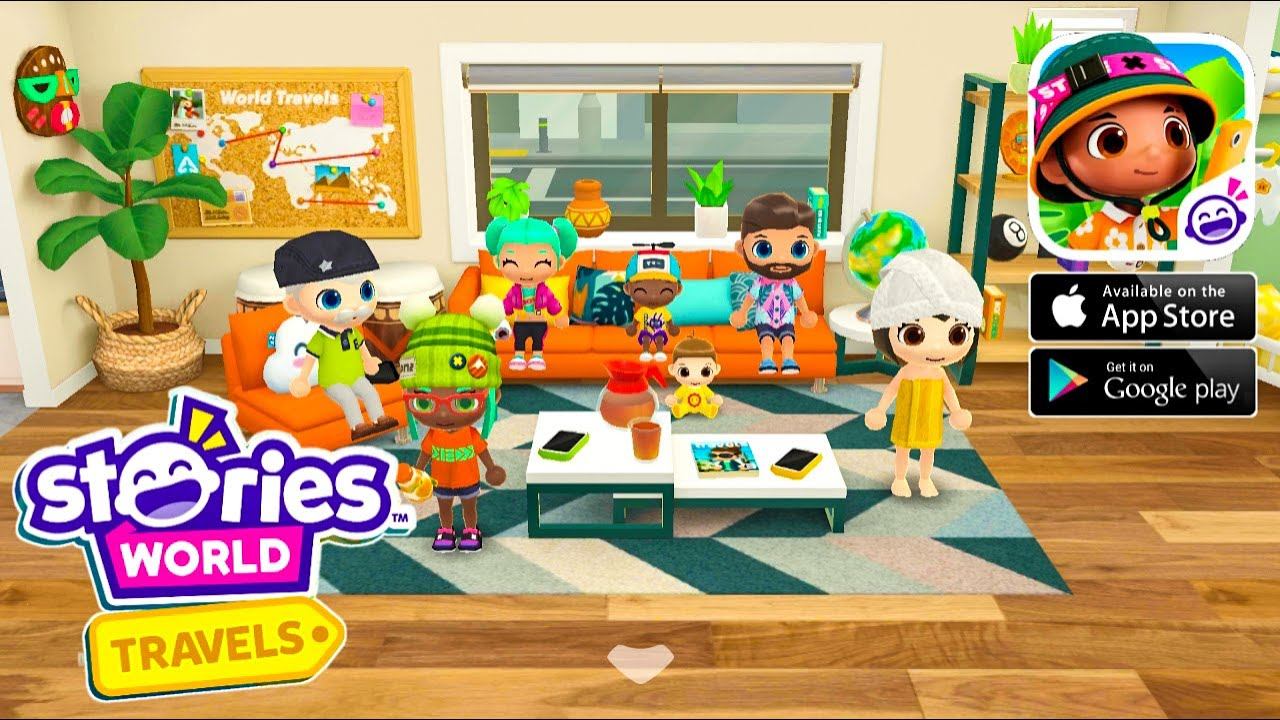 On the Apple Store, it appears as Stories World: Travels with the subtitle "Create a vacation lifeworld" and is rated five stars. Although the apple version is primarily for iPads, kids can also play Stories World on an iPhone.
Both mobile versions are available in six languages: English, Spanish, Portuguese, Italian, French, and German. To change the game language, visit the in-game settings and tap on the language option. The content language will change instantly.
Data Safety
To earn profits, some game developers collect and share user data with third-party organizations. Some do this directly, while others supply advert providers with user data for ad targeting.
You might like to hear that the developers of Stories World do not collect or share your data. Subara even includes a data safety page on the Google Play platform to let users know how safe their data is.
For parents, this is one of the best features. You'll be sure no one is collecting data and monitoring you or your child's behavioral patterns.
Tips for Success
Stories World is not a game where you beat levels or build anything to win. You don't have to win prizes or accumulate points to earn game features. Instead, you're free to dictate what success is and play a game without competition or anxiety.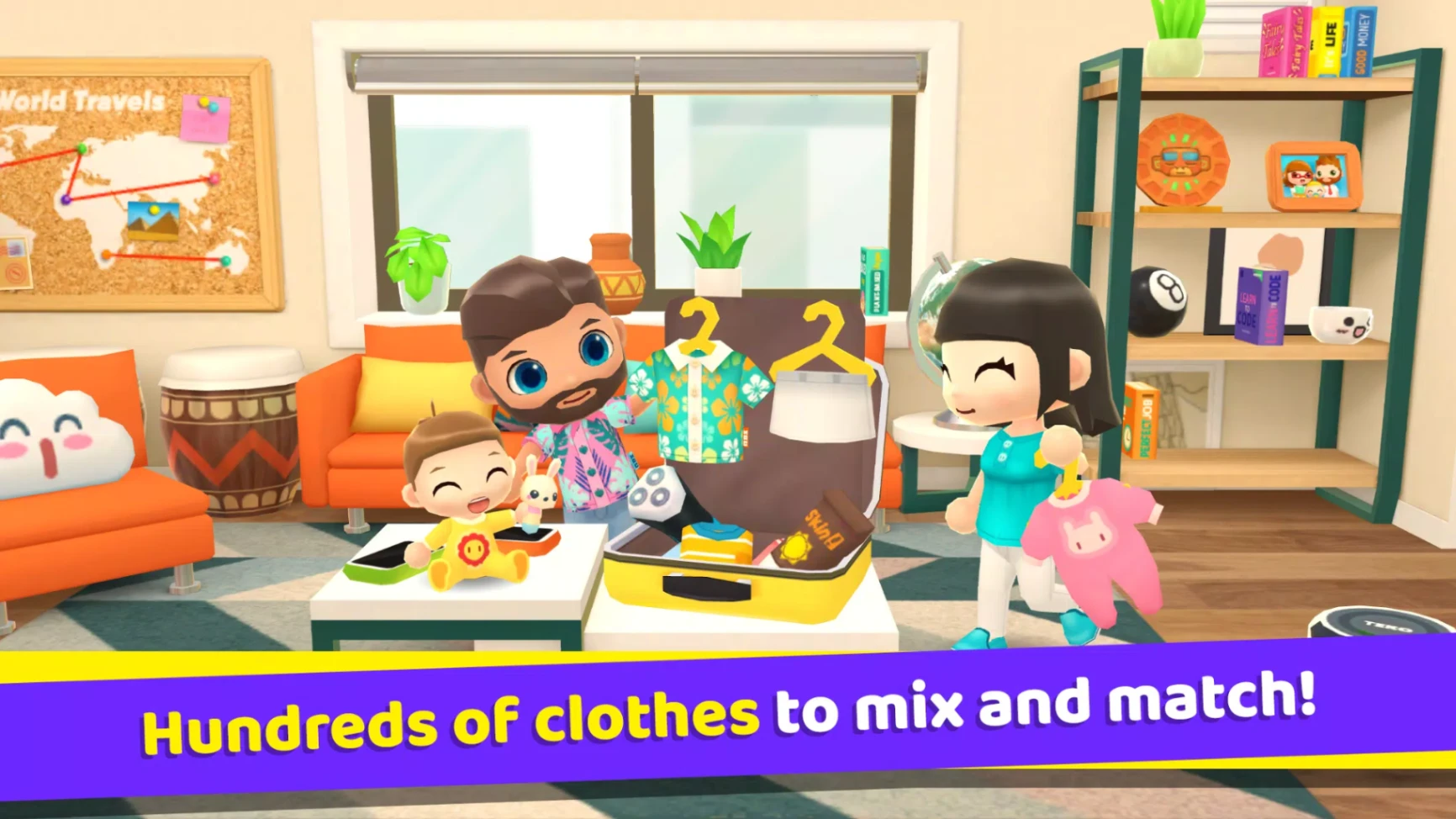 That said, there are more ways to enjoy playing Stories World. One vital tip is to remember that it's a game of curiosity. If you're not exploring and poking at random objects to see what they do, you're not taking full advantage of the game.
There are objects hidden everywhere! Take your time to tap around the airport, your apartment, or the street. You'll uncover new and fascinating items.
If you want to enjoy the best of Stories World, you should visit other locations. Aside from Blue Sky City, there's the Airplane and the Tropical Wilds island. Unfortunately, the island called Sakura District is not yet available to visit.
Are There Paid Features?
Stories World is free to download and explore the free Blue Sky City. However, visiting other locations like the Airplane and the Tropical Wilds is a paid feature.
Without paying to access the airport, you wouldn't be able to get on the plane and care for your avatars already on it. While on the plane, players can put away passengers' bags and serve snacks. If there's turbulence, the player helps the avatars put on life jackets.
Then there's the Tropical Wilds, a fun island where you'll help your avatars swim in the jungle pool and take a nice, relaxing nap at the Kiki resort. There's also a monkey temple with treasures waiting for you to search and find them.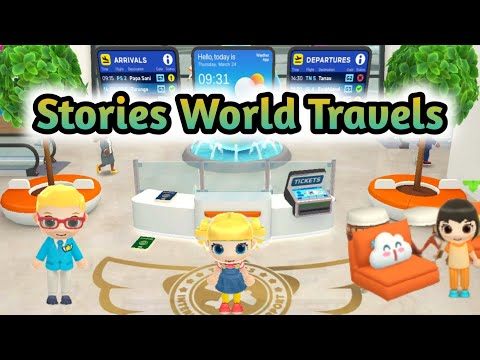 Conclusion
Subara's Stories World is a violence-free game and does not contain triggers or sexual content. In addition, there aren't ads that may show harmful content or make a child click where they shouldn't.
Overall, it's a great game for helping children explore their imagination positively and learn to care for their environment. If you're fond of travelling and want to take your child on a trip, Stories World will help your child ease into the idea of changing environments.