When you hear "Talking Tom," you immediately think of a cat friend that is always available if you have anything to talk about. Repeating words and even having interesting conversations, Talking Tom and its entire franchise have been friends to many.
From Candy Dash to Gold Run and Hero Dash, there are now new ways to have fun with our dear friend. However, one other game within the entire franchise has caught the attention of many; Talking Tom Jetski.
What is this game that makes it so interesting to mobile gamers? This article takes you through all you need to know about the game, including
Introducing Talking Tom Jetski
Key Features in Talking Tom Jetski
How to Play Talking Tom Jetski?
How to Download Talking Tom Jetski?
Talking Tom Jetski Tips for Success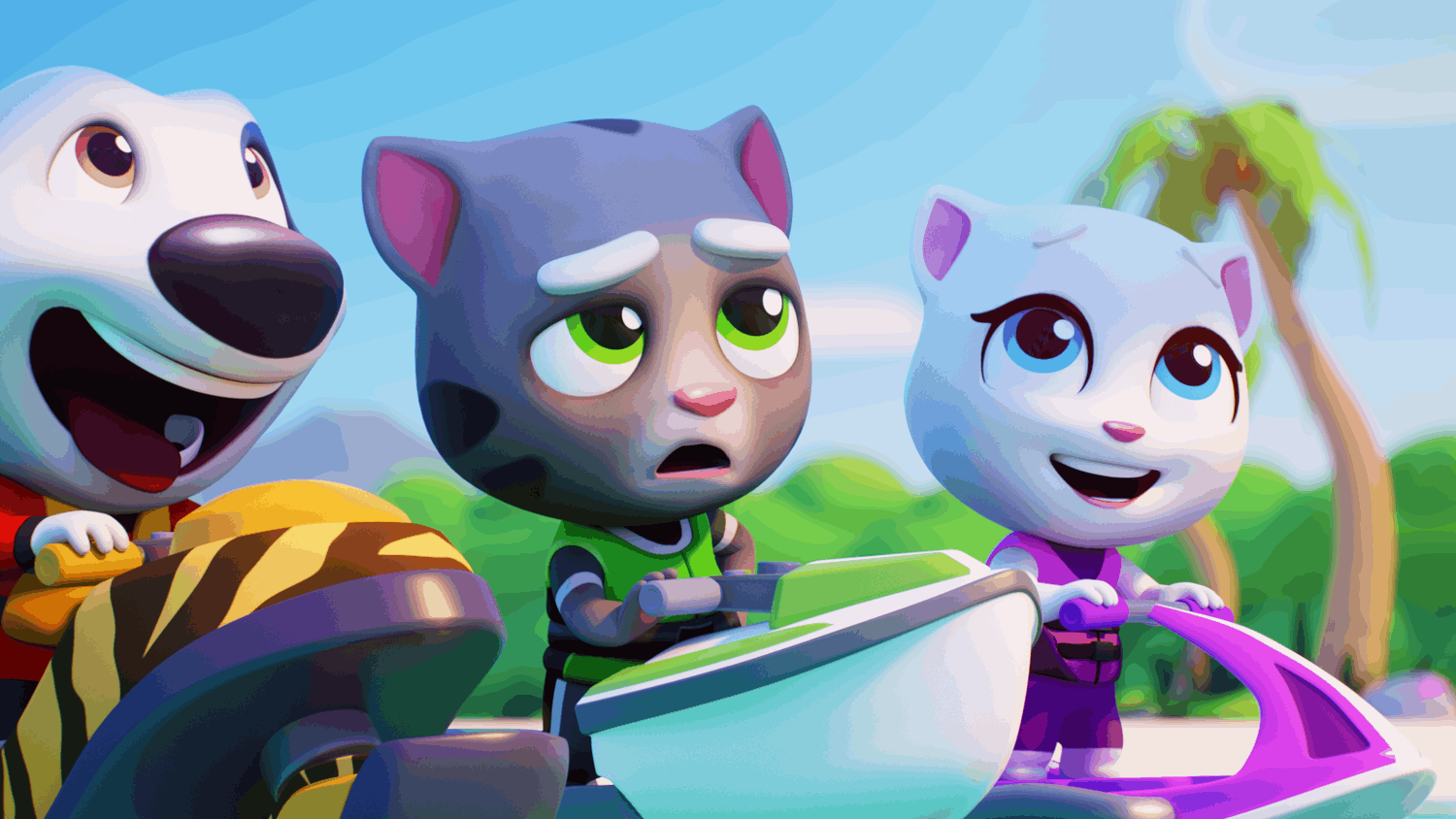 Introducing Talking Tom Jetski
Released in May 2018, Talking Tom Jetski (now playable as its sequel; Talking Tom Jetski 2) is a smash-hit game from Outfit7 Limited built off the more popular series of Talking Tom games. However, the game doesn't just feature Tom but also allows our other friends to make appearances.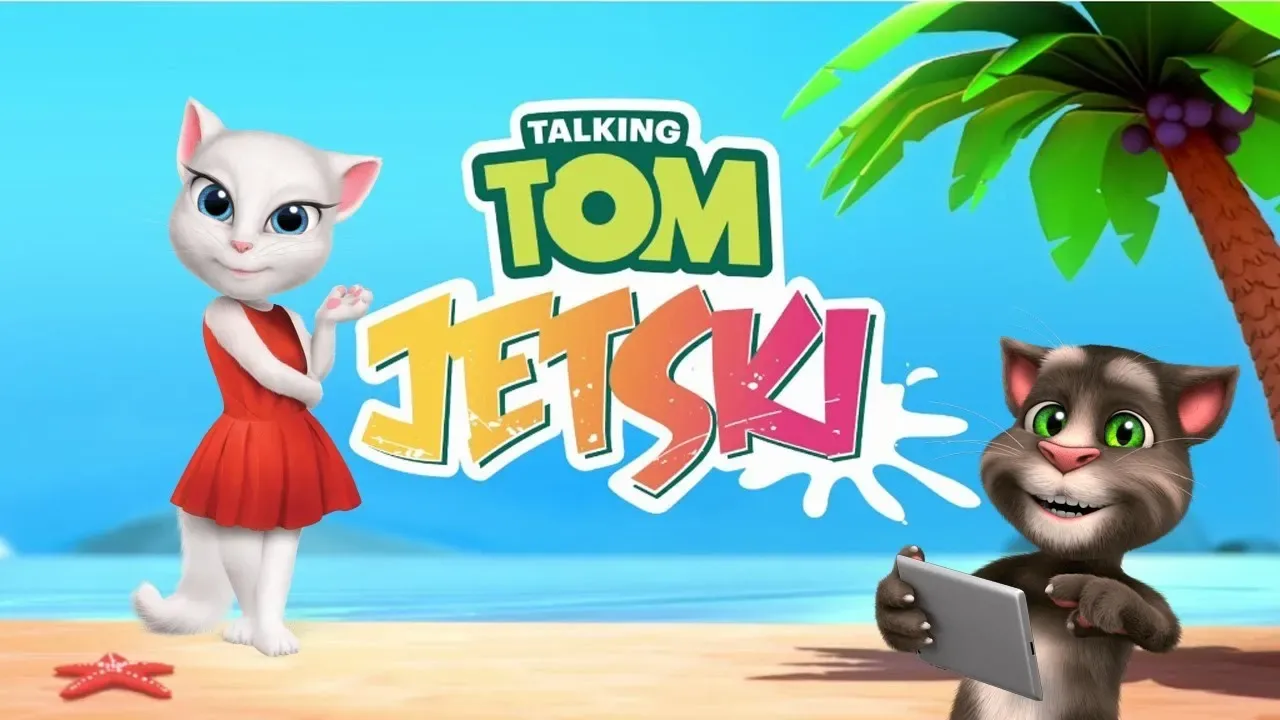 While racing in a paradise of tropical islands, you avoid obstacles to slow you down and collect coins to buy other collectibles within the game. Your main goal is to come out on top and get the most rewards out of every race.
From the multiple characters you could play to the 25 collectible Jet skis, customization upgrades, different racing worlds, and a chest of rewards after winning a race, you have a lot to look forward to in Talking Tom Jetski.
What's more, you also get to build your private beach resort in the game, offering you a chance to personalize your gaming experience to what suits your imagination. Talking Tom Jetski is a game with simple controls, an intuitive gaming interface, and high-quality graphics that make the game even more comprehensive.
More About Talking Tom Jetski
Still thinking about whether the game is worth downloading? Talking Tom Jetski has a 4.4 rating on the Google Play Store and a 4.7 rating on the Apple Store. These come from over 392 thousand reviews, and, of course, most of these are positive.
By additionally taking into account that the game has enjoyed over 100 million downloads, you have an idea that it is definitely worth your time if it looks interesting enough. The game is also rated 3+ and includes in-app purchases relating to diamonds and jetskis.
Key Features in Talking Tom Jetski
As mentioned before, Talking Tom Jetski includes a barrage of features that make the whole gaming experience worthwhile. These features will be elaborated on to give you a full view of what this game offers.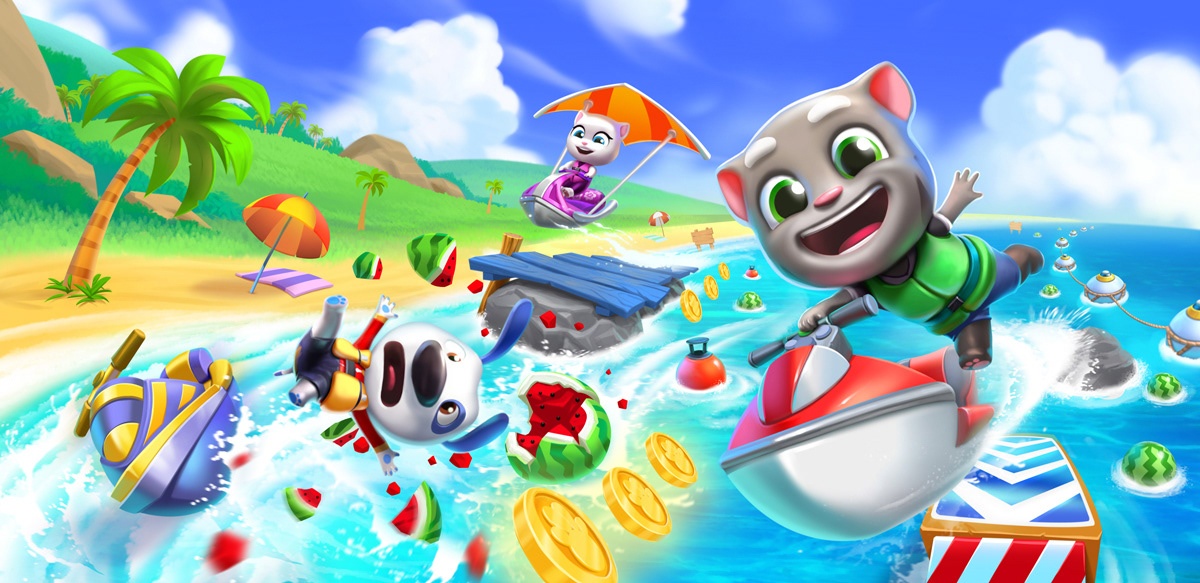 Firstly, multiple Racers are put at your disposal. Alongside Tom, you pick Angela, Hank, Ben, and Ginger as your avatar to take on the race. These are all the characters from Outfit7's "Talking" game series.
These characters come with five different game worlds also. From Tom's Treasure Island to Angela's Beach Resort, Hank's Surf Shack, Ben's Science Lab, and Ginger's Sandcastle, the game offers an undoubtedly enjoyable experience.
What's more about these game worlds is that you can create your game world. You use the coins and rewards you earn from participating in/winning races to purchase extra items and create a unique luxury beach world for each character. You add your personal touch and enjoy a game that is as unique as games get.
Other Features to Look Out for
With the game, your experience is made even more unique thanks to the 25 jet skis available to you for races, and these come in all colors and themes. You have a Fast 'n' Fierce Tiger Jetski, a Pink Sparkle Jetski, Melon Twist Jetski, a Unicorn Jetski, a Pinata Jetski, and even a jet ski made out of recycled items.
All these are to retain your interest in the game, and the more unique the jetski gets, the rarer it is to have it among your collectibles. Often, you may need to invest real-world money into the game to fast-track your item collection. However, you could be lucky to get rare items for free, bringing us to the next feature; Reward chests.
Chests are rewards you receive from winning a race, and they hold mystery items. Mystery items may range from a few coins to diamonds and, more excitingly, jet skis. The rarest chest comes in purple color, and the rarer the chest, the more unique and valuable the mystery items are.
How to Play Talking Tom Jetski?
Playing the game is simple. Talking Tom Jetski only requires you to win races while avoiding obstacles that will either slow you down or completely take you out of the race. To control your jet ski and achieve this, you swipe your fingers either to the left or right of your screen.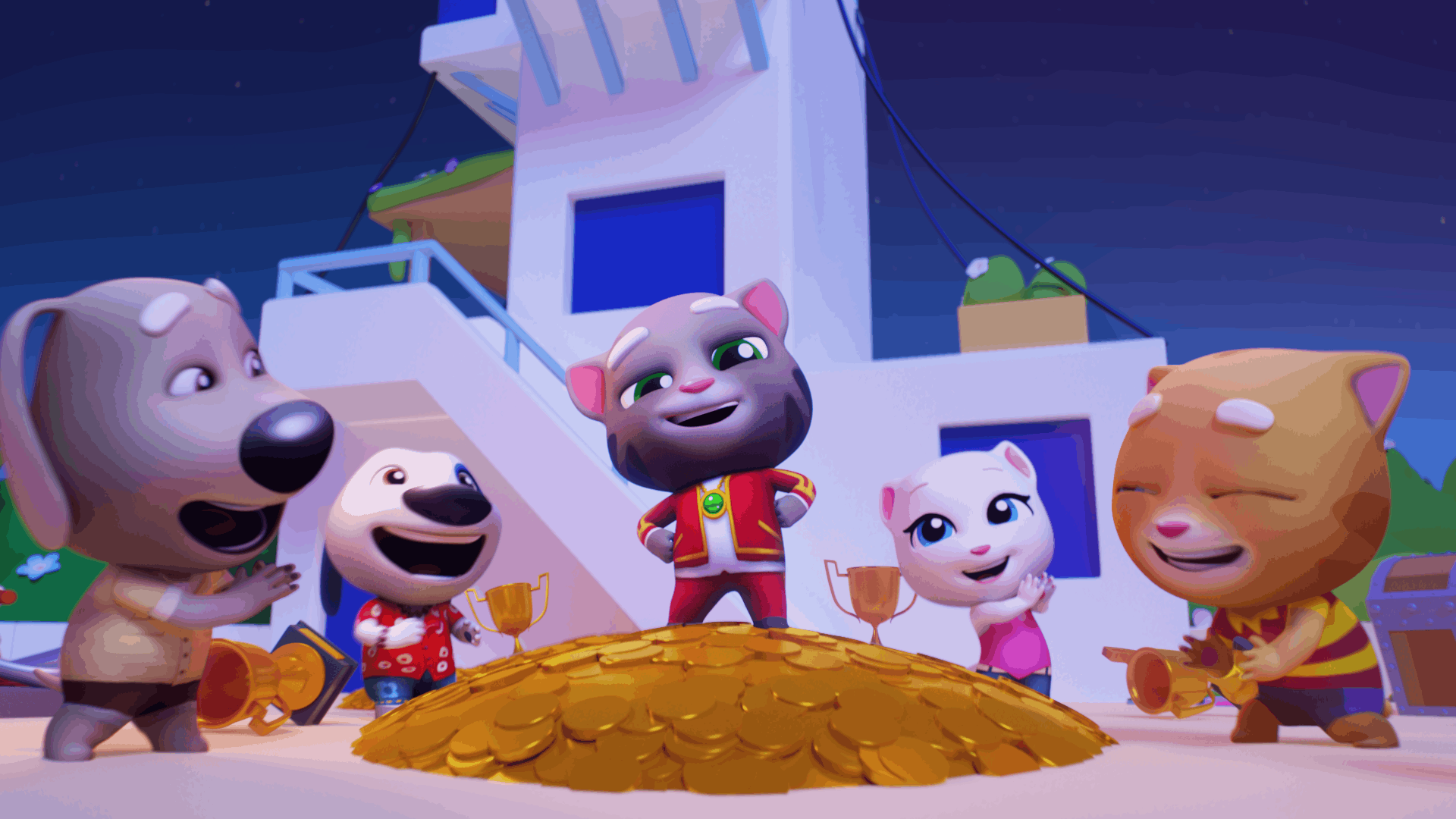 Coins are also part of the race, and as you avoid obstacles and take your jet ski to where you want it to be, you collect coins along the way. Coins even serve as directions to where you should direct your jet ski, but you do this with caution. Sometimes, you have to choose between collecting coins and getting ahead of your opponent. Surely, the latter option is the more favorable.
Additionally, you don't just compete against your opponent for first place but also compete for coins. Once your rival racer collects a coin, you can't collect it. This means you need to devise a playing style that ensures that you get the most optimal amount of coins.
Ramps and tunnels are placed at different points along the racing track to boost your speed, and you also want to take these to your utmost advantage. But, perhaps the most interesting gameplay features yet are the mystery superpowers available within the game.
Mystery Powers And Super Boosters
Mystery powers and super boosters help you to improve your racing abilities drastically. These items are spread across multiple points on the race track, represented by a question mark (?) in a box, and equip you with abilities that last for about 2 – 7 seconds. So what are the powers you get from these?
Double the value of every coin you collect when you get the "x2" superpower and attract all coins you go past when you get the magnet superpower.
The submarine superpower drastically boosts your speed for about 2 seconds, and the glider superpower takes you to the air and, above all, obstacles. These two give you a chance to meet up with or breeze past your opponent without breaking a sweat.
How to Download Talking Tom Jetski?
Downloading Talking Tom Jetski is as straightforward as downloading games on mobile devices gets. To download the game on an Android device, make sure you have at least 80MB of free space.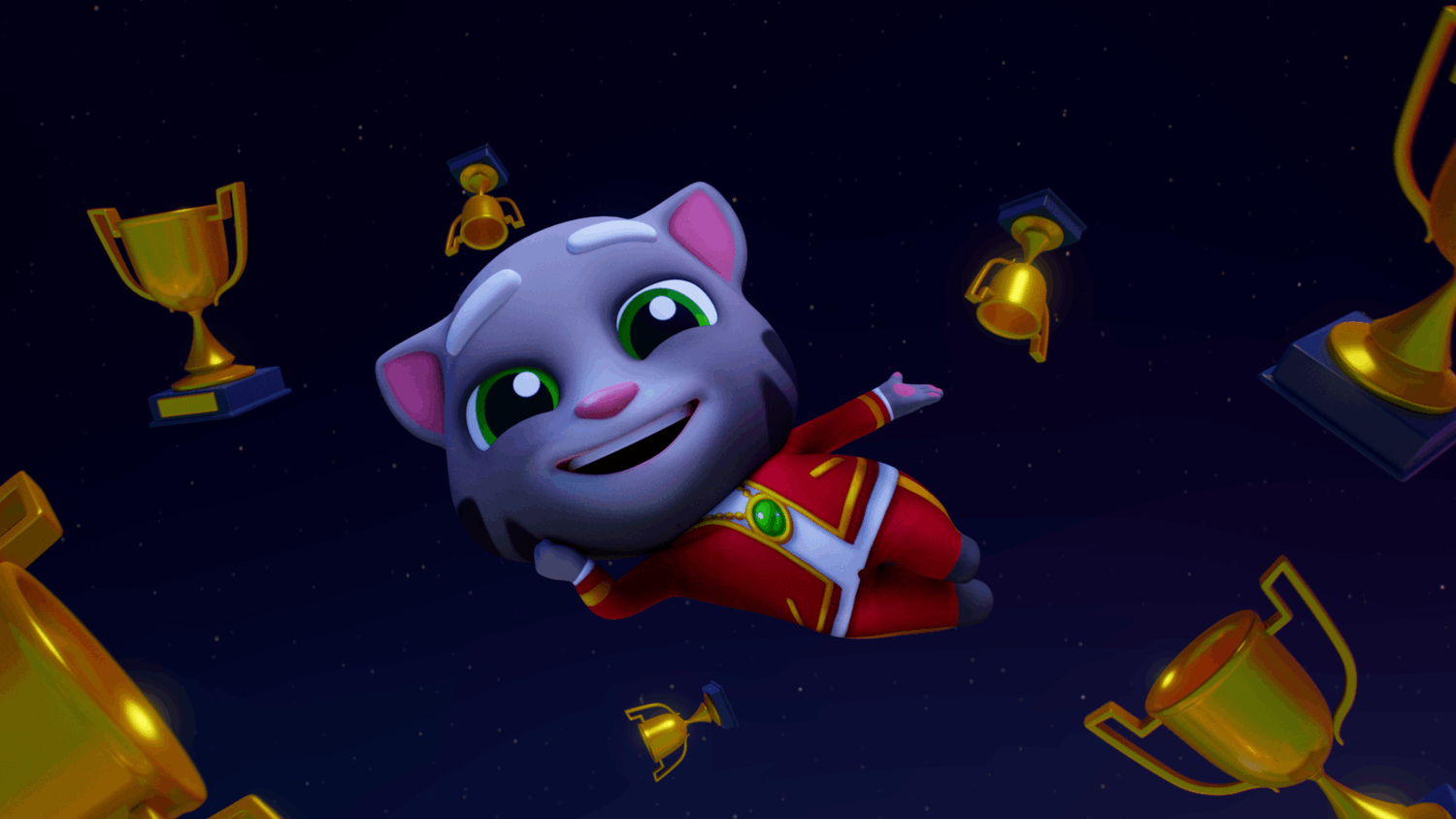 If you have enough free space, go to the Talking Tom Jetski Google Play Store, click on the "Install" button, and simply wait for the game to download and install on your device.
The game is available for devices with Android version 4.4 and higher.
Make sure you have at least 270MB of free space for Apple devices. If you have enough free space, go to the Talking Tom Jetski Apple Store and hit the download button. The game is only available for iOS version 9.0 or later devices and iPad 9.0 and later.
Languages And In-App Purchase
Talking Tom Jetski is available in 13 languages. These languages include English, Arabic, French, German, Italian, Spanish, and Japanese. Other languages include Portuguese, Russian, Simplified and Traditional Chinese, and Turkish.
In-app purchases are available to make your gaming experience even more comprehensive. The cost of these ranges from $0.99 to $100.
Talking Tom Jetski Tips for Success
Winning some of the more challenging races demands that you make close to zero mistakes and use all elements you can put to your advantage. Here are a few tips you could add to your gaming style.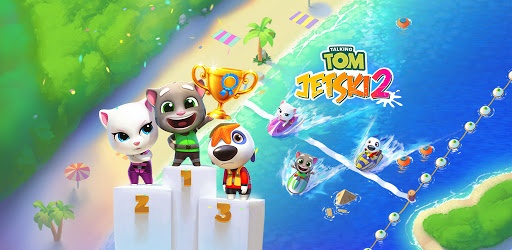 Make use of start boosts when you have them available. This gives you an immediate edge over your opponents and puts you in the driving seat for success. However, when using start boosts, don't be too hasty. If you start the race before the countdown, you are purposely slowed down, and your opponents get in front of you.
Always keep your hand on the screen to make moving your jet ski effortless. Additionally, you want to use as many ramps as you can and prioritize them over coins. Ramps have accelerators, and the more you jump, the faster you are.
Upgrade your jet skis. Whether with coins, diamonds, or real-life money (if you have some extra to spare), try to upgrade your jet skis every chance you get. Upgrades include increasing the acceleration and max speed the jet ski can attain.
How to Get Free Coins?
"Can you get free coins in Talking Tom Jetski?" And the answer to this much-asked question is yes. But you have to put some effort into it.
You get free coins when you collect them during a race and also get them through reward chests when you win a race.
One other way to get free coins is by downloading a MOD app, but these are illegal applications and could be harmful to your device.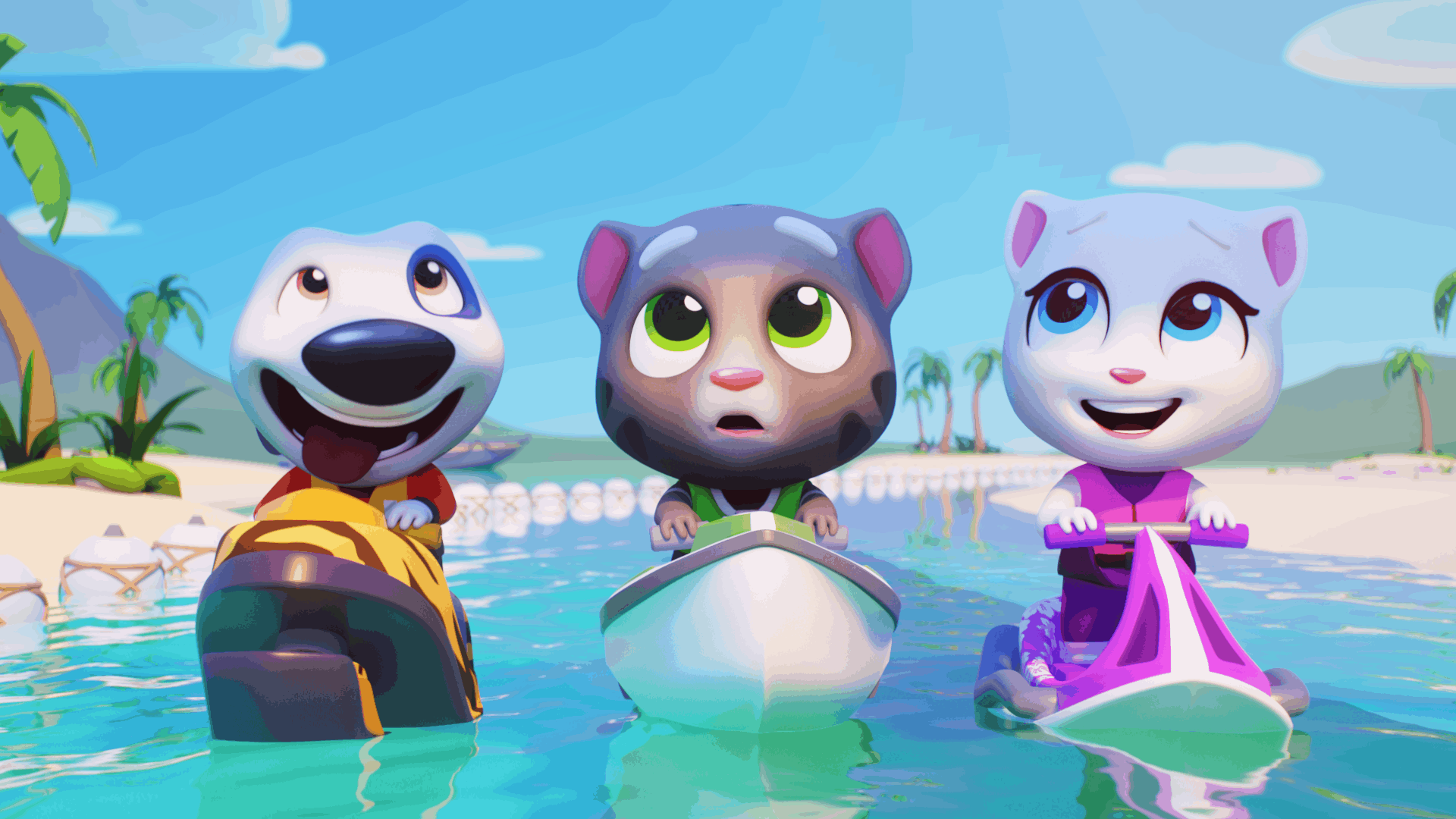 Conclusion
Talking Tom Jetski is a game suitable for young children and adults who love fun racing games, as it offers just more than making turns and pressing acceleration buttons.
The game comes with mystery items, superpowers, customizations, and familiar friends from the Talking tom franchise. If the game catches your fancy, you can get it on the Apple App Store or Google Play Store.