Want to escape reality for a moment? Do you want control over a virtual environment where you're the master of all things? Maybe you're into architecture or maybe you just enjoy building things. If any of this is the case, we have the perfect game for you.
Block Craft 3D is a 3D simulation game that satisfies all three desires. With over 100 million downloads, it has a reputation for keeping your creative builder's mind busy. In addition, it allows players to go the extra mile and create structures with never before seen designs.
This article tells you all about the Block Craft game, including where to download it, unique features to play with, and helpful hints to help you nail your goals faster. Discover all of this and more below!
About Block Craft 3D
Visit Your Inventory for Amazing Blocks and Pets
How to Play Block Craft 3D
How to Download Block Craft 3D
The Best Tips for Success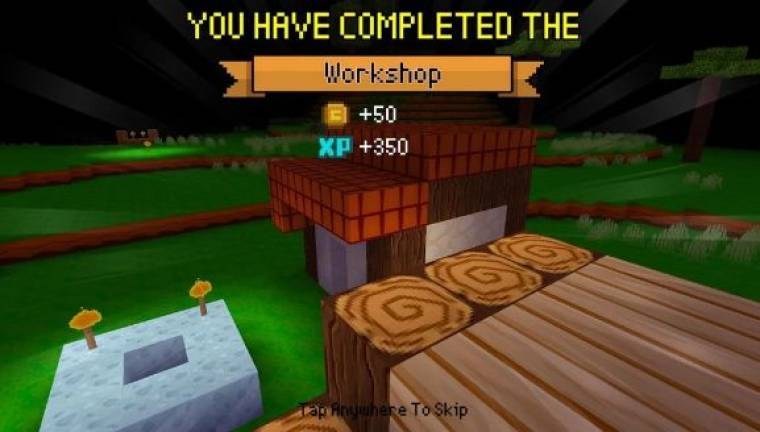 About Block Craft 3D
Block Craft is a fun one-player building game where players get to craft the village of their dreams with pixels and colorful boxes. In addition, it's a game where you earn rewards and achievement laurels for completing skill-based challenges and reaching your goals.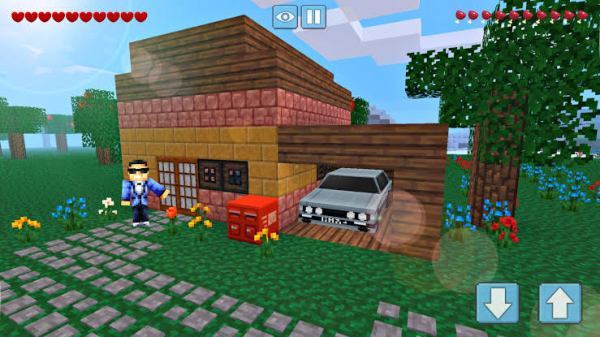 It allows you to build structures like stone huts, a village well, a city tower, a mill, or go over the top and place the famous Hollywood sign on your hills.
If you've never visited certain cities or countries, you can build their well-known structures and see them within the game.
Free Games for Free—The Developers
Block Craft 3D was developed by Free Games for Free and released in August 2016. Since then, the game has undergone numerous updates to create a better environment for players.
In addition, free Games for Free has developed other games like Sniper Shooter, Sniper 3D, and Flight Pilot Simulator, all of which are above 100million in downloads on Apple and Google Play stores.
Free Games For Free has a Youtube channel where you'll find simulation videos for all their games. The videos are in playlist groups of several languages, including Spanish, Russian, Korean, Japanese, etc.
Visit Your Inventory for Amazing Blocks and Pets
The game has seven categories of items stored in your inventory. They're the base packs, rare items, animals section, tech pack, nature pack, special pack, builder pack, and fun pack. Except for items in the base pack, you need to reach level three to reach the others.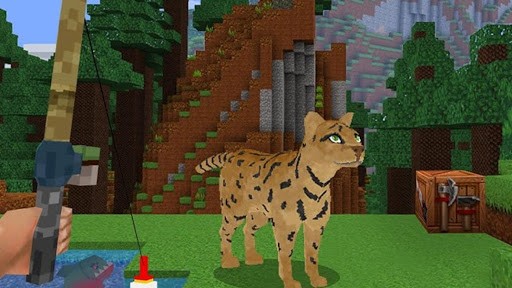 The base packs contain various colors of blocks underscored with the number of those blocks available. The rare items category is for household items such as doors, tables, lanterns, chandeliers, portraits, books, bookshelf, etc.
If you're a fan of pets, you'd love Block Craft because the game has numerous pets, including a dog, cat, horse, chicken, etc. After the animal section, you have the tech pack with blocks for building technological objects like robots, tanks, and ships.
Next is the nature pack, where you'll find plants like strawberries, grapes, clover plants, and mushrooms. Finally, the special pack contains unique boxes for your creative ideas, such as gold, roofing, dirt, bush, building columns, and gems.
View Information on Your Village
Block Craft simplifies your building experience by putting all information about your village in one place. On the top left corner of your screen, there's an arrow beside your village name and badge that takes you to your information page.
This page shows you a list of the types of structures you've built and the number of blocks used to make them. For example, you'll see that a stone hut you built has 103 blocks, while 131 blocks built a farm building.
Another element is the 'villagers' section, where you can view every village citizen. There's an option to change their sex, skin tone, clothing, and optional objects you want them to carry. You unlock one villager out of 50 when you pass a new level.
How to Play Block Craft 3D?
After installing the game, your first use of Block Craft will first take you on a tour through a simulated village. You then get a crash course on the basics of playing the game.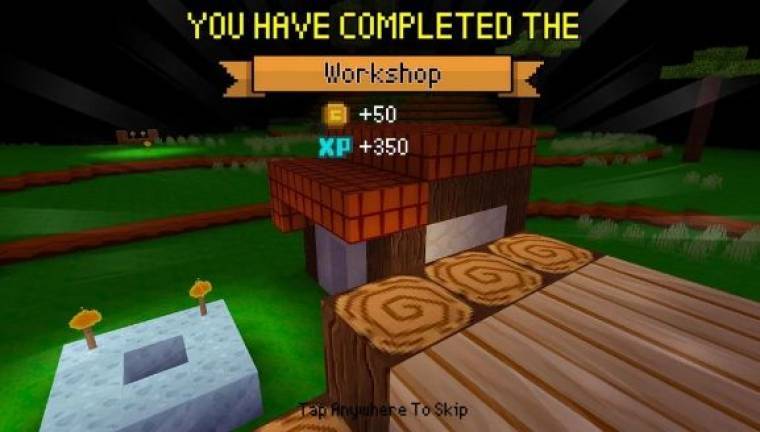 Using a Joystick and Camera view, you play the game with both thumbs like a gamepad or PSP. Players can switch between a third-person or first-person perspective of the game. Slide your right thumb to turn the camera or screen view.
The joystick is located on the left side of your screen and controls the movement of your avatar. Slide the joystick with your thumb to move forward or sideways. To jump on platforms or high staircases, tap on the joystick.
Your inventory shows a large square made of small boxes on the lower right of your screen. Tap on it to view what's reserved in your store and select a block. To place a block, tap on the highlighted position on a building, or use a long press to remove a block.
Selecting Your Building Structures
In Block Craft 3D, there are different types of buildings you can assemble. Their groupings are by religion (Islam and Christianity), wood, animal structures like a stable, and famous buildings like the Eiffel Tower.
Moreover, players can explore their architectural side by creating entirely new buildings with different blocks and making them available for sale to other players worldwide. This feature is only open when you reach level six and have named your village.
A design exhibition profile is created under the 'User Buildings' section when a user creates a custom building. In this section, other players can view and buy their designs with gems. Players whose buildings have higher ratings are under 'Top Builders.'
How to Download Block Craft 3D
Block Craft 3D is available for download from the Google and Apple Play Stores. It appears on the Google Play Store as Block Craft 3D: Building Game and on the Apple Store as Block Craft 3D: Building Games.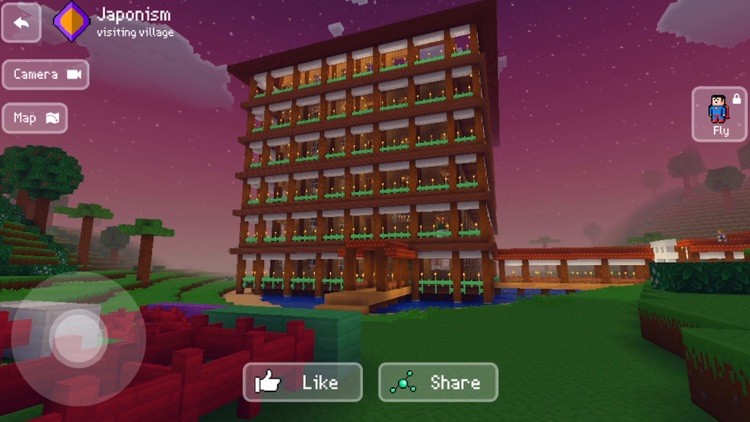 The game is free to download, but you may be interested in paid features like flying or buying gems for performing gaming activities. In-app purchases start at $0.99 depending on the item and can go as high as $99.99 for a chest of green crystals.
The game is rated 4.2 stars with 100+ million downloads on Google Play Store. On the Apple platform, it's rated 4.7 stars and ranked 75 in the role-playing category.
Achievement Tracking in Google Play Games
In the app's settings, Block Craft connects to Google Play Games, tracks your achievements within the game, and awards you XP points for each win. The achievements cover various stages and milestones of the game from your first play and even up to level 26.
The first achievement is the 'Basic Tutorial' goal achieved at the start of the game. Here, Block Craft takes you through a short tutorial on controlling your game and using essential features like jumping, walking forward, or turning your avatar around.
As you advance in the game, you'll tick off more recorded achievements on your Google Play Games account. The last achievement is 'Top Builder,' a goal completed when creating and saving your first custom building.
The Best Tips for Success
Block Craft is a pretty straightforward game where you advance by dropping blocks to construct a building. However, when you play the game for a few levels, you'll realize that you need some tips to meet your achievements faster.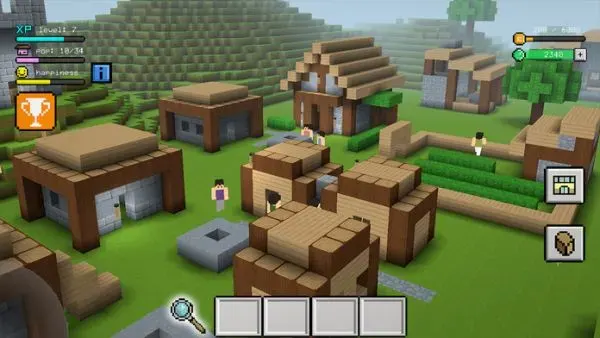 Firstly, the paid 'flying' feature trumps walking when you go sightseeing. When you've built enough structures in your village or visited others, the experience becomes more enthralling as you appreciate the beauty from above.
Secondly, not many people like spending money on game perks like flying, so If you want to accumulate more gems without paying for them, watch ads and get two to 20 jewels. However, ad rewards don't compare to the 500+ gems you get when you pay real money.
Lastly, exchange your gems for various features and items like trading 10 or 30 percent of your gems for half that amount in gold coins. If you'd like to bypass the building process of placing each block individually, use your green crystals to finish a building instantly.
Visit Other Villages and Feed Your Creativity
It's not uncommon for players not to have enough inspiration to build their village. Block Craft allows players to visit other villages built by fellow players, helping players stay creative. Select the town you want to see based on its profile picture, name, and number of likes.
Try out the teleportation feature while feeding inspiration at other villages. You start the game with 10 'teleports' and spend one teleport every time you use it. When you run out of teleports, get more by either watching an ad for one teleport or exchanging some gems.
If you're feeling adventurous, there's a search bar on the top right corner that you can use to randomly search for a new village or look for a town you've visited before. Random searches are fun because you never know what creative villages to expect and what you might find there.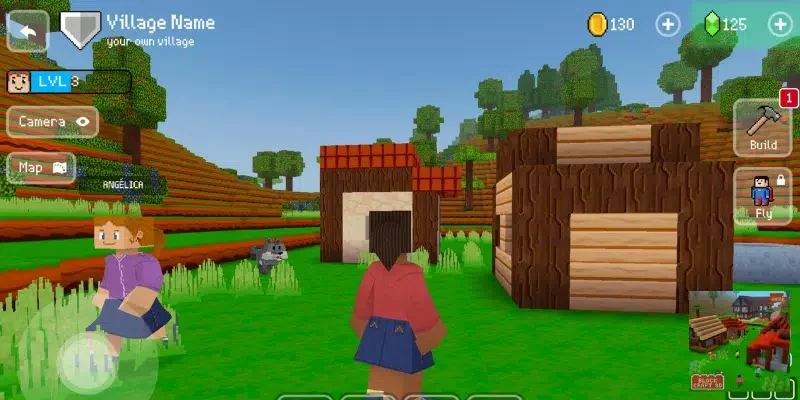 Conclusion
Block Craft is unlike any other 3D block-building game out there. It offers features and amazing graphics that appeal to every mind, young and old.
Block Craft 3D by Free Games for Free is the game to download next if you love building and enjoying picturesque landscapes.