Mario Kart Tour is a virtual racing game where you can compete with your favorite Mario characters. This game was recently launched on iOS and Android by its creator- Nintendo. This game features different racecourses, weekly challenges, and other Cups. The objective of the game is to cross that finish line in the first place.
Here are some of the tricks that would be advantageous and will decide the small margin between winning and losing.
Two Hands, Twice the Benefits
It is quite debatable whether Mario Kart Tour's control scheme is excellent or confining. But in case you are operating the 'Manual drifting' setup, you can prominently drift away, gaining extra boosts.
You can efficiently execute it by sliding your thumb in the right direction (even left direction will work). The other thumb can be used to collect and use the powerups during the action. With a simple tap on the Launch button, you can throw banana skins or fire shells on your opponents.
Gyro Control Mode
Steering near sharp turns can be much difficult when you are driving your Kart at high speeds. Most of the veteran players would start their races from 150cc, but during the race, it all depends upon that single wall near the corner turn.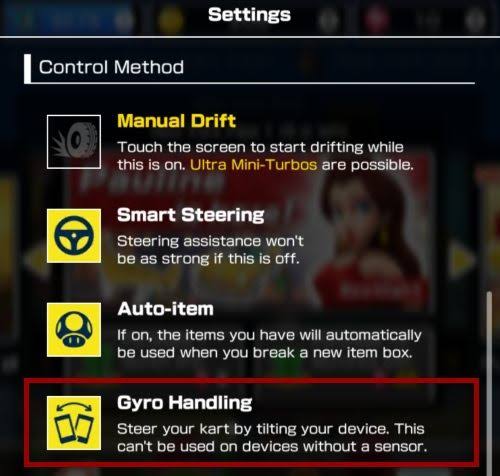 The solution can be found in the options tab, just turn on the Gyro Handling along wit the Manual Drift. If only one of these is activated, your Kart will fail to make a complete circular turn, but with both of them, you will feel that there is much more grip on the cart. Swiping as well as tilting your device will help you execute those sharp turns like a pro!
Either Win or Earn
Mario Kart Tour is not only about winning the racecourse, but you also need to keep a considerable account of points you gain during the game. You have to keep earning more points by performing tricks on the racecourse. This includes pulling off your Kart over ramps, attacking your rivals, and drifting during sharp turns.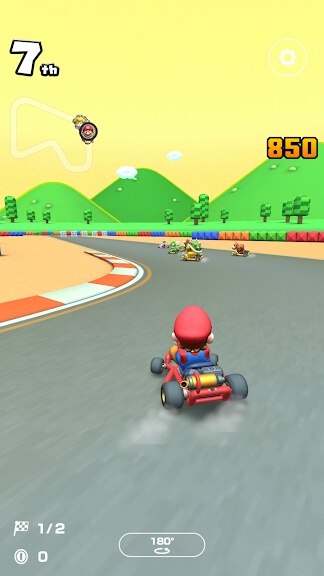 Complete the level with the highest number of stars. Even if you are in low rank during the race, keep performing these tricks, so that you can still find a more conforming spot in the Position Points. Collecting all the stars during the game will reward you with some extra coins, although the position is viable.
Items will be Effective when Used!
You'll get your control over many items (powerups) during the gameplay. Go ahead and activate them whenever you are not leading the course. Also, take advantage of assaulting items that provide you a slight push ahead of your challengers. It's not necessary to use those items. If you can easily beat your rivals, try saving those for the rest of the tournament. These items can also be useful when a shell is coming towards you. That item will act as a shield for you and probably prevent a nasty blow to your Kart.
Farm Coins and Points
The Mario Kart Tour does not provide you coins and rubies quickly. No doubt that you can purchase those liabilities from real cash, but if you want some other way out, farming coins could be a decent choice. Go and play past races to earn extra Player Level Experience and bonus coins.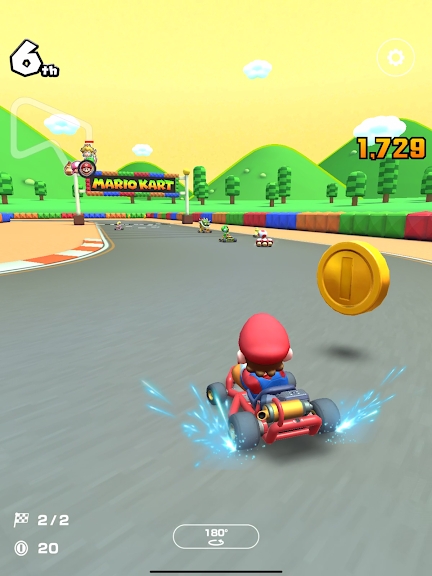 Also, don't forget to Login daily and collect those cheeky rewards. Participation in challenges will help you gain competitive skills. All these activities can be slow sometimes but will probably provide you coins and rubies frequently.
Align your Kart Properties with Character
Everyone loves picking their favorite Mario Character, the best Kart, and the dazzling glider. But in Mario Kart Tour, if your only motive is to grab that first place in the race, you need to be peculiar about your load-outs.
For instance, picking up a particular character for the course, you'll earn extra rewards in your item box. Also, matching your Kart with the character can make your rewards up to double up your points. An appropriate glider would be a cherry on the top, and you can take advantage of special offers from confining together some particular actions.
Boost the Kart Regularly
Drifting on the race helps you to clear curls with ease, and it gives you a boost on successfully accomplishing it. To drift, maintain a turn even after taking one- keep swiping your finger towards right even after turning right, this will take you in drifting condition. The blue-colored spark is the consequent boost you receive after the drift.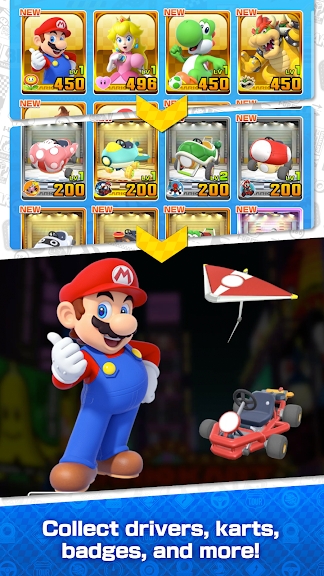 Moreover, drifting over the yellow-colored pads will not only give you one of the most powerful boosts of the game but will help you earn bonus points for this combo. Timing is the key!
Mario Kart Tour is available to download on Google Play Store and iOS App Store.
Also Read: 10 Best Upcoming Mobile Games of 2020 You Should Keep An Eye On
Stay tuned with Mobile Mode Gaming (MMG) for the latest Mobile Gaming News & Updates!