We've all been there – you've just seen a fantastic movie and found yourself instantly wanting to watch it again or even relive the experience. If this is the case, you should try playing one of the games inspired by a blockbuster movie.
When a famous movie makes enough money at the box office, the producers sometimes make games inspired by it, which fans love. The games make you feel like you're a part of what's happening in the movie. You'll be able to fly, drive, or shoot your way through the story as if you were actually there.
And Minion Rush Racing Game is one such game. Gameloft, Universal Studios, and Illumination collaborated to create a game for the minion characters from the 2010 animation, Despicable Me. In this article, we take you through how to play the game and let you know some tips for success.
Minions Rush: Running Game, Now Better Than Ever
Rev Up And Pace As A Minion
How to Play Minions Rush: Running
How to Download Minions Rush
Tips for Game Success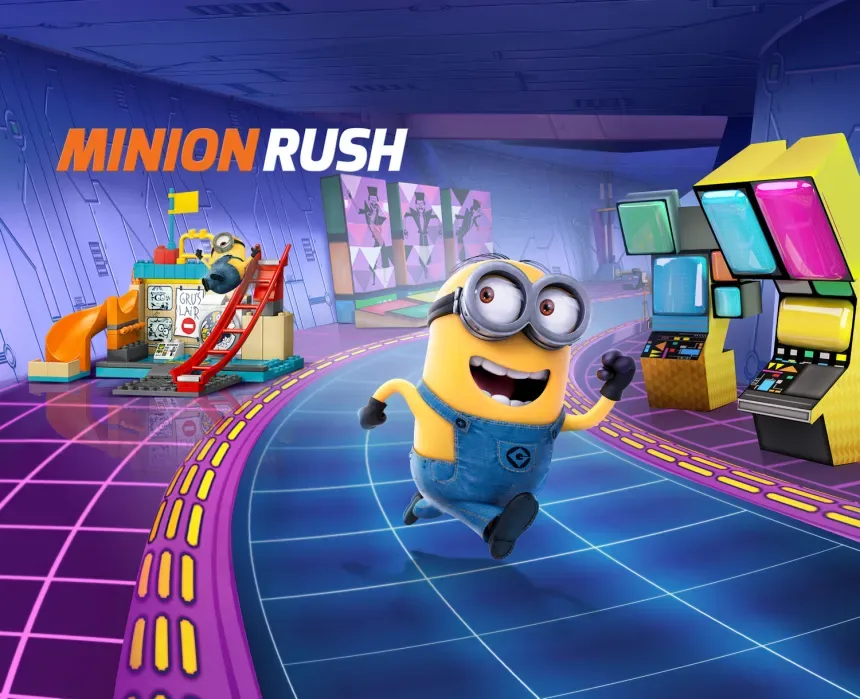 Minions Rush: Running Game, Now Better Than Ever
Minion Rush: Running Game features the Minion characters from the Despicable Me animation franchise. Featuring an exciting multiplayer mode and endless runner gameplay, it is fun for both kids and adults alike.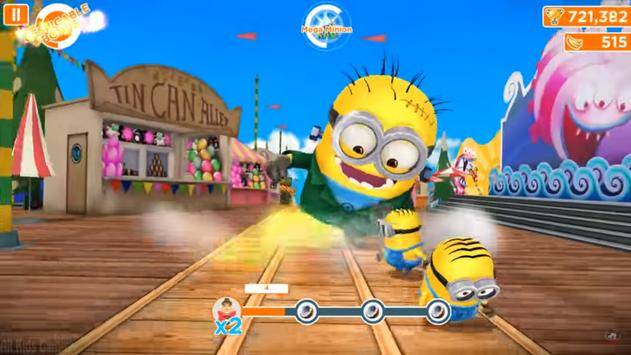 Your Minion Agent is on a mission to collect Bananas and Robonanas to complete objectives, collect stars and unlock new missions in their racing game!
This free Minion Rush racing game will allow you to reunite with your favourite characters, Gru, Margo, Edith, and Agnes. This new family will give you actionable tips during your first tutorial and help you become a top-notch minion agent.
You can get a fascinating glimpse of what to expect within the game in the trailer for the game, which has garnered over 2 million views on YouTube.
The Parent Company – Gameloft
Gameloft is an American game development company that's home to over 190 fun games for children and adults. It's dedicated to creating fun and innovative games, including Asphalt 9: Legends, Gangster New Orleans, Disney Magic Kingdoms, LEGO Legacy: Hero Unlocked, and more.
Gameloft games are available on several platforms such as Apple Arcade, Windows, iOS, Android, and others. Today the company is one of the largest publishers of downloadable games that are rated highly, from four stars and above.
Rev Up And Pace As A Minion
Minion Rush: Racing is a fun, fast-paced racing game with child-appropriate graphics and fun animations. The 'My Career' section is where you see global goals, daily tasks, and achievements. Global goals consist of chapters with smaller objectives and rewards. Once you achieve all the objectives, you'll receive the main Chapter prize.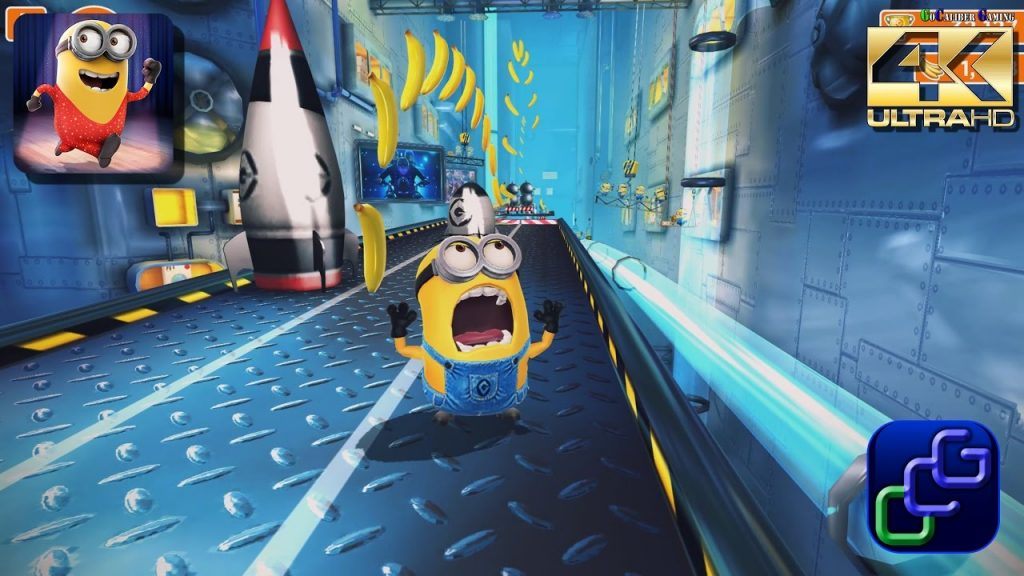 On the other hand, daily tasks only last for 24 hours. Once the day has ended, the daily task page will refresh and bring up the next day's task, even if you haven't achieved the previous one. Some of these objectives are as simple as winning a specific number of stars or bananas.
Moreover, players must complete different missions in various rooms in Gru's Lair. Players can successfully complete these missions by tapping on the Gru's Lair icon, then scrolling down to a selected room and tapping "Run." You will need to score at least one star to complete the mission but aiming for three stars is better.
Once you've chosen your mission, select your costume for that mission to complete it quickly. Then, with a wide selection of characters and costumes to choose from, you'll race against the clock in a fast-paced dash through the city to gather as many bananas as possible.
Perks, Prizes, and Booster
Minion Rush is known for its unique game style, which allows you to unlock perks and abilities that can help you complete missions. In addition, the Minion Rush offers a variety of mechanics that add depth to the gameplay, such as the ability to activate a target bonus and increased ability and power-up times.
The Minion Launcher is a booster in the game, which launches your minion agent with a head start at the beginning of the game. While it's a handy tool that helps you get ahead of your opponents and dodge incoming obstacles, be careful as it can also launch you right into the line of fire.
There's also the game shop where you can buy prize pods containing tokens, coins, and costume cards. Sometimes, you'll receive offers for one-time-only purchases. The purchases include rare costumes, token bundles, and offers to play the game without ads in exchange for real money.
How to Play Minions Rush: Running
Minion Rush Racing Game is an addictive game where minions try to escape Gru's Lair. Players can swipe right or left to dodge tall obstacles, slide under electricity bolts and jump over small obstacles. The game has multiple floors that players can move between by swiping downwards and upwards.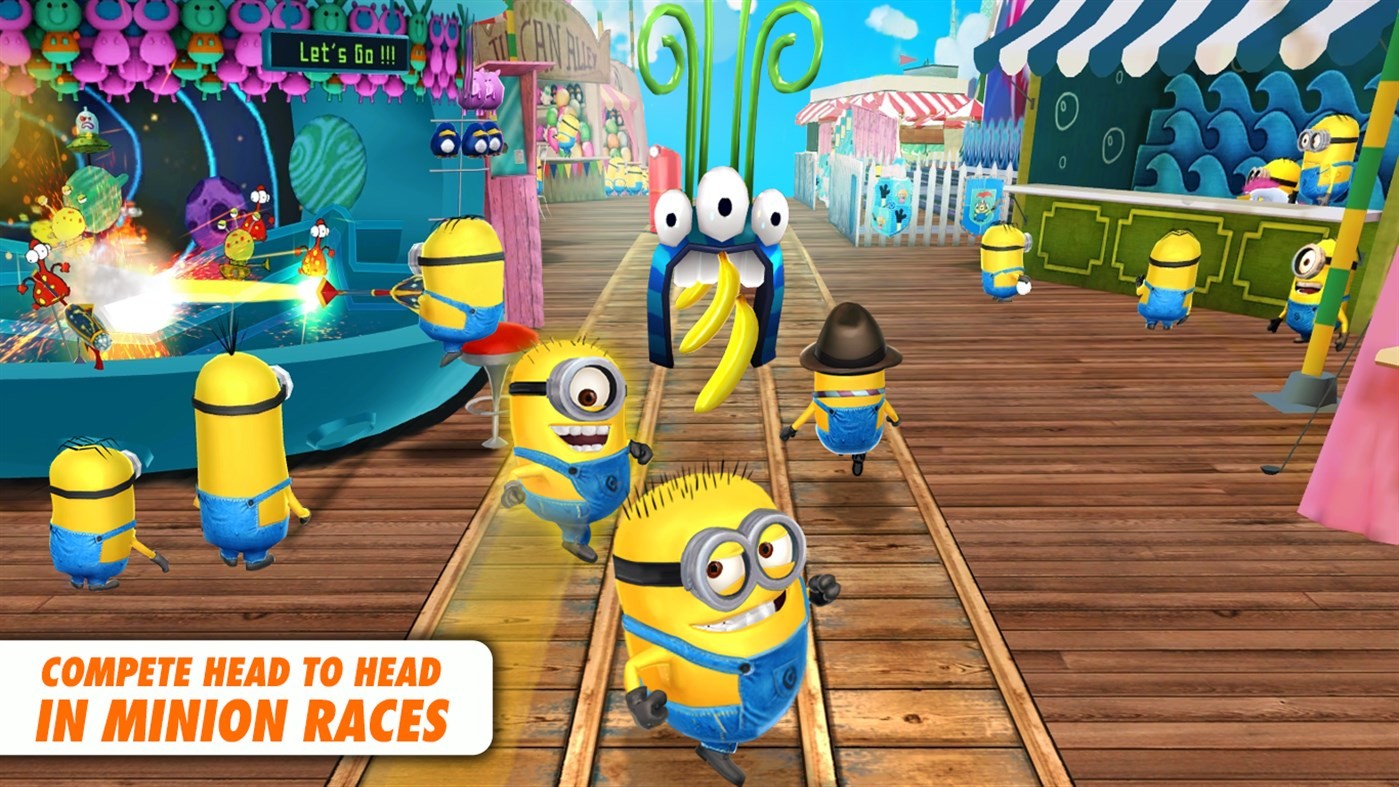 The progress bar on the top of your screen displays how far you have advanced along the race course. Use this to check how far you've run and how much further you need to go to complete a mission. It also shows how many bananas you've collected during each mission.
As you complete each mission, you'll earn stars and rewards. For example, if you get three stars on every track, you can access even more exciting races and earn better rewards.
Once your level ends, click on your reward pod that shows the stars you've earned and then reveal the rewards. One example of a reward is, if you hit an obstacle before you can dodge it or move out of its way, you can revive your minion for free the first time. After that, you'll have to use gems.
Costumes to Complete the Objectives
In this game, costumes help you achieve objectives faster, avoid obstacles, and protect you even when you collide with the obstacles. In addition, you can use the costume cards to unlock new costumes for your racing minion agent.
For instance, the referee costume you receive at the beginning of the game helps you collect 10% more bananas. You also get a Banana Vacuum that automatically collects all nearby bananas for eight seconds.
Once you upgrade with more coins, you'll see an increase in the percentage of bananas collected, the number of seconds the powerup is active, and the level points. As you upgrade more costumes, you move up the agent ranks and unlock trophies and game tokens.
How to Download Minions Rush
Minions Rush: Running Game is available on the Google Play Store and Apple Store. In addition to recording over 500 million downloads worldwide, the game also boasts 4.6 stars on the Google Play Store and 4.5 stars on the Apple Store.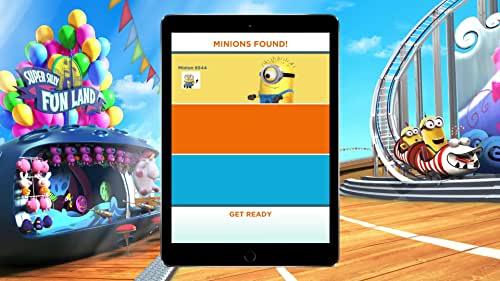 The device specification for an Android phone is the Android version of 5.0 and above. If you use iPhones and iPads, you need either an iOS 10.0 or an updated version.
While Minions Rush is free to download, certain features are only accessible via in-app purchases. Depending on your preference and budget, these purchases can range from $0.99 to $99.99.
Adverts: Blessing in Disguise
Ads are also a prominent feature in this game. You might experience them often but look at them as a form of currency within the game. For example, players get offers to watch an ad to get 500 or more bananas or coins, along with other rewards.
If you don't want to see the commercials while playing, look out for the special offers. Some of these offers remove the ads for a specified number of days or hours and allow you to play the game without ads in exchange for money.
Tips for Game Success
Although the Minion Rush game is straightforward, you might find it more fun with some tips for success. First, there are mini-games called classes where you collect robotic bananas called Robonanas. Rise to the top of the leaderboard by collecting more than other players.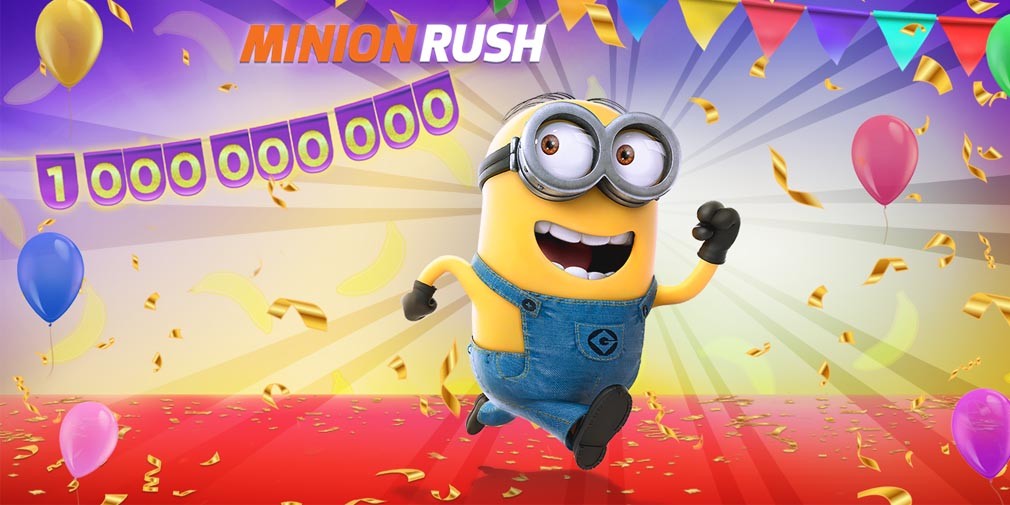 The more Robonanas you collect, the higher you rank globally on the online agent leaderboard. You'll unlock more classes as you advance and increase your agent ranking. Another feature players should take advantage of is the specific skills that come with costumes.
If you want more bananas during a game, use the Island Hopper costume skill called the Banana Splitter. The Banana Splitter is activated for eight seconds, and you'll receive twice the number of bananas you collect.
With every mission, the intensity and level of difficulty needed to dodge obstacles increases. Therefore, you need to pay closer attention to static and moving obstacles, where the bananas are placed, and figure out ways to get those bananas quickly while avoiding the obstacles.
Some Issues with Playing Minion Rush
Minion rush is a fun game of colors, bright imagery, and graphics. Still, it can get repetitive when all you're doing is swiping right, left, up, and down to collect bananas.
So while a child might find this engaging, an adult may find it boring and monotonous after a while.
Lastly, know that you'll need additional storage space to download game locations before installing the game. Without downloading game locations, you wouldn't be able to play the missions there.
Conclusion
Not many racing games can be as engaging and addicting as Minion Rush. This game has incredible pace, strong graphics, and a wide variety of objectives. In addition, its simple navigation makes playing on mobile devices a breeze.