If you're looking for a mobile game to relax and destress, one genre that ideally helps with this is fruit-slicing games.
The Fruit Ninja mobile game lets you slice fruits like a ninja warrior while avoiding being hit by bombs. This game has been so popular that other games in the fruit-slicking genre have been inspired by it.
Fruit Ninja is a fun, fast-paced, and action-filled game that has become a massive hit with players of all ages. Read on to find out all you need to know about Fruit Ninja, including what it is, what to expect when playing it, and how to get the most out of the game.
An Epic Game of Slicing and Dicing
Simple but Addictive Modes
Splatter Fruits in the Game of Time and Reflex
How to Download Fruit Ninja
Tips to Be Successful on Fruit Ninja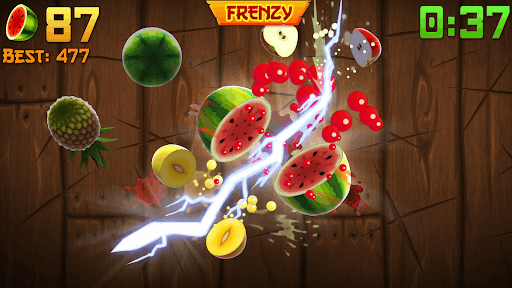 An Epic Game of Slicing and Dicing
Fruit Ninja is a game developed by Halfbrick Studios and released in July 2011 about slicing fruit, avoiding bombs, and attaining the highest score possible. It is a game enjoyed by millions of players and promises fun in fruity chaos.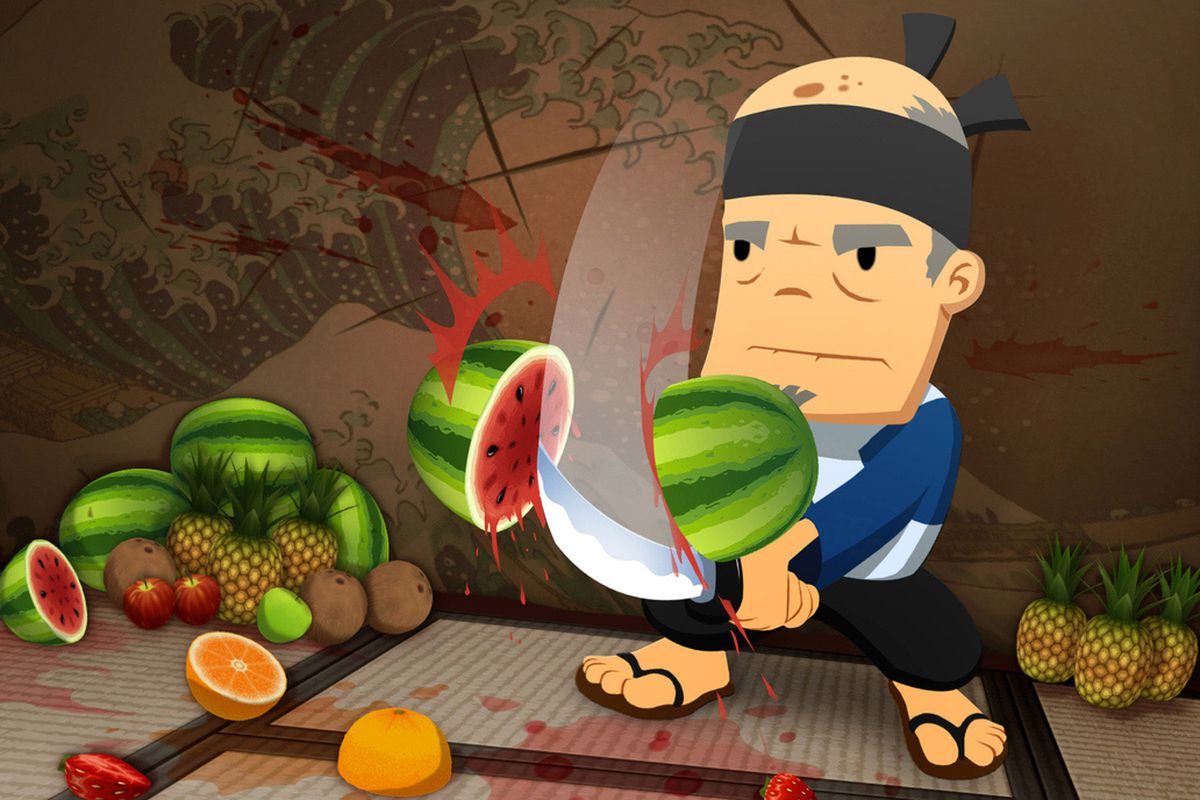 The game features five different modes, each with unique challenges and obstacles, ranging from the Classic mode, Arcade mode, Zen mode, and Events mode. The game's goal is to slash piles of fruits by swiping your finger across your device's touchscreen.
With daily challenges, unique power-ups, and enticing collectables that keep you interested with new expectations every day, Fruit Ninja is the perfect time killer when you only have a moment to relax.
In addition, you have themed mini-games to play and a split-screen multiplayer mode to enjoy the game with friends and family. As a free-to-play game, it also has some micro-transactions, but thankfully none that affect gameplay at all. It's one of those rare mobile games that manages to be both simple and complex at once
Join the Global Fruit-Slashing Community
Since its release in July 2011, the game has grown to more than 500 million downloads and remains among the highest-rated mobile games worldwide, drawing in both new and experienced players.
In fact, it holds a brilliant 4.2 average rating from over 5 million reviews on the Google Play Store and a 4.7 rating from over 137,000 reviews on the Apple Store. Rated 3+, it is a game for all ages and offers everyone multiple areas to get comfortable in and unleash their inner blade-wielding skills.
So, get ready to slice, dice, and chop fruit like never before in the most exciting slicing game ever! From juicy apples to pears and oranges, you will definitely be entertained in this super fun fruit ninja game.
Simple but Addictive Modes
Fruit Ninja is all about the dynamism of game modes, and your experience within the game is determined by the mode you choose to play.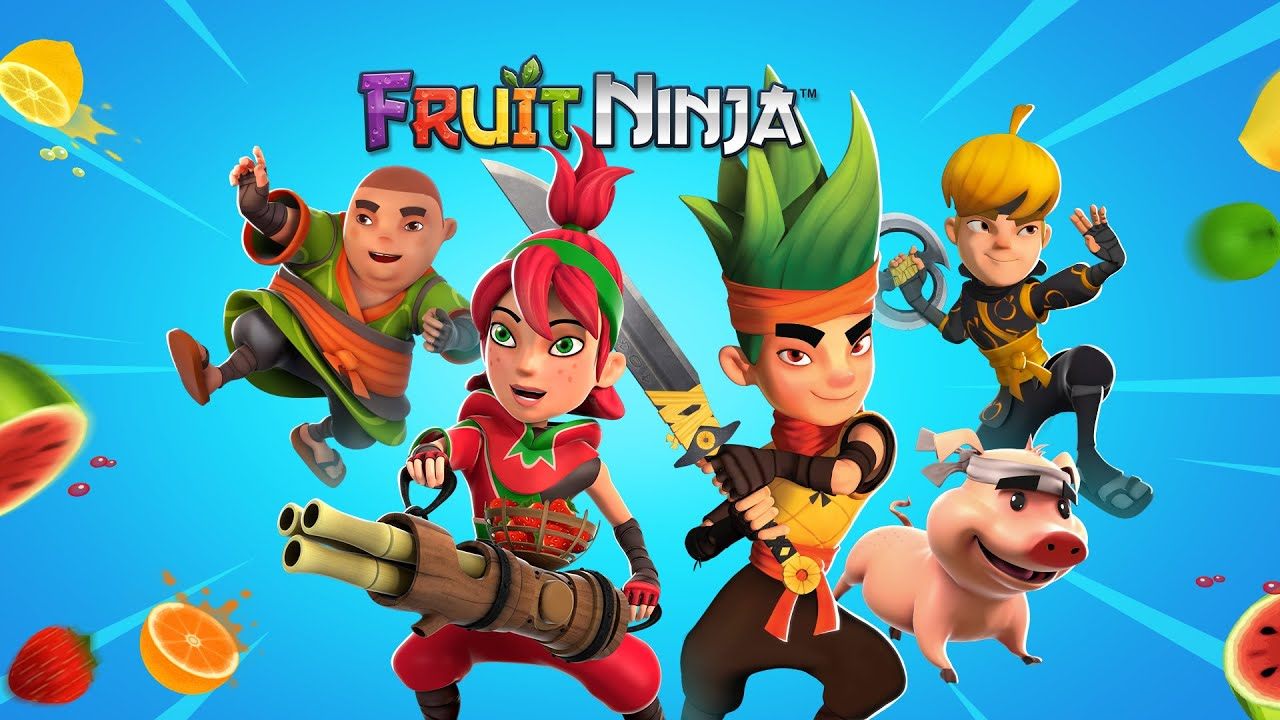 The Classic mode is the original game mode that tests how long you can last within the game. It's a fun and simple mode that tests your reflexes and coordination. By using smooth touch controls, you can slice the fruit in any way you want, whether it's slashing vertically or horizontally.
The Arcade mode brings a little bit of extra fun into the game. You'll be required to attain the highest score possible through combos while gaining more time from slices and avoiding hitting bombs. Watch out, though – one or two bombs may make a big difference in overtime lengths!
Zen mode is a little different from other modes. In this mode, you have no time limit and no bombs, so you can slice your fruits in any way you like. It's perfect for relieving stress.
Brace Yourself for Endless Hours of Fun
Fruit Ninja comes with an Event mode where you fiercely compete against three in-game avatars: Truffles the Pig and her explosive watermelon, Mari with her fast-moving sushi roll, and Rinjin with his mighty melon bombs. You engage in fruit-slicing competitions, try to beat these characters, and stand a chance to win collectables like swords and dojos.
It also offers a Multiplayer mode, which offers the most fun out of the app as it combines everything the game offers. Through a shared-screen multiplayer, you compete against friends and family for the highest score.
A daily challenge mode is also available to you, so you have something to look forward to every day.
Splatter Fruits in the Game of Time and Reflex
Fruit Ninja is one of the most accessible mobile games to play out there. The learning curve is as easily scalable as possible, and with the different modes, players have different difficulty levels to choose from.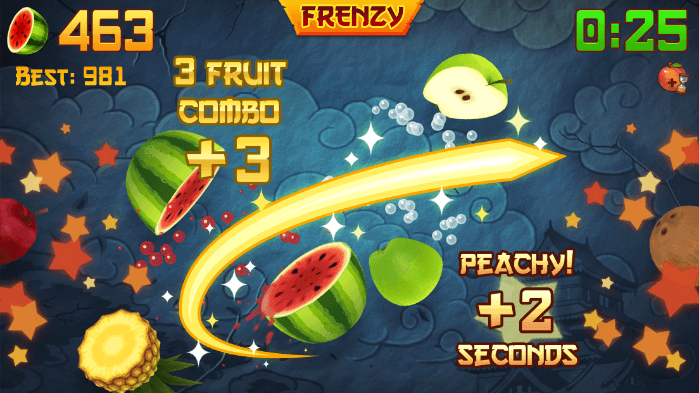 Ordinarily, you slice fruits by sliding a finger across the screen. Your finger serves as your ninja blade, and you always aim to slice across fruits. However, bombs are thrown into the mix to kick you out of the game, so you want to be careful enough not to slice through the fruit erratically and hit a bomb.
Combos are obtained when a single slice goes through multiple fruits simultaneously. The higher the combo, the higher your score, and you remain in the game for an extended period of time.
Some power-ups like the Laser blade power and the Northern Lights blade power allow you to boost your combos and earn even more rewards exponentially. If you want to enhance the experience within this game, you can try out some of the power-ups.
Get Free Starfruits in Fruit Ninja
The in-game currency in Fruit Ninja is referred to as "starfruit," and this is what you use to buy items from the shop. Of course, the most obvious method of getting starfruits is to use real-world money to purchase some. But there are other ways to pocket starfruits.
One free way of getting starfruits is by engaging in daily quests. These challenges are presented to you by the game every day, which means you have even more to anticipate. You don't only wait for the next quest you get to take on the following day but also the starfruits you earn from engaging in them.
In Fruit Ninja 2, you may get starfruits through the garden feature. Some of the seedlings you plant in the garden become starfruit plants, and you harvest them. Sometimes, you even get to double the starfruit earned through this gardening process. Check Gatsu's cart for surprise gifts of up to 1000 starfruits.
How to Download Fruit Ninja
Just like any mobile game, downloading Fruit Ninja is simple. First, you must go to the Google Play Store or Apple Store depending on the version of your device and hit the "Install" or "Get" buttons. After that, the game automatically downloads and installs on your device.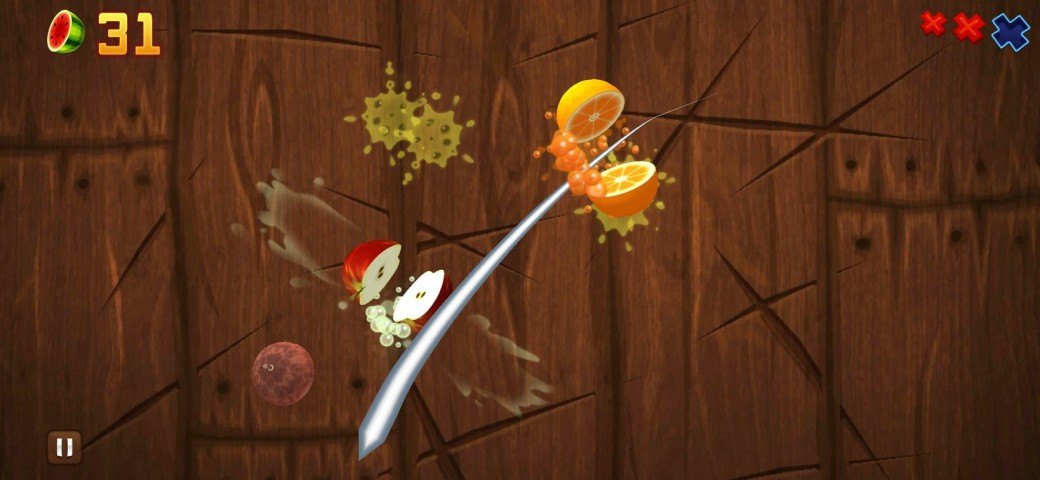 One thing to note, however, is that you need at least 155MB of free space on an Android device or 270MB on an Apple device to download the game successfully.
Another thing you want to check out is the version of the operating system you use. You need at least Android 4.4, iOS 11.0, or iPad OS 11.0 and later for the game to work on your device.
Additional Information
Fruit Ninja features in-app purchases ranging between $1 to $200. These purchases are the Starfruit Pack 1, Starter Pack, and the Bucket of Starfruit.
The game contains ads and uses Google Play Games to manage automatic sign-ins, leaderboards, and achievements. It also comes in up to 13 different languages.
When it comes to permissions, Fruit Ninja requires access to your location, Google Play Store ID, and app usage data. The developers also pay attention to your privacy, and you may see how they intend to protect you in the privacy policy.
Tips to Be Successful On Fruit Ninja
In case you are having problems getting the better of your friends in Fruit Ninja, we have a few tips you may follow. The first of these is that you target peaches. This is because slicing peaches gives you extra 2 seconds to boost your score in the arcade and Zen modes.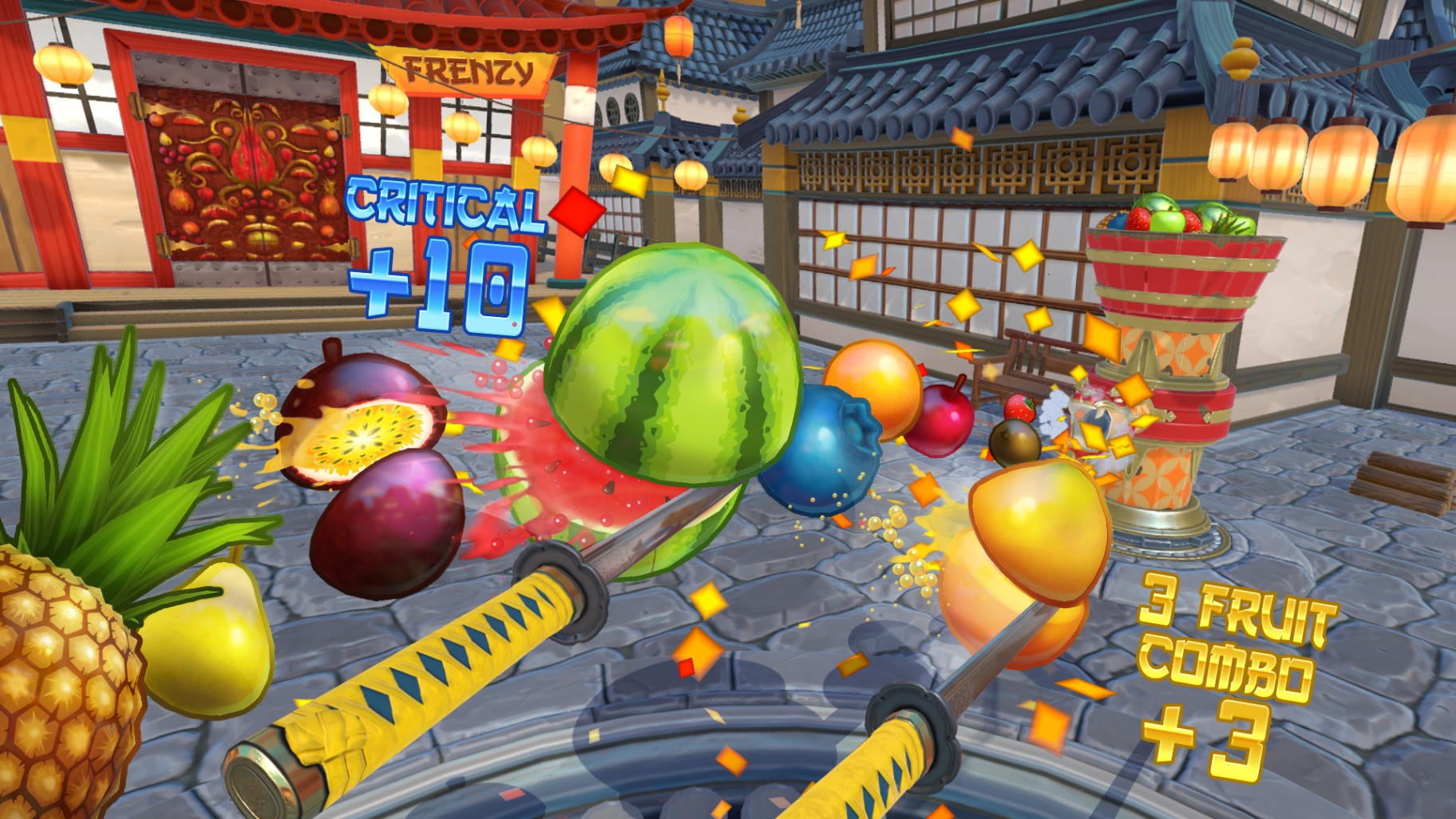 Another tip is to use only one finger on the screen. You may think using more than one lets you cut more fruits, but using two fingers may be distracting and uncomfortable for you.
Also, try playing the game with your phone flipped upside down. By doing this, you prevent your hands from obstructing your view and easily see the fruits as they come your way.
Complete all the objectives in the game to earn even more starfruits and target special bananas for a high score boost.
Avoiding Bombs
Bombs are the dreaded "villains" in the game, and you want to avoid slicing them as much as possible. Instead, always listen carefully to the game every time you play.
When bombs are thrown on the screen, they tick, and if you aren't listening closely, you may not notice this ticking in all the frenzy and chaos.
You also want to keep your swipes as short as possible when a bomb is on the screen.
Conclusion
Fruit Ninja offers a high-energy gaming experience that's as entertaining as it is familiar. This ninja fruit-slicing game fits the bill for a casual game requiring quick reflexes.