If you are looking for a mobile puzzle game with a lot of players and raving reviews, Toon Blast is the best game to play. It has colorful graphics and different ways to play the game. Level up, collect coins and keys, and even join a team of other players in the game.
Toon Blast is a fun mobile puzzle game that requires you to strategize to play more effectively. Players must solve the puzzle by matching pieces together and creating different combos. The caveat here is that you can only do so within a limited number of moves.
Challenging right? In this article, you'll learn about ways to find free keys and coins. Check out more tips down below.
Combos Are the Way to Go
Here's How You Can Earn Stars as Fast as Possible
Scan the Board and Strategize as Needed
Check Out These Tips For How to Get Free Coins
Ask For Help From Your Team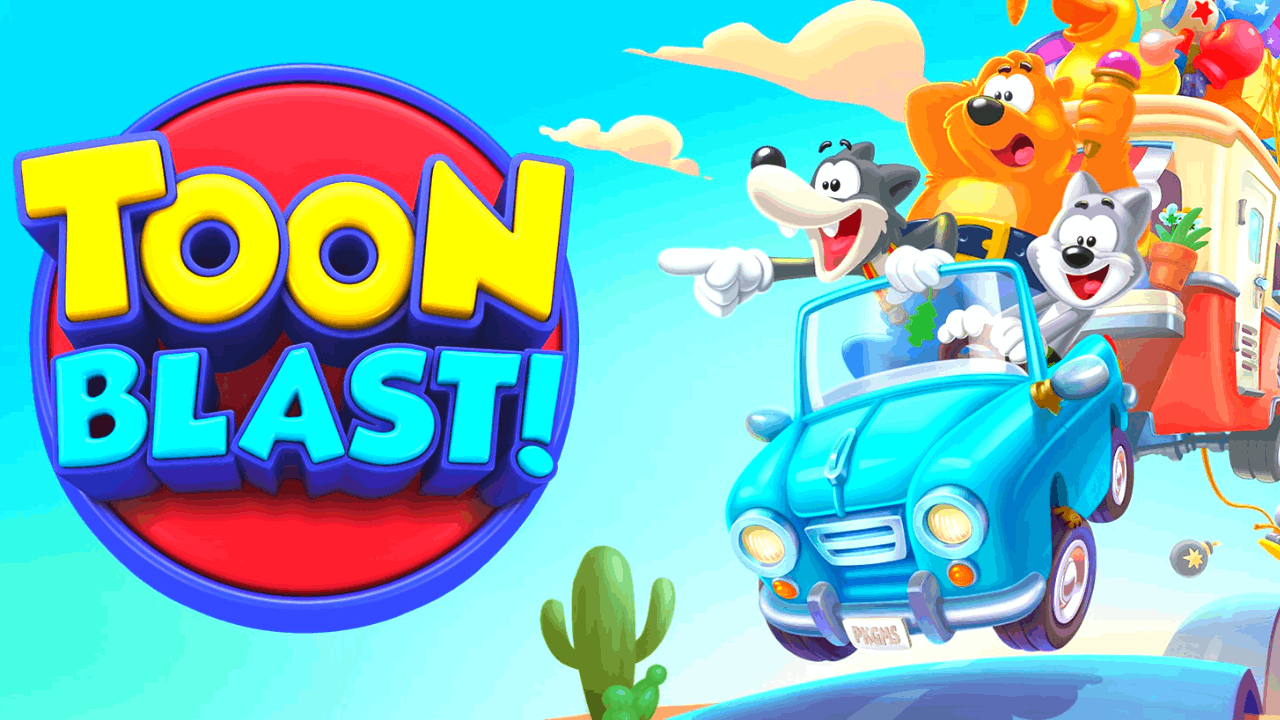 Combos Are the Way to Go
Toon Blast is all about matching different pieces together. The more pieces you match, the more points you'll rack up. There is one more way to play this game and it's about creating combos.
Combos happen when you match pieces together, which results in other pieces matching as they fall. Doing combos unlock certain boosters in the game which can help you clear the level even faster.
When you match five pieces, you'll get a Rocket. Matching seven will give you a Bomb and matching nine pieces will result in a Disco Ball.
Soon, you'll be able to gain access to pre-game boosters which are equally helpful in the game.
Learn How to Make Good Use of Boosters in Toon Blast
Once you unlock the boosters, you can choose them before the game starts and equip the ones that are helpful to you. The Hammer is a booster that removes obstacles across the board, while the Anvil removes pieces in a column.
The Dice randomly shuffle all the colored pieces across the board which makes it easier for you to start the game. These boosters can be played at the start of the game or you can do this as your final move to remove the last few remaining pieces on the board.
The choice is up to you but keep in mind that you also need to consider the number of moves that you make in the game.
Here's How You Can Earn Stars as Fast as Possible
Apart from collecting boosters and many other items in Toon Blast, there is also another currency that you need to know how to collect—Stars.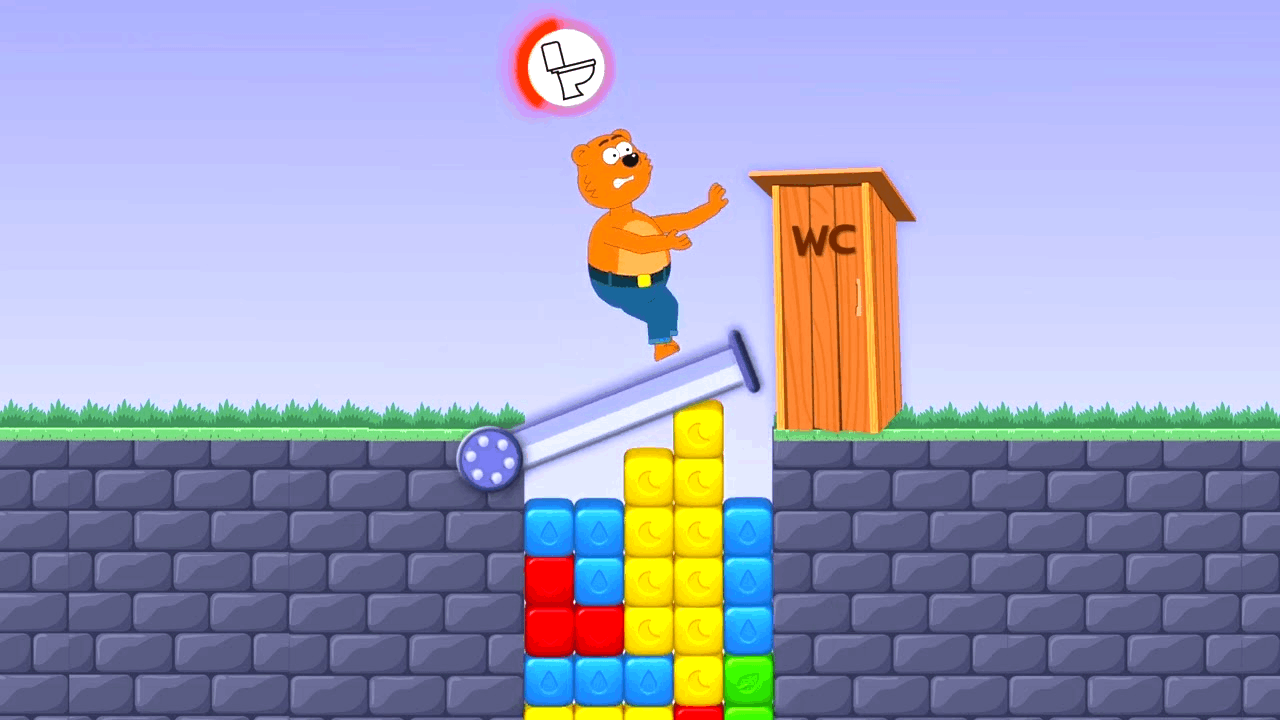 Stars play a role in the game as they will help you acquire Star chests that provide different kinds of rewards, such as more boosters, coins, and gems. The best way to get stars is to play the game as much as possible.
Notice that there is a meter at the top of the screen that gives you a star every time you break a certain threshold. Keep on playing the game until you fill-up the meter, and it will give you at least three stars every time.
Collect as many stars as possible since you'll need 20 stars to open a Star chest.
Take Your Time in Playing the Game
A lot of other puzzle games require you to solve the entire puzzle within a certain time. This can be quite challenging, but thankfully, Toon Blast doesn't have a time limit. Take advantage of this by analyzing the entire board first before you make your move.
Note that you only have a specific number of moves in each level, so every move is precious. Always consider the best move that will result in the best possible outcome.
This is why it is always best to use boosters when you feel like you have limited moves left. Take the time you need to play the game, and always have a secondary plan.
Scan the Board and Strategize as Needed
Puzzle games are always difficult to solve if you just go with the flow. You should always have a strategy for solving them. This is where Toon Blast becomes very exciting to play as no puzzle is the same.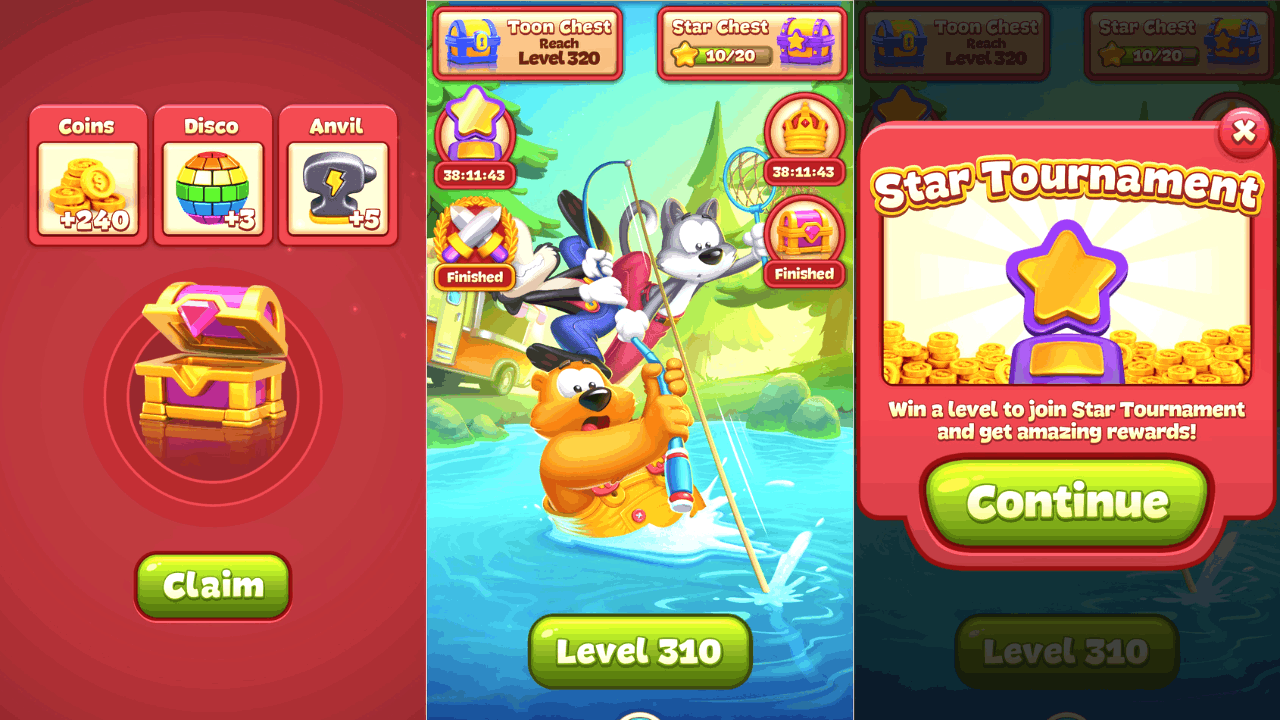 This also means you need to have a strategy for every level of the game. The best way to formulate a strategy is by scanning the board. Observe how each puzzle is positioned across the board.
This will help you decide where you need to start pairing the pieces together to solve the puzzle. Another good strategy is to use your booster right away to eliminate as many puzzle pieces as possible.
Try to apply as many strategies as possible and see which one is effective. Remember that not every strategy applies to all levels in the game, and you have to try other ways.
Start From the Bottom If Things Are Tough
There are times when no matter how much you try to scan the board, you just can't find a way to start the game.
The best thing to do if you encounter this situation is to start from the bottom. Even if you are just going to match three pieces together, it's enough to start with your puzzle.
This will shake the entire board and will open things up for you to begin matching different pieces. You can also try to match three or more pieces together at this point to fully shake up the entire board.
Check Out These Tips For How to Get Free Coins
Coins are very important in Toon Blast as it is required to purchase boosters and many other items in the game. Thankfully, you can get free coins in Toon Blast, and here's how you can do so.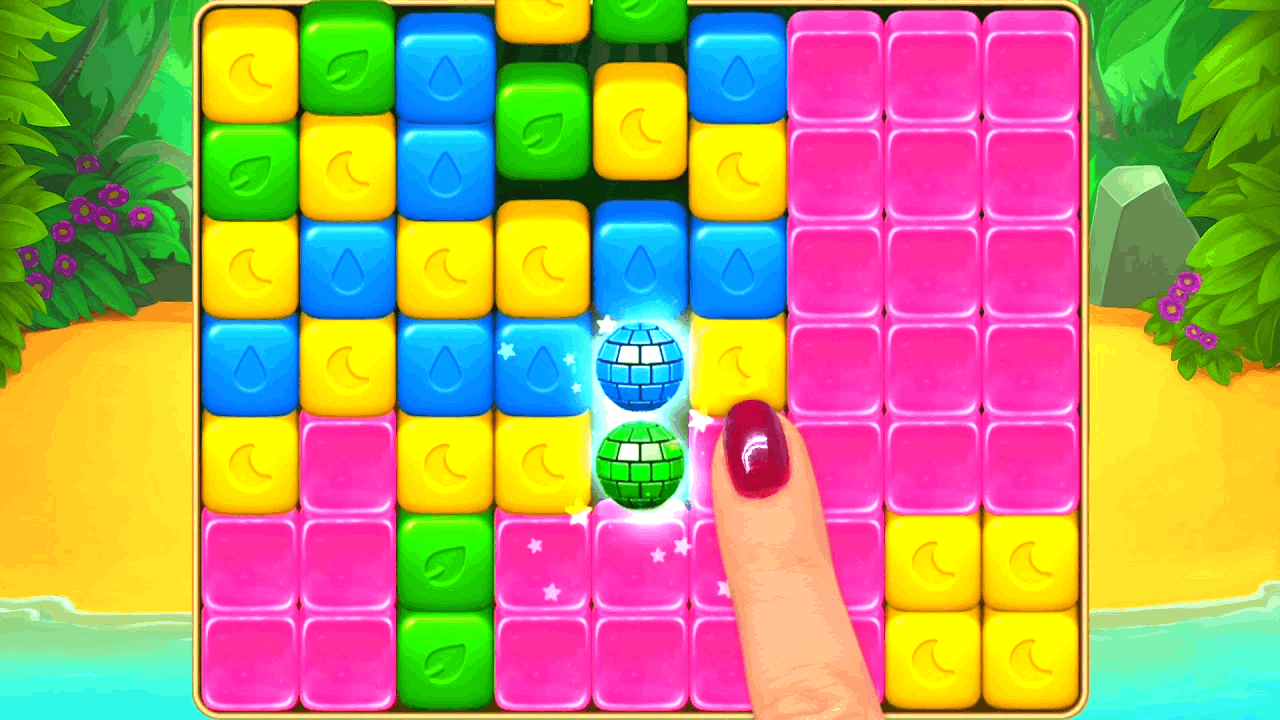 First, you can join a team and help your teammates. They will then reward you with coins if they're able to finish their tasks. You can also connect your Facebook account to the game, and you'll receive a good amount of coins.
Log in to the game every day, and you'll receive a bonus amount of coins every time you do. Lastly, you can also open chests such as Star and Toon chests and receive coins.
You'll also receive many other rewards apart from coins when you open these chests.
Unlock These Chests by Collecting Enough Keys
Speaking of chests, you will need keys to open them. This poses another problem for those who are not familiar with the game. The best way to acquire keys in Toon Blast is to simply play.
Every time you complete a level, you'll receive experience points, and as soon as you level up, you have a chance to receive keys. Use these keys to unlock the chests and receive all of the rewards that you need for the game.
You can also participate in events as they often reward you with many prizes, including keys.
Ask For Help From Your Team
The early levels of the game are quite easy, even for beginners. But as soon as you hit the later levels, things can be very challenging. This can be alleviated when you reach level 20 as you also unlock the option to join a team.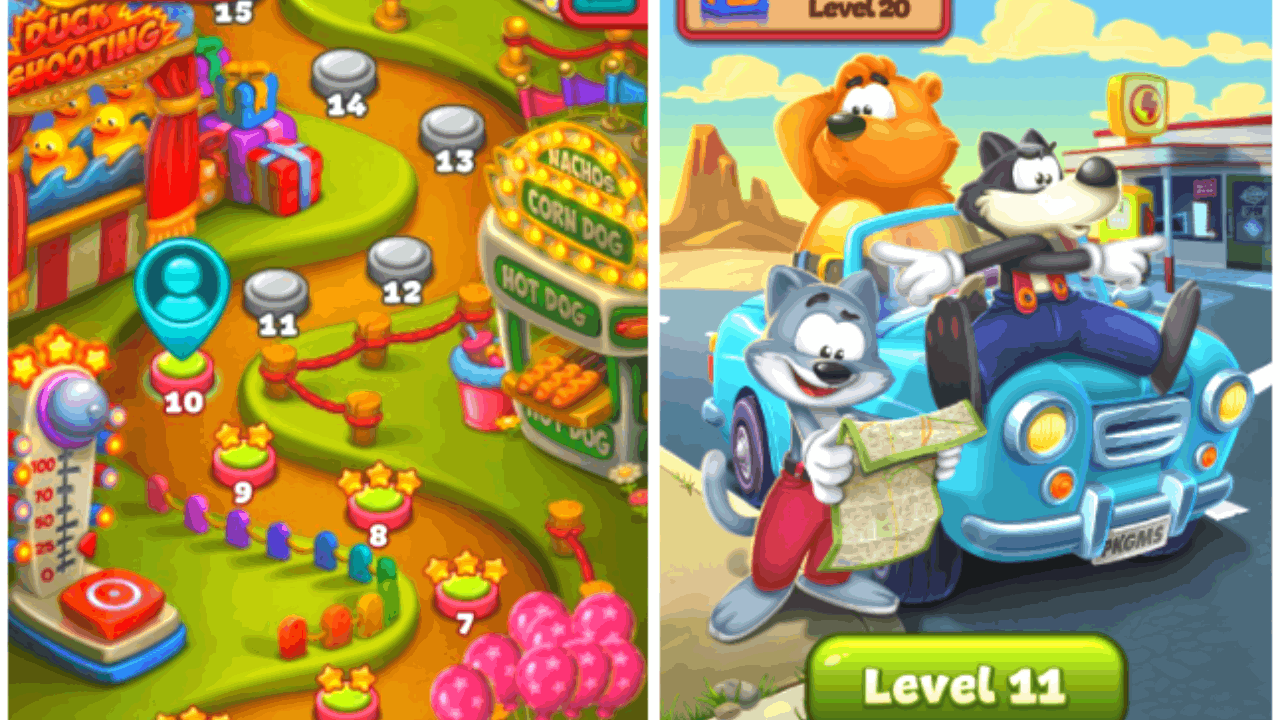 You and your teammates can start helping each other by sending lives and coins. You can also start your own team that consists of your friends but creating one can cost a lot of coins.
If you don't have enough coins yet, you can always join a team first, farm for coins, and then start your own once you have the budget.
It is essential that you have a team once you cross level 20 as you will need a lot of help, such as boosters and coins, just to get through certain levels.
Here's How to Download Toon Blast on Your Mobile Device
Toon Blast is available to download from the Google Play Store for Android devices and the Apple App Store for iOS devices.
Make sure that your mobile device is updated to its latest version first before downloading the game. You may also want to link your preferred payment method if you plan on making in-game purchases using real money.
To download, launch the platform of your choice and search for the name of the app. Tap Install or Download to begin the download process. Wait for the app to complete the installation before tapping Open to launch it.
Conclusion
Toon Blast is a simple mobile puzzle game on the surface but it offers a lot of depth when it comes to strategy. Make sure that you follow the tips mentioned above to get the most out of the game.