Square Enix continues its sale of the premium "Go" series titles just two weeks after the free sale of Hitman Go. This time, Deus Ex Go has made its way to Google Play and App Store for free. The puzzle game is available through a limited period offer for a week.
About Deus Ex Go
Play as Agent Adam Jensen, one of the main protagonists of the critically acclaimed Deus Ex series. The story begins with Billionaire Jim Miller sending you to secure Sasha Novak as his mansion is held by unknown terrorists.
Deus Ex Go is a turn-based puzzle game with 7 chapters, covering a total of 54 levels. Progress through these levels as you uncover the story behind this suspicious terrorist organization and the motive behind these incidents. The story is sure to surprise you with a few twist and turns while you engage with the intricate puzzles.
The puzzles are inventive with its turn-based formula. In each level, your goal is to reach the endpoint. Stealth is a huge factor as you move past the guards situated along the different points leading to the end. You can either sneak past or deliver a silent death blow. You will be killed if you run towards the guards, facing them. So making the right turns at the right time is an essential aspect of this game.
Turrets, drones and blocked points are also some of the major obstructions Jensen comes across. But the players can hack their way through these as well. Hacking can turn these turrets against the various enemy units, change the drone's directions and allow you to go through the blocked tiles.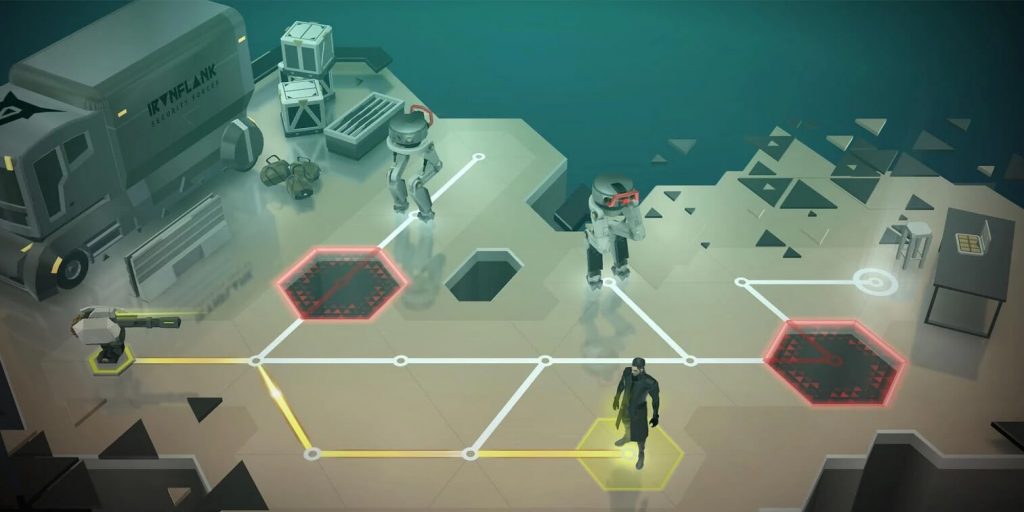 The Glass-Shield Cloaking System and the Bionic Handgun are also 2 of the coolest gadgets Jensen uses in this challenging obstacle course. The minimalistic design with the similar neon shades captures the look and feel of the original Deus Ex series.
Square Enix's Deus Ex Go is now available for free on iOS and Android. The offer lasts for a week.
Also Read: Top 5 Old Mobile Games That Are Still Fun