Nowadays most games attempt to make us purchase their in-game crates, gifts, and currencies or are filled with ads. But back when we were younger and had a lot of time, there used to be some really cool games that were on everyone's phones. Here we take a look at some of those games which are as much fun as the present ones and sometimes even better.
Jetpack Joyride (2011)
Developers – Halfbrick Studios
Starting off the list is one of the best endless runner games of all time. As in all other games of this genre, you have to try and last as long as possible.
While flying you must avoid the base's defenses such as lasers, electric barriers, and missiles. But you too have a weapon in the form of your machine gun jetpack using which you hit the scientists fleeing across the base.
What is the most attractive feature about this game is its wide variety of jetpack powerups ranging from the Lil stomper (which always made me lose) to the Crazy Freaking Teleporter and Mr. Cuddles (an overpowered dragon).
The game has managed to stay relevant through various updates that have provided it with improved mechanics, powerups, and character skins. Once you install this game, you won't put your phone back down.
Download Jetpack Joyride for Android and iOS.
Doodle Jump (2009)
Developers – Lima Sky LLC
This was one of the first vertical endless runner games on mobile. While playing doodle jump you can't tell why you are playing it, you just are.
An extremely simple game, in which the character automatically jumps, moves sideways by the tilt of your phone and shoots enemies by a simple touch. There are a few powerups that help you go higher easily, however, once you miss a platform, it's Game Over!!
One could spend hours on this game and not get bored. Once you have started it, your attention will be locked on to it like a three-year-old watching TV. The game is quite simple with the only change coming in the form of various environment and player skins. This game is perfect for a lazy afternoon or just before going to sleep.
Download Doodle Jump on Android and iOS.
Vector (2010)
Developers – NEKKI
A classic game that almost everyone must have tried or seen. In this game, you play as a silhouette trying to outrun another silhouette and break free from your office.
This escape is done using one of the most awesome skills in human history, Parkour. The game mechanics are quite simplistic involving only a swipe from your finger to control the character's moves namely – Jump (Upswipe) and Slide (Downswipe).
Unlike the above endless runner entries, this game consists of 20 levels to finish. With the lifelike movements of the characters, this game makes the player feel like he is performing the stunts himself. As you will find out in later levels, the game is easy to understand but difficult to master.
Download Vector for Android and iOS.
Fruit Ninja® (2010)
Developers – Halfbrick Studios
Probably the most popular game on this list. All you have to do is slice the fruits that pop up on the screen while avoiding the bomb.
The players will find themselves engaged to create the highest score possible by waiting to cut multiple fruits with a single swipe or swiping extensively on the pomegranate.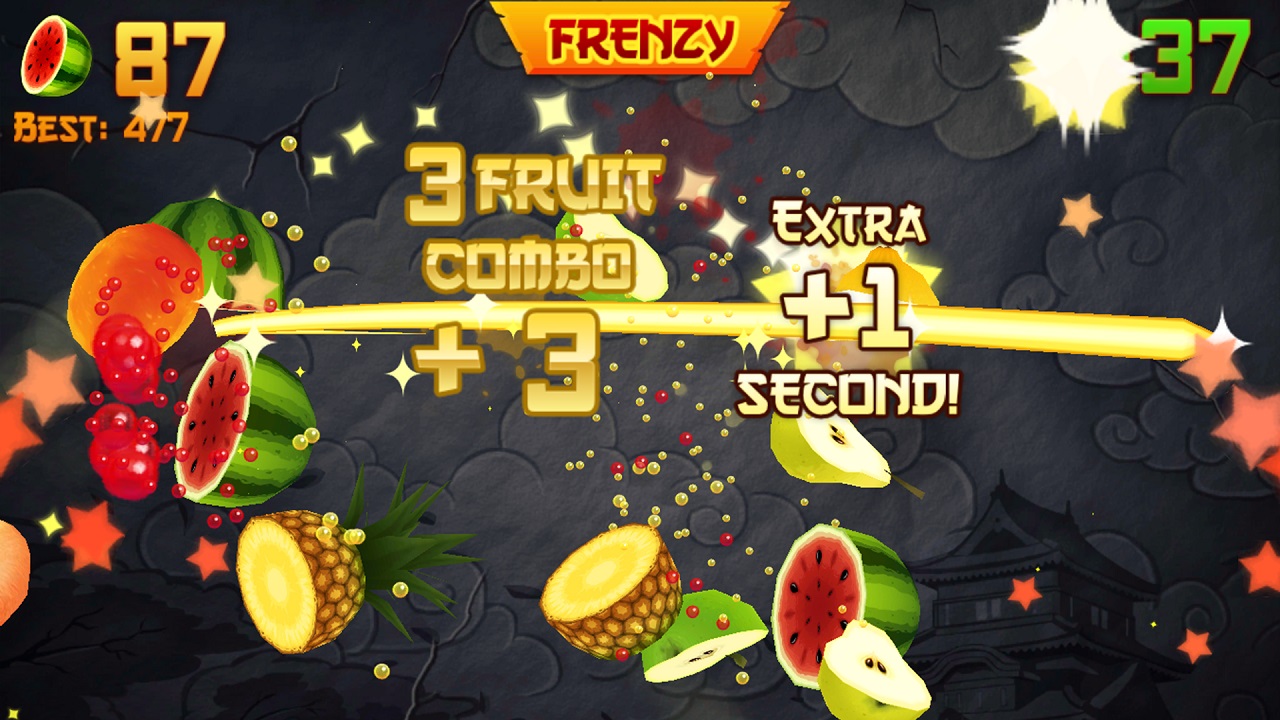 It is a simple game but also requires extreme concentration and control by the player to score points. This game is one of the most satisfying games available for mobiles and a must-try for everyone.
Download Fruit Ninja for Android and iOS.
Cut The Rope (2010)
Developers – ZeptoLab
A classic and fun puzzle game that is a delight to play for people of all ages. The player cuts the ropes using his fingers to drop the candy into the mouth of the green monster.
However, it is not as simple. The game works on real-world physics and requires the player to foresee the consequence of his actions before making them so that the candy has the right speed to swing around to the monster's mouth.
The makers made sure to add fun animations to the monster to make it adorable and fun. This game is extremely fun and keeps you engaged for long hours of time as you try to complete as many levels with all 3 stars collected.
Download Cut the Rope for Android and iOS.