Do you want to feel an adrenaline rush by competing in a high-stakes mobile racing game? Rush Rally 3 is right up your alley if you're looking for one of the best and the hottest mobile games right now.
Rush Rally 3 is a racing mobile game featuring realistic graphics and extensive mechanics. The game features over 72 unique stages complete with different terrains and weather conditions. Whether you're racing through the rough gravel or the slippery slopes of a snowy mountainside, your driving skills will be put to the test.
Playing Rush Rally 3 is mechanically demanding so you'll need all the help that you can get. Check out the guide below to learn more about the game, how to play the different game modes, how to get money, how to download it, and more.
Play the Career Game Mode to Hone Your Skills
Change the Controls Before Playing
Prioritize Learning How to Drift Properly
Join Live Events to Earn Money in Rush Rally 3
Don't Stop Buying and Upgrading New Cars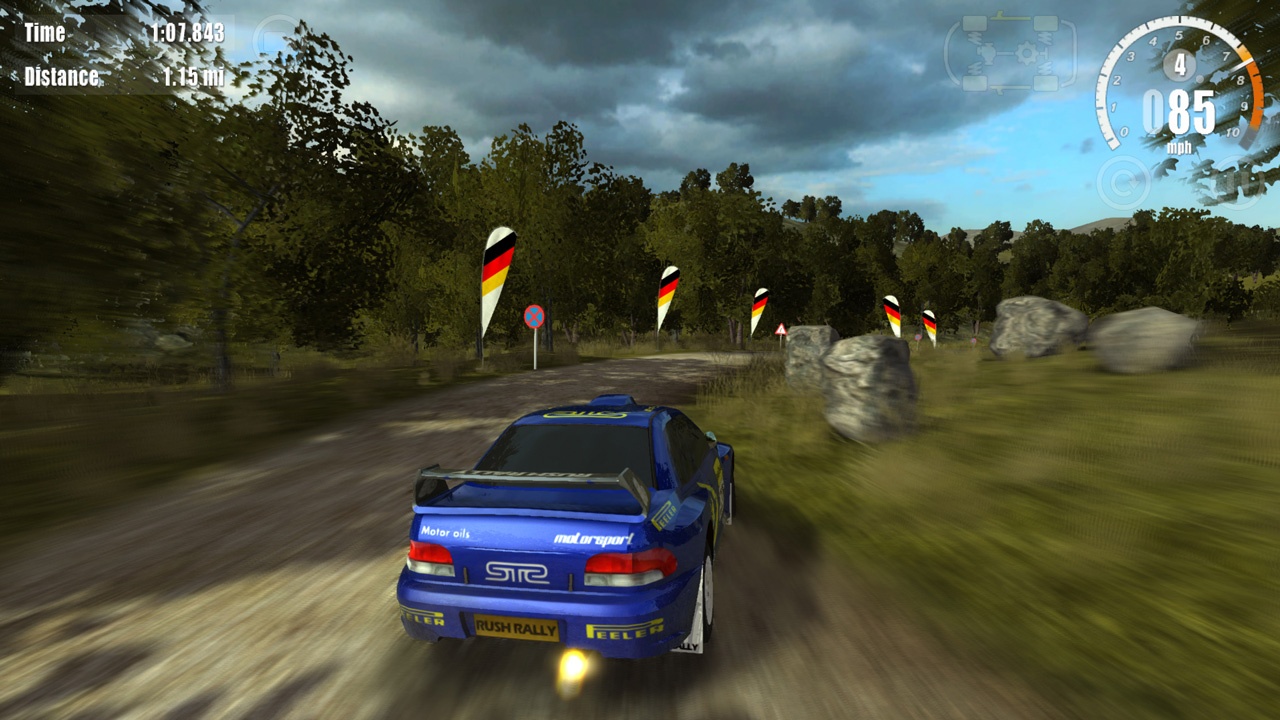 Play the Career Game Mode to Hone Your Skills
Rush Rally 3 is one of the most realistic racing games on mobile. With its 60fps graphics capability, you're sure that every move you make is crystal clear. However, Rush Rally 3 is all about competition.
There are a lot of game modes introduced in this version but if there is one game mode that you should be playing, it's the Career mode. Career mode is where your skills are tested. Everything you learned from the tutorial will be challenged and honed in this game mode.
You'll find yourself losing a lot at first but as soon as you begin to define your driving skills, you'll become one of the best in the game.
Career mode is a series of races where you get to encounter different terrain, objectives, and skill-based goals that will focus on enhancing your driving skills. If you want to get better, play this game mode.
Challenge Other Players in Multiplayer Mode
The Multiplayer mode is another game mode where you can hone your skills. While the Career mode is all about enhancing your skills, the Multiplayer mode is all about having fun with friends or beating your toughest competition.
This game mode is unlocked later on once you've found your groove in the game. You can invite your friends online for a friendly competition or check out the leaderboards to challenge the top players in the game.
If your goal in playing Rush Rally 3 is getting to the top, both Career and Multiplayer modes are your tickets to the highest position.
Change the Controls Before Playing
Rush Rally 3 provides a default control setup for each player at the start of the game. However, these controls may not be suited for your comfort.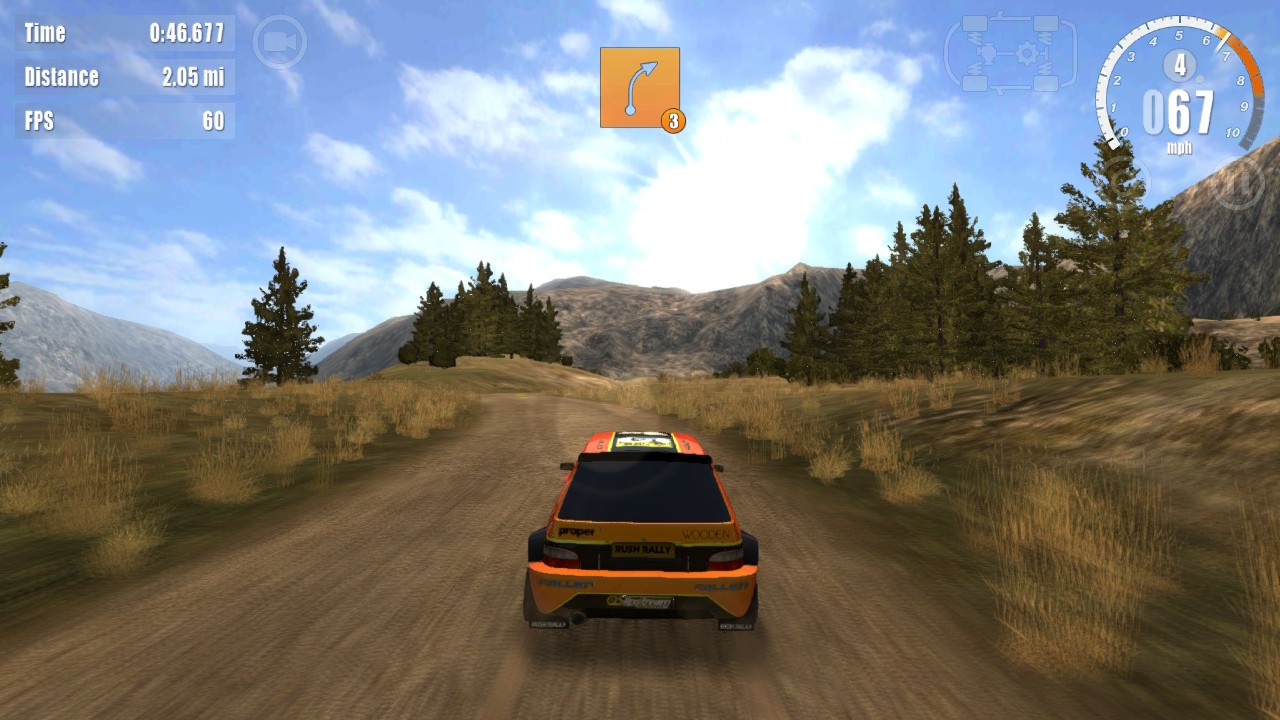 It is highly recommended that you go through the tutorial first and get comfortable with the default setup. However, if you find yourself struggling to play the game with the current setup, you can always change the controls before playing your first real game.
Try to experiment with the controls first and see which ones are the most comfortable for you. Having your own control setup means you can play the game optimally.
Don't Underestimate the Weather and Terrain
Rush Rally 3 features some of the most diverse terrain and weather. Many players tend to underestimate both of these factors saying that it won't affect their gameplay. However, the terrain and weather can be a huge deterrent in your game.
Imagine driving through a slippery snowy road while also trying to squint through the darkness and falling snow. It's going to be very difficult to get to the end knowing you also need to beat your opponents.
The terrain and weather will completely change the way you play the game so make sure not to underestimate them. Learn how to drive your car with each track and get used to your driving skills depending on the weather and terrain.
Prioritize Learning How to Drift Properly
One of the best skills that you will learn in playing Rush Rally 3 is drifting. It is one of the most difficult skills to learn but also the most beneficial to your game. Drifting is done by navigating the corners of the tracks while also maintaining the right amount of speed.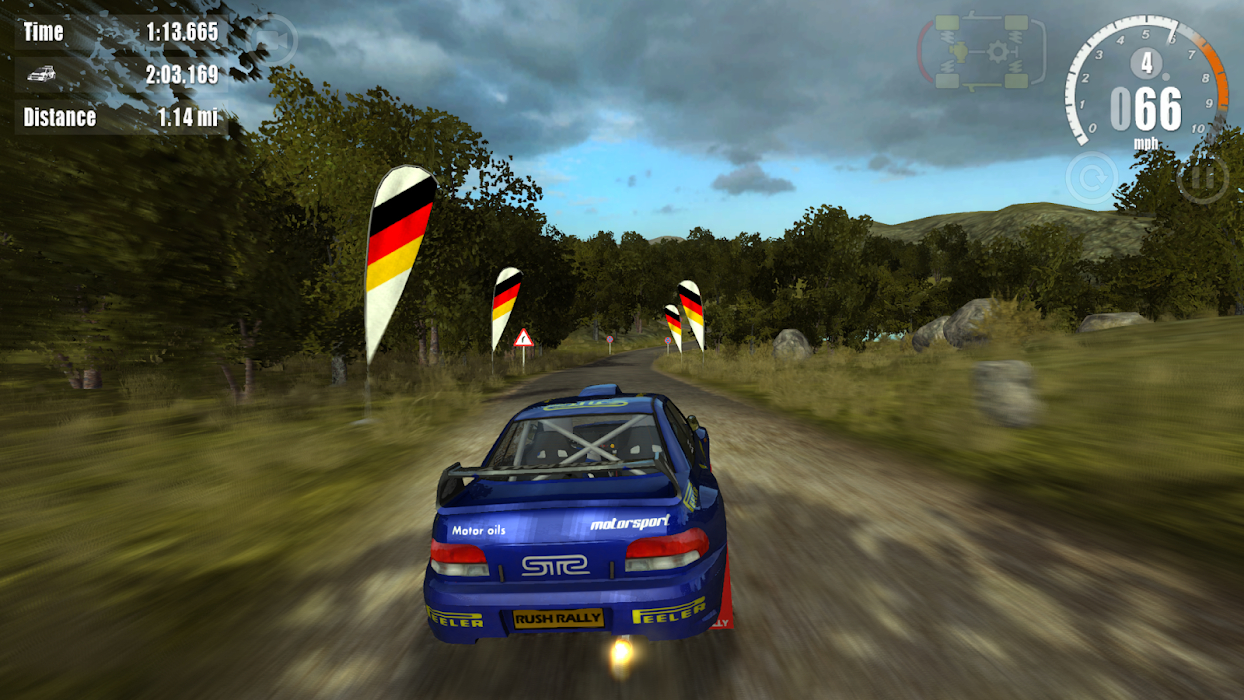 In Rush Rally 3, you'll need to properly execute this, or else you'll crash onto the side and risk your position in the game. You want to approach the turn with the right angle and then slowly and gently press the brake and gas.
Balance both controls. This is why you also need to have a comfortable control set up so you can practice drifting properly.
Some turns will require you to be more skillful while others will be a breeze. It takes a lot of practice to master the art of drifting so start practicing early.
Choose the Car That You're Comfortable With
You'll probably realize by now that playing Rush Rally 3 is all about playing to your comforts. Rush Rally 3 has diverse types of cars that you can purchase and furnish.
Each car has its style and stats that you can check out at the Garage. With that in mind, certain cars offer more speed but less control while others have more handling and braking but have less speed.
However, these stats make a minimal difference when you're playing the game. While it won't matter that much, playing with a car that you're comfortable with is always a good idea.
Join Live Events to Earn Money in Rush Rally 3
Speaking of cars, you'll need to start earning money first before you can afford to purchase your first new car. The game does provide you with a default car that you can use to compete in the early stages of the game.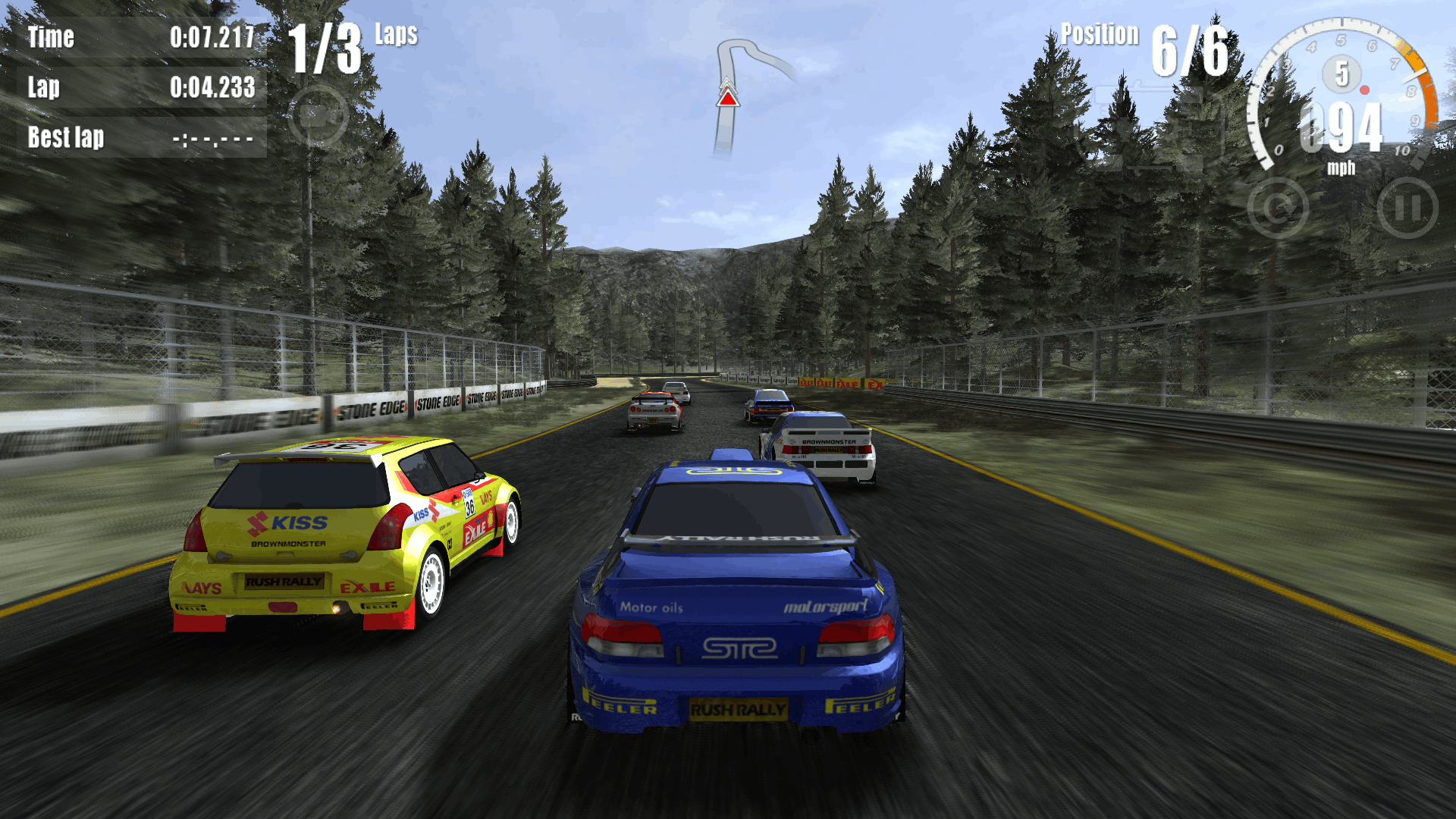 Try to complete the tutorial so that the game will provide you with a good racing car. If you truly want to have a new car, try to join live events. Live events are held weekly and you get to compete against many other players from all over the world.
Winning these events will reward you with a lot of money. However, even just participating in these events will grant you enough money to save and purchase a new car later on.
Keep on joining these live events and winning races so you'll have enough money to afford your next racing car.
Don't Forget to Upgrade Your Car
By now, you've learned how important it is to always have money in Rush Rally 3. Once you have enough money in the game, it's time to put it to good use. The money you've earned from winning races and participating in live events should be spent on upgrades.
Try to choose the best upgrades for your car. Some of them might just be for cosmetic purposes only but some will enhance your experience while driving your car.
Make your car truly unique by personalizing the details. Use the editor to bring a new look to your vehicles. Make your hard-earned money worthwhile by enhancing your best racing car.
Don't Stop Buying and Upgrading New Cars
There are a lot of times when you think that the car that you like is enough for you to win matches in this game. While that might be a good strategy, you must also think long-term.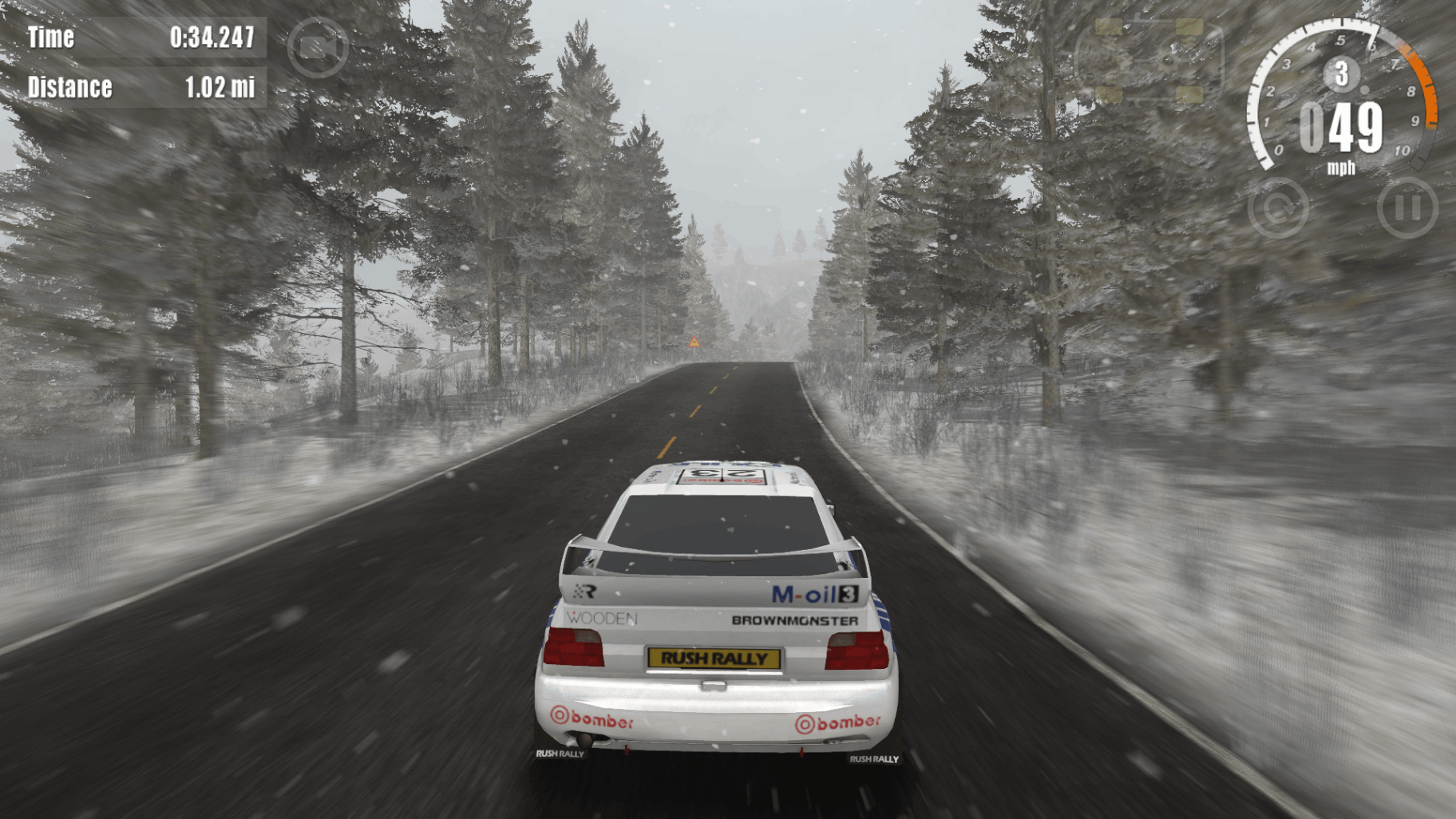 There are many other cars out there that provide better stats but are also very expensive. Never stop buying new cars in Rush Rally 3.
Certain cars will also be introduced in upcoming updates so it is best to save as much money as you can starting today. And while you're at it, don't stop upgrading your cars as well. Time can only tell whether you'll need a better car to win more matches.
How to Download Rush Rally 3
If you're interested in playing the game, here's how you can download it. Rush Rally 3 is available for download at the Google Play Store and the App Store.
To download, you will need to purchase the game first for $4.99 but the rate will change depending on your region. Those who do not have a provided payment option will have to set up their preferred payment method first.
After purchasing the game, it will automatically download. Wait until the game is fully installed then tap Open to launch.
Conclusion
Rush Rally 3 is a fast-paced, highly-competitive, very mechanically-intensive mobile racing game that you should be playing if you're a very competitive gamer.
Follow the tips mentioned above and you'll find it much easier to develop certain skills such as drifting and learning how you can earn the most money so you can get to the top much faster. Download the game today and have fun!