Hair Challenge is a free-to-play mobile game that doesn't involve a lot of complicated mechanics. For me, it's a game I play during my break because it's simple and relaxing.
In Hair Challenge, I control a runway model and aim to have the longest possible hair by collecting wigs. I must avoid obstacles that want to cut the hair or make my character fall off the platform.
Hair Challenge can be difficult to play if you're new. Here are some ways to help you play the game and learn about how to get money, which upgrades to choose from, and where you can unlock exclusive items in my guide down below.
Stop and Observe What's Ahead Before Moving
Don't Fall Off the Platform
Get Money for Free by Watching Ads
Use Diamonds for Boosters and Upgrade Them
Timing Is Key to Avoiding Damage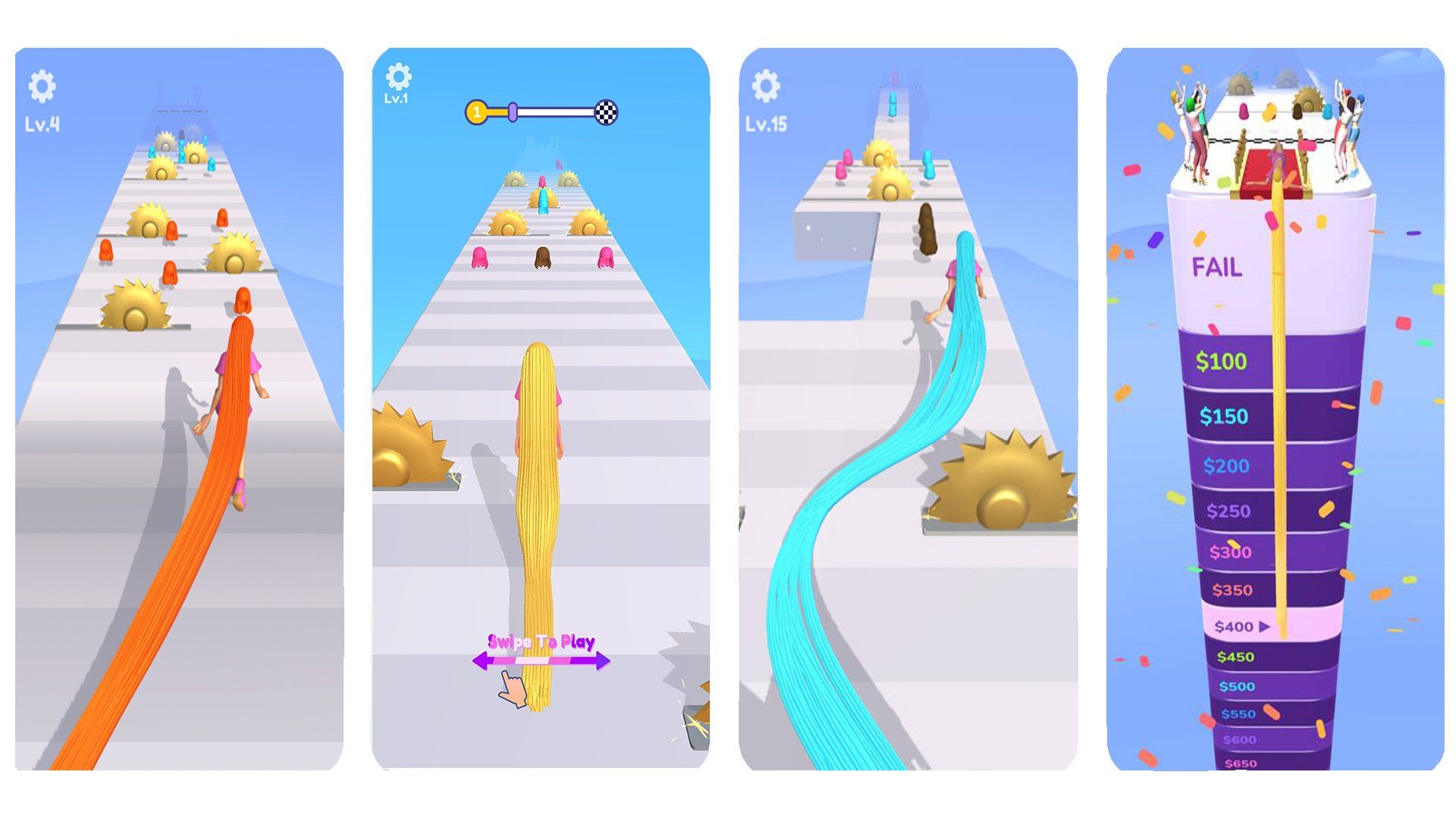 Stop and Observe What's Ahead Before Moving
The mechanics of the game are very easy. All I have to do is hold the screen to move forward and swipe left or right to move the model in either direction to gather hair along the way or dodge traps.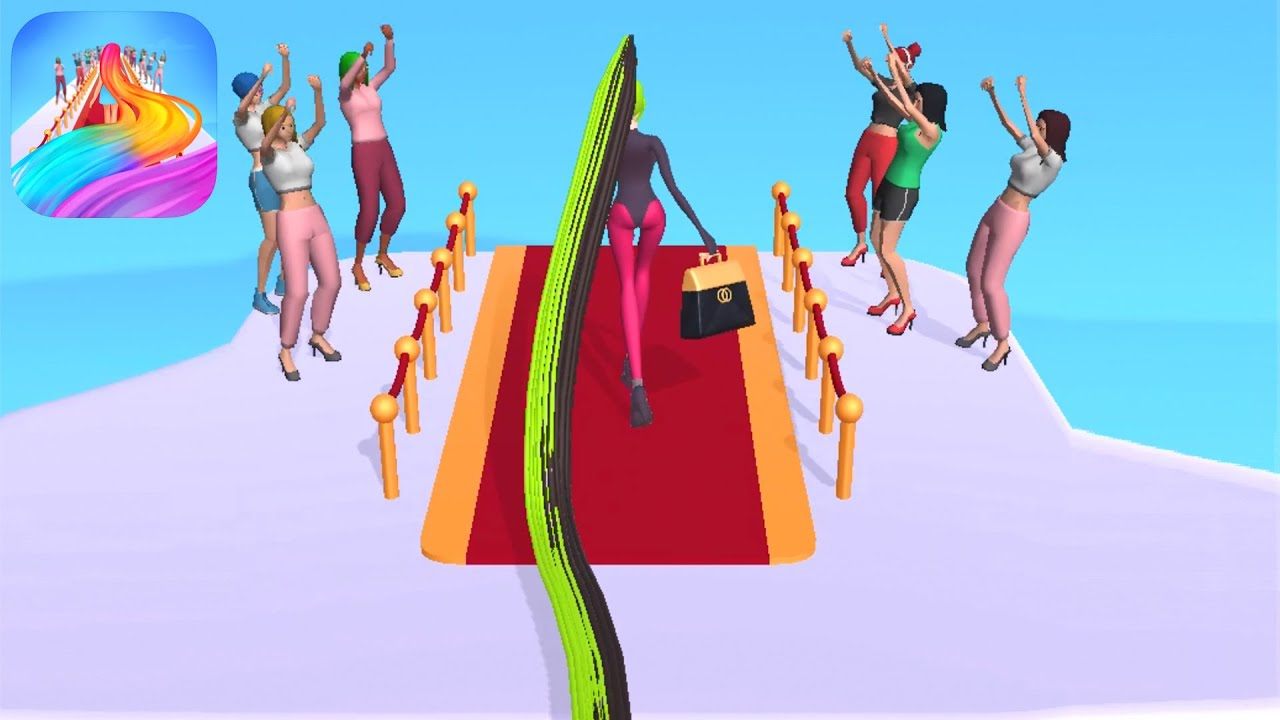 Before moving forward, you'll need to look at what's ahead of you and see if there are any traps or obstacles. Traps can cut your hair and reset your score, so make sure that you avoid going through these traps to avoid cutting your beautiful long locks.
There is no time limit in playing each level, so stop and observe what's ahead of you and plan where you want to go.
This is a great opportunity for you to see which path you want to take, where you'll gain the most hair, and which path you want to avoid.
But Look Behind You as Well
Players should always look forward to see what's coming up ahead. However, I would also recommend that you look at what's behind you as well.
Look carefully, especially when you're about to go through a trap or when you dodge a trap. Your long hair can still get caught in the trap even if you've already moved away from it. Always be careful when you're around traps, even if they're behind you.
Sometimes, you'll end up sacrificing your long hair just to get across a trap, but you can always try to collect more along the way and avoid as many traps as possible.
Don't Fall Off the Platform
If there is one to avoid at all costs in Hair Challenge, it's falling off the platform. The game features some very unique obstacles and traps that are often placed in such a way to be a total nuisance.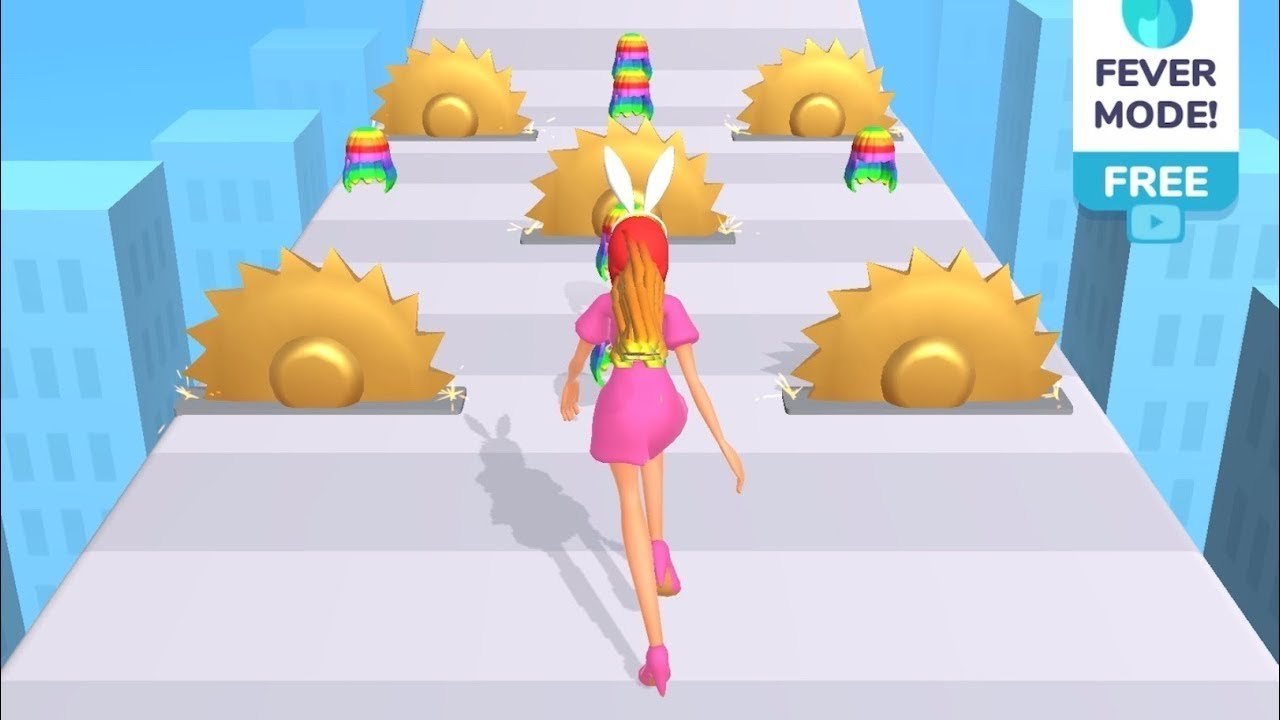 There will come a time when the game introduces you to holes in the platform where your model will fall from if you're not paying enough attention.
As much as you can, try not to fall down the edge of the platform or into a hole. It will immediately end the game, and you'll have to start all over.
I know it's a bit difficult to pay attention to them, especially if you're worried about the traps on the ground, but if there's one thing that you need to avoid, it's falling.
Try the Fever Mode and Have Some Fun
The main game is a lot of fun, considering how easy it is to play. But, the real fun happens when I tried a few other game modes featured in Hair Challenge.
One of which is the Fever mode, where you start with three locks. Every time you collect hair along the way, all three locks will also grow in length. This will help me reach an even higher score at the end.
Fever mode is a great way to earn more scores and, in part, earn an even higher amount of diamonds. If you want to have more fun playing Hair Challenge, I dare you to play Fever mode.
Get Money for Free by Watching Ads
Money is not a problem when you play Hair Challenge. The money used in the game, the in-game currency, is diamonds. There are many ways for players to earn diamonds, and I'll tell you how and where you can earn the most.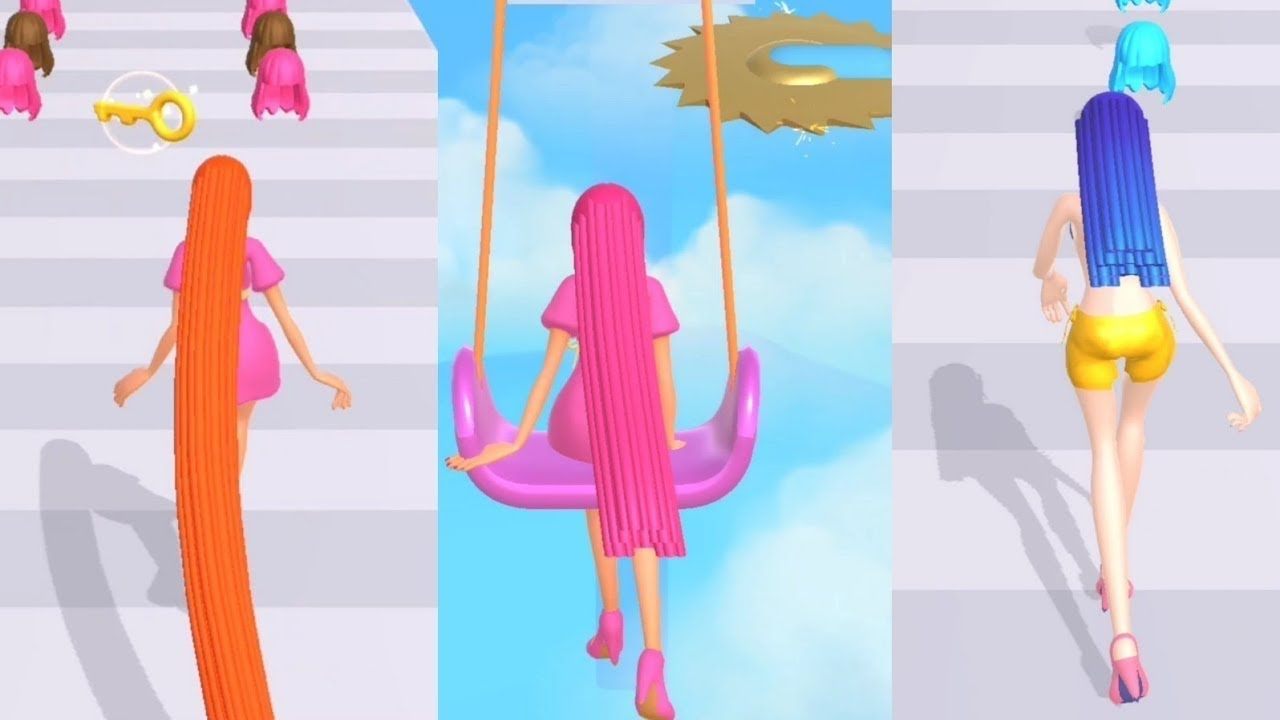 First, completing each level with the highest score will help you earn diamonds. If you're able to beat your previous high score, the game will reward you with even more diamonds.
Another great way to get money for free is to watch ads. There's an option to watch an ad found at the end of each level. Tap the option and receive bonus diamonds.
The number of diamonds given will depend on how well you've done within the level.
Learn How to Unlock Exclusive Cosmetic Items
For a mobile game that prides itself as stylistic and chic, the game offers a lot of cosmetic items that can be purchased using diamonds. Now that you've learned how to earn diamonds in this game, it's time to check the in-game store.
There are a lot of cosmetic items but also a list of exclusive cosmetic items that can only be acquired by watching ads. Check out the in-game store and tap on the Star or Exclusive tab to discover different cosmetic items that you can collect by just watching ads.
These exclusive items include bags, crowns, and other headpieces that will make your model look even more beautiful and cute as you strut your stuff on the platform.
Use Diamonds for Boosters and Upgrade Them
Once I collected enough diamonds in the game, I spend them at the in-game store on cosmetic items to make my model look good. However, there's a more useful way to spend your hard-earned diamonds in the game.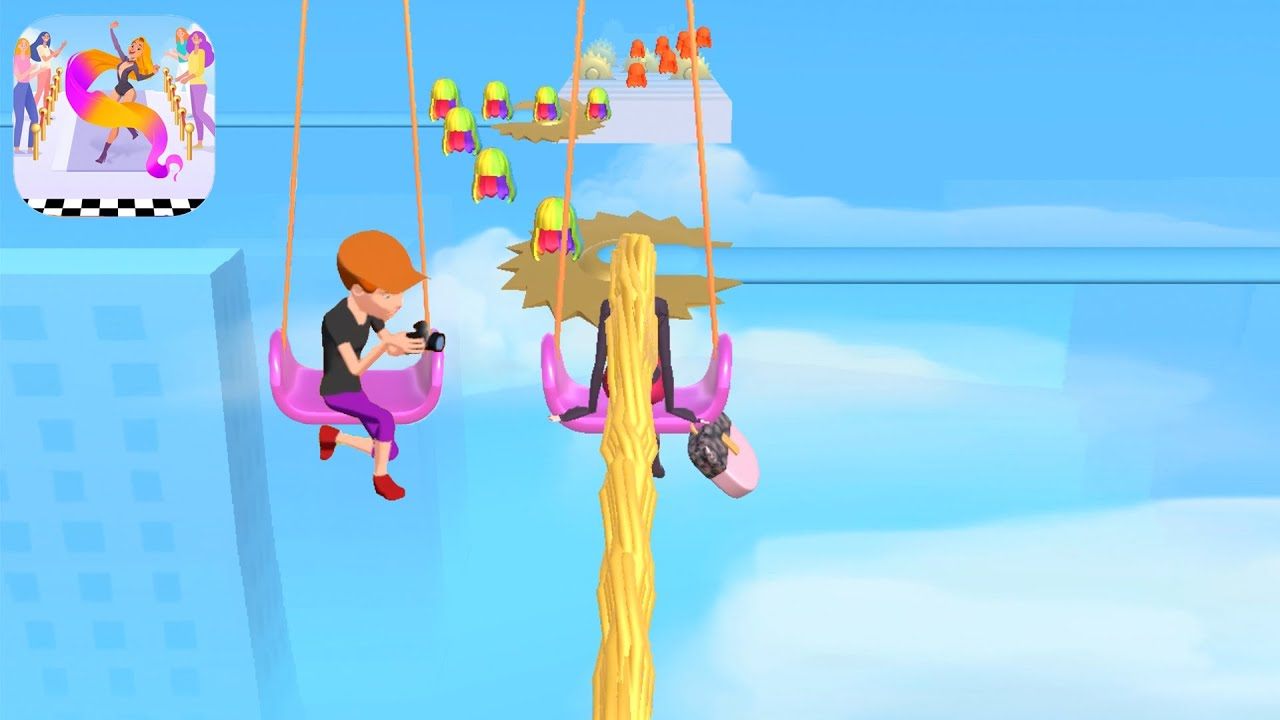 Try to check the Upgrades tab found on the right side of the screen. Some boosters can be purchased and upgraded with the use of diamonds. These boosters can help make the game a lot easier to play.
Boosters like Magnet would help collect all the nearby hair, so I don't have to pick them up. There is also the Multiplier which doubles the hair collected when used.
These are helpful tools for me to reach a higher score and earn more diamonds in the game. Make sure to put your diamonds to good use by purchasing these boosters first.
Finish Certain Levels to Unlock Gifts
Completing certain levels is difficult enough, but the game does reward players for their hard work. Every time I finish a couple of levels, Hair Challenge rewards me with gifts. The earliest possible time that I unlocked gifts was after completing level 5.
The gift contained a luxurious bag, and I had to watch an ad to unlock it. Afterward, I got to enjoy a new cosmetic item that I could carry around while playing the game.
More gifts are waiting to be unlocked after completing certain levels in the game. You can find out how many levels you'll need to complete to unlock more gifts by checking out the meter at the top of the screen before you play.
Timing Is Key to Avoiding Damage
Proper timing is everything when playing Hair Challenge. Collecting hair along the way is the ultimate goal but avoiding damage is equally important to preserve my long locks.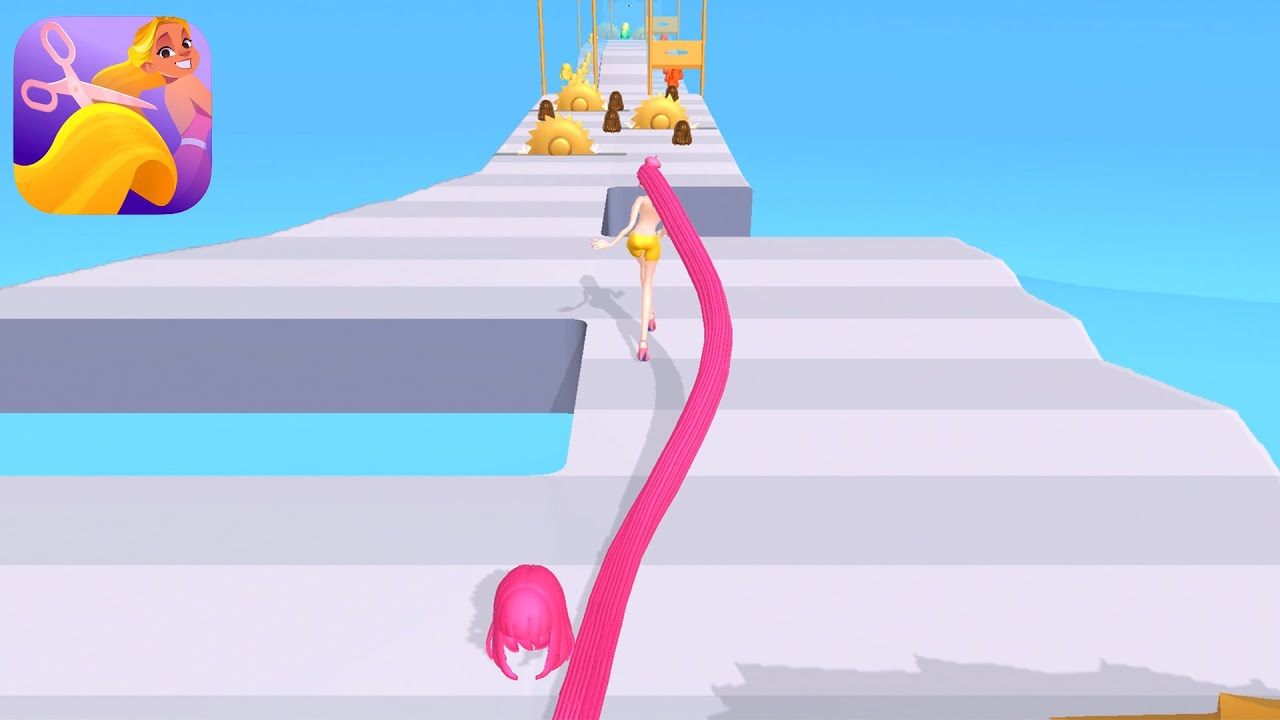 Various traps deal damage and cut off my model's hair, but I can always outmaneuver these traps with proper timing. Whenever I'm near a trap, I slow down a bit and time my passage perfectly so it also won't hit my hair by the time it rolls back.
As mentioned before, you will need to look ahead and see what's behind you in this game as traps can still cut your hair even after you have already passed them.
Practice having perfect timing in the early levels, and you'll never have to worry about it when you reach the more difficult parts of the game.
Downloading Hair Challenge on Mobile
Hair Challenge is a free-to-play mobile game that is available to download on different platforms, including the Google Play Store for Android devices and the App Store for iOS.
Search the title of the game and tap "Download" or "Install". Wait until the game is fully installed and tap "Open" to launch.
Make sure to set up your payment method if you want to support the game through in-game purchases.
Conclusion
These are my top tips on how you can improve while playing Hair Challenge and have fun doing so. In my opinion. Hair Challenge is the best hair runner game that I've played. It's challenging, cute, and most out of all, it's super fun to play.