You might have already come across this game before and dismissed it for its simple gameplay, but Bubble Witch 3 Saga is far from simple.
Never underestimate a game with fancy animation as Bubble Witch 3 Saga has some of the best features and gameplay that puts other puzzle games to shame. It's no wonder why the game remains very popular over the past few years.
Playing the new Bubble Witch 3 Saga brings more challenges than ever before. Here are some tips on how you can be good at the game, get gold, and more.
Better Controls
Plan Ahead and Aim High
Practice for More Accurate Shots
Join Events to Get Gold
Unlock Unlimited Lives
Getting Stardust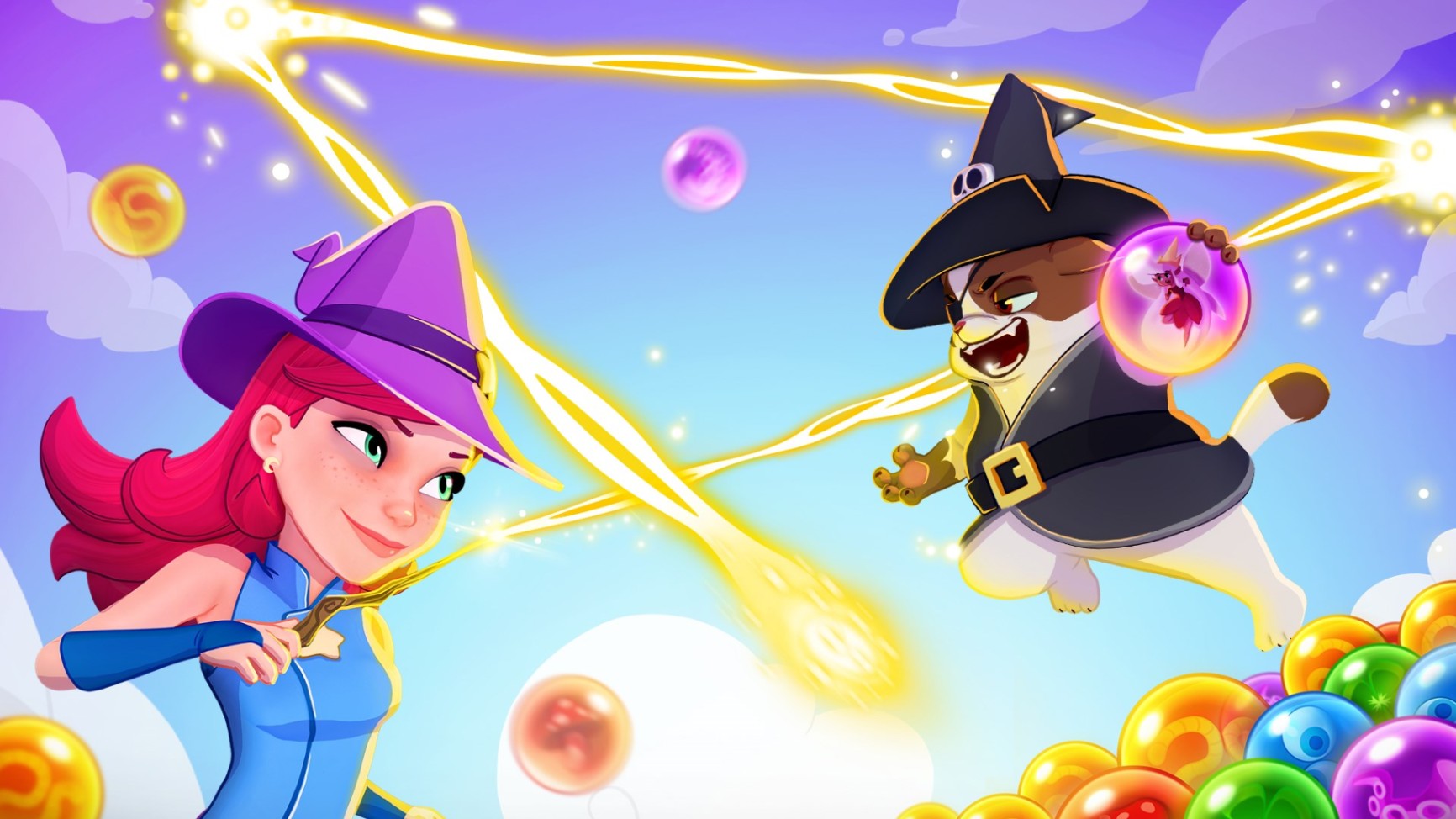 Better Controls
There were a lot of new upgrades introduced in Bubble Witch 3 Saga when it comes to controls. In the past, players would have to guess where the bubble would land.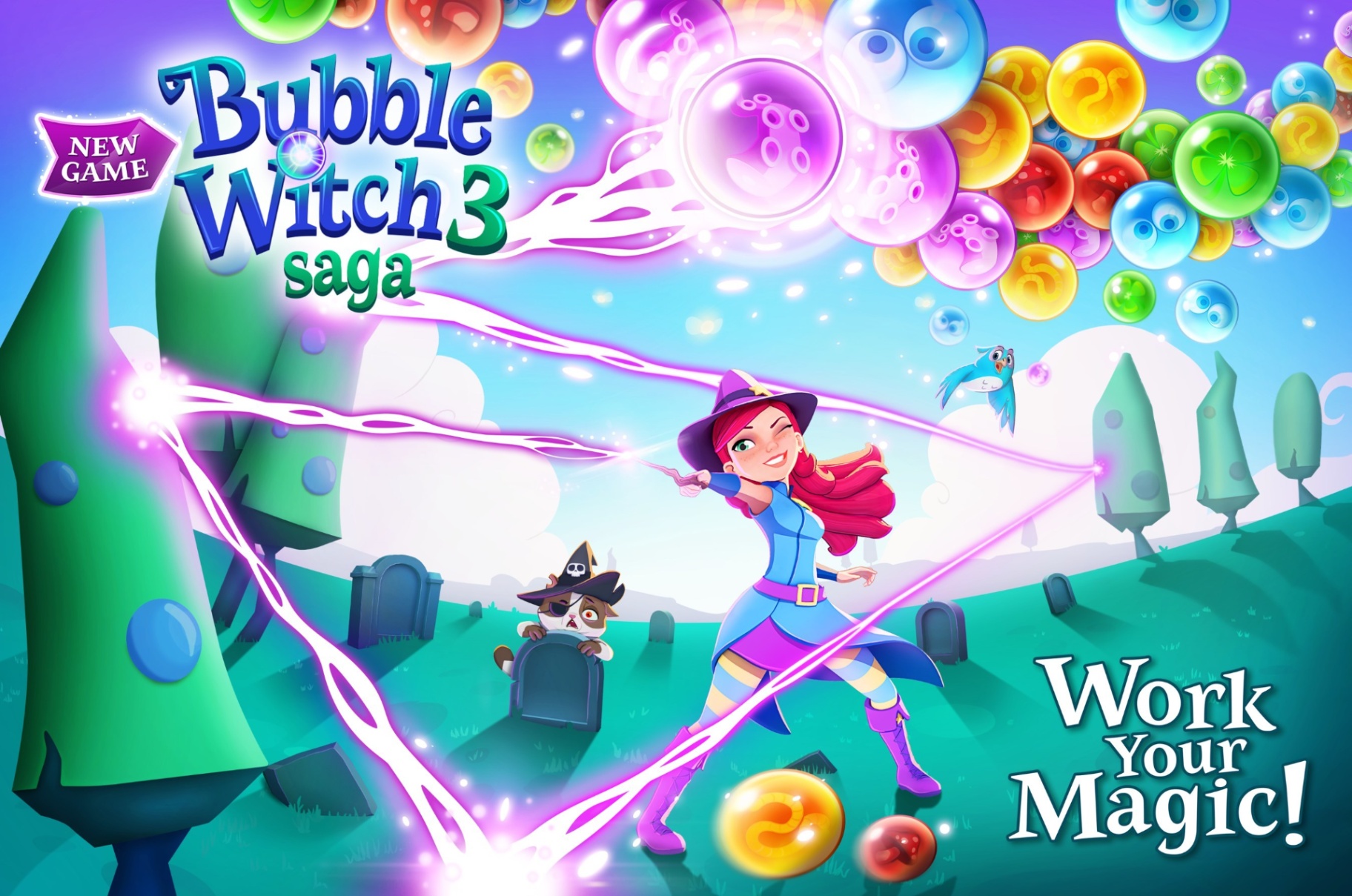 Controlling the Bubble Shooter is a lot easier with this version now that it has what we call an aiming line. There is a visible line that allows you to see where the bubble would land once you shoot it.
Players have full control over the game now that the aiming line is visible.
Additionally, the Bubble Shooter is now far easier to maneuver and shoot by just sliding the shooter left or right and then releasing to shoot the bubble.
Learning How Bubbles and Blockers Work
There are five different bubbles used in this game and each of them is assigned different colors. To earn points, I simply shoot the bubble from the Bubble Shooter and link it with three or more bubbles of the same color to match.
There are also other bubbles introduced in Bubble Witch 3 Saga. These are the Special Orb, Trouble Bubbles, and Blockers. Special Orbs destroy obstacles while Blockers, you guessed it, block several bubbles causing more difficulty within the game.
Trouble Bubbles add more depth into the game with different types having different effects in the game. Most of these Trouble Bubbles are quite a nuisance to the game but playing them right can result in a victory.
Plan Ahead and Aim High
The very first thing that I want to tell you is to always have a plan before shooting the first bubble.
Check out the layout of the entire level first and see which part you want to take out first that will make your game a lot easier.
The objective is to match as many bubbles as you can to finish the level as fast as possible. To do this, you will need to aim high so you can match the colored bubbles above and release the one below it.
This means shooting a little less to clear those bubbles and give you more time to get to the more difficult ones. At the end of each level, you will receive a hefty bonus for doing this trick.
Getting Rid of Blockers
Blockers can make a level very difficult to finish. They often block a group of bubbles which makes aiming very hard.
There is only one way to get rid of blockers. You will find that blockers are surrounded by bubbles. I tend to aim my Bubble Shooter above the blocker so that it will clear up that area causing the entire line of blockers below it to fall.
This is where your skill as a player will be put to the test. You will need to shoot off a wall and bounce the bubble into the right spot. Fortunately, the visible aiming line helps a lot this time.
Practice for More Accurate Shots
While the aiming line will help you land your shots, you will still need to practice shooting the bubbles in the right place.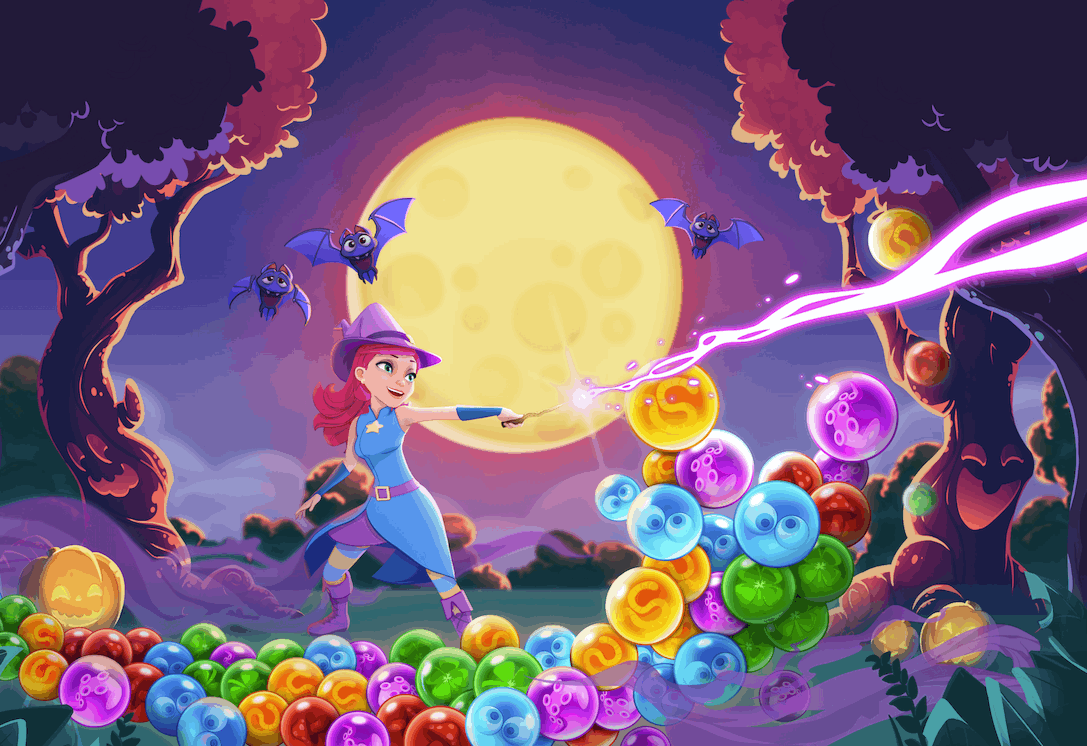 This is highly advisable especially when you reach the later levels in the game where several obstacles and blockers can deter the accuracy of your shots.
I would also suggest that you practice different ways of shooting in this game. You can try to bounce bubbles off the wall so that it passes through some difficult spots in the game.
Practice shooting bubbles especially during the early stages so you can use your newfound skill later on to great effect. This would allow you to coast through more difficult levels with ease.
Use Spells Accordingly
Spells are often used in the game as an emergency tool. However, not a lot of people understand that spells are very hard to come by in this game. They treat it as a normal ability that you can cast anytime you want.
Always use your spells accordingly. Cast them whenever you feel like you have run out of space to work with. Spells like Stereo Bolt can destroy a horizontal line of bubbles while Sparkling Blast takes out a circular area.
Meanwhile, Magic Beam is best used when you want to destroy a large area. Make good use of spells and you can get ahead of the game easily.
Join Events to Get Gold
The thing about spells is that you will need to purchase them using gold. Gold bars to be more specific. Gold bars sadly don't come for free in this game.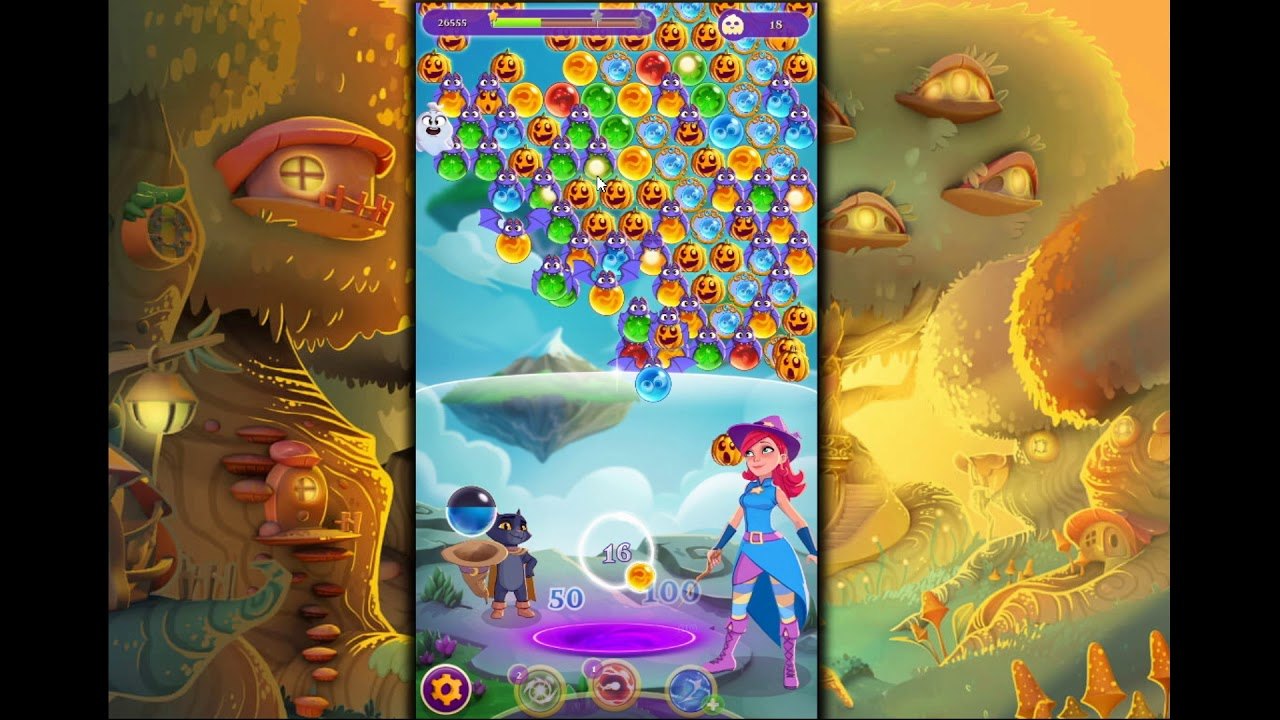 However, there is one secret that many other players don't know about.
Join and win in-game competitions and events from the game's social media page to earn a solid amount of gold bars as a prize.
Buying Gold
Gold bars cost real money in Bubble Witch 3 Saga. You will need to shell out a good amount of money if you want to gain access to spells all the time.
The way I do this is I look out for sales and events. Most of the time, the game puts out a sale for gold bars whenever a holiday is coming.
You can also check out some deals like getting gold plus spells or having access to unlimited lives for a certain time. Check out the in-game store to see more promos.
Unlock Unlimited Lives
There is one cool way for you to unlock unlimited lives for a short time in this game. The way to do it is to get stars by completing a level.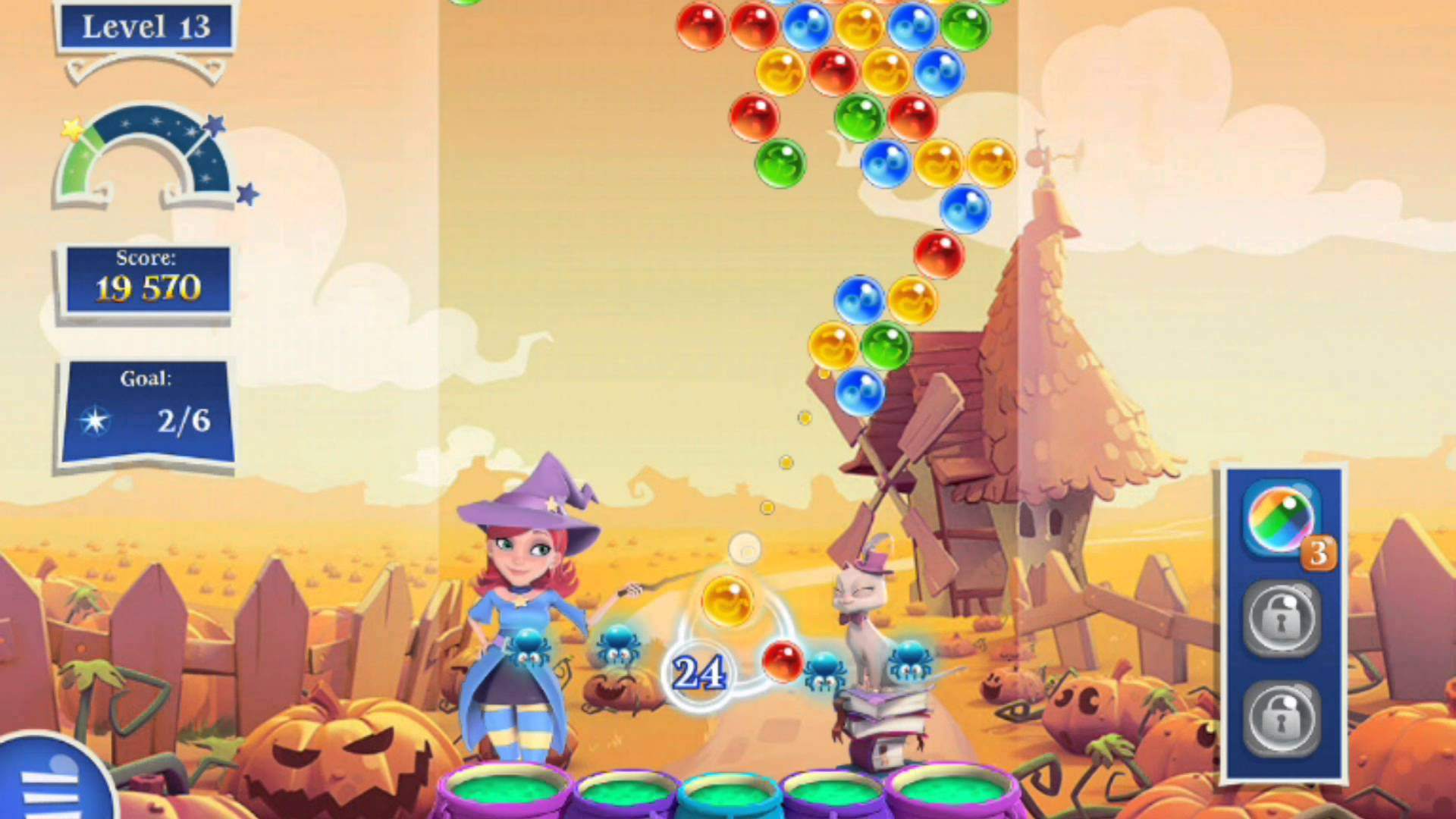 I then convert the stars to stardust through the stardust bar at the bottom of the screen. Once I get enough stardust, I then use that for renovation. Renovating at least three items will unlock a chest.
The chest contains different rewards such as unlimited lives for an hour and many other rewards such as spells.
Take advantage of the unlimited lives and play as much as you can to complete more levels and earn more rewards.
Save Some of Your Lives
I know I've given you some tips to get unlimited lives in this game however, that does not come often. The best way to play longer in this game is to save some of the lives that you've earned along the way.
When you are out of lives, you will have to wait until the game replenishes them for you. It can take a while before that happens. I would rather suggest that you play in easy levels and then get the highest score possible.
There is a chance that you will be rewarded with extra lives. Save some of that for the more difficult levels in the game. You'll thank me later once you follow this step.
Getting Stardust
Stardust is a precious resource in the game. However, that does not mean that the game would make it difficult for you to acquire one.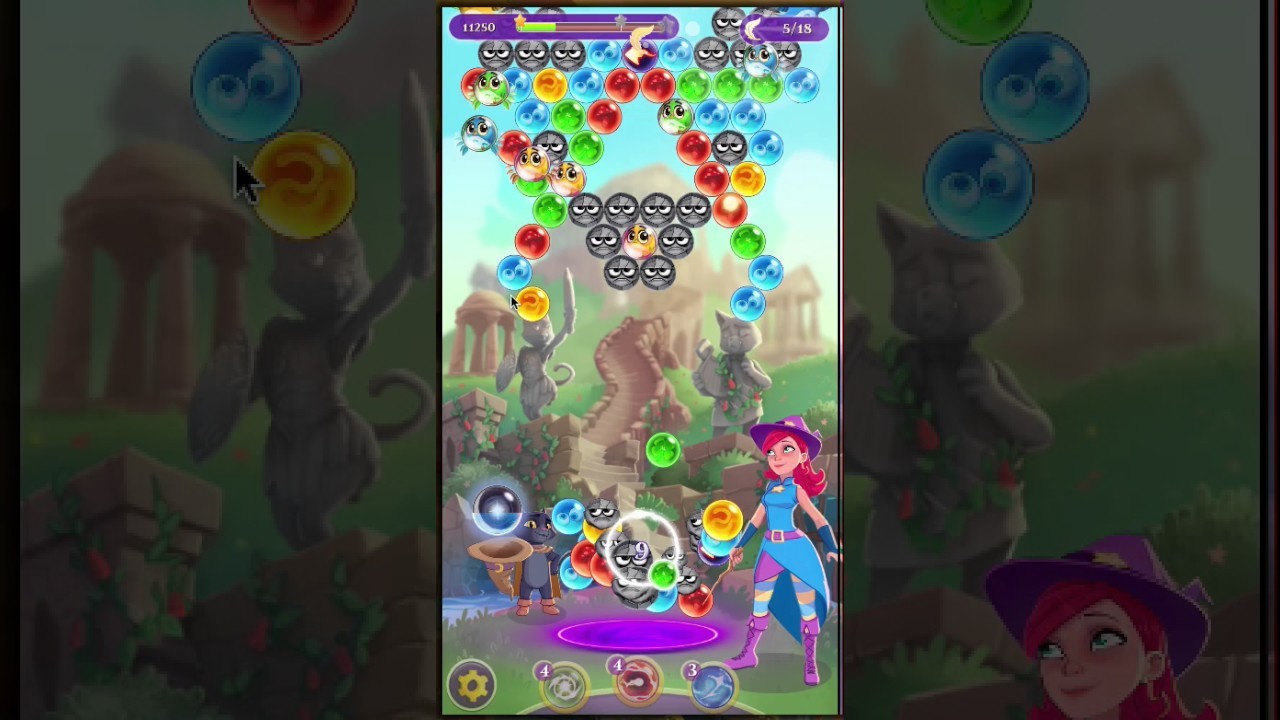 Apart from playing the game, you can also visit other players' homes to get more stardust. I go to the map screen and tap on a player's profile that has a dancing potion bottle. Tapping it collects the stardust.
I would also come back after an hour or so to collect even more. Another great way to get stardust is to finish quests.
Completing quests often give out a good amount of stardust which I'm pretty sure will be enough to unlock at least a single chest for the entire day.
Get Back to Your Friends
If you see a little owl on the map, this means that your friends are asking for your help. Get back to your friends by tapping on the owl and see what they need in the game.
This is the reason why I like to play a lot of Bubble Witch 3 Saga. The game connects me with my friends and allows me to help them when they're in trouble.
What better way to repay them for the stardust that they've given to me than sending a bit of help to them as well.
Conclusion
There is no denying that Bubble Witch 3 Saga's popularity is through the roof and is projected to become even more popular in the coming years. Make sure that you apply all the tips that I've compiled in this guide so you'll have a better experience.
Bubble Witch 3 Saga is currently available for download at the Google Play Store and the App Store for all mobile devices.