As a Candy Crush player, I've been stuck on certain levels for hours and even for days in some instances. I realized that in order to complete some of these challenges, I need to purchase boosters such as extra moves or extra time. To be able to do that, I need to have sufficient Gold Bars, and these cost actual money.
Since the game is free-to-play, it's my principle to not spend money on it as much as possible. So, I wondered about how I can get my hands on those coveted gold bars without spending cash and without using hacks.
Spending several hours searching online, I learned several ways I can actually earn gold bars in Candy Crush without having to spend a single cent. Here are some of the methods I found and hopefully, they can help you as they did for me.
About Candy Crush
How to Play Candy Crush
How to Download and Install Candy Crush
Gold Bars in Candy Crush
How to Get Free Gold Bars
Adding Your Facebook Profile and Episode Race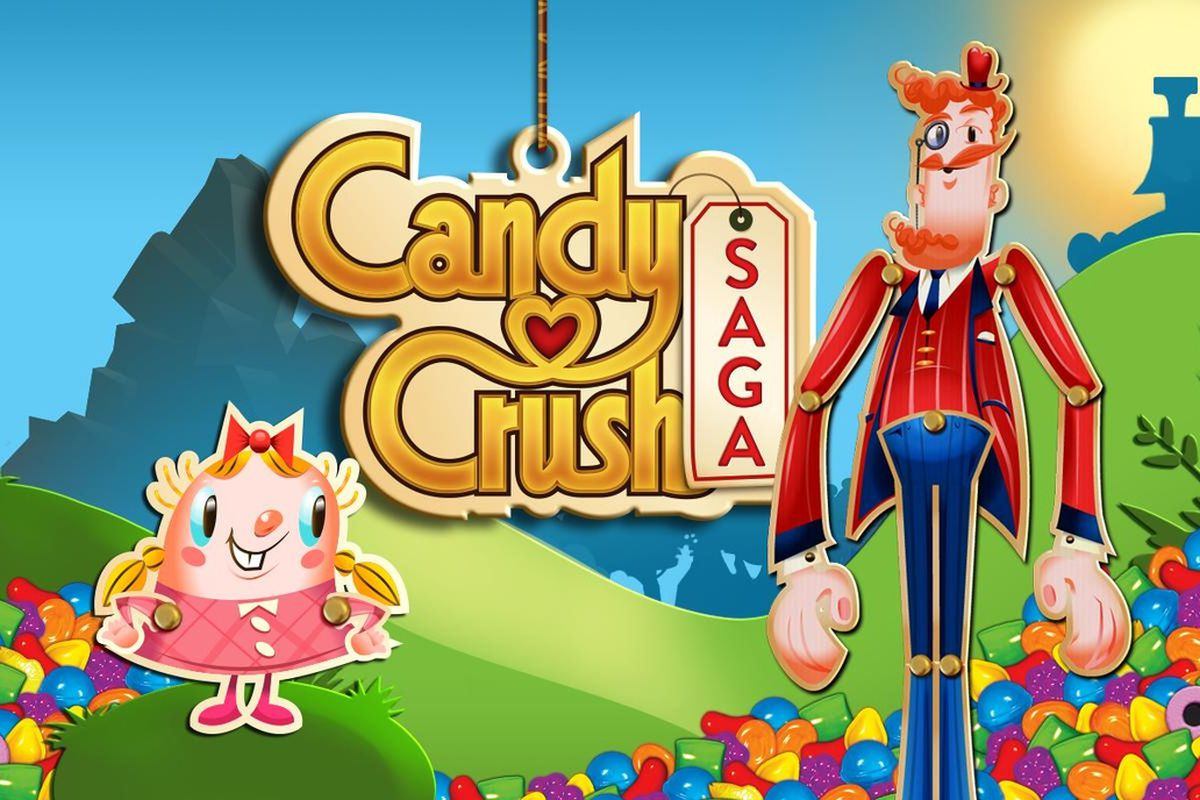 About Candy Crush
Candy Crush Saga, more often referred to as Candy Crush, is a free-to-play puzzle game developed and published by Malta-based video game developer King.com Limited or King.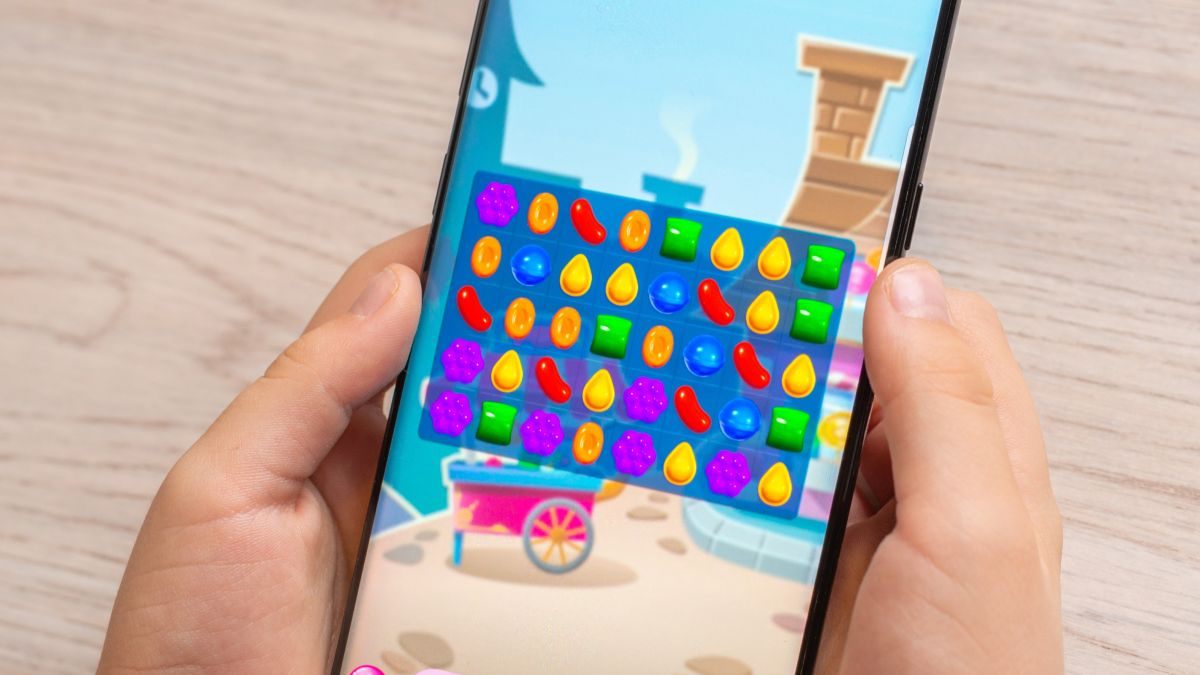 It was first released in April 2012 as a video game for Facebook but other versions were later released for Android, iOS, Windows Phone, and Windows 10.
It is considered one of the first and most successful freemium games, which are video games that can be played for free but players are able to spend money to purchase special moves and items that can help them clear levels.
These in-game purchases are where King gets its revenues from.
Popularity and spinoffs
At the height of Candy Crush's popularity, the company was making nearly $1 million on a daily basis and in 2014, more than 93 million people were playing the game.
This global popularity led to three spinoff games, namely Candy Crush Soda Saga, Candy Crush Jelly Saga, and Candy Crush Friends Saga.
How to Play Candy Crush
Candy Crush is a variation of the match-three game, also called tile-matching, where you manipulate the positions of tiles, or in the case of Candy Crush, candies, to align sets of three candies of the same color.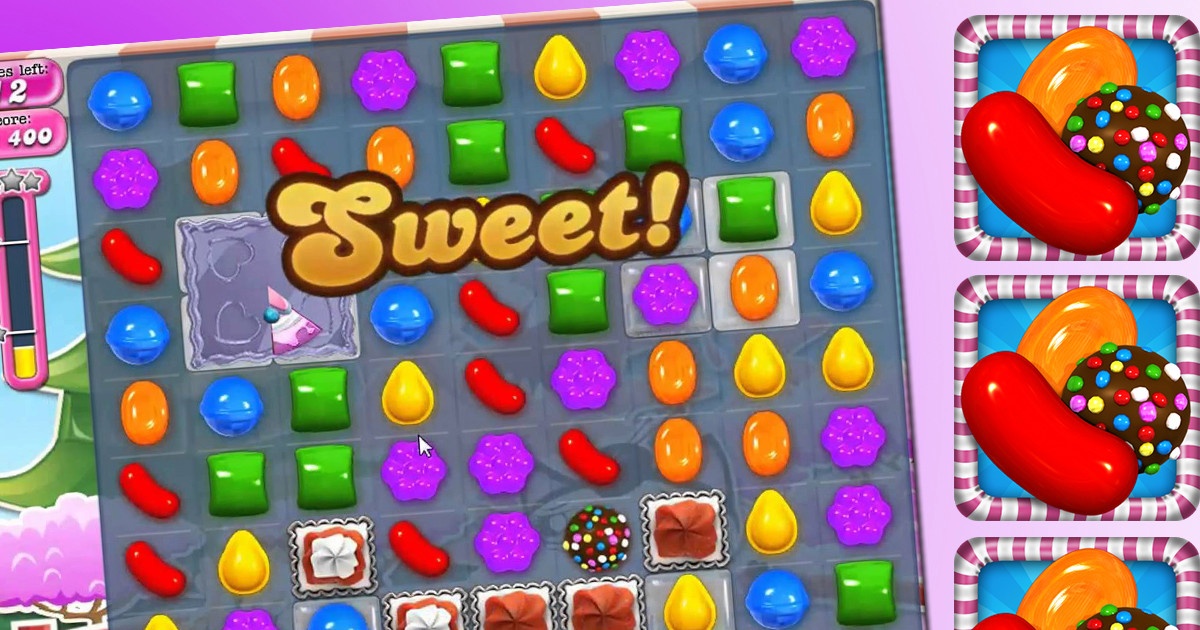 Once you make a match, these candies will disappear, causing the candies above them to collapse into the free space that often results in chain reactions.
You can only move and align candies either horizontally or vertically and in order to clear a level, you should meet its objectives before you run out of moves or time in some timed levels. Completion of each level is ranked from one star to three stars, depending on the points you earned on that particular level.
At the start, you will be given five lives and every time you fail to complete a level, you lose one of them. Once you exhaust all of these lives, you can either ask your game friends to give you more lives, wait for them to replenish over time, or buy new lives using money.
Game Story
The game is set in the Candy Kingdom and it will begin with candy store owner Mr. Toffee finding the character Tiffi in a small candy bag on his doorstep and deciding to raise her as his own daughter.
Your Candy Crush adventure will involve Tiffi exploring the kingdom alongside her friend Yeti to solve the problems faced by the residents.
During her adventure, Tiffi will visit numerous places, including the Peppermint Palace, the Lemonade Lake, and the Gingerbread Glade. The game's main villain is Bubble-Gum Troll who is causing havoc across Candy Kingdom.
How to Download and Install Candy Crush
Candy Crush Saga is available on different platforms and can be downloaded for free on the Google Play Store for Android users, the Apple App Store for iOS devices, and the Microsoft Store for Windows PC and Windows Phone devices.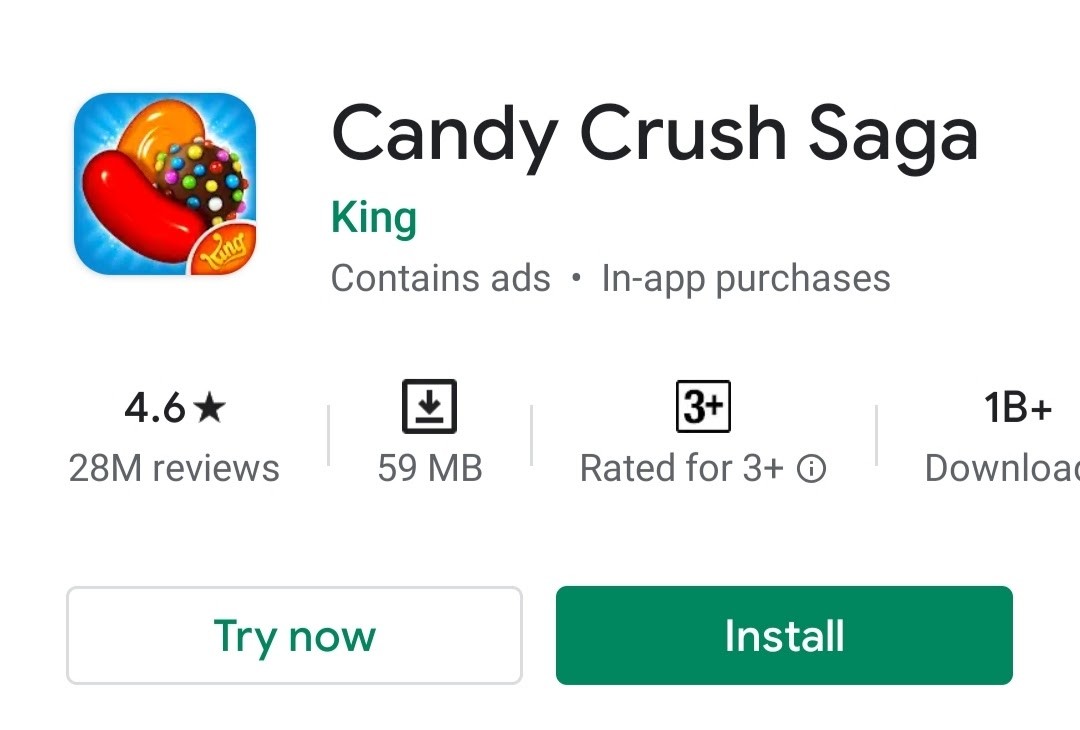 To download, use the search bar on the corresponding app store on your device and type in "Candy Crush Saga".
Once you find the correct app, simply tap the 'Install' button for Android or the 'Get' button for iOS and Windows and it will begin downloading.
Once the game finishes its installation to your device, you can begin playing by tapping 'Open' or launching the game from your home screen by tapping the game's icon.
System requirements
For Android, the game requires an Android version of 4.1 or newer.
iPhone users must have iOS 9 or later versions and at least 286.6 MB of free space.
For Windows PC, it requires Windows 10 version 14393.0 or higher, or Windows 8 Mobile for Windows smartphones.
Gold Bars in Candy Crush
Gold or Gold Bar is the premium currency used in Candy Crush Saga, introduced in September 2013.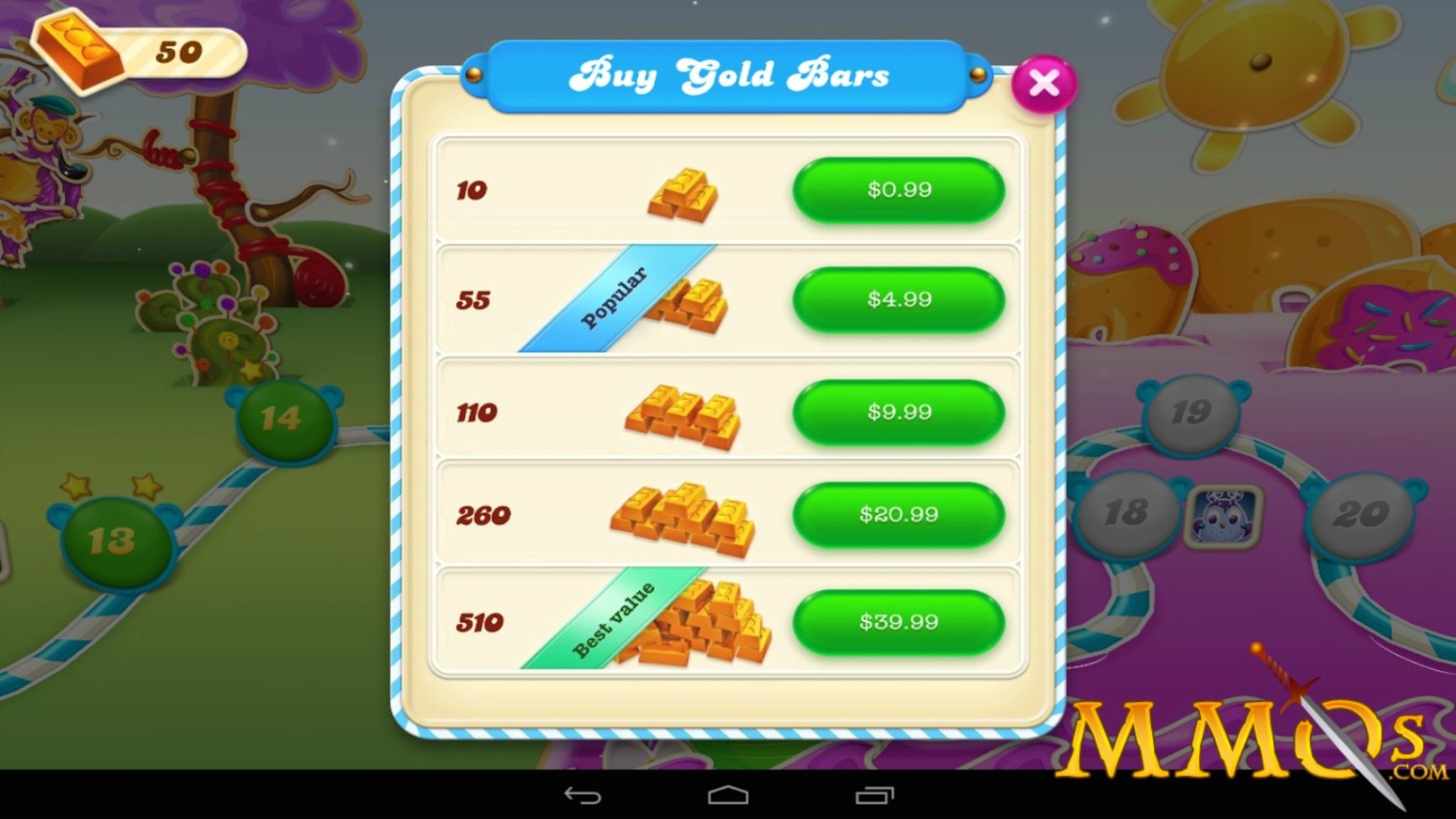 Unlike other games where there is a lower order currency, Candy Crush has none, though Sugar Drops may be treated as such. However, the developer discontinued Sugar Drops officially from the game in March 2020.
Gold bars are usually obtained through in-app purchases using a credit card, iTunes credits, or Google Play credits. You can use gold bars to buy new lives, extra moves, and boosters or to unlock a new episode.
Extra lives cost 12 gold bars for a full set and 69 gold bars for six hours of unlimited lives, while tickets to unlock the next episode directly will cost 9 gold bars for 3 friends or 3 gold bars for every missing friend.
Strategic Use of Gold Bars
Since gold bars cost real money, you should use them wisely to avoid breaking the bank. I don't recommend using gold bars to purchase extra lives as they don't have tactical value and can be obtained using other free methods.
The most strategic way to use gold bars is to buy stockable boosters. This is because these items can only be obtained using gold bars or through rare offers or initial supply. These boosters include Extra Moves, Extra Time, Bomb Cooler, Sweet Teeth, and Bubblegum Troll.
Extra Moves will give you 5 additional moves for the price of 10 gold bars while Extra Time will give you 15 additional seconds at the start of the level for a minimum of 29 gold bars.
How to Get Free Gold Bars
Now that you know about gold bars and how to strategically use them, it's time for me to share the methods I learned about how to get free gold bars without using hacks or cheats.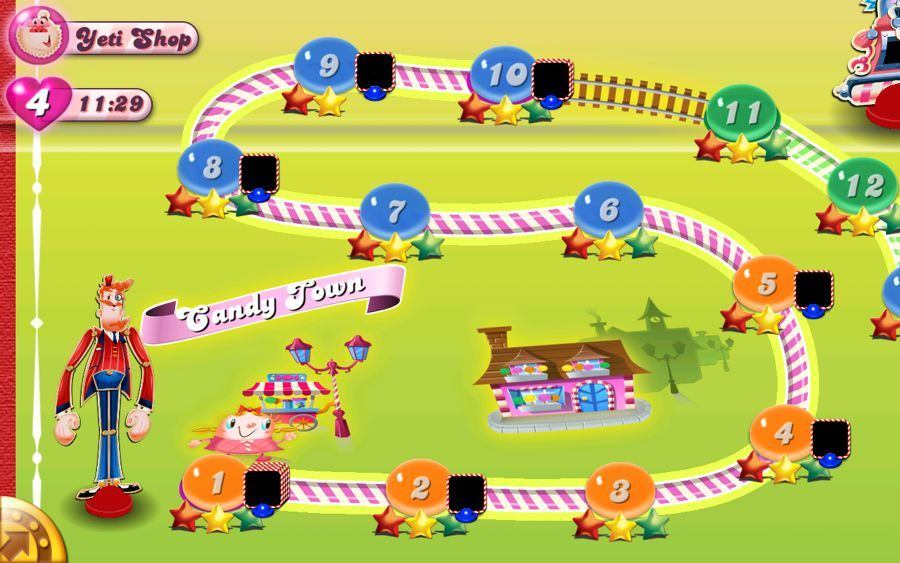 If you are new to the game, you can simply complete the first episode of Candy Crush called Candy Town. At the end of the episode, you will be rewarded with 50 gold bars!
Since the Candy Town episode is the game's first episode, it includes five tutorial levels, where you will learn how to match candies and create striped candies, wrapped candies, a giant candy, and color bombs. In Level 1, the Moves level is introduced while the Jelly level is first encountered in Level 6.
Boosters that you will first encounter in this episode are the Lollipop Hammer, Extra Moves, and Jelly Fish. Since Candy Town is designed for beginners, you will not find it difficult to finish it quickly and earn those 50 gold bars.
Fun Facts
Candy Town is the first and only episode with no character on the map.
It is also the first Reality episode that doesn't require any tickets to proceed to the next episode.
Adding Your Facebook Profile and Episode Race
Another way for you to earn 50 gold bars is to add or connect your Facebook profile to the game successfully. To do this, make sure that you are logged in to your Facebook account on your device before you launch the game.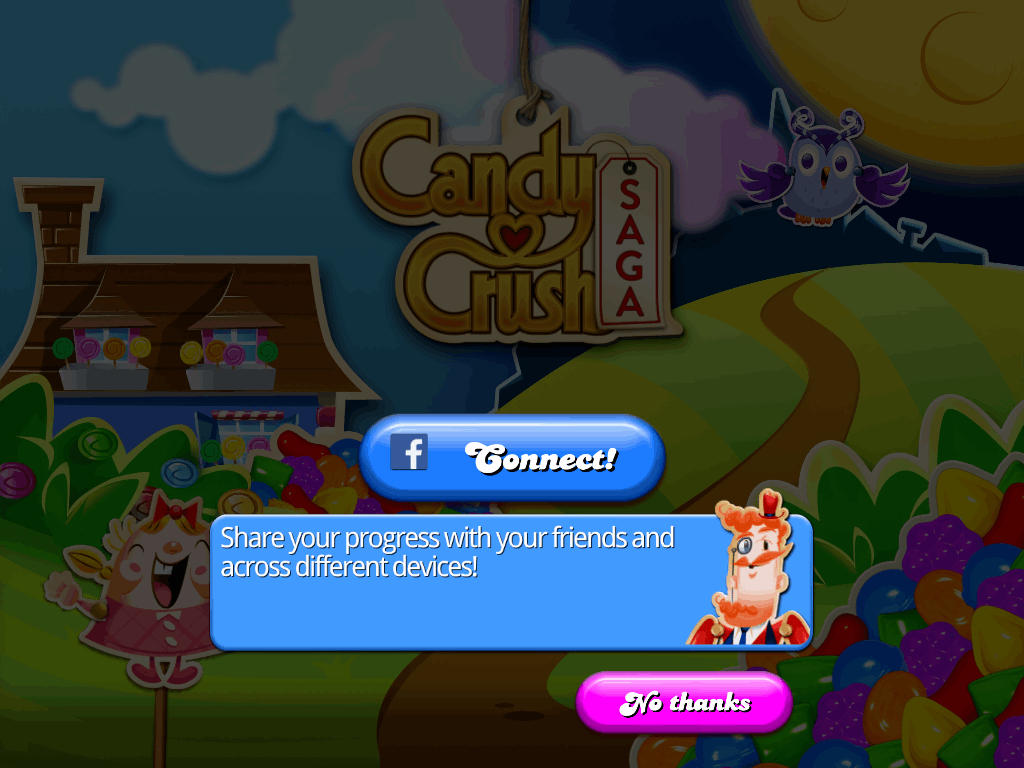 Launch the Candy Crush app and instead of tapping play, tap the Connect! button with the Facebook logo. The app will ask for permission to access your Facebook information and profile and approve the request by pressing 'OK'.
Episode Race, also known as Fast Race, is an event where you can win gold bars. When you complete an episode opener, the event will be activated if you enabled it in the options menu.
In Episode Race, you will compete with four other players to complete the episode the fastest.
Episode Race Rewards
While competing with the other players, you will be able to monitor their progress and they could also monitor yours. Once you complete the episode, your place will be recorded and you can claim the rewards.
The first place will receive 10 gold bars while the second and third places will get 5 and 3 gold bars, respectively. Fourth place will be given 2 gold bars while the slowest will get a single gold bar. This is actually better since in the old version, only the first three got gold bars.
Conclusion
To be honest, there are not a lot of ways to earn gold bars for free. You just have to maximize the methods I mentioned in this article. So, you just have to be strategic in using these gold bars for your purchases.
Candy Crush will still be enjoyable even without having a lot of gold bars as long as you play it the right way and participate in events.