Trends in every industry are experiencing a change in this current Pandemic. From local grocery stores to multinational companies, every business is facing this issue. The shift in the trends is ruthlessly impacting the economies. Where some businesses are experiencing a downfall, others are growing at a much rapid rate than before.
As the COVID19 Pandemic has forced people to stay at home, the use of mobile applications and games has been increased to a large extent. The industry is experiencing a surge in recent months. We can see 3 beauty games in the App Store Free Ranking from SocialPeta data. These are:
Super Salon
Perfect Makeup 3D
Lip Art 3D
Reasons for the popularity of beauty games in 2020
During a June 2020 survey from Statista, video gamers in the United States reported that they spent 45 percent more time playing video games amid the quarantine than in the previous week. Mobile games have gained popularity because they are very easily accessible. Nowadays, almost everyone has a smartphone; they can download the game on their mobile and instantly start gaming.
Another reason why mobile games are popular is that mobile games are also inexpensive, and this quality makes mobile games accessible to everyone. As a game like Xbox and play station are very expensive, and everybody cannot afford them, so people prefer to play games on their mobile and enjoy everything they want at a reasonable price.
At present, people are staying at home, and the news is making them stressful, so to avoid such things, people remain connected to their mobile and play games to stay away from stress. Many women say that playing beauty games helps them take their mind off from this situation. They love to play these games with their family and friends for fun and to relax their minds. People need to stay relaxed during this Pandemic, and such games allow people to stay positive.
That is why beauty games have got so much popularity this year. Although these games were not that popular in the past few years, in this era, people love to style themselves and love to play such games.
Now let's have a look at each of these three games to find the reason for their popularity. One thing that we have to keep in mind at this point is that no matter how good the development is, advertising can't be neglected in any case. We'll also have a look at their advertising strategy using the data from SocialPeta.
Super Salon
Super Salon is a mobile beauty game in which the people can run their beauty salon. In this game, the customers will come to your salon to transform themselves. Now it is in your hands how you transform their eyebrows, nose, hair, and lips.
There are different tools that you can use for changing the appearance and facial features of your customers according to their wishes. You will feel excited while doing this, and you want to treat your customers the best way possible that you could. So this game will keep you busy for hours and hours.
Advertisement Analysis:
If you see the below graph of intelligently extracted data about the networks they are using to promote their mobile game in the past 60 days, you can find that they are using Facebook and the Audience Network most. They also used Google ads (AdMob), YouTube ads, and Mobvista ads. In the past month, they have increased their investment in Facebook and Nend.
From the trends, we can see that the game gained more downloads when they started using different networks all together instead of relying on just one. It's always a better idea to sort out which platforms are the best for your niche. If your app is not too specific and can connect with the general public, you can consider going for a multi-network campaign to get leads all across the internet.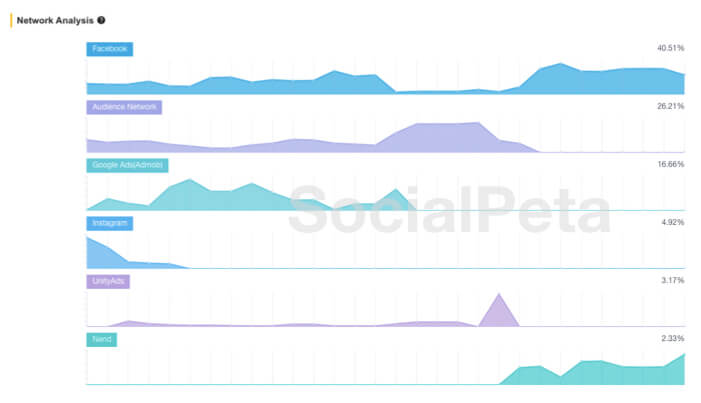 Now let's talk about the types of ad creatives that they used for the promotion of this game. In March, the company mostly kept using the video ads, and kept using them, which is a clear indication that video ads worked well for the company. In June, the utilization rate of Html ads became high. Another thing worth noting is that the game paid more attention to playable ads in early April, and put playable ads for a period of time to test. It is worth noting that the game paid more attention to playable ads in early April and put playable ads for a period of time to test.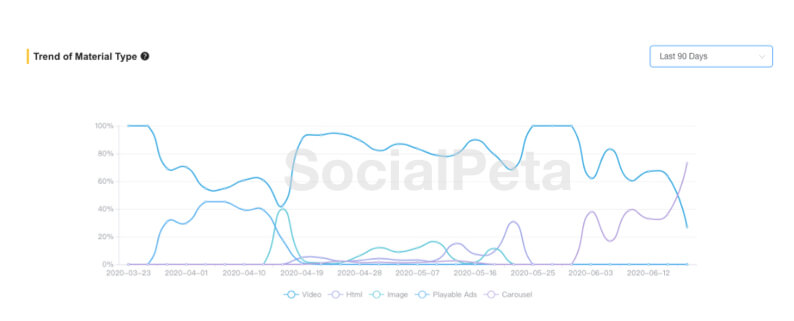 Perfect Makeup 3D
This beauty app is used to style different people. In this game, you can make makeup for different people, and in return, you will receive rewards from these people. You can choose different brushes and shades for lipsticks and eyeliner to achieve the best look.
Advertisement Analysis:
The reports from SocialPeta show that the most used networks for advertising this game are Google Ads and Audience Network. They used video ads most. Below is a screenshot showing their Video Ad creatives (Image from SocialPeta). You can see how they have creatively used different types of gameplay captures to impress the audience. 
Another noticeable thing is the tagline on the head section of the video. Apparently, the copy for this tagline shows that it's a big lead magnet.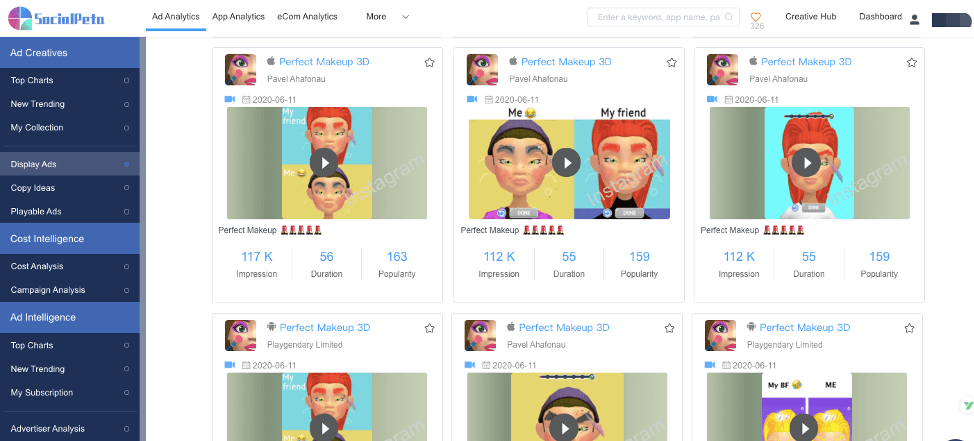 Lip Art 3D
Lip art 3D is very user friendly, or you can say kids friendly game. It provides you a vast range of stuff to decorate the lips. The things you can use for decoration of lips includes blunt lip colors, stones, lip glosses, sequins and glitters of different colors to decorate lips. This app provides different patterns or allows the users to create their profiles to paint their lips. It is so much fun to play such games. You will be shocked by the type of patterns you can create in this game and surprise the people with your abilities. This game is so much fun, and you enjoy it a lot while playing it. However, it's not just the fun element that makes it popular; it's the marketing of the game too.
Advertisement Analysis:
If we look at the ad creatives of this game, we can see that the video ads are dominating over all other advertisement types obviously. Now coming to the network analysis, we can see that they are using the Audience Network by Facebook as their primary tool of marketing. Other vital networks for them include Facebook, Instagram, and Google Ads. Otherwise, a small advertising budget is also spent on other networks such as Ironsource, unity ads, and AppLovin.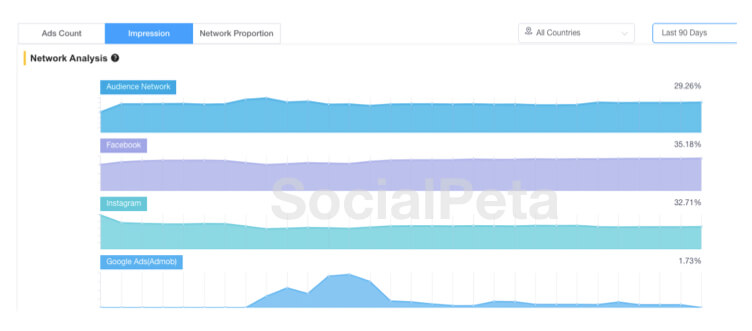 We can also extract the category graphs from SocialPeta. The graph clearly shows that the publishing media are focused on utilities, shopping, lifestyle and other media as shown in the image below.

Thus to sum it all, we can say that the current scenario, on the one hand, is stoping the operations of certain businesses. Still, on the other hand, it is creating an opportunity for some businesses. As from the above discussion, we can infer how game companies have creatively altered their strategy to make the most out of this time. If you, too, are thinking of developing or launching a mobile game, it's the best time for it.
However, if you've already developed and launched an application or game, you should consider going for paid advertising. Follow the strategies that other successful app makers are using. You can take help from tools like SocialPeta for that. If you need more info or want to ask any questions, you can always contact us or use the comments section below.
---
Also Read: Endless runner Spirit Sprint is out now!