Arena of Valor Word Cup 2020 (also famous as AWC) has been canceled due to the coronavirus pandemic. For the players unaware, let us tell you that Arena of Valor World Cup is one of the major mobile eSports tournament that takes place every year.
The Previous edition – Arena of Valor World Cup 2019, was the most-watched mobile eSports tournament with a total watch time of 139 Million Hours in 2019. It was hosted by Garena and Tencent Games together with a total Prize Pool of $500K USD.
In the last Arena of Valor World Cup, 12 teams from 9 different regions competed in the finals of this Mobile MOBA tournament.
Coming to Arena of Valor World Cup 2020, if you were super excited about this and wanted to take part in this upcoming eSports event. Then we have a piece of sad news for you.
The developers of the game have released an announcement which states the following:
We are making the difficult decision to cancel the Arena of Valor World Cup (AWC) 2020 due to the evolving global situation surrounding COVID-19. Our commitment has always been to prioritize the health and well-being of all those involved, including players, fans, partners, and staff. That is what ultimately led us to make this decision.

Arena of Valor Team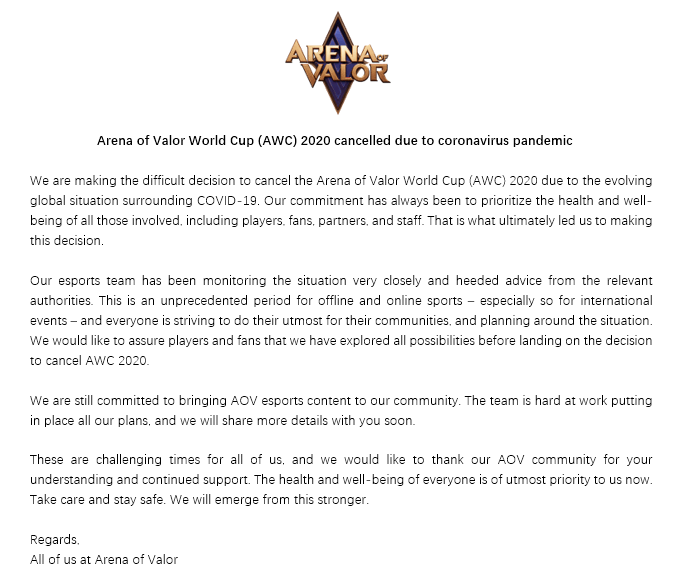 However, they further added that the Arena of Valor team is still committed to bringing AOV eSports content to the community, and they will share future plans with the community very soon.
Also Read: Marvel Super War To Host Official eSports Tournament Soon
So maybe they might introduce some in-game competitive events. But overall, from this news, one thing is confirmed that Arena of valor World Cup 2020 is canceled, and it is a massive disappointment for the fans.