Developed by Vivid Games S.A., Gravity Rider Zero is a sequel to Gravity Rider. The former game gained immense popularity with over 7 million downloads in 2018 because of its physics-based racing concept. However, Gravity Rider Zero is the improved version of the previous game, where the physics-based racing concept is emulated perfectly along with the improved graphics and sound.
Gravity Rider Zero is a futuristic game. You can easily judge this by the sci-fi theme and several futuristic vehicles like hoverbikes to travel to other planets. The soundtrack in the game gives you the vibes of advance technology. The game is quite similar to the Trials series. Your job is to carefully control subtle vehicles on challenging courses and maintain perfect balance in order to avoid an accident. More importance is given to the racing element in the game. The camera sticks closely to you as you move around the tracks. The game is fast and carries you further.
One of the unique features of the game is the customization option. You can create your vehicle and store them as you want. There is no limit on garage capacity. Also, you can create your own road and obstacles in order to race as per your preference. You won't find tickets, grinding, time gates, spikes, overpriced upgrade parts, and artificial difficulty in this game. You get to collect many racing vehicles with futuristic designs. Also, you can unlock new bikes by completing certain tasks. The game gives you full experience from trial bikes to WW2 era motorbikes to space rockets.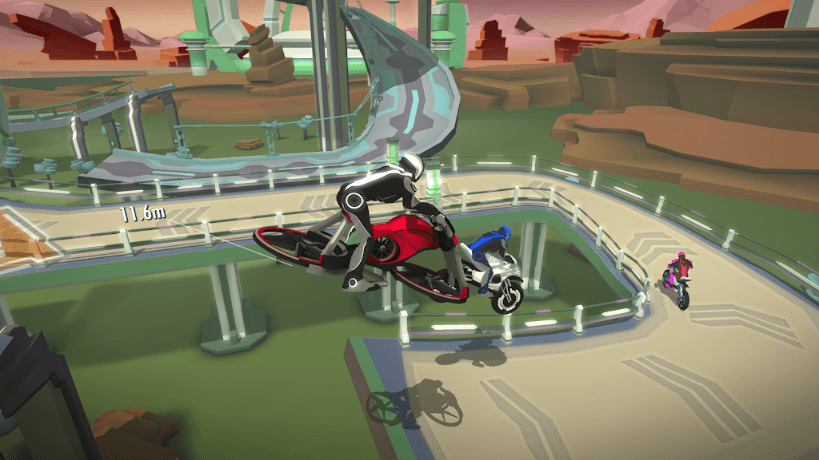 Gravity Rider Zero has simple and precise controls. You have to accelerate and tilt your bike to ride pass over the obstacles. Use the brake in time to avoid traps. Remember to always tilt your bike after a jump to have more traction. As stated above, Bike racing is a customizable experience. You can decide how deep mechanics you want to imply.
The Gameplay is excellent but it is ruined by a constant stream of the video advertisement. The in-app purchases are not one time, as the game demands a weekly fee to access the premium version. The graphics of the game are amazing, and environment visuals while racing looks highly realistic. Gravity Rider Zero is available on both Google Playstore and iOS Appstore.