PlayerUnknown's Battleground has released its mobile version as PUBG Mobile, is one of the most famous and amazing Multiplayer Battle Royal game which is developed by PUBG Corporation and Bluehole company, has also become number 1 Action grossing game due to its popularity. If you are playing this game for a long or you have just started this game then here are Top 15 Tips and Tricks which will help you to become a pro.
1. Adjust your Frame Rate and HDR Mode
If your phone processor is not that high and your device become too hot or game become choppy or battery is low then reduce it, and by doing this process, chances of freezing game will also get decreased. You can adjust it by going to Settings -> then at top right side Graphics -> select adjust your frame accordingly.
You can also adjust you HDR mode in the setting and set it according to your phones capability if your phone can handle HDR then switch it on and you will see a little difference in the game.
2. Put Fire on Release on Specific Guns
In this game you can choose weather to fire with tap or on release and some guns like Shotgun and Crossbow needs very steady aim to shoot, so you can put these weapons on release and make some quick shotgun shots more steady and accurate.
3. Go ZigZag in Tough Situations
If you are under fire and you need to get out of that area then never run in straight line as it increases the chance of better aim at you, instead run ZigZag as it will misplace the aim of your enemy and chances to being defeated will also decrease. It can specially work in the situation when you are being sniped. It will also help you in close combats.
4. Helmet and Vest
If you are going for a helmet than keep in mind that even a damaged high level helmet can protect you more from the bullets as compared to a fresh low level helmet. But in case of Vest, you are going for a vest, then you should always go for a fresh vest, even if it is of low level.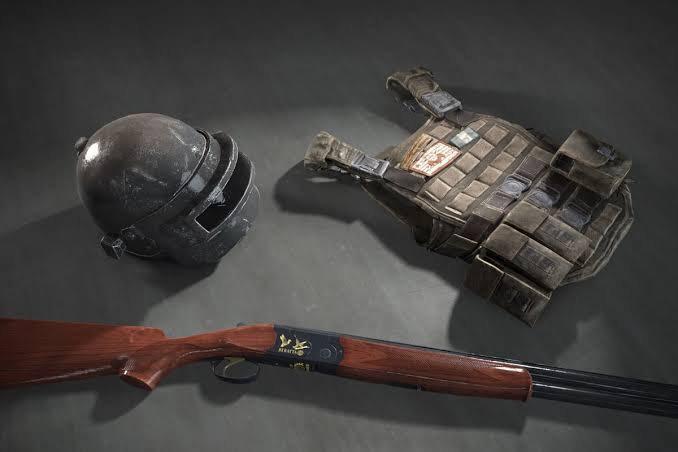 5. Use Ridges or Terrain for Cover
Well if you are in a situation where there is very less or no houses around and you need a place for cover then there Ridge's and terrain or even a small hill will help you for making cover. You can hold in these areas and use it as cover so that your enemies cannot hit you.
6. Hide in Bushes but not Grass
You will be wondering bushes aren't hard cover, but these bushes actually works and you can stay hidden in these bushes for long and kill your enemies. If we talk about Grass then never lean on grass and if you think no one can see you then you are wrong as after 200 meter's grass will stop being visible and enemies can easily see you there, so instead search for a better cover like trees or rocks then getting lean on grass.
7. Land Faster than Others
For short distance landing: Always jump at 750 meter's and right after jumping, aim straight down (at 234 km/h speed) while keeping your joystick at 10 o'clock (for left) and 2 o'clock (for right) and adjust your aim to straight towards your target, and reach early from your enemies.
For long distance landing: if you are jumping for a distance around 1500 meter's then you should point the camera upwards, keep it horizontal and push your joystick forward, by this you will reach your destination more faster.
For too long distance landing: in this case you have to do the same as above in long distance but the difference is as soon as the option of glide is there you have to click it and glide all the way long, this seems to be slow but don't worry it so fastest way to getting there.
8. Position of Fired Bullets
If you are playing a role of sniper in your team and you are not being able to to hit enemies and even don't know where your bullet is going then you should "Hold the Fire Button" when you fire and this will allow you to clearly see where your bullet is going.
9. Make Covers out of Vehicle
If you are in a situation in which there is no place for cover, nor any ridge, then use your vehicle as a cover, by first bursting the tire and then the whole vehicle, if you are wondering why to burst tire, as bursting tire will help in holding enemies to shoot from down side of the vehicle.
10. Position of Enemies at the time of Landing
Have you ever wondered how many enemies are coming at the place where you are landing, then you can see that at the time of landing by using the eye button which allows you to see 360 degree and see how many enemies are coming with you. Which will help you in making your strategy accordingly.
11. Use Gyroscope for controlling Recoil
If you are not being able to control recoil in long range then here is an option called Gyroscope which you can find in "Basic" settings. You just have to tilt your phone downside while shooting and you can easily control recoil. For the first time Gyroscope users it is little hard to learn it, but after a little bit of practice you can master it, and will definitely improve your gameplay a lot.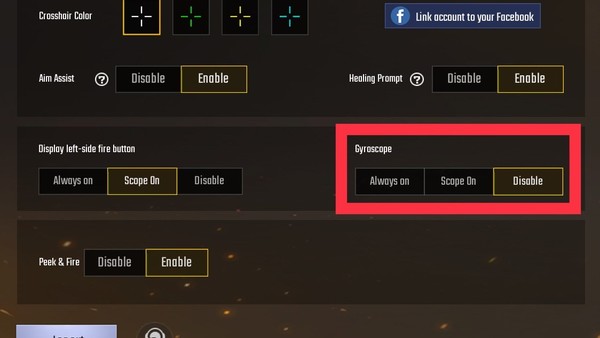 12. Reduce Recoil without Gyroscope
If you have wondered Gyroscope is the only way to control recoil then there is also an another way which you can use to control recoil. You can do it by crouch while shooting or lean while shooting and if you are standing while shooting then drag the screen downside to reduce recoil. This will increase the chances of killing your enemies more accurately.
13. Change Quick Chat Messages
This is one of the useful tools in the game and default messages are pretty good but if you are not satisfied with it then there are various other quick chat which you can use by replacing it with the given messages. You just have to go to "Settings and choose Quick Chat option" and change the chat by deleting the existing message and putting new one. This will help you to communicate with the team easily, because sometimes there are situation that you cannot use the voice chat, in that situation this feature will help you.
14. Fast Healing
Are you been surrounded by enemies and have less time to heal then you can start moving when 0.5 second left without cancelling the healing. It work on all kind of healing weather it is Medikit, painkillers or any other healing. It seems like it does not make any difference but in some situation it really helps.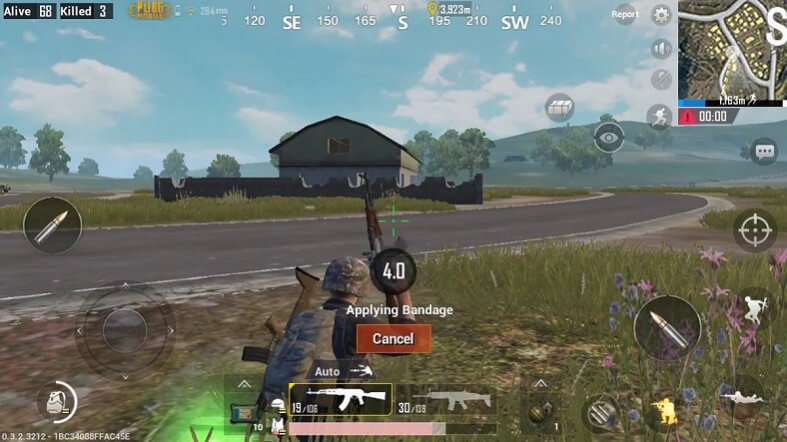 15. Use Headphones/Earphones to Hear Footprints
Last but not the least, using headphones is one of important things while playing PUBG Mobile, as it allows you to listen the bullet firing sounds and footprint of the enemies which will help you to know from where enemies are coming and you can make strategy accordingly. (Note: Using wireless headphone will delay your sound for 1 second, whereas wired headphones will instantly help you to know where the sound is coming from, so it is recommended to use wired Headphones.)
Also Read: PUBG Mobile 0.13.5 Update: All the Features You Need to Know
Stay tuned with Mobile Mode Gaming for the latest PUBG Mobile News & Updates!