Have you ever seen the movie Invasion of the Body Snatchers where aliens pose as humans as they slowly invade Earth? How about playing a game that has the exact same premise as the movie? That's what Find the Alien is all about.
Find the Alien is a casual mobile game where players are tasked to find aliens posing as human beings. These aliens are everywhere and it is up to you to unmask them through a scanner and zap them from existence using your weapon.
Revealing these aliens can be a tough job and there are still a lot of things that you can do in the game. If you want to know more about the game, find out how to unlock new weapons, and more, check out the guide below.
Scan and Zap the Impostor
Don't Worry About Making a Scene
Take Down All Aliens at the End
Unlock New Weapons by Clearing Each Level
They Are Hiding in Plain Sight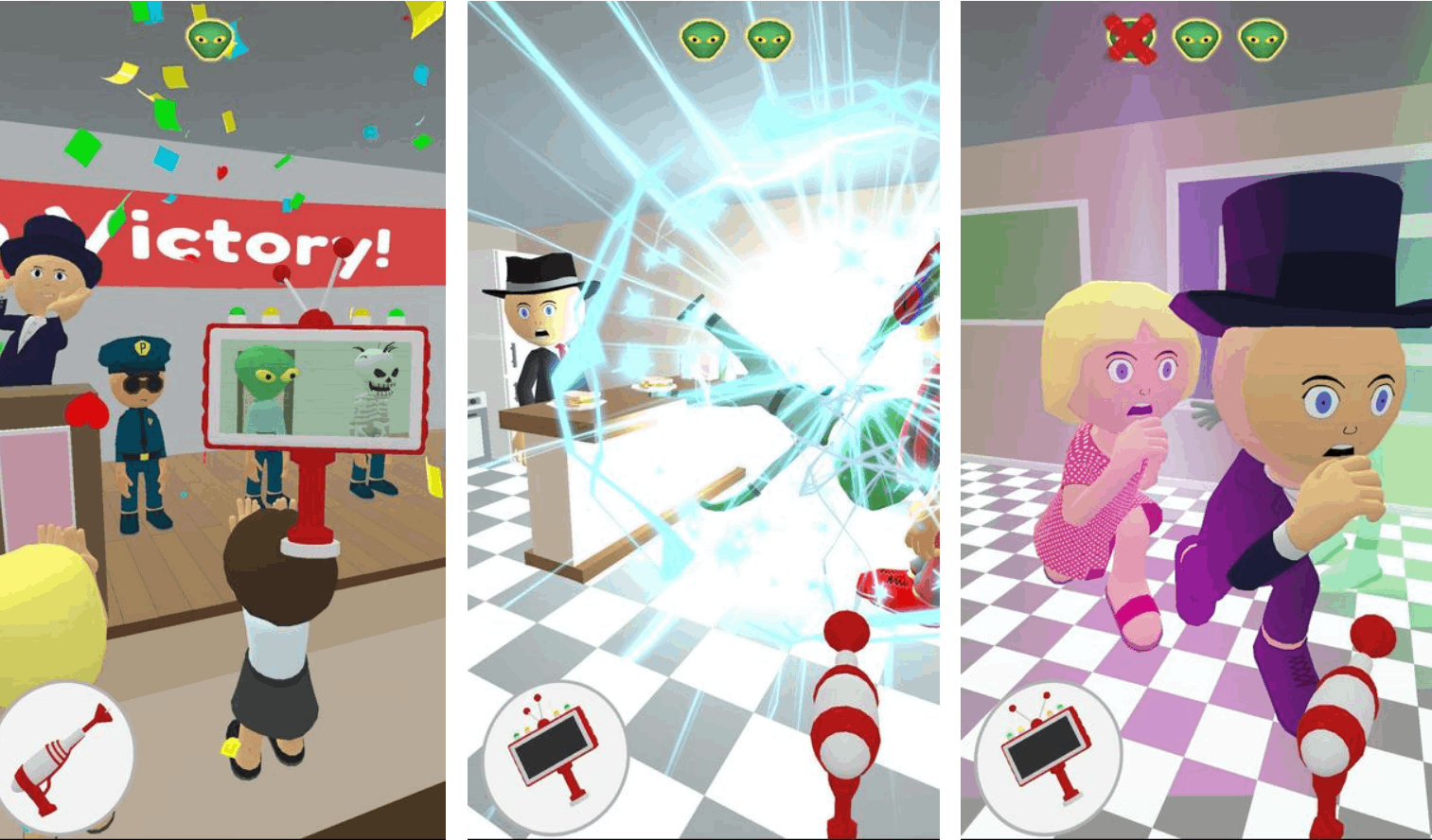 Scan and Zap the Impostor
Find the Alien is a mobile game where aliens have invaded Earth and they have integrated themselves into society. As a player, you get to use a scanner to find the alien hidden amongst a group of people.
The goal here is to find the alien through the scanner and use your weapon to zap them to reveal their true form. Zapping them also drives them away to get rid of them.
However, the challenge here is to know how to identify the aliens from the group of human beings. Many of these aliens act and feel like they are humans.
It can be difficult to spot them using your naked eye. This is why it is highly recommended to use the scanner first before you zap the alien or run the risk of zapping real humans.
Check How Many You Need to Zap
The game is divided into many different scenarios. Some of these scenarios happen at the dining table while others are at a party or inside the living room. Each scenario requires the player to zap several aliens.
Whether you're tasked to find and zap a single alien or more, it is up to you to check how many you need to zap within that scenario. The game provides the number of aliens you need to find in each stage.
Check the upper left corner of the screen and you'll see how many aliens you'll need to unmask and zap to progress through to the next scene.
Don't Worry About Making a Scene
Each scenario entails different situations. There are scenarios that involve a couple fighting in the bathroom and there are other scenarios where a family is having a good time in their living room.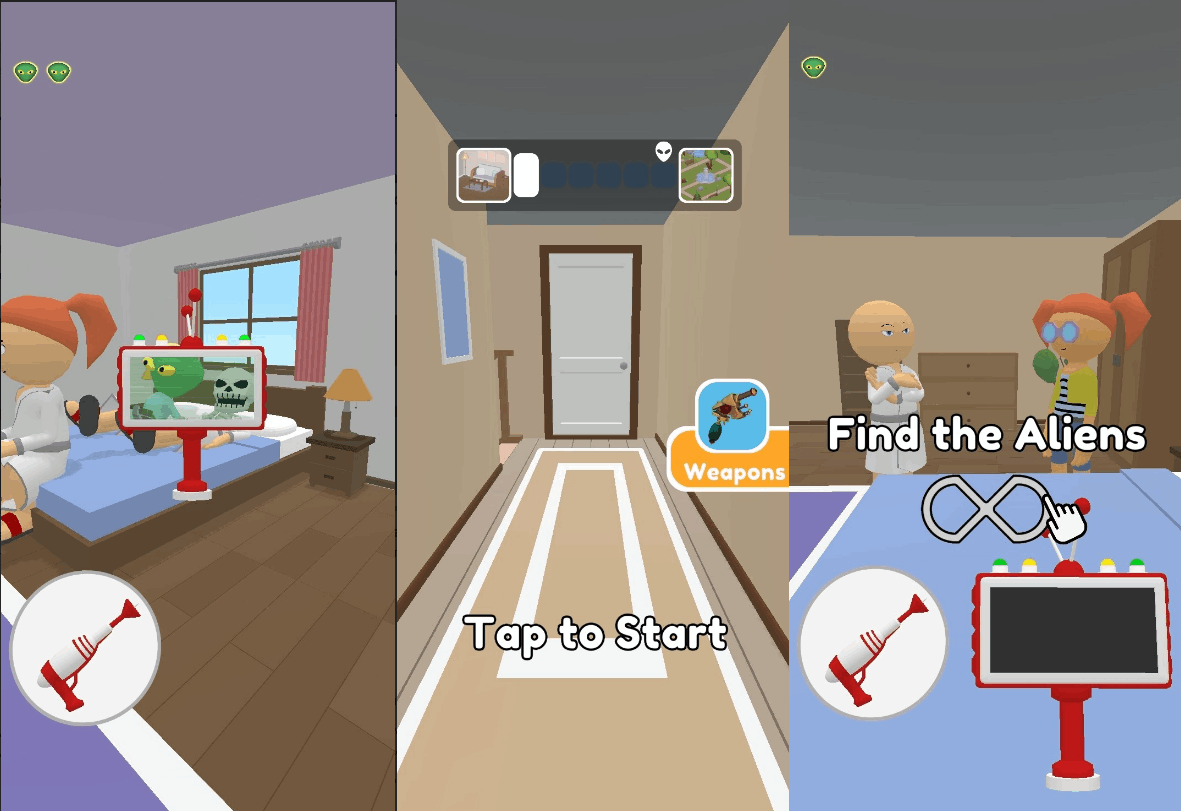 Then, there are scenarios where you are at the bar with a large group of people. When you try to discover an alien hidden within a group, feel free to zap it immediately.
The aliens will unveil themselves and the people around you will start panicking and cause a scene. Don't worry too much about making a scene as the other aliens who are hiding are not affected.
While the rest of the humans from that group might run away and start screaming, you can move on to scanning the next group and unmasking the next alien.
It Takes a Lot of Patience to Play This Game
In the early stages of the game, you might find it very easy to scan and identify different aliens to zap. However, as the game progresses into the later stages, it becomes apparent that you will have to contend with different factors that make this game difficult.
It takes a lot of patience to play this game. You will need to extend your patience and increase your focus, especially in the later stages where it can be very challenging to spot the alien from the crowd.
This is the reason why it is best to learn a lot of the game's mechanics while you are still playing at the early levels. Take advantage of the time to learn the game so you have better chances at getting to the later stage.
Take Down All Aliens at the End
The scenarios are quite diverse in Find the Alien but they, of course, always require the player to find all the hidden aliens.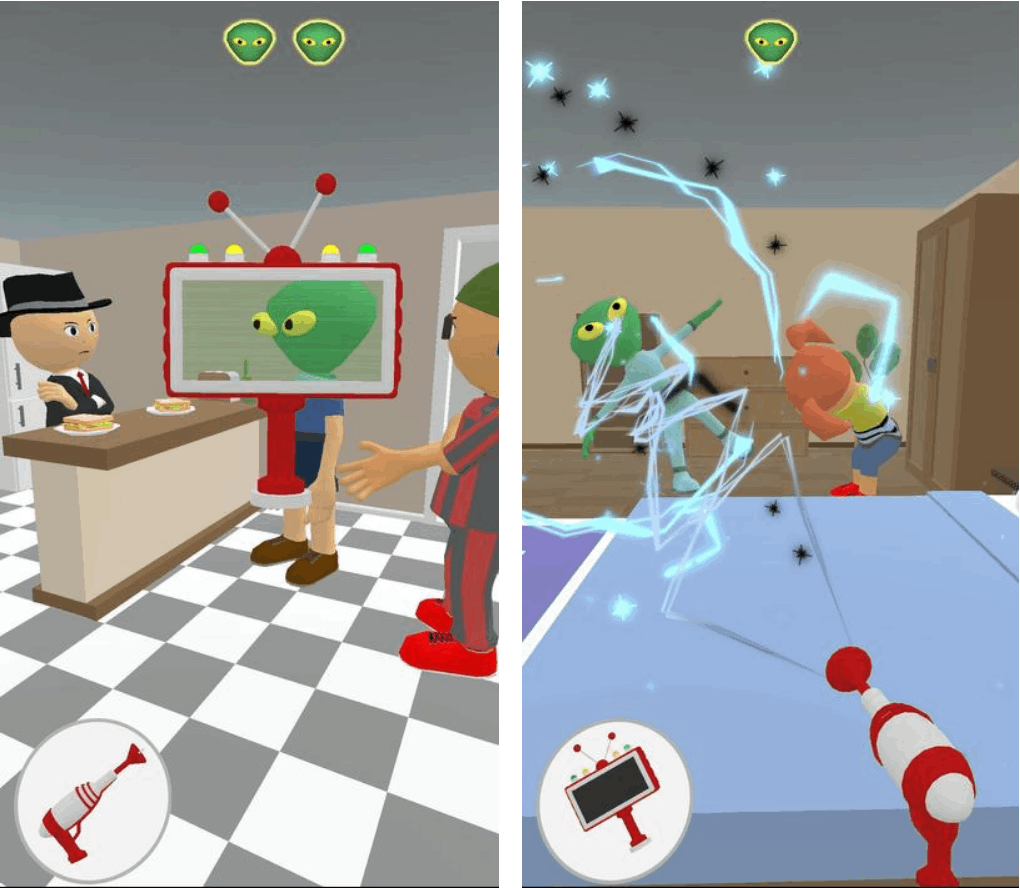 At the end of each scenario, the game will then present a bonus round where you get to zap all the aliens on the screen all you want.
This bonus round will help you with your progress in the game by adding to the meter found at the top portion of the screen after each stage. Completing the meter to 100 percent will reward you with different prizes depending on the level.
You'll find more about this later down below. For now, try to take down all the aliens on this bonus stage to help you progress faster in the game.
Free the Captured Citizens for More Surprises
All aliens that have impersonated humans have kept their human counterparts captured inside a hidden lair. This hidden lair is heavily guarded by aliens which can be found on the bonus stage.
Once you've defeated all the aliens at the bonus stage, you'll soon be able to unlock a secret area where they all keep the humans as hostages. Free the captured citizens and you'll receive rewards and many other surprises.
The game also has an overarching quest to free a certain number of captured citizens before you can unlock exclusive rewards. Try to free as many captured citizens as you want so you can receive the rewards as soon as possible.
Unlock New Weapons by Clearing Each Level
As mentioned above, one of the few ways to get new weapons in this game is to fill up the meter to 100 percent. This unlocks new weapons for you to use to zap the aliens.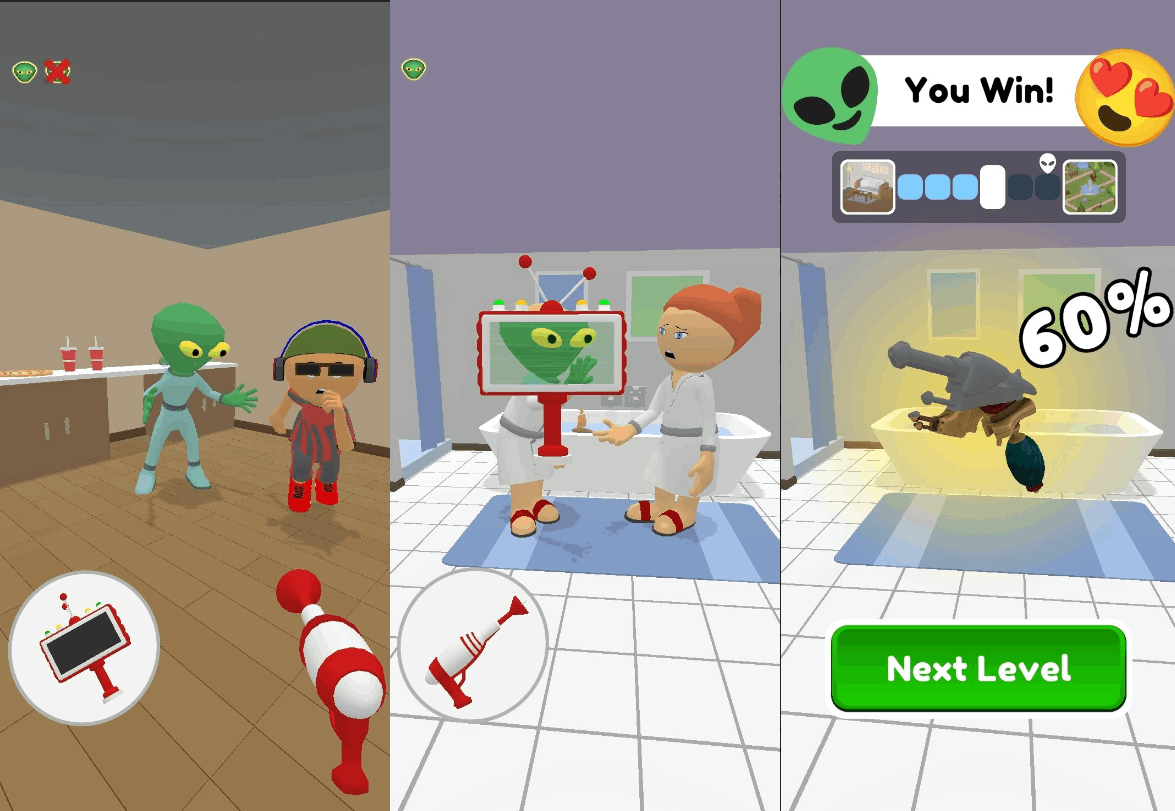 Another good way to unlock new weapons is by simply clearing each level. Clearing each level of the game also adds more percentage to the meter which quickly unlocks even more weapons.
However, this does not mean that you will immediately get new weapons after each level. The meter will require you to play more games and zap more aliens after receiving the first weapon.
There are many weapons and rewards waiting to be unlocked in this game so keep on playing.
Watch a Video and Get New Skins
The game begins by giving players a scanner and a basic weapon. While the basic weapon does its job pretty well, who doesn't like to have a new weapon to play with especially when it comes to zapping aliens?
New weapons are easily unlocked by just playing games but there is another reward that you should also be looking out for. Cosmetic skins are available for you to collect after playing certain scenarios in the game. To receive these skin rewards, all you need to do is watch video ads.
There is an option to watch an ad after each level and you'll need to watch the entirety of the video to unlock the reward. Skins don't provide any strategic advantage in playing the game. It only enhances the aesthetics. Butho doesn't like to zap aliens with style?
They Are Hiding in Plain Sight
While Find the Alien is very simple and easy to play, there are still stages where it can be very difficult to spot an alien. Even with your trusted scanner, there will be instances within a scenario where you won't be able to find the alien posing as a human.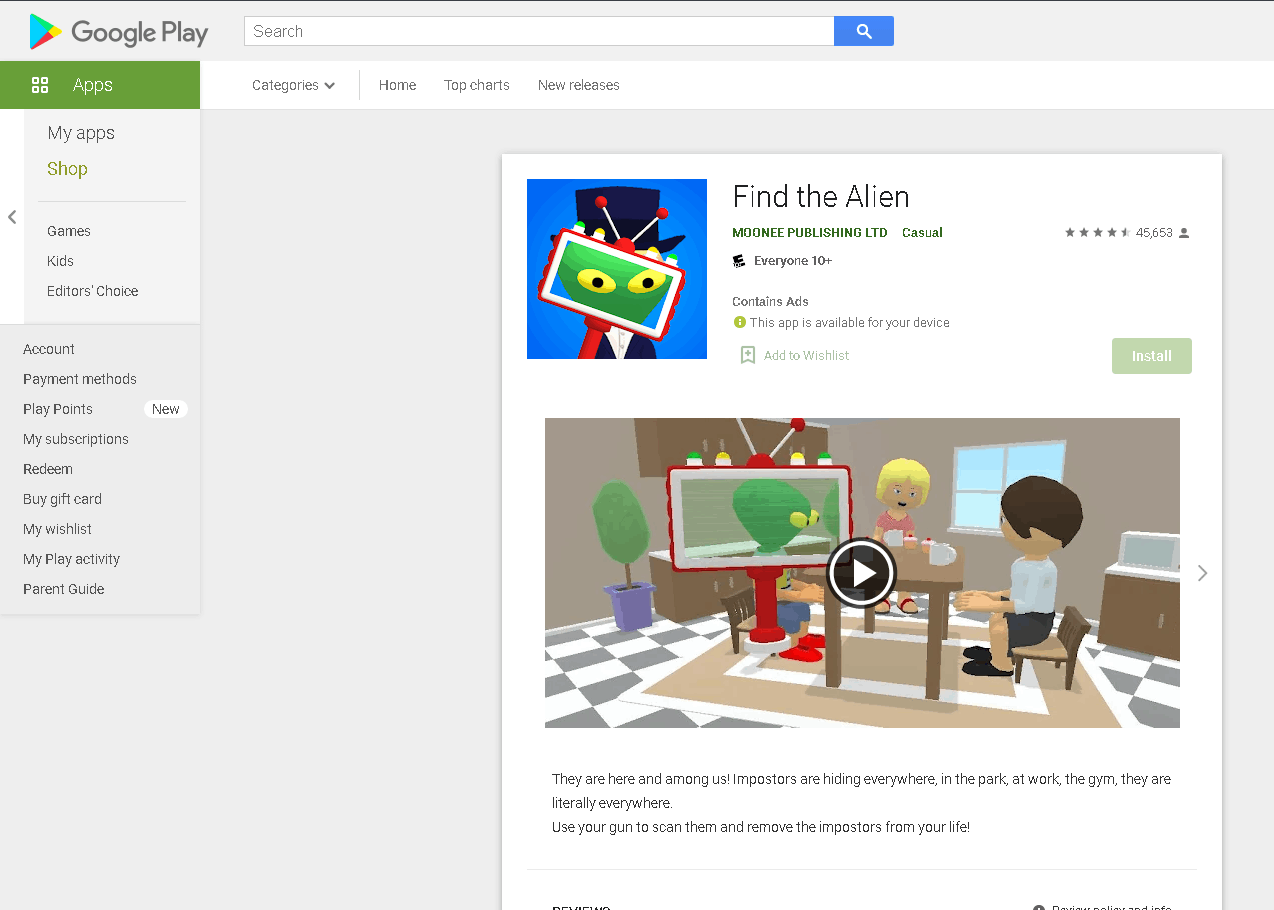 You may try to scan the entire area to find where the alien is hiding. However, the alien might not be there. If that's the case, try to look further and see if there are any other humans around.
This could mean that the aliens are hiding in plain sight or are just seeking cover from another human to hide from your scanner.
Scan each scenario thoroughly so you can progress much faster.
How to Download Find the Alien
Now that you have what it takes to play the game, it's time to learn how to download it and apply all the things that you've learned through this guide.
Find the Alien is available to download from the Google Play Store and the App Store. To download, tap Install and wait until it is fully installed before tapping Open to launch the game.
Make sure to only download the game on these platforms for security and safety reasons.
Conclusion
Find the Alien is a simple game but there are still challenges that will test your ability in the game. There are many different strategies that you can utilize to become successful at finding and eliminating the aliens.
Don't forget to follow the tips mentioned above so you'll have a better time playing this fun mobile game.