Mobile shooter games can be very repetitive sometimes, and there are not many games in the genre that truly stand out for me. When I was in the mood to play, I've begun looking for a game that offers something unique to the genre.
Fortunately, I discovered the mobile game War Machines and immediately became interested in playing this highly addictive mobile shooter game. War Machines incorporates the use of tanks and sends them into battle alongside many other players in an online match.
Take control of various tanks and destroy your enemy on your path to glory. Learn more about War Machines, how to upgrade your tank, how to earn money, and some strategies to use to win more games with my guide below.
Go Through the Tutorial to Learn the Basics
Don't Forget to Upgrade Your Tank
Take Advantage of Power-ups
Win Games to Win More Money
Always Be Mindful of Your Position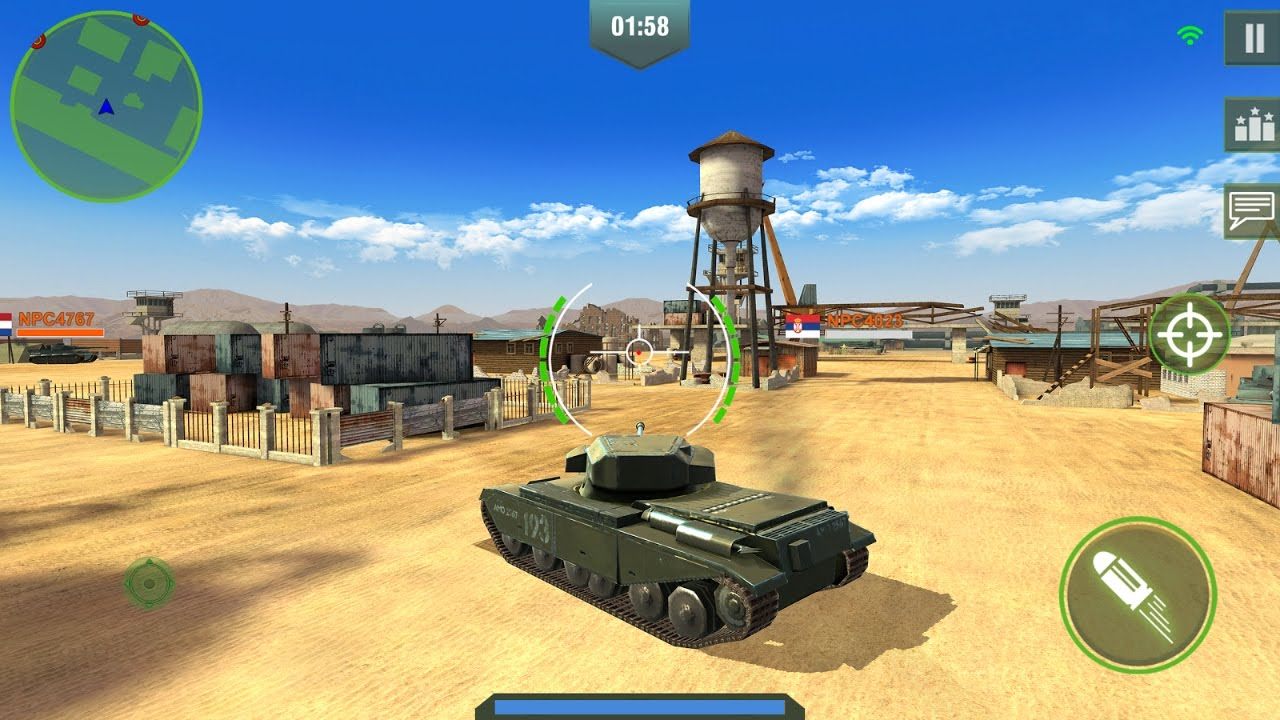 Go Through the Tutorial to Learn the Basics
War Machines is a unique mobile shooter game with new mechanics in play that can be a bit challenging.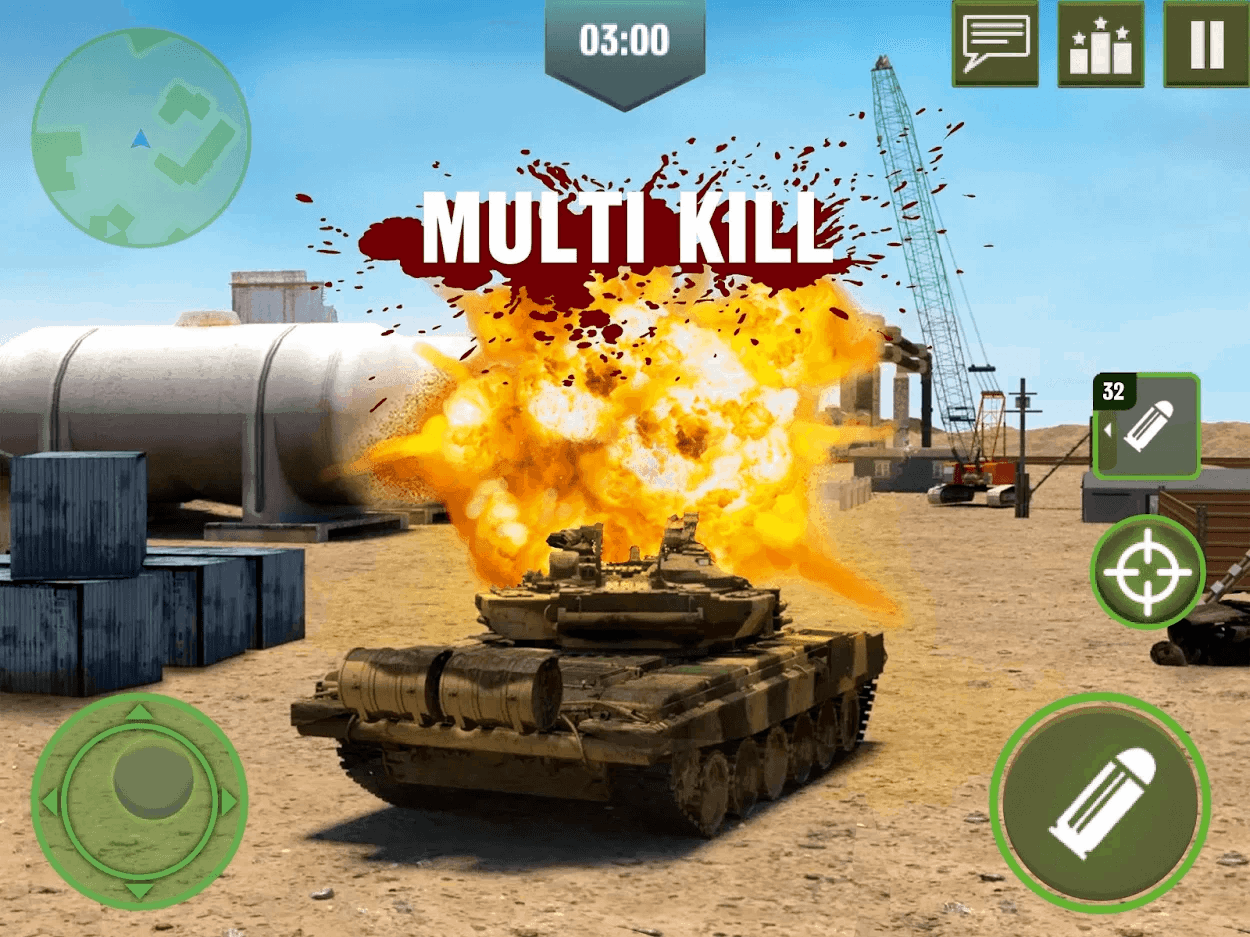 Many players want to jump into the action immediately, but I suggest that you go through the tutorial to refresh your memory with the basics of the game.
Having no experience is a complete disadvantage when playing this game. This is why the tutorial is important as it allows you to learn the fundamentals of the game.
It also doesn't hurt that you'll get rewards once you're done with the tutorial. These rewards will help you through the early stages of the game.
Each Tank Is Different
There are a lot of tanks in War Machines, and each of them has its own set of advantages and disadvantages. Depending on your playstyle, you can use a tank that can infiltrate the enemy territory and gather information for your team.
You can even try to soak all the damage from the enemy team while other players bombard them with attacks. Sometimes, you also want to have the most devastating attacks to help carry your team to victory.
No matter how you choose to play, there is always a tank that you can use.
Don't Forget to Upgrade Your Tank
Early on, tanks are quite vulnerable to attacks from enemies, but this doesn't matter much as you're on equal grounds with other players.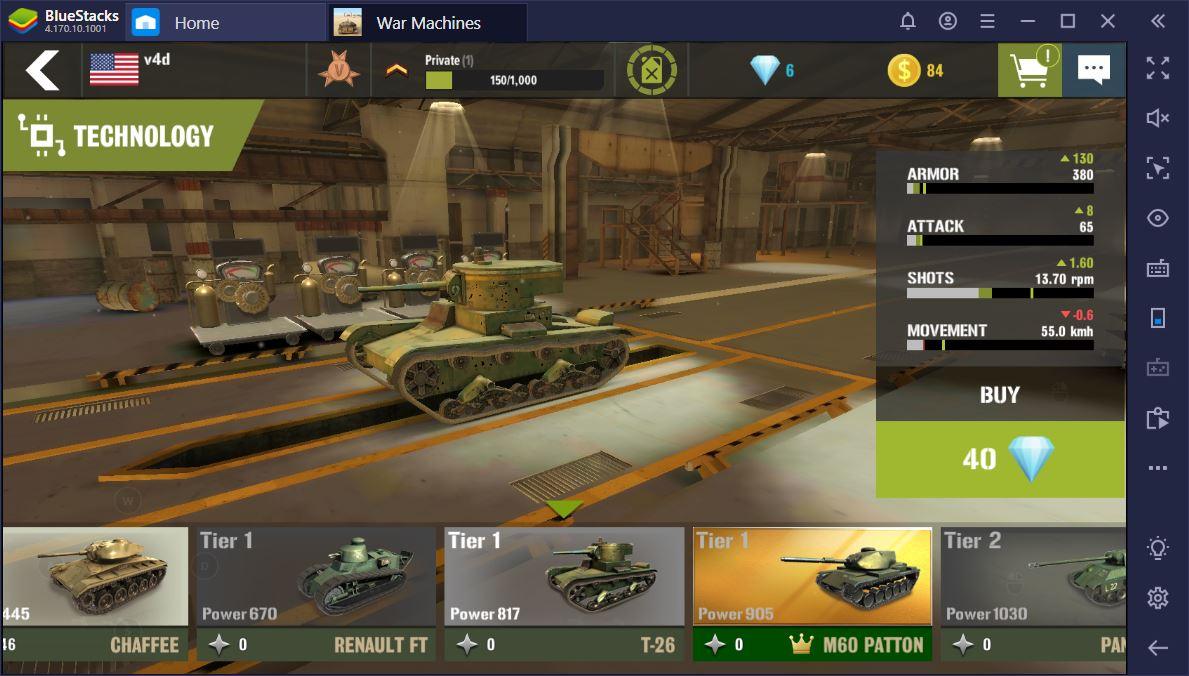 Once you get to the higher levels and you begin to play better, you'll soon realize that other tanks are far more effective and efficient in battle. This is because players opted to upgrade their tank.
There are five different parts of the tank that I suggest you upgrade regularly. The turret provides more attack while the barrel increases your attack rate.
Chassis increases your defense while the engine increases your movement speed. The tracks, on the other hand, improves both your armor and movement speed.
Turret and Chassis Are Important Upgrades
Each upgrade will require you to spend money. I'll tell you how you can earn money in just a moment but for now, let's focus on which upgrades are far more important.
I've seen many other players upgrade their barrel or engine first in hopes to outrun the enemy. However, this is a rookie move, as these upgrades would mean you won't be able to take down your enemies quickly.
Upgrading the turret and chassis first is the key to winning more games. Once done, you can then upgrade the tracks to further solidify your strategy. Transform your tank into a formidable unit by upgrading these parts first.
Take Advantage of Power-ups
Apart from upgrades, players are also entitled to choose up to three power-ups before entering battle. These power-ups will help dictate your pace in the game as well as give you an advantage.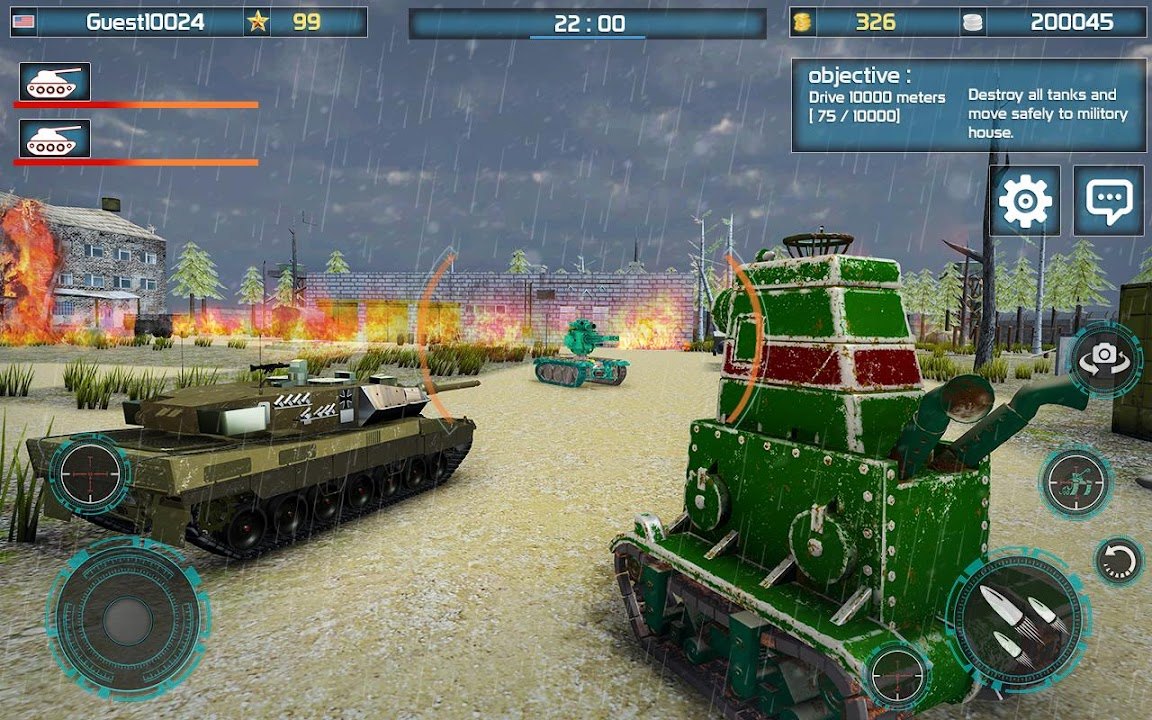 However, other players will also have their own set of power-ups, which can help them as well. Choosing your set of power-ups will depend on your play style.
Be sure to pick power-ups that will benefit your play style instead of putting you behind.
To activate these power-ups during battle, all you need to do is to slot them into the panel and use them accordingly during battle.
Sign Up for a Clan and Join a Clan War
Another piece of advice that I want to give that will surely boost your wins in War Machines is to sign up for a clan. Joining a clan will give you tons of benefits, including new buddies to play with and obtain exclusive rewards.
One major benefit to joining a clan is that you get to meet new players and play with them. You get the chance to learn new skills and strategies as well as unlock new game modes to play.
One more thing about signing up for a clan is that you will be able to join a clan war. Clan wars are epic battles between clans that will help you earn even more rewards and even diamonds.
Win Games to Win More Money
There is a reason why I stated that you need to join a clan to help you win more games. Clans allow you to observe how experienced players play the game. Most of the time, they provide meaningful insights on certain strategies as well as teach you how to become better players.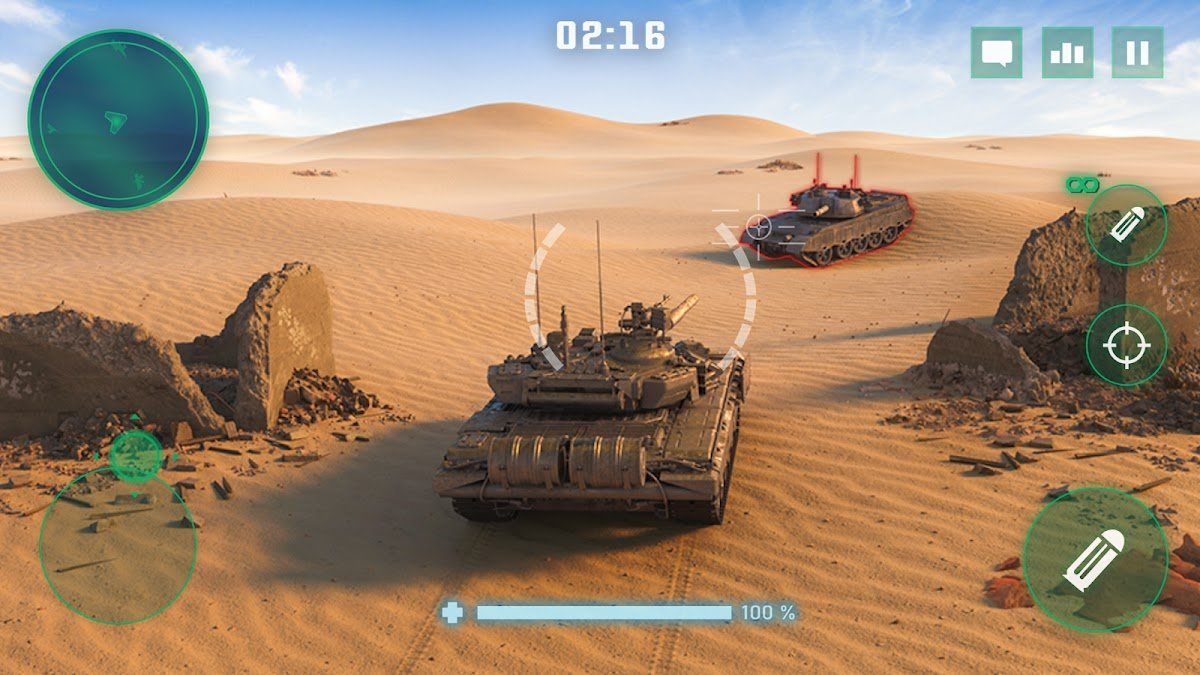 With this, I was able to win more games. Winning more games means earning more money to purchase new tanks or be able to afford more upgrades for my chosen tank.
So, the next time you go online, make sure that you try to invite your clan first and see if they want to play with you. Another key factor to winning more games is to know your mistakes and correct them.
Many players continue to lose a lot of games because they're not able to determine their mistakes. Watch your clan play, and you'll see the difference.
Complete Daily Missions
Apart from joining clans for the rewards, War Machines have daily missions, challenges, and events to spice things up. Daily missions restart every day, so I always have the chance to complete them and earn diamonds and money.
Missions and challenges are easy to complete and include things like completing a certain number of upgrades, achieving a certain rank in the game, or inflicting some damage to tanks. Sometimes, it's simply playing a set of games every day.
I recommend that you check them out first before you head into battle so you know what to do to unlock all of the rewards in just a single battle. Events only happen once in a while but whenever they do, I always make sure to participate in them to get exclusive rewards.
Always Be Mindful of Your Position
Just like many other shooter games, proper positioning is key to surviving in battle. Surviving until the very end means you get to win the battle, and the best way to improve your ranking is to win more games.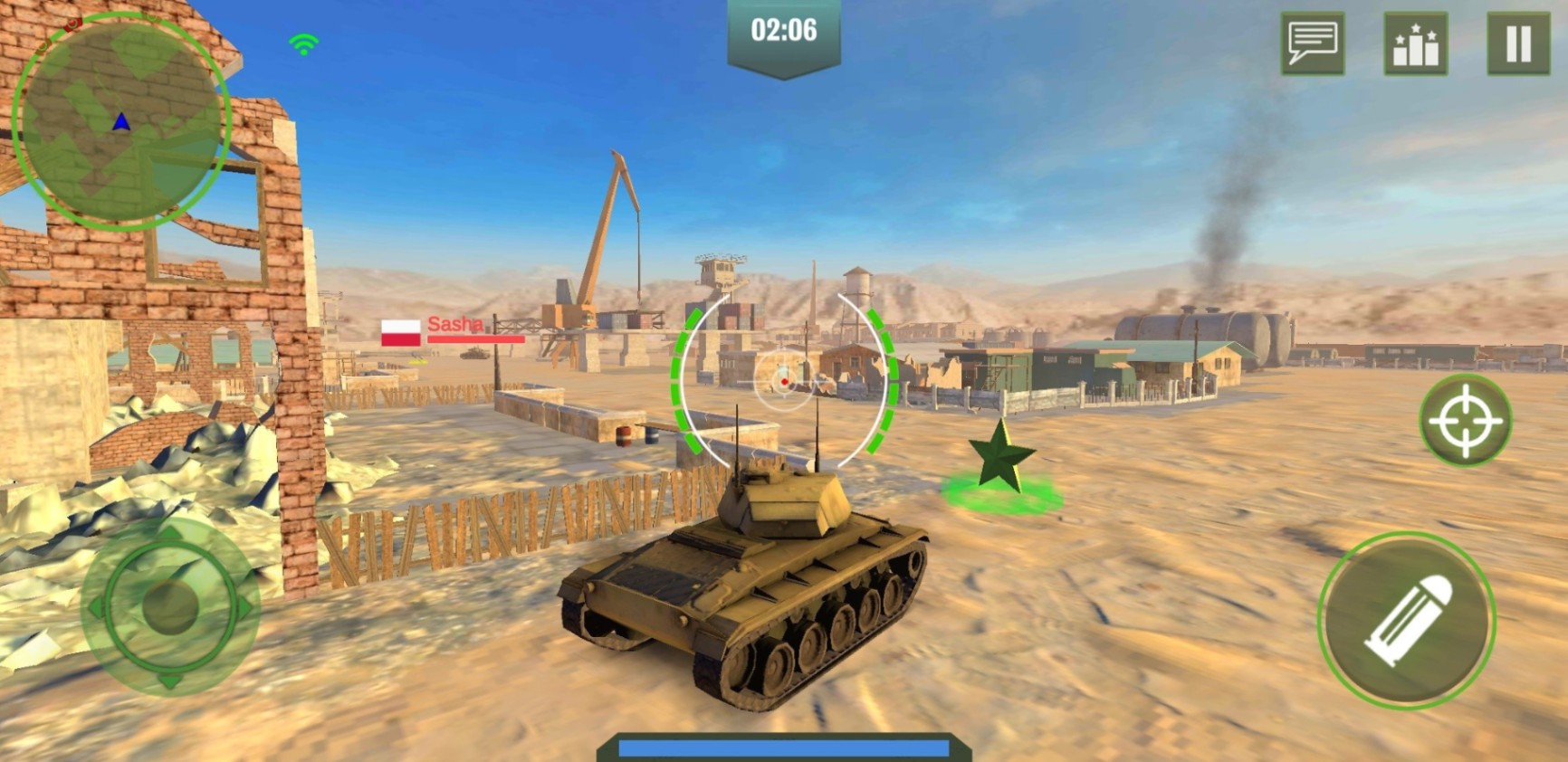 Always look at your current position. If you find yourself in an open field, seek the nearest terrain and take shelter before moving out.
Mind your position in battle and be as far away from the crossfire as possible.
While everyone is busy trying to shoot each other down, you can position yourself in a spot where you have a clear line of sight on your enemies and take them down immediately.
Hit Enemies from Behind
You should probably know by now that the tanks in this game are highly impervious to damage, especially when you're firing at them at the front and side. Most tanks have a lot of defenses in these areas, so it takes more than five hits to take them down.
However, there is one secret that not a lot of players know that I've discovered. You can hit enemy tanks from behind where they are most vulnerable. It will only take a few hits at the back to take them down.
This is also the reason why proper positioning is key to winning games, as you can position yourself behind the enemy and snipe them down.
Conclusion
Playing War Machines doesn't require a lot of mechanical prowess to help you win games. All you need is to learn a few tricks like the ones I've mentioned above to help you win the battle, earn money, and upgrade your tanks. The more you're able to upgrade your tanks, the more powerful you become, and soon it will only be a matter of time before you hit the top of the leaderboards.
War Machines is now available on iOS and Android mobile devices. Check it out by downloading it from the Apple App Store and the Google Play Store. It's rated for everyone ages 10 years old and up and is free to download and play.