Do you find it hard to relax after a stressful day at work? If you want to find a relaxing game to play without having to deal with complex mechanics, you can always try to download and play Happy Color.
Happy Color is a coloring mobile game where players get to choose a specific image to color. Much like a coloring book, you will need to choose specific colors and paint the entire picture through numbers. Once you've finished coloring the entire image, you receive rewards and unlock more features.
If you find it interesting and relaxing to play such a game, check the guide below to find out more about the game, how to play, how to get coins, learn some tips and tricks, and more.
Color According to the Numbers
Use Hints to Help You Find Areas to Color
Participate in Events to Get Coins
Use the Search Function to Find Your Favorite Image
Complete the Achievements and Get Rewards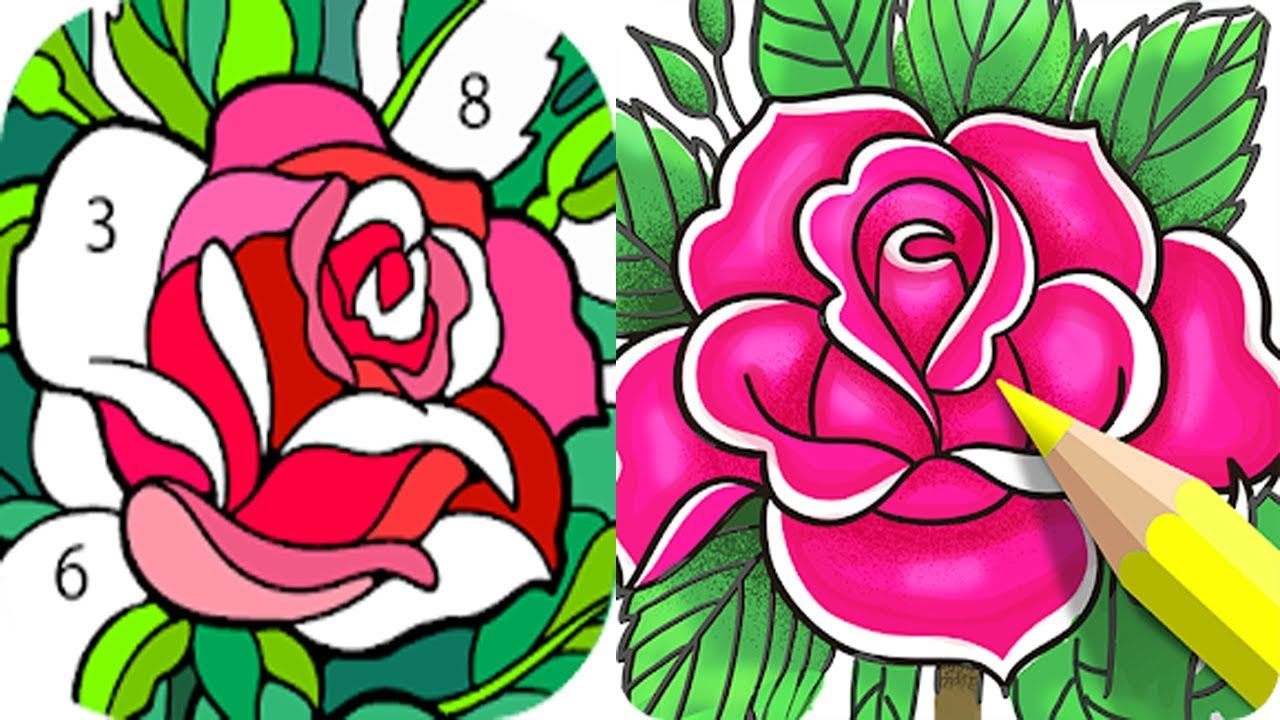 Color According to the Numbers
Happy Color plays exactly like a coloring book. However, there are a lot of features just waiting to be unlocked such as special categories and more.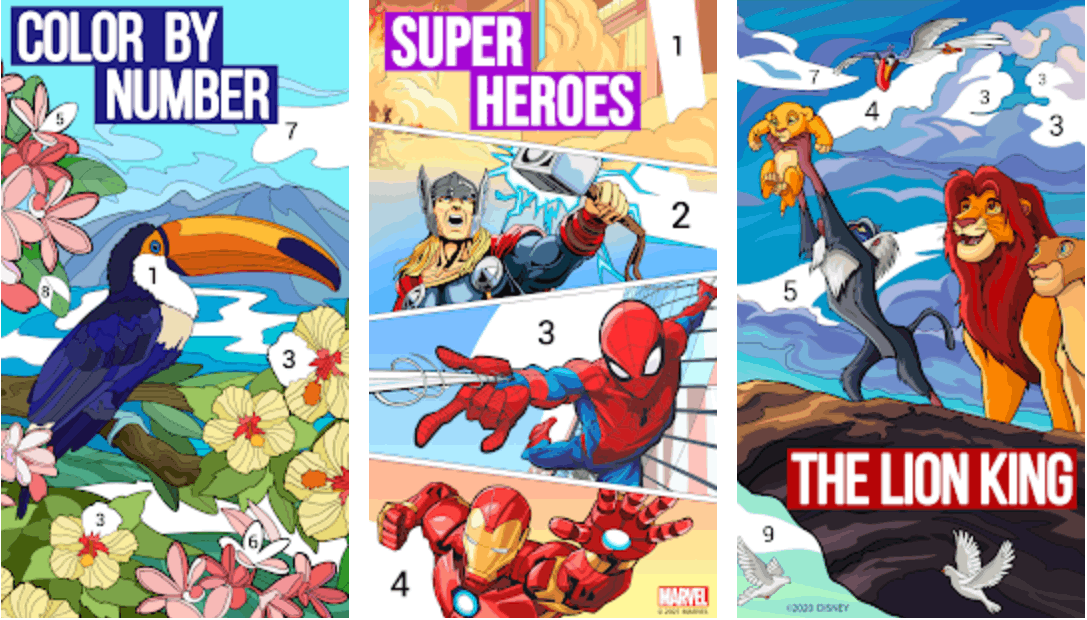 The goal of playing Happy Color is all about filling the entire image with colors according to the number. It is a very relaxing activity that can also be performed by children or even adults.
You get to color different images ranging from Disney and Marvel characters to exclusive images from many fans of the game.
Whether you want to relax or simply want to express your art, Happy Color is a great game for you to play.
Take Advantage of the Zoom Feature to Find Hidden Areas
With hundreds of images uploaded every update in over 40 categories, there are bound to be images that are very intricate. These images have some of the most intricate and complex number designations that it can be very hard to spot which number a space has.
There are a lot of ways for you to spot these numbers so you can continue to color the image completely. You can always try to zoom in using the zoom feature found at the bottom right corner so that you can see the hidden areas.
Check every nook and cranny to see if there are still spots waiting to be colored. Remember, you need to color all the areas before you can move on to the next number, or else you won't be able to complete the entire image.
Use Hints to Help You Find Areas to Color
The more images you color, the more complex they become. It can be very difficult to spot some hidden areas, especially in complicated images.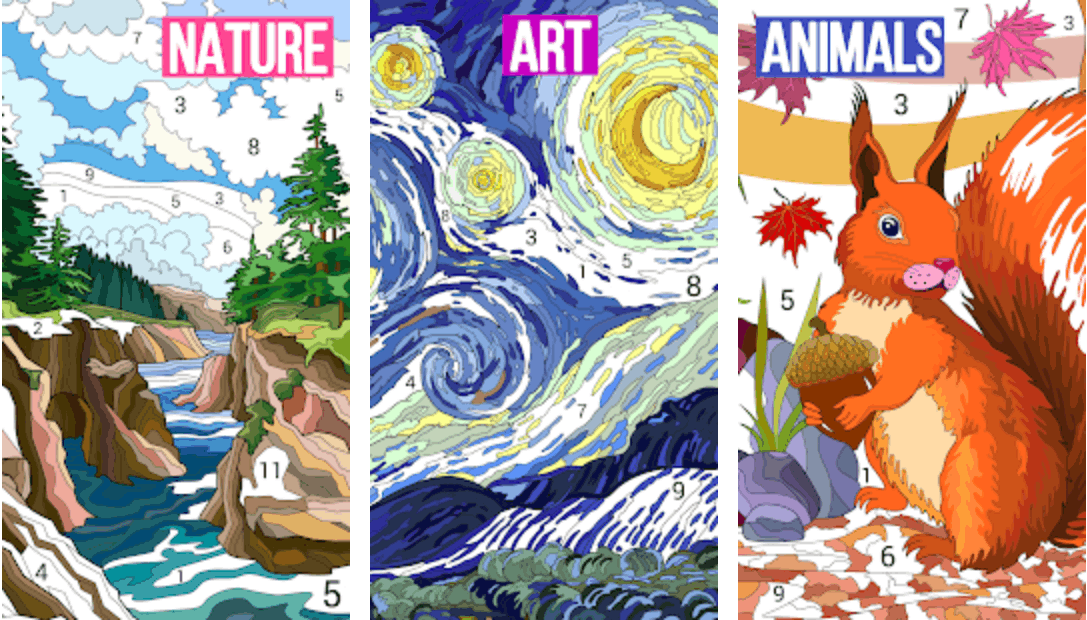 Apart from trying to zoom in to check to see if you're missing something, there is another way to find hidden areas. There is an option at the top right corner of the screen with a light bulb icon. This is where you can tap to use hints.
Hints will provide you with clues to where you can find these hidden areas. Always remember that you can only use hints up to three times per image so be mindful of how you use it.
Only use it when you've already exhausted all of your other options or else you'll run the risk of using all of them and still not being unable to color all of the images.
Always Turn on the Highlight Areas Option to Help You Paint
Another great way to help you paint complex images is to turn on a specific setting in the game. Tap the Gear icon at the top corner of the home screen and look for Settings. Tap Highlight Areas and you'll have three options to choose from.
This setting automatically highlights areas within the image that correspond to the chosen color. This makes it easier for the player to spot small areas that should be painted.
Choose a specific type of highlight that will immediately catch your eyes so you'll be able to identify the areas that you can paint. Try to avoid choosing a highlight that blends with the background.
Participate in Events to Get Coins
Coins are very useful in Happy Color. You will surely need to learn how to earn them in case you need more help in this mobile game. You will need coins to help you purchase hints. In addition, some of the best images are locked behind a paywall.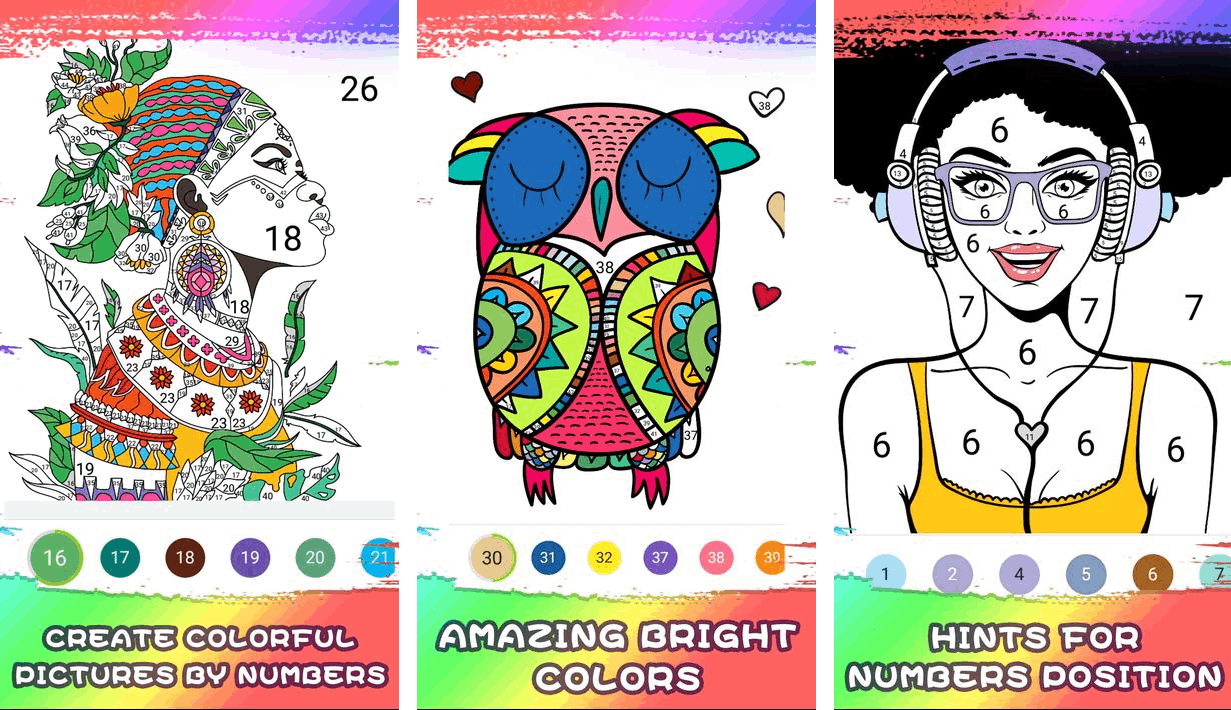 To get a good amount of coins, there are events that will reward you with coins. Head over to the News tab and check the available events in which you can participate.
The most common event that players can expect is the Question and Answer where you simply answer a question and you get the reward. Most of these rewards include special images and coins.
Be sure to participate in these events and you'll be able to get enough coins to afford the things that you want in the game.
Don't Forget to Finish the Daily Image
Apart from joining these incredible events, another good way to earn coins is to simply finish the daily image. The daily images are free and given to players to complete within the day.
It will refresh automatically if you opt not to paint the image. For those who want to finish the daily image, you'll receive rewards such as coins that will help you in the game.
The best way to do this is to do the daily image first before you open another image to color.
Use the Search Function to Find Your Favorite Image
There are over hundreds of different images for you to color and some of them are hidden away within certain categories. It can be very difficult for you to find and choose which image you want to color if you are manually searching for it in the library.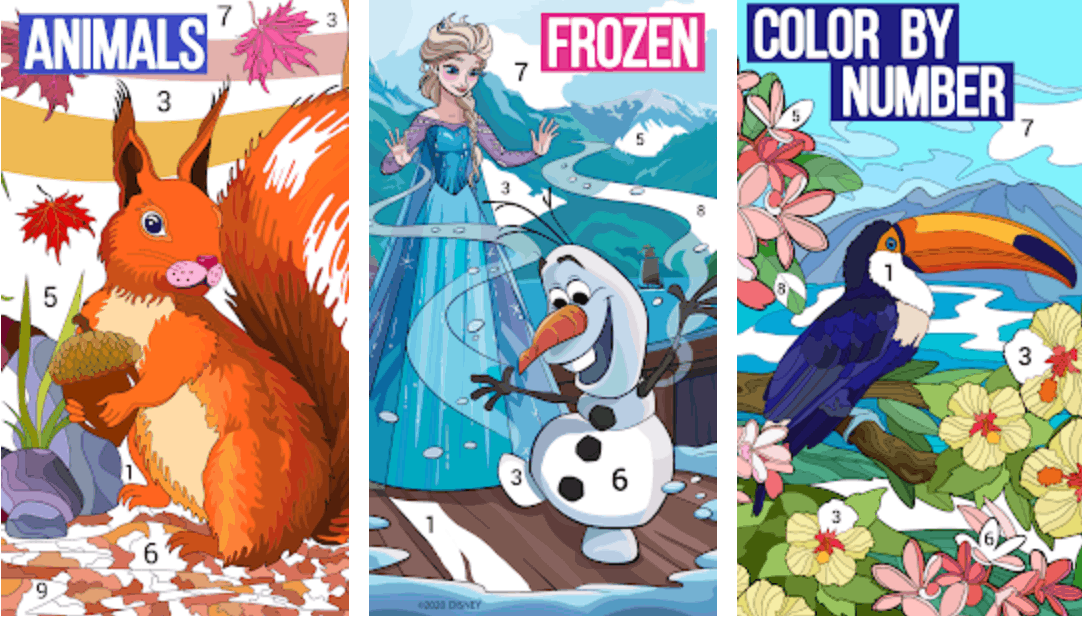 The best way to find your favorite image is to use the search function. You'll see a magnifying glass icon near the middle portion of the screen.
Tap that icon and search for the image using a keyword such as Disney or Marvel. It will immediately pull up all the images that correspond to the keyword that you used.
This is highly recommended for those who only want to color a specific type of image.
Join the Facebook Community to Find Exclusive Images to Paint
Images are always going to be worth painting in Happy Color. If you want to find exclusive images there is a secret way to get them. You can always head over to Facebook and join the community to find exclusive images to paint.
However, you can only do this if you have linked your Facebook account to the game. Tap the gear icon at the topmost corner of the screen and tap the General tab.
You should be able to see at the bottom option that will allow you to sync data. Link your Facebook account to the game and head over to their community page to find exclusive images.
Complete the Achievements and Get Rewards
Rewards are always welcome in Happy Color. Most of the rewards come in the form of exclusive images that you can color and, sometimes, they often provide you with a good amount of coins to use.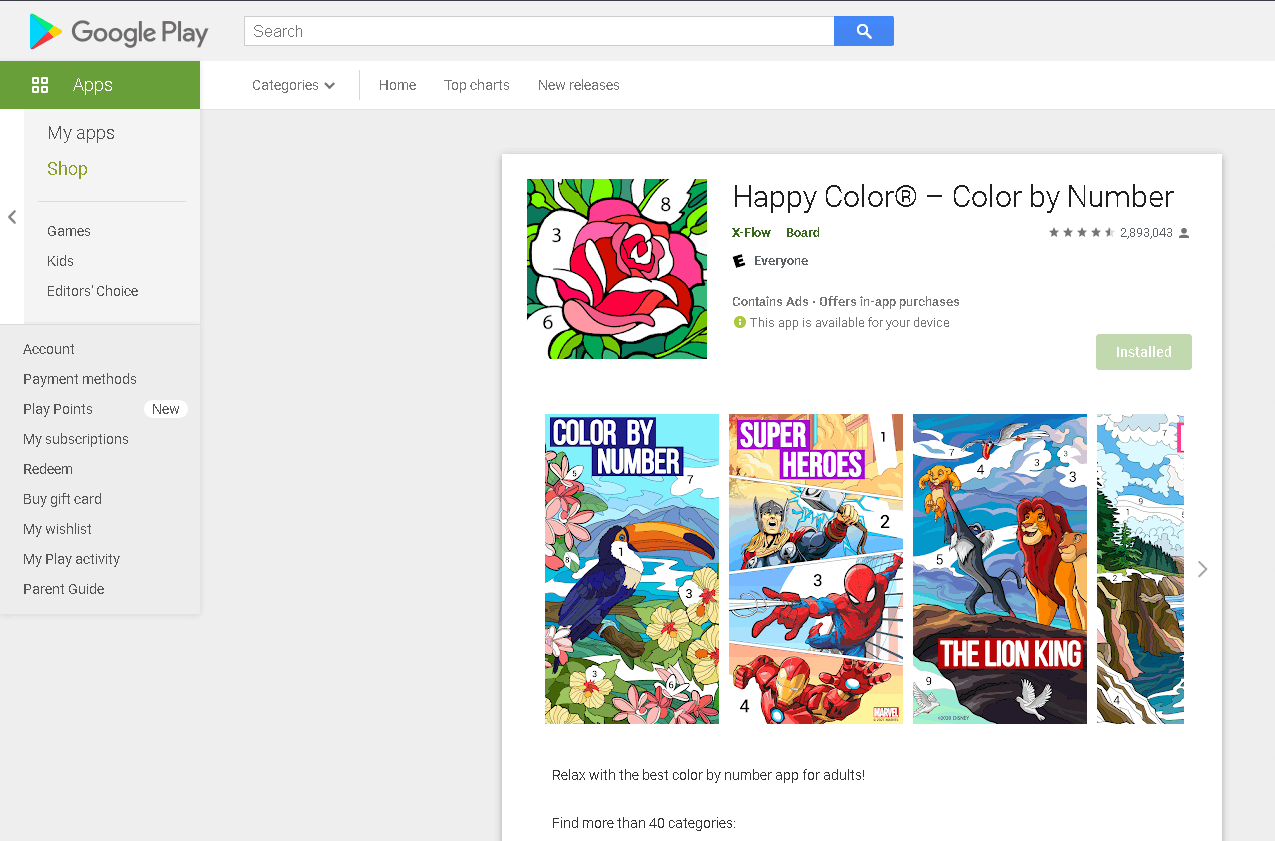 Another option to get these rewards is to complete all the achievements in the game. To access the Achievements tab, tap My Feed at the bottom of the home screen and tap the trophy icon at the top right corner. You will see a list of achievements that you need to accomplish.
Some of them include coloring a picture, logging into the game for the next five days, coloring seven daily pictures, using at least 15 hints, and more. Once you complete these Achievements, you can see your progress at the My Feed tab.
Collect the rewards and enjoy the prizes that you've earned through hard work.
Downloading Happy Color on Your Phone
With all this talk about the game, you should now be itching to play. Happy Color is now available on mobile devices through the Google Play Store and the App Store. To download, search for the title of the game on these platforms and tap Install to begin the download.
Wait until the game is fully installed. While waiting, you can link your preferred payment method if you plan on supporting the game or if you want to remove the ads when you play.
Once the game is fully installed, tap Open to launch the game. Remember that you should only download the game through these platforms as it guarantees safety for your device.
Conclusion
Happy Color is constantly being updated to add more exclusive images. All of the unique images are drawn by professionals so expect challenging ways to color them.
Follow the tips mentioned above so you'll have a relaxing time playing this coloring game.