There is something about Clash of Clans that keeps me coming back for more. It must be the twists, challenges, and the sense of community throughout the game.
Eight years following its release in 2012, Clash of Clans is still in the top 50 grossing apps in both the App Store and the Google Play Store. I have always been impressed with the graphics, the upgrades, and features that allow players to interact with one another.
Most of all, I find Clash of Clans a game of strategy, from building clans to getting gems. If you love Clash of Clans too and want to get free gems without hassle, this guide is for you.
About Clash of Clans
Currencies in Clash of Clans
Defenses and Barracks in Clash of Clans
The Clan Wars
How to Get Free Gems in Clash of Clans
How to Download Clash of Clans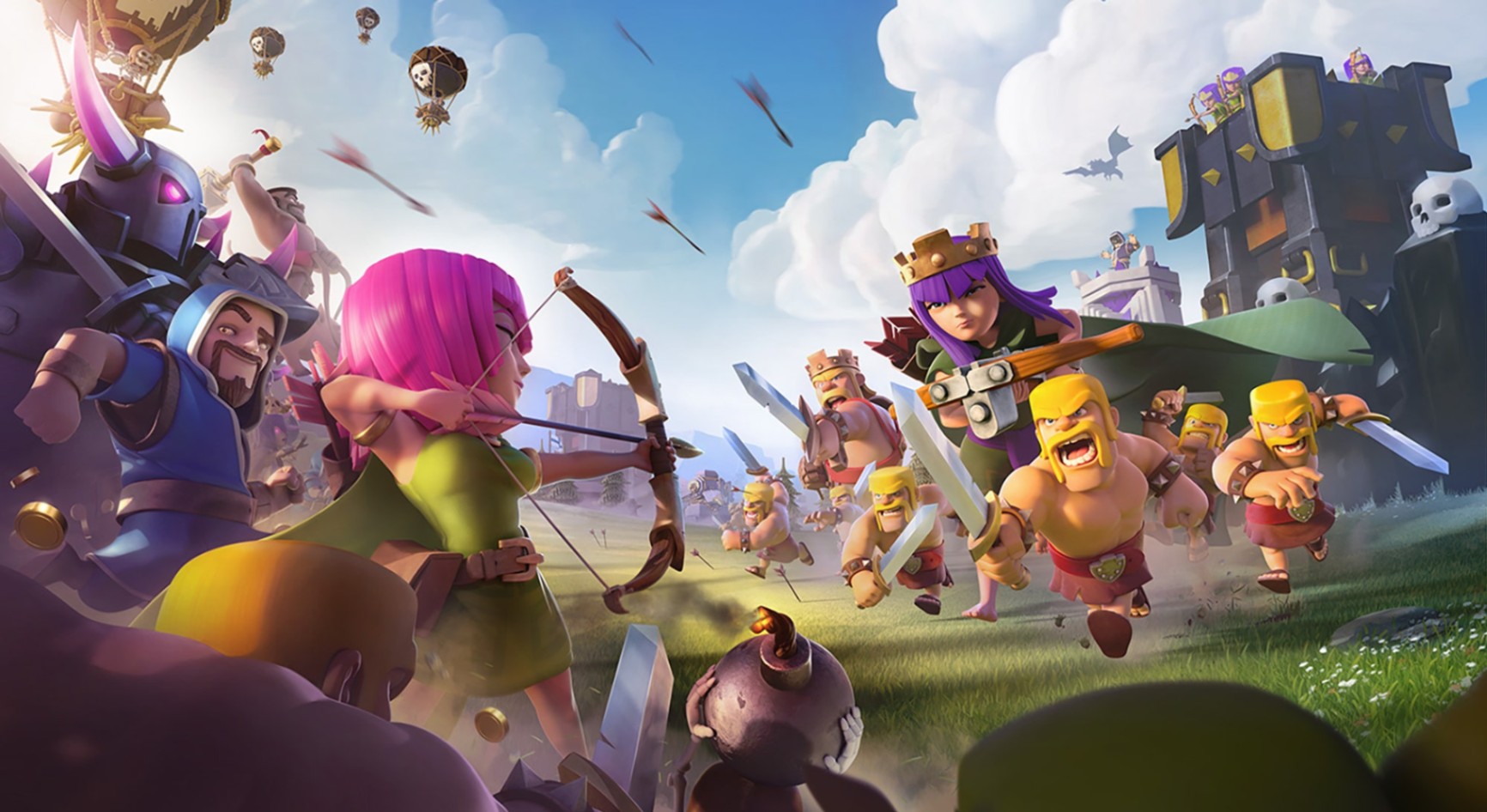 About Clash of Clans
Developed by the Finnish company Supercell, Clash of Clans is a fantasy-themed mobile video game released on August 2, 2012, for iOS and October 7, 2013, for Android.
In Clash of Clans, I play the chief of a village. I onstruct villages using resources that I could gain from attacking other users.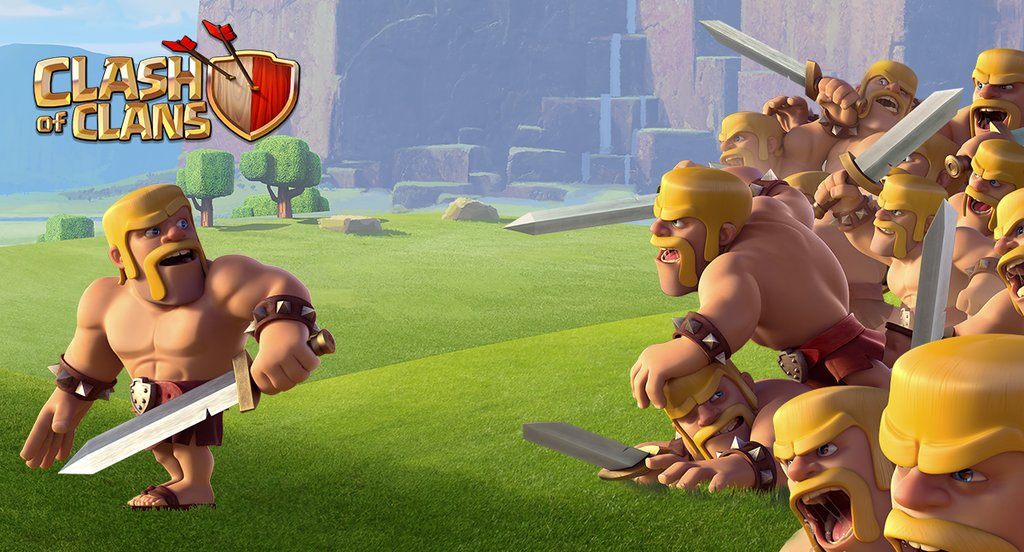 As players, we can conjoin to build clans or groups of up to 50 players who can then become a part of Clan Wars together, donate troops, give advice, and interact with each other.
Clan leaders can spark wars against other clans, which then follows a "preparation day" and a "war day."
Clash of Clans rankings
The popularity of Clash of Clans reflects on its rankings worldwide. In the year it was released and the following year, the online multiplayer game became one of the App Store's top 5 downloads and had the third-highest revenue for a game on the App Store and number one on Google Play.
A February 2014 report revealed that Supercell was earning $654,000 in revenue from Clash of Clans every day.
The game became the top-grossing app on both the App Store and Google Play in 2015. By 2018, it already recorded 500 million downloads.
Currencies in Clash of Clans
I am obsessed with earning the four currencies or resources in Clash of Clans. As a player, you need gold and elixir to create and improve your defenses and traps. This will protect you from the attacks of other players and upgrade buildings at the same time.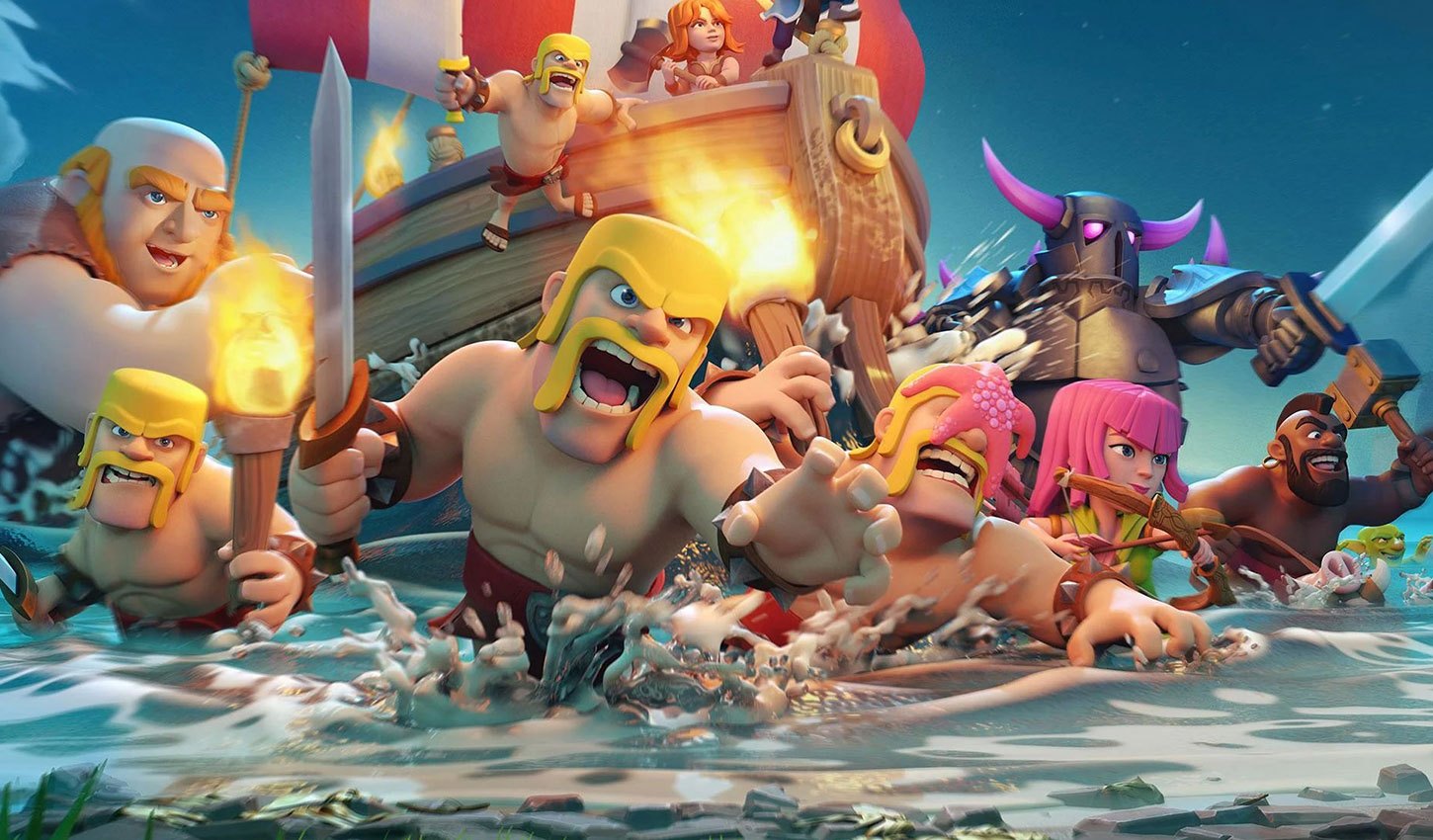 I use elixir and dark elixir for training and upgrading troops and spells. But gems are the ultimate currency. A three-star scale ranks attacks, which have a maximum timed length of three minutes.
The pseudo-single-player campaign in Clash of Clans allows the player to attack a series of fortified goblin villages and gain elixir, gold, and dark elixir, for levels 51-75 only. There are often two builders in Clash of Clan, but the player can get up to five builders by purchasing them with gems.
In addition, the sixth builder is possible if you get and unlock the OTTO Hut in Builder Base 9. Earning and storing elixir and gold requires building gold mines and gold storages as well as elixir storages and elixir collectors.
Troops and Buildings
If you want to train new troops, use the laboratory to upgrade troops, and fix certain buildings, you need elixir. For erecting defensive buildings and upgrading the town hall, you need gold.
Available at Town Hall 7, dark elixir is for training and upgrading dark elixir troops. It can create dark spells at Town Hall 8.
I work on building dark elixir drills and dark elixir storages when I need to earn and store dark elixir. Meanwhile, Town Hall 9 will give you the Archer Queen.
The Clan Wars
When I attack a member of the opposing clan, I get stars based on the gravity of the destruction I made.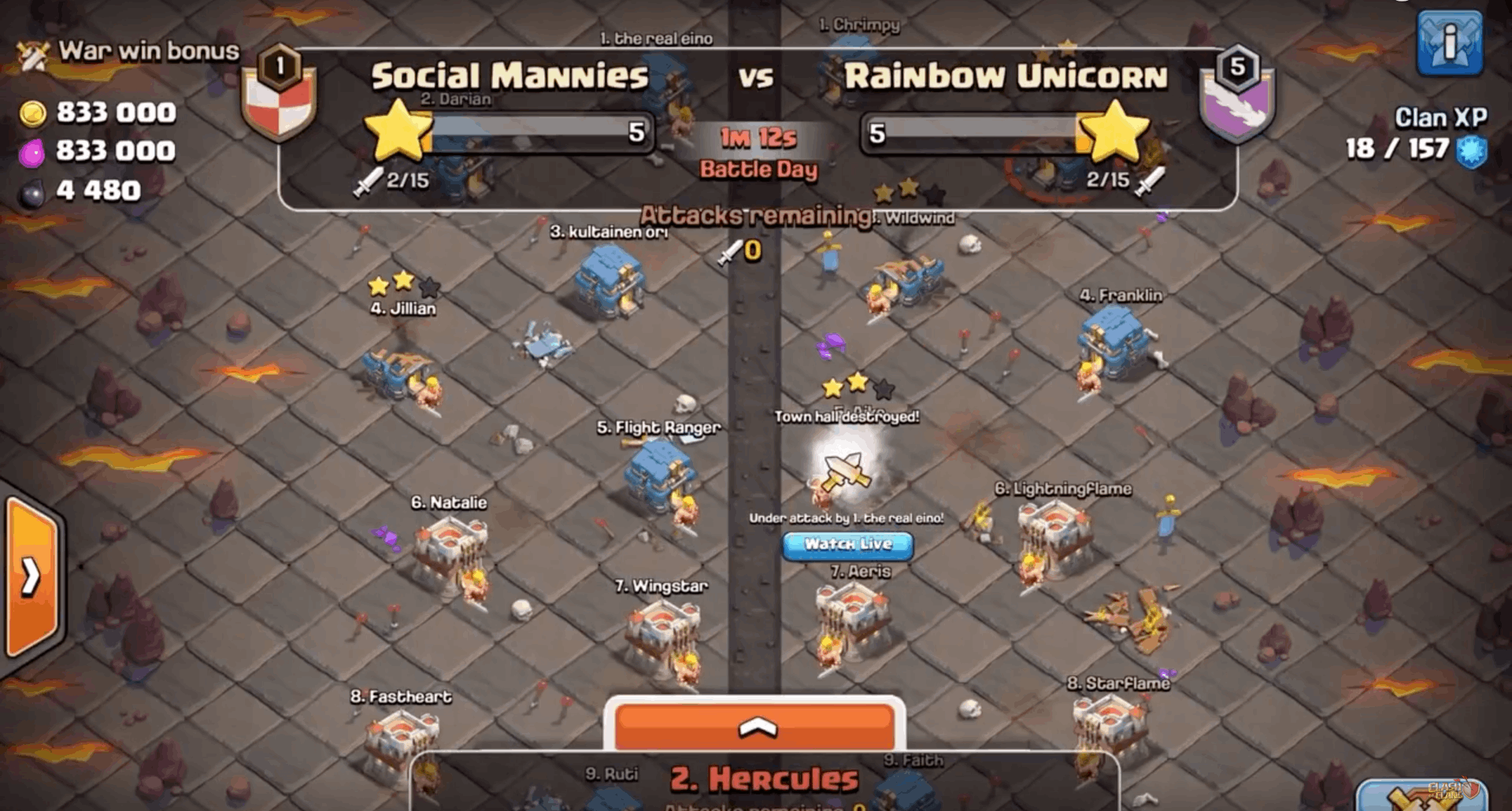 For instance, 50% destruction or more is equivalent to one star, abolishing the town hall gives you one star, and eradicating the entire base sends you the remaining third star. However, you can only make two attacks per war, and the team with the most stars wins.
You have to note that if there are two clans with the same number of stars, then the winner is the one with a greater percentage of damage. You get bonus war looks if you use your attacks during the war. Supercell decides the look you will get, and it is different on each base.
Winning the War
For the winner of the war, the player gets delivered the bonus loot directly but when the war is a loss or a tie, only one-third of the loot is awarded.
The war sizes in the game are 40v40, 50v50, 15v15, 30v30, 25v25, 10v10, 20v20, and 5v5.
The October 2018 update features the Clan War Leagues, wherein clans are able to fight seven other clans to go to the next league and get league medals by earning stars.
How to Get Free Gems in Clash of Clan
Clash of Clan players use gems to create the important stuff in the game. I use gems to accelerate production, but this must be avoided if you want to save the gems for more important buildings.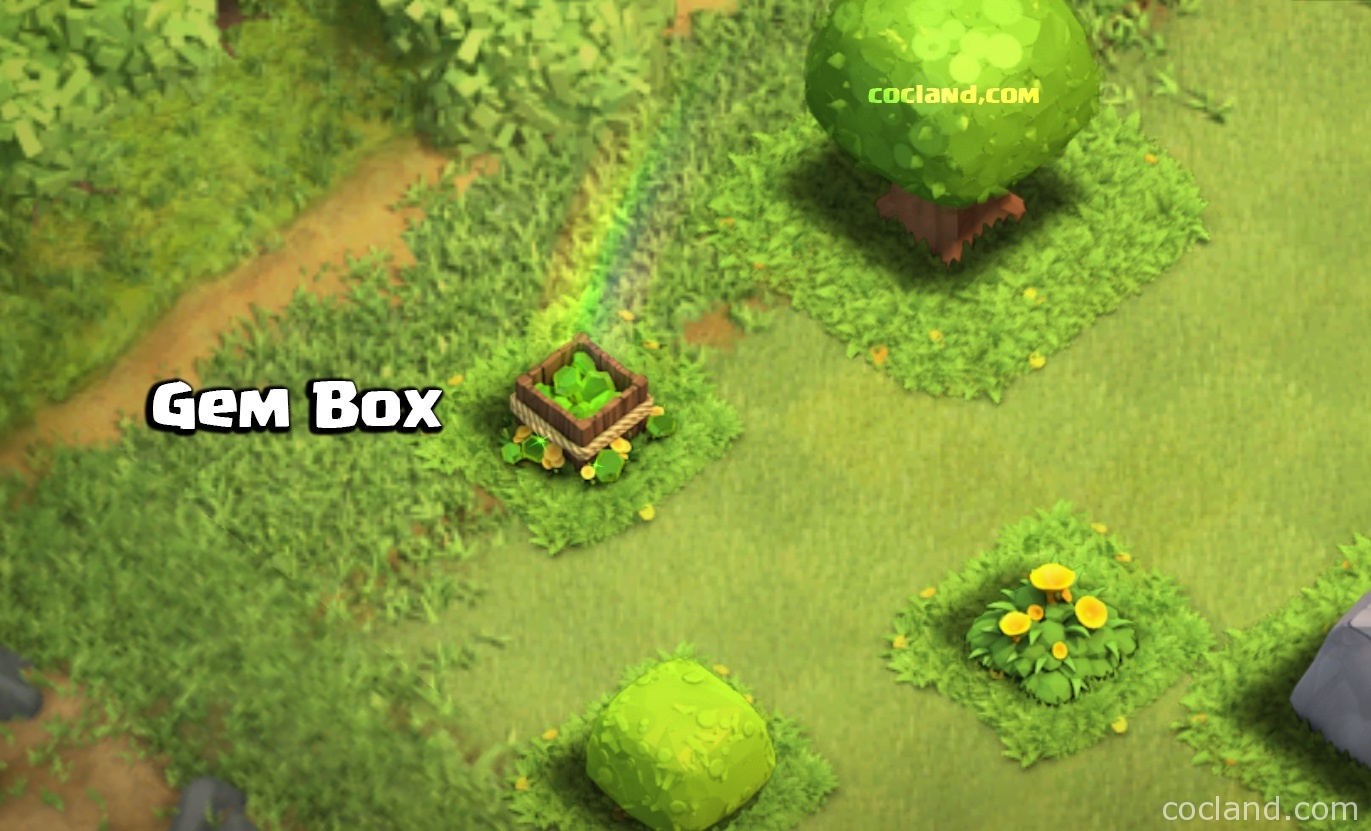 While gems do not always show up, they can be bought from the cash store, but if you will be strategic, you won't have to spend anything.
First, what I do is spot rocks and plants in the Home Village and Builder Base and get rid of them so I can build something right away. You'll notice 40 objects around your village when you first start. You will get 0-6 gems each time you are able to remove an obstacle.
Note that you should give plants some space to regrow. Plants will keep showing up once every eight hours, allowing you to keep getting rid of them for more gems. Give an extra tile of space between the plant and any other object, and this means the eight tiles around it must be empty.
Unlocking Gem Mines
I look for a Gem Mine if I want a less intense way to get free gems. Players can unlock the extra camp through the boat at the bottom of the initial village. You'll be sent to the PvP-first builder camp, where you can play in 1v1 combat and expand units and build.
Wipe away the items there for free gems, but you'll find a building that has been ruined called the Gem Mine. Fix and improve this mine to receive gems over time.
How to Download Clash of Clans
Clash of Clans is free to use and free to download on the app stores. It is available for Android and iOS users. Players should be at least 13 years old to play or download Clash of Clans. The app also contains in-app purchases which you may have to confirm permissions for when downloading the app to your smartphone.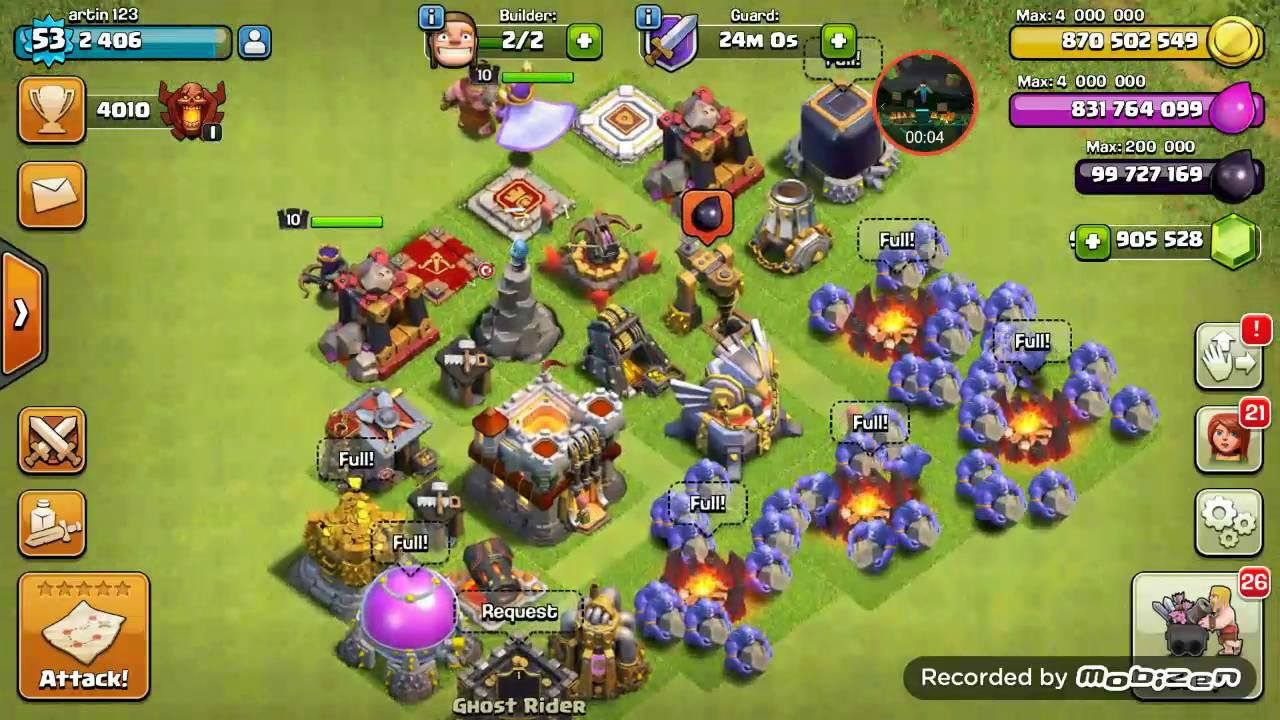 For Android smartphone device users, open your Google Play Store and use the search bar to find 'Clash of Clans' by the developer Supercell. After selecting the correct option, you will be taken to the app's download page. Then click the install button to begin the download onto your device. Once it's finished, click 'Open' to launch the app.
For iOS device users, open the Apple App Store and search for 'Clash of Clans' in the search function. Select the option with Supercell as the developer to go to the app's download page. From there, press 'Get' to begin installing it to your device. After it's finished, you can launch the app.
Note that Clash of Clans is free to download but inside the game, there are items that you can purchase with real money. You can switch off that feature by disabling in-app purchases in your device's settings.
New Features
Supercell constantly updates Clash of Clans. The latest features include being able to roll through the enemy village with the Log Launcher, and new additions to the Super Troop line-up: Super Wizard and Ice Hound.
You'll also see new Spell, fresh Town Hall 13 content, and so much more. Always keep an eye out for updates to the app on the app store so you don't miss out on any cool new features.
Conclusion
Clash of Clans is an addicting game that challenges your ability to plan and execute strategies, your loyalty, and teamwork. Attacking villages, upgrading your items, and getting free gems are just some of the exciting tasks that keep over 5 million players worldwide hooked on the game.
This was just a few tips I learned from playing the game and researching ways to get gems without having to use real-world money. I hope this guide helps you get free gems in the game to help you expand your builds and ultimately defeat other clans during wars.