FLICK GOAL is a simple game that can be quite addictive, especially as you explore all of the variations. Flick goal is developed by gameguru. Game guru have developed a lot of great games such as racing fever , racing fever moto, loop taxi. The detailed game review is given below.
Flick goal is a very simple game , where you'll only be taking free kicks . The game's story mode is very long and offers difffernt levels. The game is very similar to gully cricket , instead of taking free kicks in a stadium . You'll be taking free kicks on the streets with many obstacles .
The game begins with a simple tutorial in which you;ll be thought the basics. You will just have to swipe in the direction of goal avoiding all the obstacles in the process. Because when you hit an obstacle you'll have to restart an entire level. On comparison, the game is similar to score hero but without running and passing it is just shooting.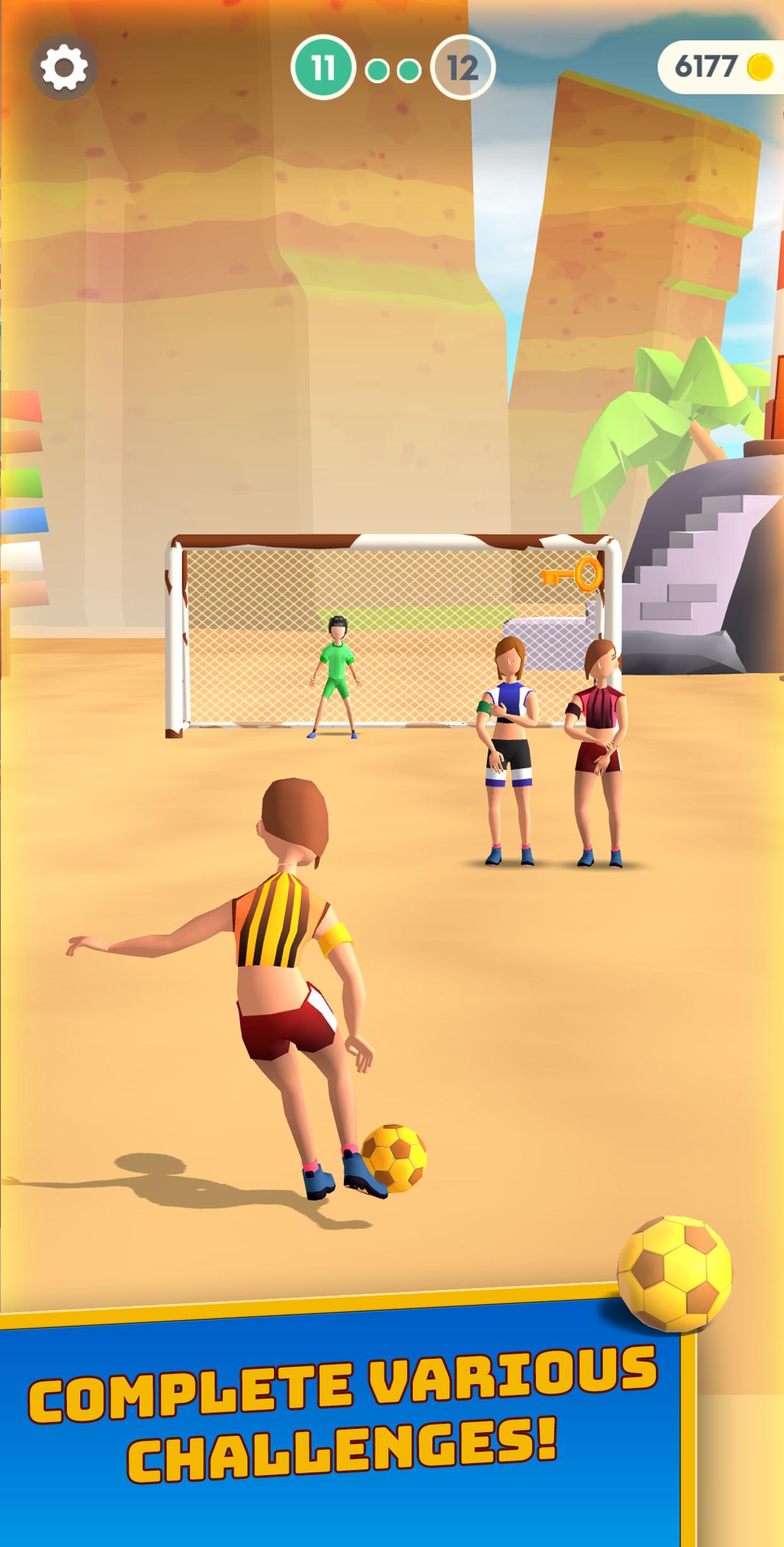 You can also collect coins and keys, while shooting the ball towards the goal . Coins allow you to customize your character and your ball color. Whereas you can use keys to start a level from that point instead of restarting. The game has really great graphics and gameplay. Probably, the game stands out with its multiplayer mode.
Multiplayer:
The multiplayer mode consists of two modes shooting race and shoot and catch. Shooting mode is a real time multiplayer mode, in which you'll be competing against three other opponents. There will be a target which you will have to correctly and faster compared to the other players. Once you hit a target the shooting distance keeps on increasing.The player who reaches the maximum points wins the game.
Shoot and catch mode is arguably the best mode in the game. Because the in this mode it is a penalty shootout between you and your opponent. The penalty shootout is similar to the football rules. You can add curve to your shots by swiping it left to right confusing your opponent.There are tons of customization in the game. You can customize your avatar and your football.
Pay to play:
The game's monetization policy is worse than EA's . The game is literally flooded with advertisements after every single game you play . You can play the game offline, but then only the story mode is available.Whenever you are connected to the internet an ad pops up after every match. A match last around 2 minutes but the ad itself lasts for 30 seconds.
Final review:
FLICK GOAL is a simple game that can be quite addictive, especially as you explore all of the variations. The game is good and is interesting but it feels like you are watching adverts with a few levels in between to break it up. You will have to buy the ad free version to get any decent amount of game time.