Genshin Impact, one of the latest games of 2020, is rolling out on all platforms. The game as an open-world map with various places to discover using combinations of The Seven Elemental resources. Various places have quests which on solving give the rewards. It has finished it's the first week since it's launch on September 28, 2020.
It is a whole package of various items, characters, locations, benefits, special powers guided by an excellent narrative storyline. The game is challenging, and the multiplayer mode makes the game even more exciting and fun.
There are various locations within the open-world map where hidden treasures and other benefits are found. The motive is to reach that spot using the combinations of the elements we have and extract the treasure by defeating the opponent on the battlefield with regard to the Battle Pass system.
Talking about finding the Nameless treasures in the game, they are found in three locations:-
1) Dunyu Ruins: It is an underwater location, and thus draining the water is a relevant option in order to get the chest that contains the treasure. In order to drain the water, there is a torch lighting strategy to follow. The torches are hidden, and you need to find them carefully and light four of them. After that, you need to switch on the Geo element, which would drain the water. Find the three spirits waiting for you at the pool and follow them to the three locations to minimize the effect of the field.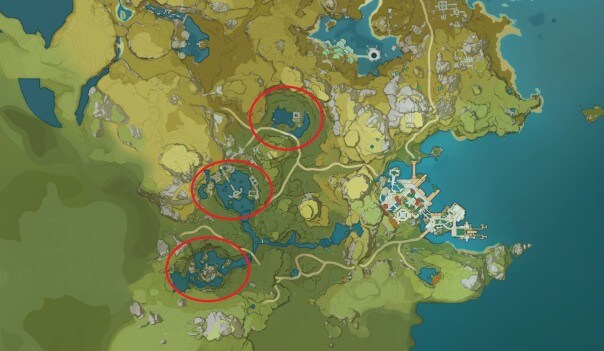 2) Lingju Pass: This follows an escape strategy. You need to rush towards the western part of Lingju Pass and fight the enemies in order to rescue the NPC captured by them. The key to unlocking the cage would be provided once you defeat the enemy on the battlefield. After rescuing, the NPC will reward you with the information about the next Nameless treasure that is under the Giant Gold Tree.
3)Qingxu Pool: This follows a seal breaking strategy. You need to talk with the stone tablet to get the locations of 5 different seals which you need to break. After breaking them, you will be able to access the treasure in the core of the pool.
The task is not over yet! You need to earn something from the treasure, and you are thus going to sell the items to a Vendor names Linlang at Xigu Antiques in Liyue Harbor.
---
That's it for this post! Stay tuned with MobileModeGaming for latest mobile gaming news & updates.