As reported by us earlier, Free Fire Vengeance Event is finally here today (17th July 2020). This event is live in the game between 17th July 2020 to 29th July 2020. Like other events, it has also brought many rewards to the players, including the main reward 'Master of Death' bundle, that you can get absolutely for free.
The Vengeance is the major event of Free Fire, so it comes with various subparts taking place for the different duration between the event period. The Master of Death Bundle is available in its first phase, 'Summon Destroyer' starting from today (17th July) until 28th July 2020. during this phase, you need to collect 'Blue Soul Orbs' to get rewards.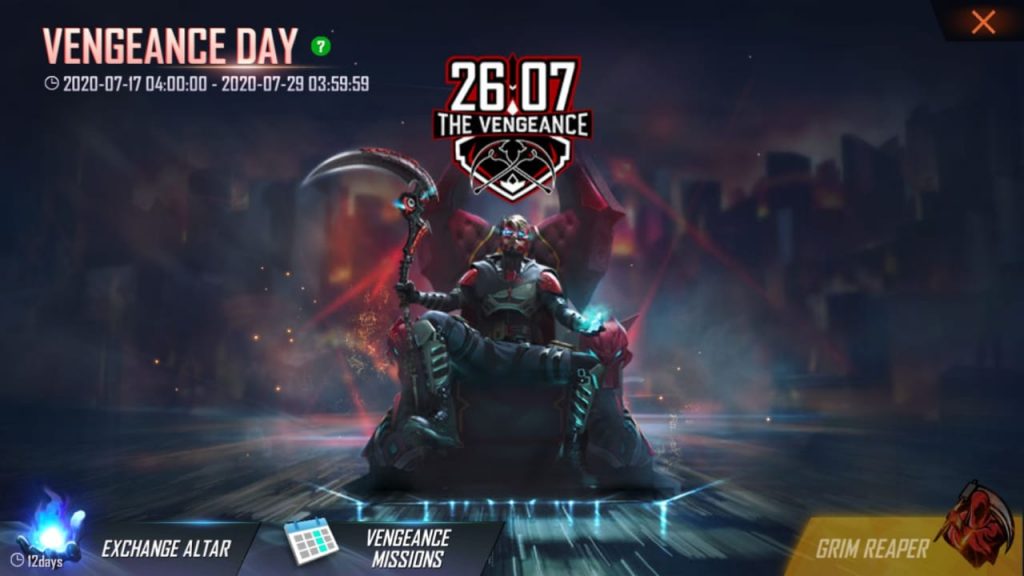 Between 17th to 28th July 2020, if you play any mode in the game, you get one Blue Soul Orb after every match, with a maximum limit of 10 Orbs per day. But the limit is not applicable on the 26th July 2020, because it is going to be the Peak day of Vengeance event. On the peak day, you get 5 Orbs after every match, with no maximum limitations.
There are various rewards available for you in exchange for these Blue Soul Orb Tokens. Before moving further, firstly collect your free event gift from the in-game mailbox. To get the rewards, go to the Vengeance Event lobby and click on 'Exchange Alter' available at the left bottom of the screen. Now you will get to see 'Use' and 'Use x10' buttons on the screen, using that you have to make spins.
If you click on 'Use,' it will cost you 1 Soul Orb token, and 1 spin will be made. If you click on 'Use x10', it will cost you 10 Soul Orbs Tokens, and 10 spins will be made. For every spin you make, you get a reward from the 'Mediate' prize pool. By making these spins, you ignite the torch of death available as a bar on the right side of the screen.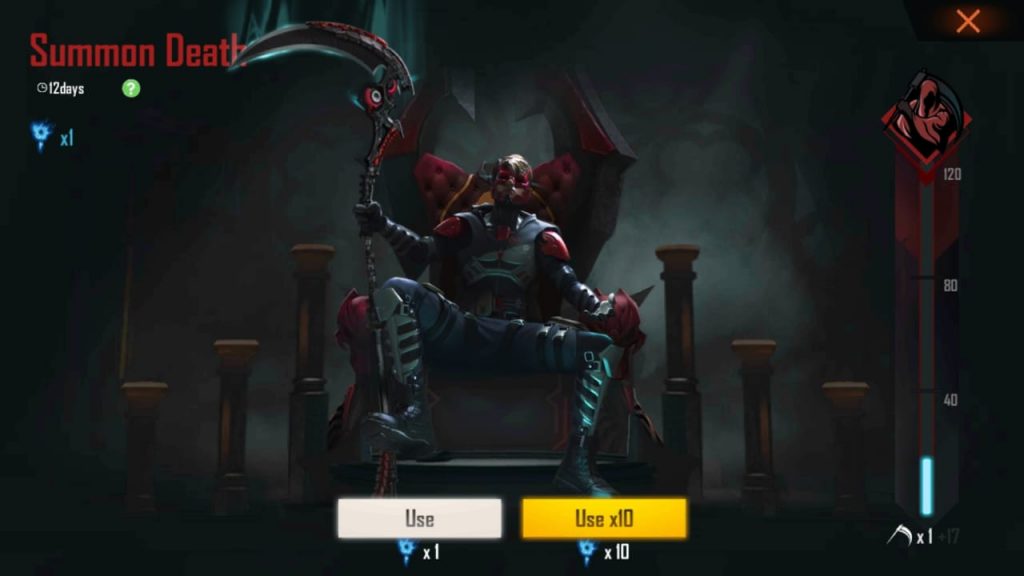 The torch (bar) has certain milestones shown as 0, 40, 80, and 120. There is a reward, including the Master of Death Bundle, for each milestone you achieve. The bundle is available at 120, which is the highest to achieve, and basically, you need 120 Soul Orb tokens to get the bundle.
Rewards available for milestone include:
0 Spins: Gold Royale Voucher (Collect from in-game mail)
40 Spins: Death's Ride Surfboard
80 Spins: Diamond Royale Voucher
120 Spins: Master of Death Bundle
As mentioned, there is a limit of 10 Orb tokens daily, so you need to collect your 10 tokens daily, but peak day comes with some relaxations. On 26th July (peak day), you can collect your required number of tokens. So start collecting Soul Orb tokens from today itself to grab you free Master of Death Bundle.
Also Read: How To Get Diamonds In Garena Free Fire
Stay tuned with Mobile Mode Gaming (MMG) for the latest Garena Free Fire News & Updates!