Free Fire contains the premium currency as 'Diamonds'. Diamonds can be used for buying aesthetic improvements for characters and weapons, unlock character skills, activate Elite Pass, and much more. There are various ways to obtain diamonds in the Free Fire. Here Is How To Get Diamonds In Free Fire:
Top-Up
Free Fire has the in-game Top-Up section from where players can buy the diamonds. To buy the diamonds, players need to pay real money. The price to buy differs based on the number of diamonds, of course, the more you buy, the more you get for a better price.
The starting rate in the Top-Up section is $0.99 for the amount of 100 diamonds and a maximum of $49.99 for 5600 diamonds. The developers keep on introducing extra free rewards with the diamond top-ups and exclusive rewards for the first time diamond top-up.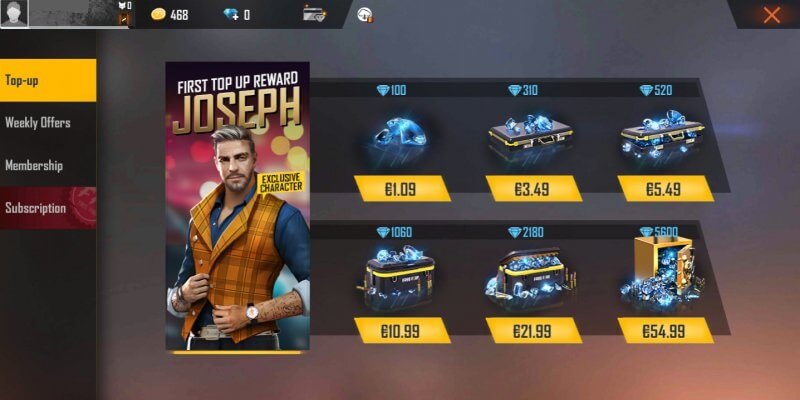 Membership
Players who require diamonds regularly can opt for the monthly or weekly membership to save the money. By taking memberships, instead of purchasing the diamonds by top-up, players get them daily in their account.
The Weekly Membership costs $1.99, and Monthly Membership costs $7.99. You can even apply for both subscriptions to get a lot of benefits.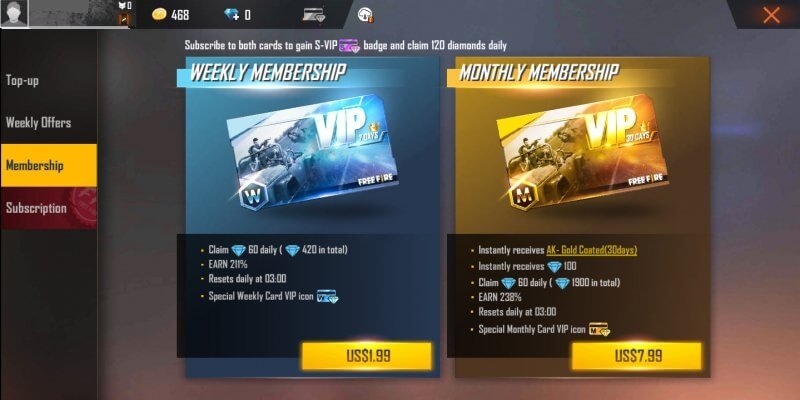 In Weekly Membership you get, 60 diamonds daily (420 diamonds in-total), 211% of the paid amount, and the Special Weekly card VIP badge. In Monthly Membership you get, instant AK – Gold Coated (30 days) skin and 100 diamonds, 60 diamonds daily or (1900 diamonds in-total), 238% of the paid amount, Special Monthly Card VIP badge.
If you subscribe to both cards, you get S-VIP (purple color) badge and collect 120 diamonds daily.
Weekly Offers
Every week the game comes up with various offers known as 'Weekly Offers'. The Free Fire Weekly Offers consist of various combinations of items at discounted prices.
The items in the Weekly Offers include Weapon Royale Voucher, Diamond Royale Voucher, Incubator Voucher, and Diamonds. If a player wishes to buy both vouchers and diamonds, he can go for weekly offers. You can get a significant amount of discount as the week progresses.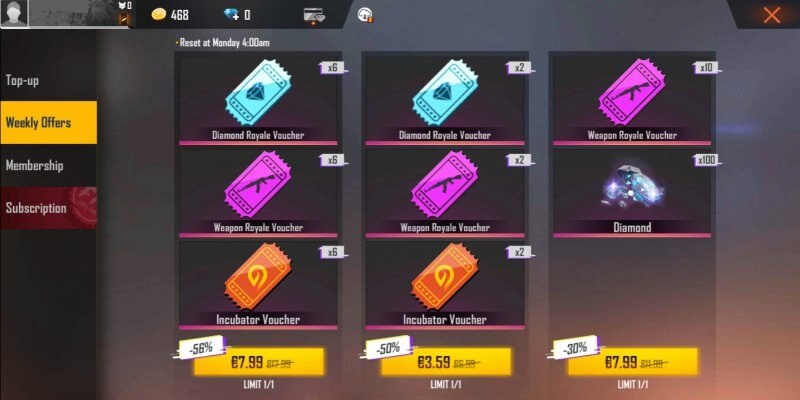 Games Kharido
Garena has launched its official Diamond Top-Up platform by the name 'Games Kahrido.' It allows you to purchase diamonds at the benefit of 100% Top Up Bonus. The offer is only for first time users; 100% Bonus is waiting for you. Access it on Games Kharido Website and simply Login using Facebook or Player ID on your browser.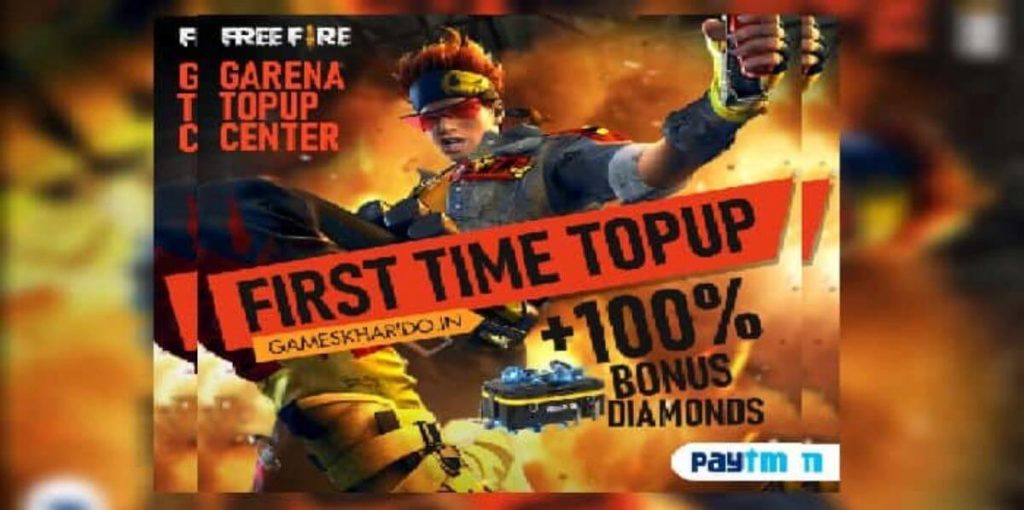 Coupon codes
Coupons Codes are an absolutely free and official way to get diamonds in Free Fire. But getting the coupon codes is not an easy task, you have to keep on eye on Free Fire Social Media Handles, Influencers Accounts, and event organizers, where the coupons got shared for promotional purposes.
Go to the Rewards Redemption Site and Login using Facebook, VK, Google, or Huawei ID on your browser. Enter the code you got and click on confirm, you will get the reward in your account. Using Coupons Codes, you can get other items as well apart from diamonds.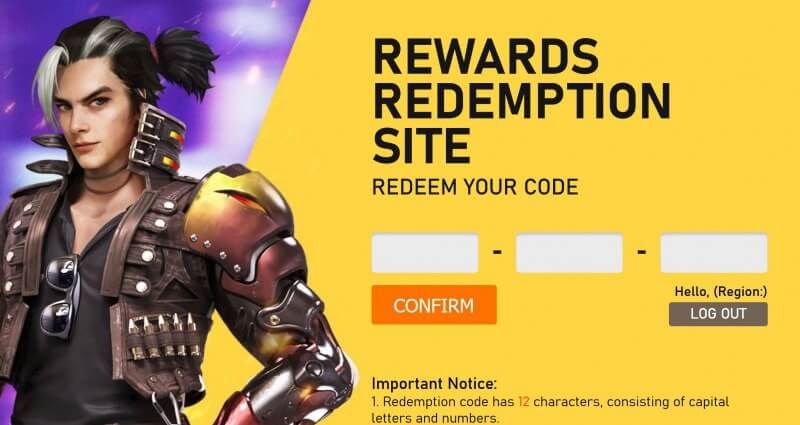 Fire Pass
Free Fire offers every season an 'Elite Pass' to the players that is one of the modalities available in 'Fire Pass'. To get the Free Fire Elite Pass, you need to spend the real money to get a lot of advantages. The Elite Pass does not reward you with diamonds, but you get rewards worth more than 10,000 diamonds.
Apart from that, your daily gold limit increases to 100, and your nickname gets displayed in Glorious Red color. There are instant 50 badges and tons of Elite Pass rewards for you to collect.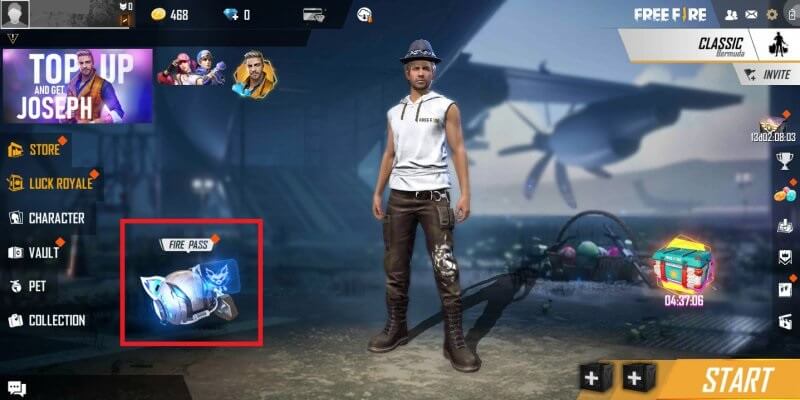 We recommend you not to use any hacks or tricks to get diamonds for free. It might result in a ban on your account by the administration of the game. And you also might end up sharing your personal information (unwillingly) with hackers.
Also Read: Free Fire All Season Elite Passes (Season 1 to 27)
Stay tuned with Mobile Mode Gaming (MMG) for the latest Garena Free Fire News & Updates!