Rip Them Off is a new minimalistic puzzle game by 'Lozange Lab' based in Metz, France. They are planning to release their tongue-in-cheek title about economic management with tower defense elements. You can pre-order the title on the App Store as well as on Steam with a release date set for September 24th, 2020.
In this game, You must use your skills as an economist to line up the streets with shops which the masses cannot resist. The Board demands profit! In each city, as you play the game, purchase suspiciously "empty" shops and create a maze of endless retail outlets.
Maximize the profits from your exploits and amass large consumer traffic. Through your seemingly non-shady enterprise, take on progressively difficult challenges with each successful run. Manage your earnings and spend it well when moving to the bigger metropolises.
Touted by the creators as an "innovative new type of game", by combing puzzle mechanics and fusing it with the tower defence genre. Easy to learn but a mountain of a task to master.
The design of the game is by far the most intriguing and striking of all. The 1950s style of flat yet vibrant colours, you just feel like you belong there. As with the graphics and design the music is as equally inspiring with its fast-paced jazz as a background track. Play the game the way you like slow or fast. Your strategies will dictate the flow of time and the ones that will work will grant you success.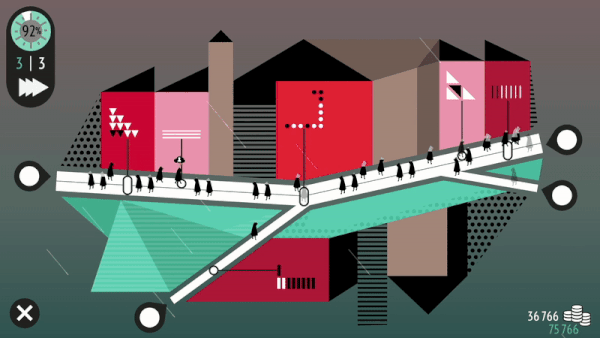 The expected price of the game is $3.99USD. For more information, you can visit their website as well as follow them on Twitter, Facebook, and Instagram for regular updates.