Its been a week since Call of Duty Mobile Season 6 has been released. As with every update, new features, events, character skins, and gun skins have been added in the game. Many of these new introductions require to be bought by the player either using in-game currency or real money.

However, there are also a lot of things that you can get your hands on for free. These include free Soldier Skins that you can get permanently. Here, we have compiled a complete list of free skins completely available for you. This the ultimate guide for Free Skins for all you CODM players out there.
Nomad – Druid
The Nomad – Druid free soldier skin is the easiest character skin to get your hands on. However, if you are not aware of it being available, it is similarly easy to miss it.
The latest CODM update has replaced daily crates with a Monthly Login Calendar. Now, you get a prize for cumulative login (not to be mixed with continuous). This means that to get a particular reward, you will have to had logged in to the game for a set number of days.
If you go to the Monthly Login Calendar section (from the Events tab), the Nomad – Druid skin is available on Day 24. This means that if you manage to just log in to CODM for 24 days, you will unlock this skin. You do not need to play anything, just opening the game will be counted.
This is the easiest to get character skin and can be missed by many. Do try to get it by logging in every day.
Specs Op 1 – Desert
Another new feature added by CODM with this update is the seasonal events that can be found in the 'Seasonal' section of the Events tab. To get Specs Op 1 – Desert skin for free, you will have to complete all the tasks mentioned in 'Survey and Destroy'.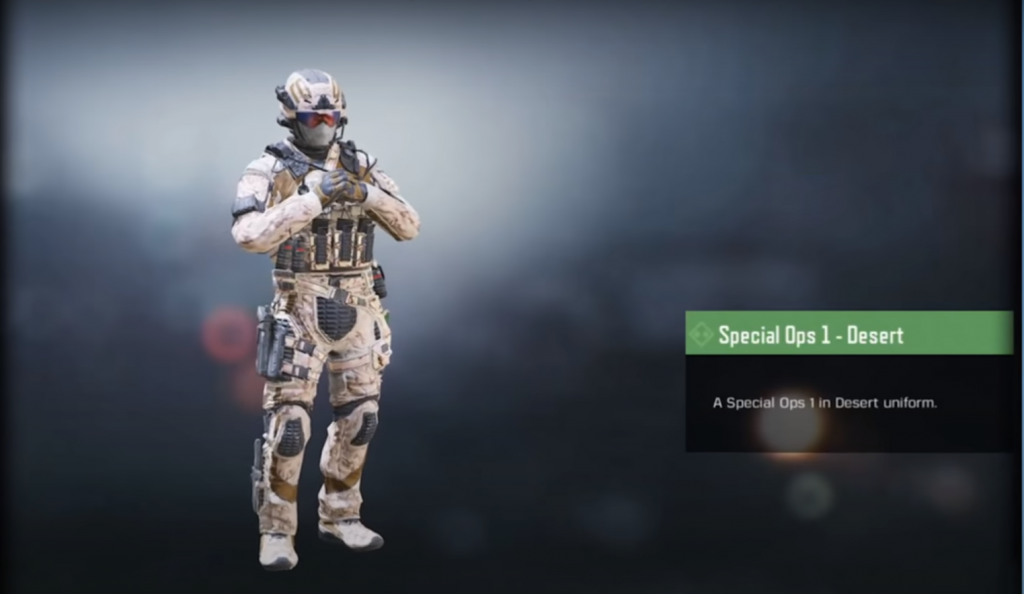 The tasks are in a series which means you have to complete one before you unlock the next. There are 4 tasks in total which are listed below.
Task 1 – Use UAV 5 times in MP Matches.
Task 2 – Destroy UAV with FHJ 5 Times in MP Matches.
Task 3 – Use Counter-UAV 5 times in MP Matches.
Task 4 – Kill 15 Enemies with Perk Tracker Equipped.
The tasks are pretty self-explanatory. Additionally, these are very basic and easy tasks. You would not need to play more than 7 matches to get the skin. If you keep them in mind while playing, you will easily complete them in a single match each and get the skin within a day.
Nomad – Wild Snake
This is probably the best free skin available for the players. It can be collected by completing the Survival of the Fittest challenge in the Seasonal Events section. This can be done by completing the tasks given similarly to Survey and Destroy.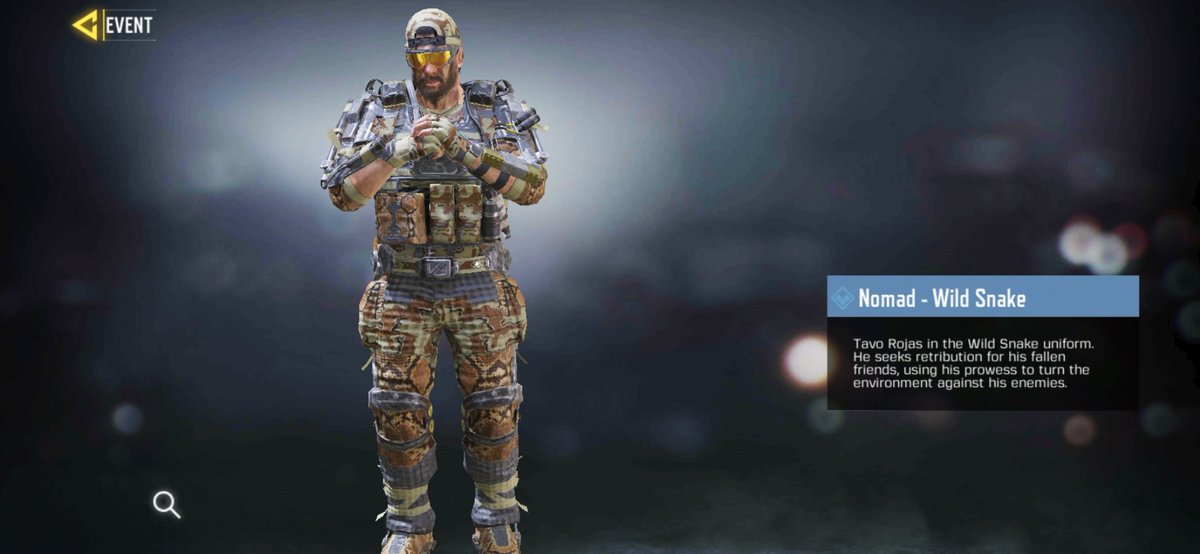 The tasks that are part of Survival of the Fittest are given below.
Open 5 Airdrops in Battle Royale
Play 5 BR games
Get into the top 10 once with no kills in BR
Run Over and kill 2 Enemies in BR
Kill 20 enemies in BR Matches
Win 2 BR Matches
You will notice that these missions are more in numbers as well as more difficult to complete. But, the final skin that you will receive is worth it.
The skin is so awesome that we have made an entire guide on how to get it. Do refer to it. It is definitely possible to get your hands on this skin within a day by following the steps of the guide.
Outrider – Arctic
The Outrider – Arctic free skin is not a new skin in CODM. However, many players still do not have it. This is mainly because it can actually not be obtained in the game. You cannot buy it, complete missions to get it, or get it from any other type of in-game shop.
The good news is that you don't have to put in much effort to get this skin. All you have to do is create a Call of Duty account and link it to your Call of Duty Mobile account. Given below are the steps to do this.
In CODM, go to the settings page of the game.
On the top-right corner, click on the Link account option (which may be blue due to your FB account being linked). Go ahead and click it regardless of how it looks.
Select the option to link your Call of Duty account.
This will open your web browser. If you have an account just log in. If you do not, create one by clicking 'Create an Account'.
Once you link the account, you will receive an in-game notification. The game will then reboot and ask you to log in.
Click on Call of Duty account and enter your credentials.
You will then receive the reward in your mail.
So that's it. Another skin added to your collection just by linking your account. This is one of the female skins in the game which makes it a rare skin to possess. Do get it.
Ruin – Industrial Revolution
The Ruin Industrial Revolution is an awesome and beautiful skin to get your hands on. However, to get such an epic skin for free, you will also have to put in a lot of effort.
This skin is part of a reward of Battle Royale. Every season since Season 1, CODM rewards players with a free skin if they reach Master rank in Battle Royale. The same is true for this season and Ruin – Industrial Revolution is the reward.
However, don't worry. The devs have actually made it easier to achieve Master rank this season by improving the scoring system. You will get more points than usual if you win while you lose fewer points if you lose. This has made it easier to climb the ranks for most players.
Do try to get this skin by playing Battle Royale. It is definitely worth the effort.
Phantom – 2020 Championship
The final free skin that we will talk about is probably the most difficult to get your hands on. Additionally, it is pretty much guaranteed that very few CODM players will have it. It is the Phantom 2020 Championship Skin.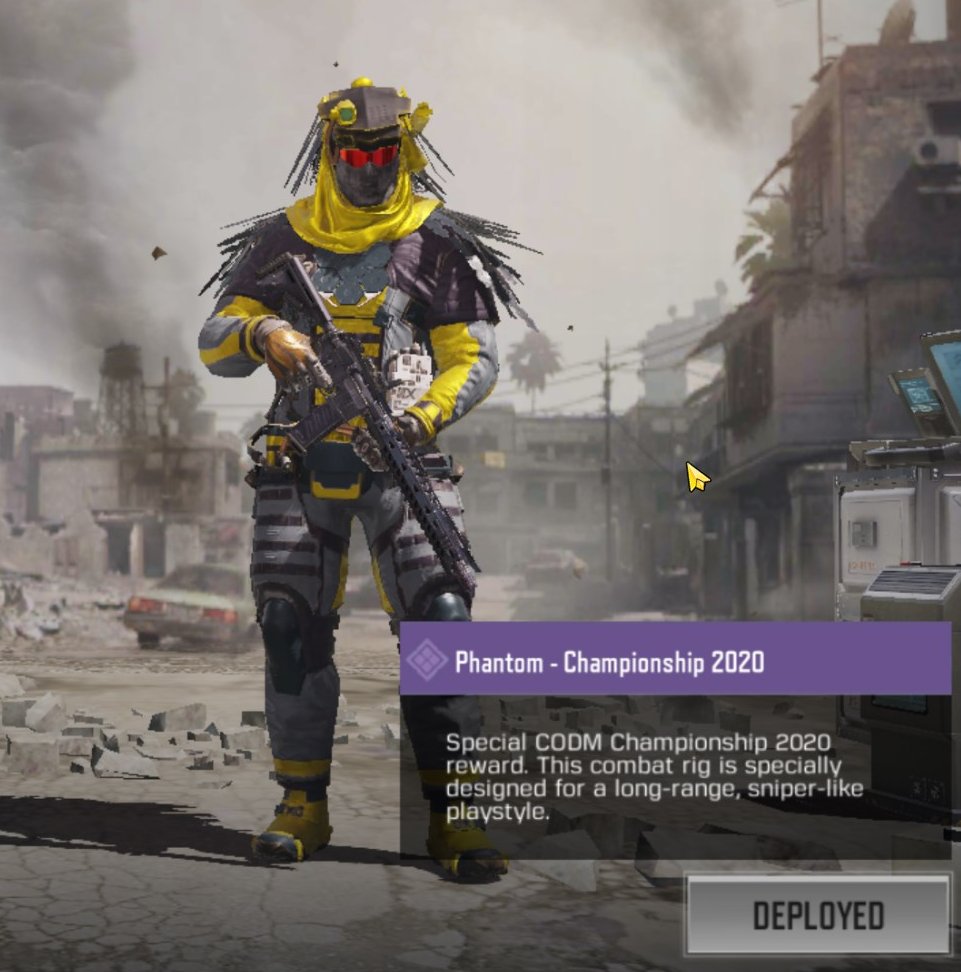 To get this skin you will have have to qualify for the Regional Qualifiers of CODM Championship. This means that after qualifying in the Solo Tournament, you will then have to advance through the Team-up Tournament too. Only then will you get this skin as a reward.
The skin has been specially designed for long-range playstyle specially for players who like to snipe. If you manage to get this skin, flaunting it around will be just one of the things you can do. It will show others that they are playing against a veteran CODM player.
Stay tuned to Mobile Mode Gaming for similar content for CODM as well as mobile gaming. Keep Gaming!!!