BE-A Walker is the all-new premium mobile game from Games Operators, a Poland based publisher. The indie action/adventure game is now available on iOS and Android. The iOS version is priced at $4.99 while the Android version is on a sale for around $2.99, with the offer ending in 6 days. There is also a free demo version where you could try out the first mission of BE-A Walker on Google Play.
About BE-A Walker:
The campaign of BE-A Walker is set in a distant planet called the Eldorado, where humanity has started to build colonies and use its resources. But they have always come in direct conflict with the seemingly adverse natives of the habitable planet. Even though human soldiers don thick armours and gas masks to protect them from Eldorado's poisonous air, the savage ways of the natives have not made it any easier for the colonists.
As the protagonist who lost his brother 5 years ago, you have to make the ultimate choice based on moral grounds: to either side with the humans and save your race or help the natives of Eldorado from the exploiting humans.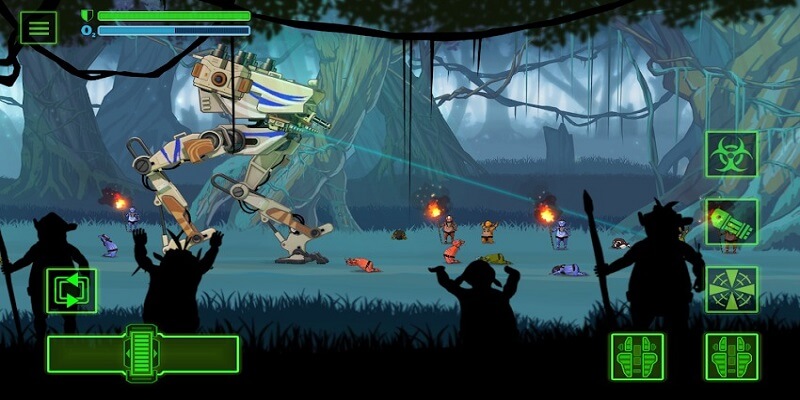 In the game, you pilot a huge BE-A Walker (Biped Enhanced Assault Walker), a two-legged Battle Mech, which is equipped with an arsenal of weapons like rail guns, laser guns, missiles etc. The battle mech also comes with 3 walking modes which lets you balance between the weapon reload duration, oxygen consumption and walking speed.
There are crazy ways to eliminate various swarms of enemy units and its not just weapons. With the core walking simulator styled gameplay, timing your every step allows the Mech in trampling over the enemies, crushing them to death. The back and forth movement will help you evade incoming fire or spears. You can also shake enemy units off your Mech if they are on top of it. With all these elements, you can leave behind a trail of bodies drenched with blood.
BE-A Walker is now available on iOS and Android.