Free Fire has come up with a new VIP Event in the game that lets you try out all the cool items that come with the VIP treatment. The Free Fire VIP Event is available in the game from 4th May 2020 to 10th May 2020.

In the VIP Event, you get VIP benefits for the 7 days. The cost to upgrade in the Free Fire VIP Event is 99 diamonds. But after going through the complete event details below, you would not hesitate to pay the diamonds.
There are a lot of benefits of upgrading in the Free Fire VIP Event. As soon as you pay 99 diamonds, you get Double Gold Card, Double EXP Card (7D), Name Change Card, Custom Room Card instantly. The Free Fire VIP Event is divided into the four sections, which we have discusses in-detail below.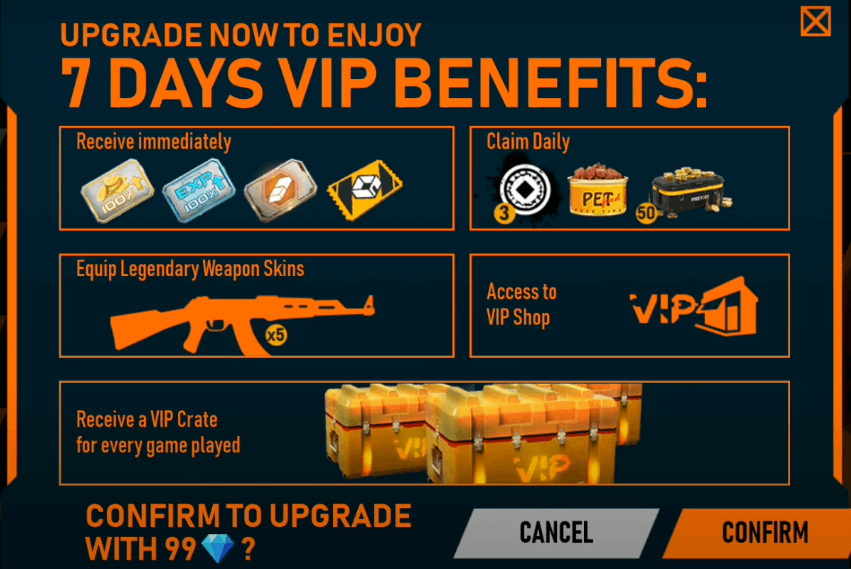 Daily Gifts
If you upgrade to the VIP during this event in Free Fire, you get daily gifts for continuous 7 days in the game. The gifts available to be claimed daily include Forsaken Creed Badges (x3), Pet Food, Gold Coins (x100).
VIP Gear
In VIP Gear, you get the Legendary skin of the weapons for 7 days. There are 9 options of skins available in the event, out of which you can choose any 5 of your choice. But choose wisely, as once selected, you can change them at a later point of time.
The Legendary Skins Available in VIP Gear Includes:
Dragon AK (7D)
Cupid SCAR (7D)
Mechgirl MP40 (7D)
Earth M4A1 (7D)
Flery M1014 (7D)
Santa M60 (7D)
Phantom P90 (7D)
Moon FAMAS (7D)
Hunger UMP (7D)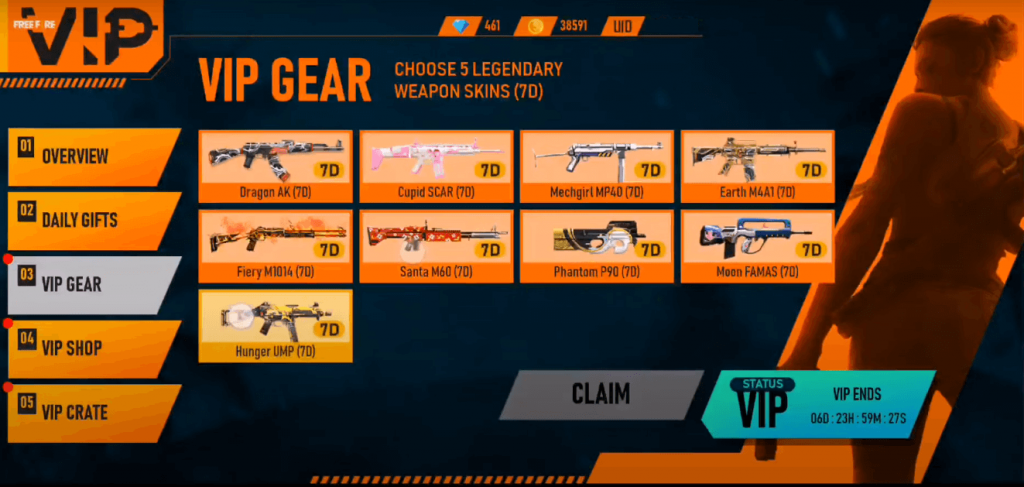 VIP Shop
You get access to the VIP Shop for 7 days. It means, just like the players who have bought VIP membership, you can also buy in-game items by paying the gold coins.
The Items Available In VIP Shop Includes:
Neolithid Bundle – Gold Coins (x25,000)
Heart Devil Set – Gold Coins (x10,000)
Cutesy Dragon Backpack Skin – Gold Coins (x5,000)
Wet Songkran T-Shirt (Male) – Gold Coins (x4,000)
Amateur Ninja (Pants) – Gold Coins (x3,000)
Moai Face Mask – Gold Coins (x3,000)
Trick or Treat Parachute Skin – Gold Coins (x1,500)
Prosperity Shoes – Gold Coins (x500)
VIP Crate
If you buy a membership in the Free Fire VIP Event, you get 10 VIP crates per day. The crates you get after the end of every match. But available to be collected after playing the modes like classic matches, not the small modes.
So upgrade to the Free Fire VIP to get all of these exclusive benefits before the event ends on 10th May 2020.
Also Read: How To Get Diamonds In Garena Free Fire