Bravestars Games has started taking pre-registrations of its Real-Time Strategy (RTS) mobile game 'Hero Of Empire: Clash Kingdoms.' This is an online PvP battle card game where you participate in the 1v1 strategy battles against players from all around the world.
The story of the game is set in an empire where Dragons, Goblins, wizards, Orc. etc. have appeared. The empires gathered them to gain more power, but that resulted in more threats to the world.
The war has begun between the empires, and there is a need for a hero who can defeat other empires and regain peace. You are going to be that hero, lead your army to gain the honor of the empire and peace for the world.
As it is a card game, so the more cards you have, the more powerful you are. Become more powerful by collecting the cards in two ways: Open Chests, and Buy them from the Shop. But gathering your allies is not sufficient, you need to make them powerful by upgrading your cards.
You require gold to upgrade the stats of hero, the more level cards, the more nearly victory. After gathering the allies, you need to make your perfect team to win the battle. You can customize your deck as per your strategy.
There are three types of decks in which you can arrange your army. Each of them has unique stats and roles. You need to be careful while building your battle deck. Use your best strategy and combine the logical cards together to get the victory easily.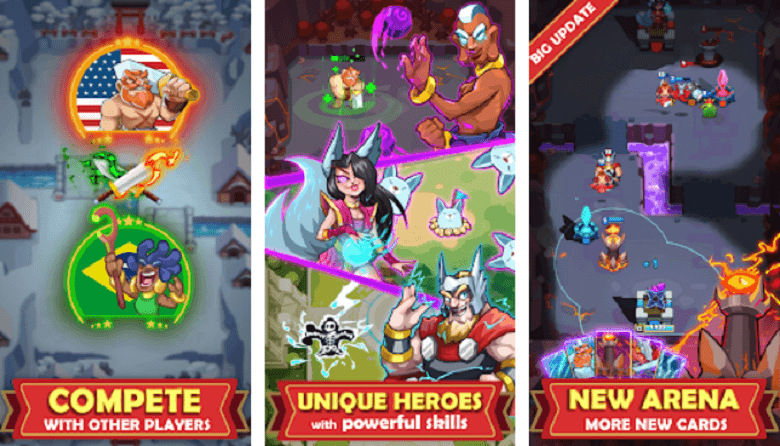 Bravestars Games has a record of publishing games in the series such as Shadow Of Death series, Tower Defense Zone series, Stickman Revenge series, etc. These games also have millions of downloads on the Play Store.
So we can expect more sequels of Hero of Empire: Clash Kingdoms RTS in the future. The pre-registration of Hero of Empire is available on the Google Play Store.