Romance is something everyone wishes deep down in their heart, the moments, beating heart, those lovely gestures make us fall head over heels. If you wish to rekindle your crush and pretty boys, Com2us is bringing an exciting and romantic dating sim Wannabe Challenge on mobile devices.
The game features the story of four handsome models and winning their affection in the most anticipated romance RPG title. It has been developed by the same guys who made Ring of Heroes, Skylander, and Summoner's War and developed by well renowned Korean visual novel company Day 7.
The game revolves around 4 handsome models and has themes of the reverse harem. Each with their own personality, common interests, and beautiful characters present throughout the game. Read on more to know more about Com2us latest dating sim installment and how is it different compared to an average dating simulator?
What's the setting of the Wannabe Challenge?
The game centers around a prominent fashion model the player's control, that decides on leaving his home and going down on his own path. However, things take an unexpected turn as the sudden appearance of four handsome boys at your doorstep, which ruins your whole plan of leaving in the first place. Living under the same roof with three goblins and an ancient 400-year-old fox. Who might be the love of your life and the one you share your fate with?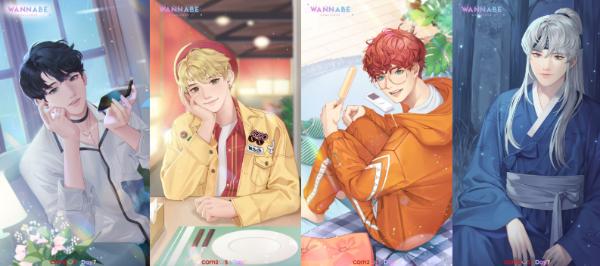 The Wannabe Challenge game features a total of four love interests you'll be conversing and connecting with them on a romantic level. The four guys Kim Taehee, Kang Biho, Yoo Hansol, and lastly Yooha. It's a given when the player expects a beautiful illustration of your favorite guy, for which the game introduces an interesting mechanic similar to gacha, Just like Mr: Love Queen's Choice.
Discover more romantic moments with each handsome guy through in-game messages, phone calls, and social media, just like real life. When you finally get a hold of illustration cards. In addition to the aforementioned features of the game Wannabe Challenge also features fashion contest and partial voice acting. Dress up your character according to your style and win the heart of your true love.
The game is available for pre-registration on the Google Play Store.