NEOWIZ has started taking pre-registrations of its mobile game 'Golf Challenge – World Tour' on Android devices. The game has already been released for the iOS devices and now making its way to Android devices as well.

Golf Challenge – World Tour is an exciting game to experience golf matches with easy controls. There are a lot of golf clubs and balls in the game to unlock; each comes with a unique gameplay experience. In this World Tour, you go against players from all around the world with simple controls.
The control system of the Golf Challenge – World Tour is quite easy, you just need to select a direction to hit, then drag the ball and let go. The matchmaking system of the game is also quite fast. You go in real-time 1 vs. 1 battle against players from all around the world.
As the name of the game itself suggest that you are going to do a 'World Tour' in the game. This means there are a lot of maps to explore. You enjoy the matches on a graphically alluring field while exploring the beauty of the world.
As mentioned earlier, there are various Gold Clubs and Balls to collect. You can earn a high score by collecting golf clubs and balls of varying shapes and abilities. You can make your very own strategy to make a hole in one.
Apart from playing the normal matches, you can also participate in the Championships available every other week. In these championships, you compete globally against top players. Perform well in these championships to become the top player on the world stage. There are a huge amount of golf clubs and cards also waiting for you to get promoted.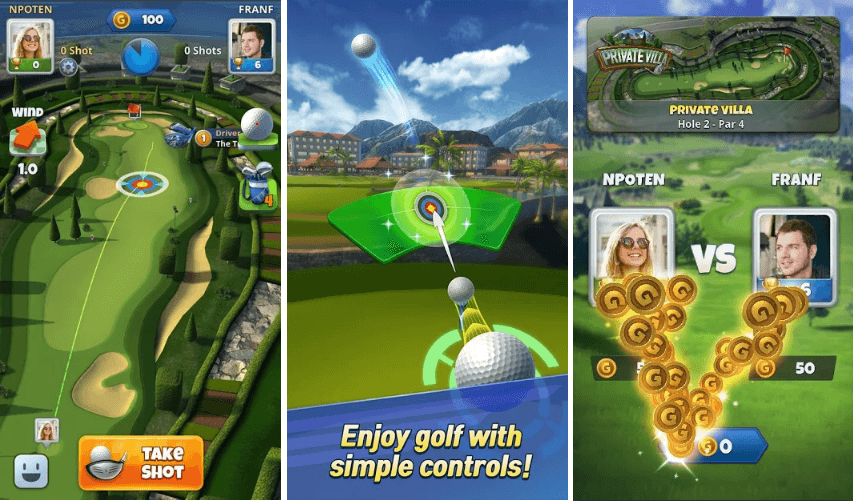 Golf Challenge – World Tour also offers you the feature of saving and sharing your replays with players worldwide. So record your epic moments and show off. Apart from the 1 vs. 1 battle through random matchmaking, you can also play with your friends to prove who is a better golf player.
Get ready to become a master of golf and pre-register for Golf Challenge – World Tour on Google Play Store for Android devices.