Brawl Quest- Offline is an action arcade game developed by ThinkBIT Solutions. On the first look, this game looks like any other arcade game. But when you play this game for the first time, you can see the hard work and quality of the work that the developer has put into this game.
The game is easy to play and also provides a quick tutorial on the first stage to get you acquainted with the game itself. It provides you with a wide range of characters. The first character that is set to be given by default is THE MAYOR of the town. The Mayor is determined to protect his town by fighting all the goons with no weapons. Once you get used to the controls, the enemies stand no chance against you.
The game gives you the comfort of playing it with one hand too. Other than the Mayor, you can unlock more characters. This game also features some special moves which will be recharging with time. There is also a brawler attack move, which is more like a finishing move. After you defeat all the goons of the level, there is also an ultimate boss whom you cannot defeat easily.
There is also an option to add and collect pets, which is a great plus point. Although the best thing about this game is that it can be played offline. Many times you don't have an internet connection, that's where this game comes in handy. While being so exciting already, the game also boasts of over 50+ different stages with two levels of difficulties. So if you think you are an expert in this game, you can turn the difficulty up anytime.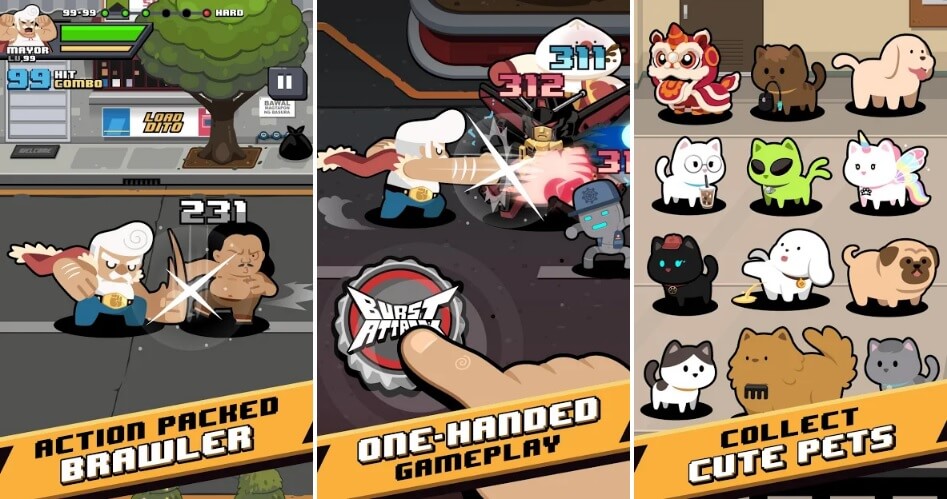 Overview
Well, to be honest, this game contains it all. May it be the fun-filled battles or be it the soothing eye graphics and grasping sound quality. The fact that this game is also available offline makes it a go-to game for whenever you are bored.
Although some reviews also suggest the game to be laggy. Also that it demands a lot of cash for stamina replenishment, which one may even believe to be a deal-breaker. The game is in its initial stage as it was launched on January 21, 2020, so major bug fixes that may appear in the game might soon be fixed.
Brawl Quest is available as a free title on the Google Play Store adn iOS App Store.