Hunter Assassin is the latest game launched for both Android and iOS by the Ruby Game Studio. In this game, you have to hunt your enemies, but the goal is not to get spotted and eventually get killed. So, the speed and stealth are the names of this game. If you are looking for a casual, yet entertaining game, I don't think you need to look any than Hunter Assassin.
We have collected some of the Tips and Tricks that would help you to have a better chance of winning the levels.
Being Patient is the Key
The enemies, each carrying a gun, move in random directions in the maze formed by narrow sections looking for your player (Assassin). The best thing about the game is that there is no time limit. So you must carefully plan your every move. Any rapid movement without a strategy might get you caught. The number of enemies left is shown in the top left corner of the screen. So keep track of them and plan accordingly. Beginners must pay some extra attention to their position and try to take the safest route.
Avoid Getting Into Dead Ends
Each level has as many pathways as there are hiding spots. As already mentioned, each stage has a layout similar to a maze. Along with this, you could face many dead ends; you won't have much space to run or might get stuck into the corner. As a general strategy, I would like to suggest to always put yourself in areas with open pathways. This will help you to run, no matter from which direction the enemies are approaching.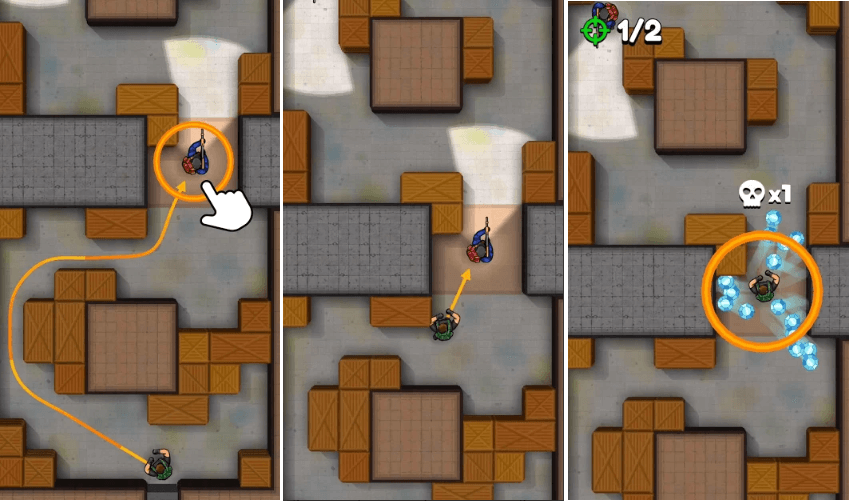 One By One
You might try to tackle multiple enemies in one go. This technique might work in a few cases where they are clustered together, but it's never advisable. Try taking them down one by one. In some instances, you might have an opportunity to kill two or even three enemies in one place, not precisely at the same time, but simultaneously. If you want some fun and can achieve much speed, you can pull off this trick. Otherwise, wait for the targets to be at a safer distance from each other.
Ads Provide Extra Benefits
Many players find these in-game advertisements to be annoying, but its the easiest way to earn gems and other rewards in the game. By watching just a few seconds of those ads, you can get the bonuses. In the beginning, after you complete a level, the game offers you to double up your earned gems by watching 15-30 seconds video ad. This also provides a small kickback to the developers of free-to-play games like Hunter Assassin. So it's a win-win situation.
If you still feel uncomfortable, you can disable the ads by this simple trick. Just turn off the WiFi / Data Connection of your device and enjoy Hunter Assassin without interruption.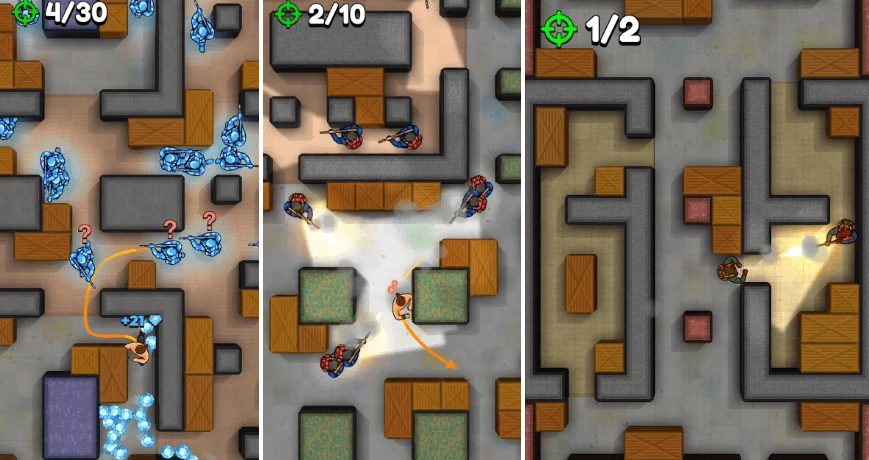 Open Random Upgrades Regularly
Hunter Assassin is an entirely balanced game. Your first Assassin is pretty much okay for completing levels. But, you get additional buffs on either of the Assassin that you get through random upgrades. After each random upgrade you buy with gems, the following upgrades will cost more gems each time. It might be costly, but the added boost of each of them is always worth taking. It might make a small difference between killing and getting caught.
Hunter Assassin is available on the Google Play Store and iOS App Store.
Also read: 10 Best Upcoming Mobile Games of 2020 You Should Keep An Eye On
Stay tuned with Mobile Mode Gaming (MMG) for the latest Mobile Gaming News & Updates!