Slingsters is a Puzzle game developed and maintained by Nappy Cat. The game company quotes that it is focused on creating fun games, which are engulfed with Imagination, Innovation, and Quality to provide a unique and seamless gaming experience.

The game is easy and quite fun to play. While you play the game, you can sometimes relate it to Cut the Rope. While being a bit similar to that game, it is also totally different. While there are ropes and circular objects involved too, this is a fairly different game. The main objective of this game is to maneuver the creature and slingshot it to collect stars. You have to put it into a box after that.
The game gives you the comfort of playing it with one hand too. When you start the game, you have the basic creature whom you have to slingshot. You have to collect as many stars as you can and, at the same time, put your creature into the box. Once you have done so, you have to seal the box by tapping so that the creature isn't on the loose.
Once you advance into the further levels, there are more difficulties waiting for you there. You have to be careful, out there. There are also new features unlocked in further levels, such as new characters and props. The new character allows you to ricochet. This means you can bounce off of walls to clear the level.
The ability is limited; there is a meter that allows you to see how much you have used. There are also a few props and obstacles. Wood and Ice can be broken, but Ice is weaker. There are also blowpipes that you can use to blow your creature upwards.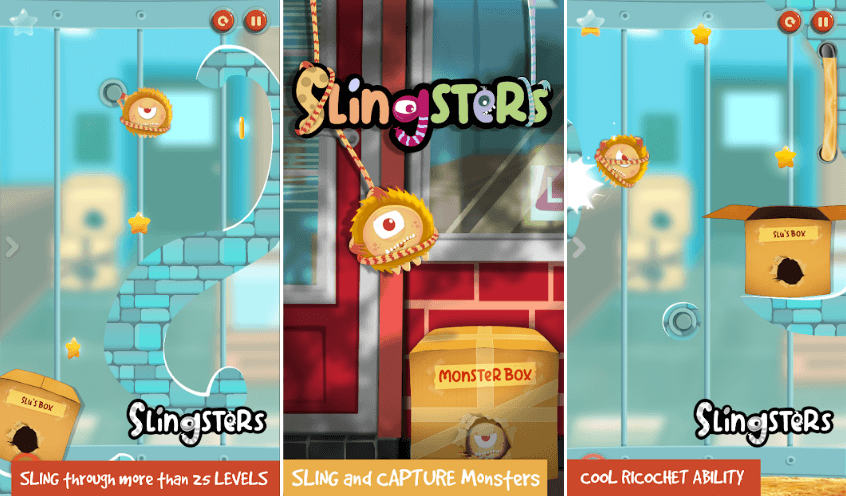 While this game offers so much and all that fun, there are plenty of ads in this game. The most annoying thing is when you turn off your internet to skip ads, the game prompts you to turn it on again. So, this game can only be run online, and you have to watch ads forcefully unless you pay them.
Slingsters is available as a free title on the Google Play Store and iOS App Store.