Ever thought about what you will do if you are against hundreds of bad guys, and you are only one? It seems like one of those movie scenes, where you save the girl from the bad guys. Well, here is your chance to be that hero, no heroine, though. You can be that macho hero you always dreamed of being and knock out hundreds of bad guys with this new game!
OneMan is an action game developed by Francis Entereso, a solo developer who seems to be publishing their first game on Google Play Store. On the first look, the game gives the player mixed feelings. It is fun to experience and a different approach too.
As soon as you start the game, an exciting gameplay story plays. The protagonist, our hero, is walking with his yummy looking meal- fries, burger, and stuff. He bumps into some goons accidentally, and his precious food is on the ground. This moment, he turns into a rage-filled guy and picks up a fight. But it looks like that goon has got hundreds of punk friends. Play the game to see what happens next!
The game consists of one main fighting mode. In this, you have goons coming to attack OneMan from four directions, and you have to tap in that particular direction of the screen to hit them. If you press on the wrong side or take long enough, you will be knocked out. This game tests your reflexes as well as your reaction skills. It might look or sound easy, but when you start playing, you realize what you are dealing with.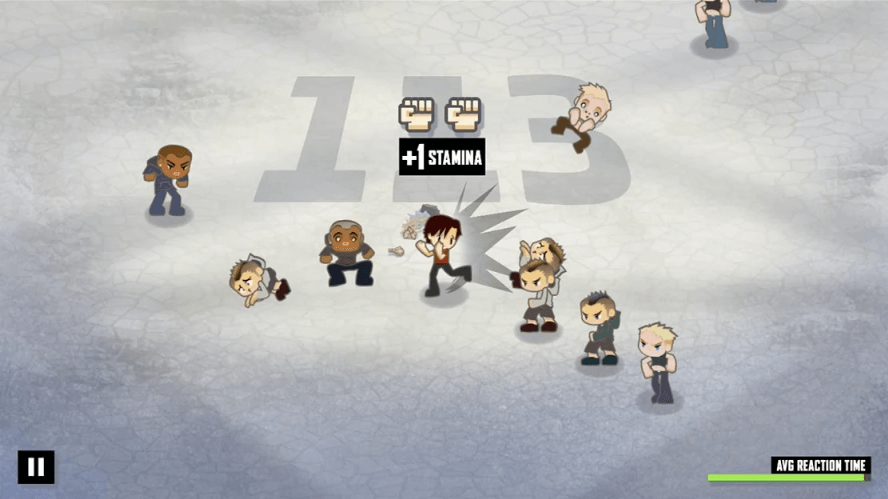 Gameplay
The game flaunts anime like cool graphics, and also the background music at the intro screen is something that excites you up. The hard work behind the excellent graphics and the funky background sound is easily seen. The game also features a more intense time attack mode. It's more fun with the clock ticking. Even though the game is still in its early stages, it already has new characters with updates:
K.Foine Aryt- A nine to five office guy who is stuck in corporate slavery. This guy is blowing off steam.
Samm Aray- A ronin, who fights against ninja thugs with his katana!
One Man is available as a free title on Google Play Store and iOS App Store.