Hello, mobile gamers! 562 interactive studios have launched a role-playing card-based fantasy game. Play as a hero or a villain to save the world or just do some side quests, no matter what role you play, you will love the adventures along the way.
The game starts off with a very authentic looking user interface and you begin by picking a gender, race and your background which decides your initial stats and your story. Now you have different cards on the screen which displays different tasks or activities to choose, you swipe right to accept the challenge/activity or swipe left to reject. You do all the decision making while keeping account of the gold, health, level, and karma as your decisions affect these stats directly.
The core gameplay is to go as deeper into the story as you can without exhausting your health, which opens up paths to new adventures and quests, you can use gold to have new options and equipment which eventually helps you with your adventure. You have to make moral choices to raise or lower your karma bar, which can close or open new paths in the game.
Graphics are simple and minimalistic. Music and sound effects are designed well. The user interface feels really good. Choosing your character and his attributes affect the storyline a lot. The decisions you make at the start can lead you to many different paths, which is a great thing about this game. You can never predict what's coming your way.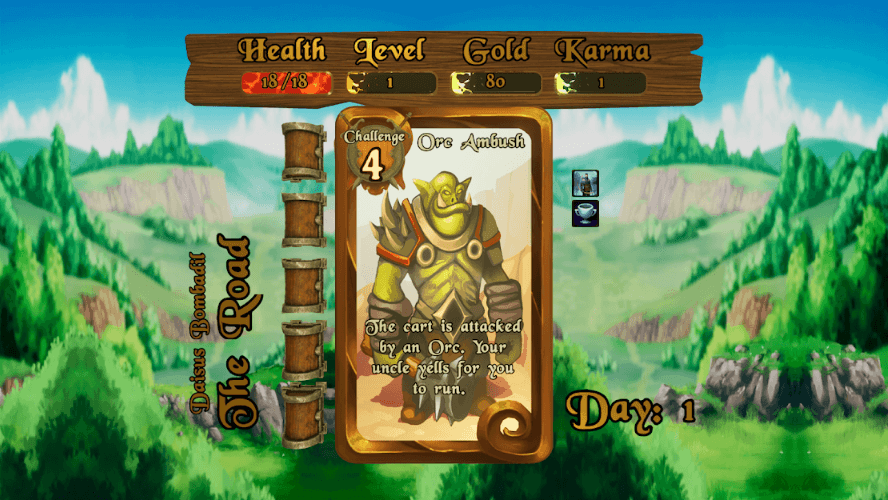 This is an offline game and the swiping card mechanic is easy and effective. There are many characters belonging to different races and backgrounds available to unlock. The game is loaded with different quests and is not at all boring if you get along. You can find yourself fighting with monsters or hunting to get food, the possibilities are endless. Though some players might not like the gameplay and simple swipe controls.
So, if you enjoy exploring branching narrative mechanic games you should surely give this game a try. It has a lot to offer. Alluris is available to download on both Google Playstore or iOS Appstore.