Are you an American dad TV show follower? Guess what? They have launched an RPG Base building game which is quite nice! This game is developed by My.com B.V and is available for Android and IOS devices.
The story of 'American Dad! Apocalypse Soon' begins when Stan finds out his family is missing. He comes to know that his family has been kidnaped by mysterious aliens known as "Collectors". Now you have the responsibility to play as Stan and build a secret operation base to build and train an army to defeat the alien invasions and rescue his family. For this, you need some soldiers to help you. Stan has an extraterrestrial ally called Roger, who you clone to build your army.
You get to explore and build lots of different aspects of the Secret shelter, there are rooms like the kitchen, electricity room, training room, money printing room and many more. You need to clone the rogers in the cloning room and assign tasks to them. They can be assigned as, a fighter, a cook, a banker, a charger, a carpenter or a radiochemist. You have to carefully assign them tasks and provide different items for their activities as different items have a different effect on their performance.
In American Dad! Apocalypse Soon, you need to follow and complete the quests in order to earn the in-game currency which can be used to unlock cool items. The game is online and offers you to play a PvP mode in which you fight against a player's army.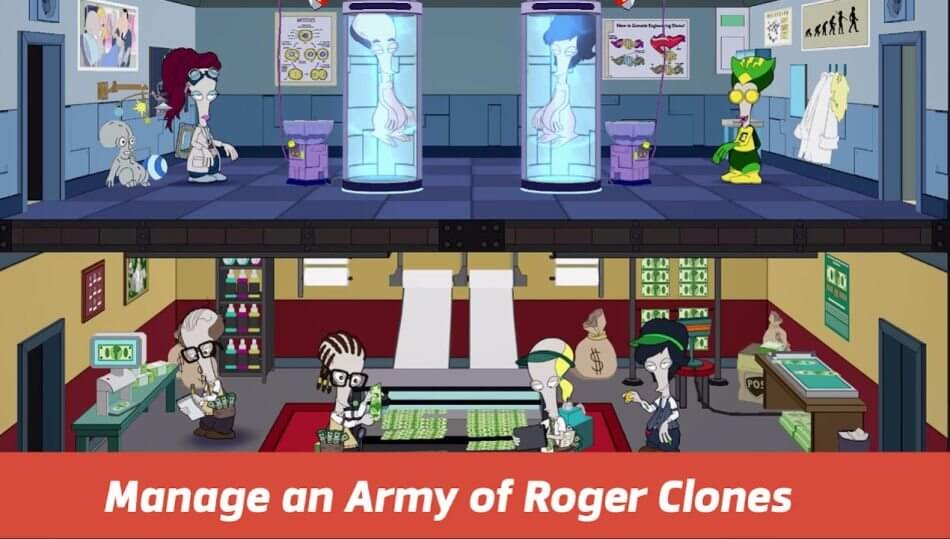 Talking of Graphics in American Dad! Apocalypse Soon, it is really good and resembles the show's animations. Music and sound effects are well designed. The user interface feels really good and clean.
So, the game is really fun and there is a lot to explore. The graphics are pretty neat and reminds the American comic art style. You get to unlocks and built lots of cool things and you are responsible to manage the entire secret base. Unlocks are time-consuming after a while and there are some connection issues at times.