Hey guys we are here with again a new game review. Since it's a hydro jet racing game it's going to be more exciting for you. Riptide GP: Renegade is a racing game in which you experience hydro-jet racing, where armored riders kick out death flouting stunts over very large waterfalls. Riptide GP: Renegade was developed and published by Vector Unit which has also published popular games like Beach buggy Racing and many more. While playing this game you will experience yourself as a hydro-jet rider. In this game, you will experience avoiding cops at the public waterways and boosting up the speed dangerously. It supports multiplayer gaming so you can play this game by challenging your friends online. It strongly gives the futuristic racing experience to the player which is quite interesting.

The game is very unique with the futuristic racing approach. In this game, you'll be competing against several opponents compromising total 8 racers in on a track. The tracks are like the raging waves which sometimes gets very high and therefore very difficult to control your vehicle. In every race, there are many obstacles which you have to face like dodge cops, massive waterfalls and much more. There are various modes of playing. There is a career mode which is a story mode. The single-player Career Mode consists of five chapters, each with three or more race series, and several events to a series. Each event has up to three stars to earn, depending on the place in which you finish. After completing all the regular races, you will go against the boss. Winning out the boss matches will provide you the payable character to choose. The career races also earn you experience and money which will be used to level-up and unlock new stunts and skills.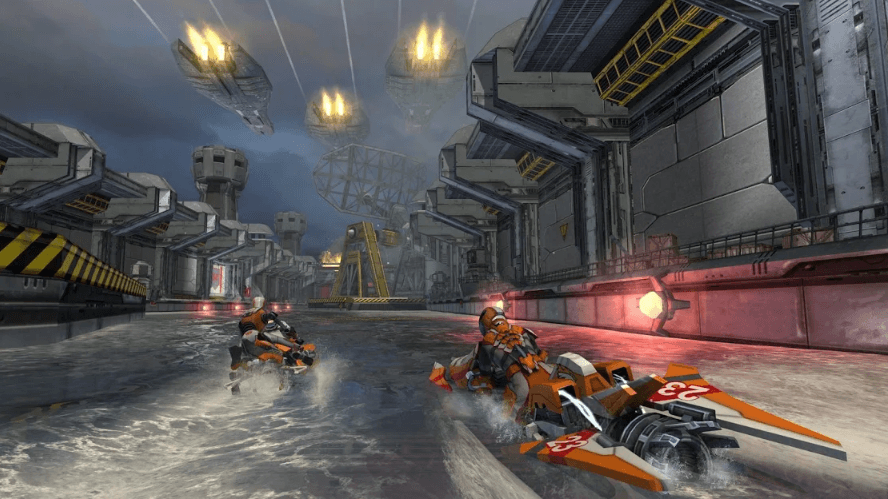 The game also offers multiplayer gaming in which you can play with your friends who are online in a lobby. In this, all stunts and vehicles are unlocked for the race. Also, one of the interesting and unique features of the game is that it supports split Screen Multiplayer – Challenge your friends in local split-screen multiplayer championships. You can easily play with up to 4 players on a single machine. But, for this additional gamepad controllers are required. Build your career by completing challenge mode events and unlock the new vehicles as well as new characters. The game has very fine graphics and animation which provides the premium feel to the players. Riptide GP: Renegade is available to download from both Google Play Store and iOS App Store.
The Review
Riptide GP: Renegade
Riptide GP: Renegade is a free-to-play action game from the Vector Unit. Riptide GP: Renegade brings dynamic water racing to a new level of excitement with breathtaking water physics, splash spray effects, and more. Every race is different because the surface you race on is always changing. It runs perfectly in all the modes and retains its great gameplay. It has also innovative features like split-screen multiplayer gaming which is very interesting. The graphics and animations of the game are quite sharp. But the audio could be better and realistic. Overall, the game is very good enough to play so, you can freely get into it.
PROS
Innovative Split Screen Multiplayer
Easy Controls
Great Animations and Graphics
CONS
Sound Quality Needs Improvement
Review Breakdown
Gameplay

0

Performance

0

Graphics

0

Innovation

0

Popularity

0