Hey Guys!! We are back with another game review. If you guys love to play strategical games with lots of characters then this one is for you. Mini Guns Omega War is a wonderful 2D game with lots of characters and features. This game is developed and published by Kabam Games, Inc. This game is purely strategical in the genre. The game is widely popular and on trending. This game is slightly similar to Clash Royale, but in a modern military setting and with the better cute art style.
The Mini Guns is a real-time multiplayer strategy game featuring the Minis, which are the toy or comic style soldiers that come to life on the battlefield. There is a really wide range of characters which you can collect and upgrade over 100 figurines, from rifleman and infantry units to heavy tanks and bombers and many more. The game also supports the multiplayer gaming hence you can team up with your friends to destroy the enemy base in cooperative multiplayer and earn Honour for your Alliance to rank and reach the top of the leaderboards. When you enter the game, it teaches you with the tutorials which are impossible to skip, that is sometimes annoying. The game also has various quests and rewards given on completing the challenges.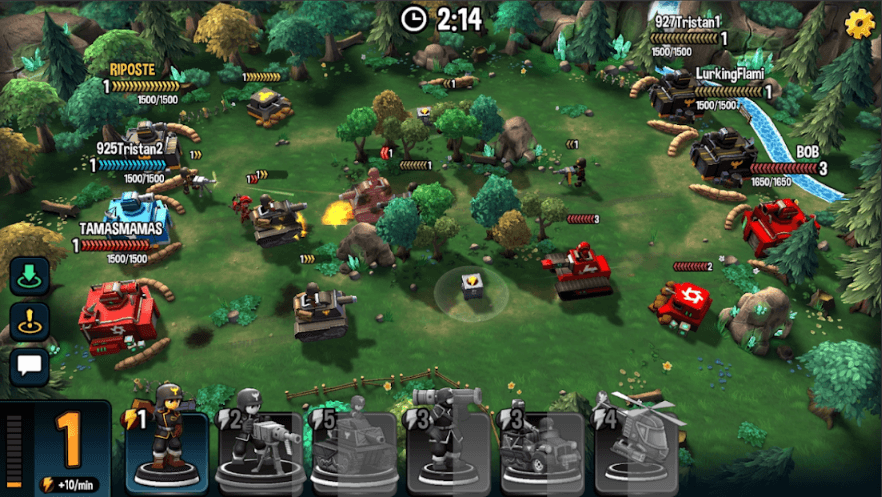 There is no as such storyline the game is strict to the point of destroying the enemy troops. This game is quite similar to the clash royale in which you have to choose a card for your troops and wipe out the enemies. But the game is set in the modern war field in which cute tanks, soldiers and helicopters fight like the real miniature version of a war which looks somewhat cute and attractive. You are going to be the commander who is going to lead the troops. There are also clans through which you can chat and connect with other players around the world. There is enough variety in the units to keep challenging you to find different strategies and techniques. No one strategy will guarantee a win. Someone else will have a counter for it. There are also in-game purchases which are quite expensive and at an unreasonable price. As you get through the game you will notice that the PvP battles are getting unbalanced and unfair. You will be matched to battle against a player who is far above you. But, instead of all, it's addictive and good. Mini Guns – Omega Wars is available to download on both Google Play Store and iOS App Store.
The Review
Mini Guns - Omega Wars
Mini Guns Omega War is a free-to-play game from Kabam Games, Inc. This game is basically a 2D strategical action game in which the main objectives are to wipe out the enemy troops. The game offers various interesting troops. The game has good and bright animations. It has got cute characters and surroundings. I felt that it's slightly similar to clash royale, but in a modern military setting and with the better cute art style. The in-game purchases of the game are very expensive. Also, I observed the unbalanced matchmaking for battles several times. Instead of this, the game is addictive and challenging and is quite good with attractive features so feel free to get into it.
PROS
Many Cool Characters
Colorful Visuals and Artistic
Smooth Gameplay
CONS
Very Expensive In Game-Purchases
Unbalanced Matchmaking
Review Breakdown
Gameplay

0

Performance

0

Graphics

0

Innovation

0

Popularity

0