Hey Guys!! We are back with another game review. If you guys love to play thrilling shooting games with lots of action then this one is for you. In this post, we are going to share a game review on Cover Fire: Offline Shooting Game. This is a thrilling shooter game developed and published by Genera Games. This game is very widely among gamers. The most impressive thing of the game is that it offers offline as well as online gaming. You have to lead your team to war against terrorists from Tetracorp. Just take your guns and shoot in the battlefield. The game is very interesting as it offers various modes to play. As the leader of the rebellion, you will face the army of the enemy cops: elite soldiers, lethal special units, mechs with impenetrable shields, powerful tanks.
The offers many modes of playing some of them are campaign mode and action mode whereas there are also ongoing events in which you can participate. Beside of these modes, you can also play multiplayer and tournaments. In campaign mode, it has over 11 chapters which have to be completed in each you'll need to work with and battle against different characters. As you go ahead in-game, you'll be able to access new snipers, guns, rocket launchers, and many more machinery. You'll also unlock loads of new skills and soldiers. In every aspect, your main objective is to wipe all the enemies with your shooting skills and survive out from the arena. The other mode is action mode which is quite more intense than the story mode in this you have to battle against the time. Defeat all enemies before the time runs out. You received the call for duty of defeat all enemies the time runs out. Each target adds 3 seconds to survive. The game has recently added the new offline event: zombie battle. You only have to Shot and don't leave any zombies alive.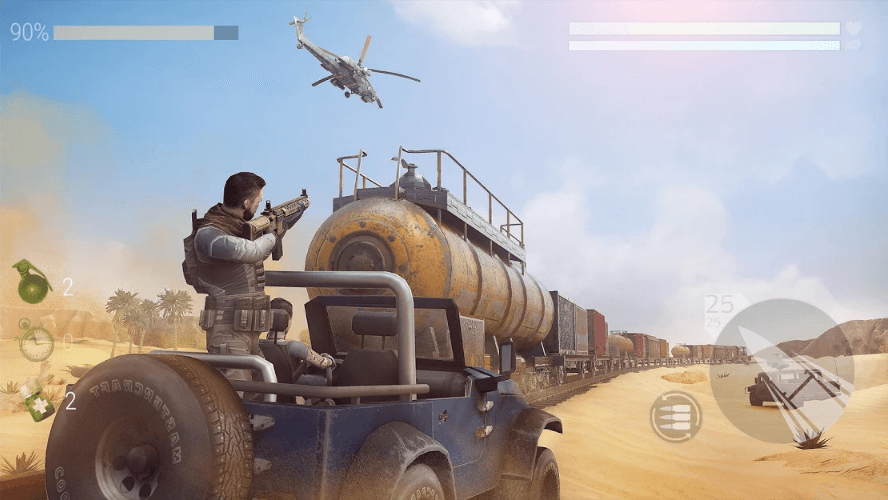 The game gives out the warlike surroundings with the intense fight with enemy troops. As you go through the game you will be able to purchase new guns such as pistols, sniper rifles, army rifles, and many more armors. You can set up your assassin squad with their unique skills: hacker, sniper, assault man to rule the battles. After completing each mission, you gain rewards such as characters, ammo and player perks. The game graphics and sound quality are very realistic which are quite attractive. You will definitely feel the new unique experience in shooter games. Cover Fire: Offline Shooting Game is available to download on both Google Play Store and iOS App Store.