Hey Guys if you are love to play racing games and are fed up with simple racing games then don't worry, we are with a unique racing game with the iconic style of the 70s and 80s. If you are a huge fan of extreme hot rods, iconic old-school cars or classic racing rides, this game is for you. Pick your favorite classic car and race as fast as you can. So, in this post, we are going to review Racing Classics PRO: Drag Race & Real Speed which is a mobile-based racing game developed and published by T-Bull. This game very much unique from other simple racing games as its classic cars are based on the raw 70s and 80s theme quite is quite attractive for the players. In the game, you going to start with few cars and as you progress in-game other cars will get unlocked. The game has a very rustic and thrilling racing genre, seems to be very cool.
This game has a total of 16 legendary and a few other classic cars from the 70s and 80s that gives the raw and retro environment to the game. It has some realistic graphics and animations which is quite impressive. The game offers various arcade modes with many head-to-head drag racing challenges and the story mode with around 45 interesting stages. You can also modify your cars according to you with a vast range of colors and customization options. You can also upgrade your gear and nitro, raise the engine's power and reach the maximum of every single available car. Take a closer look at how each of the upgrades has an impact on your car performance. Add even more to you ride, by changing some visuals of your vehicle – change color and add some details in the painting. The up-gradation of the car parts improves your driving and performance of the car which plays an important role to win.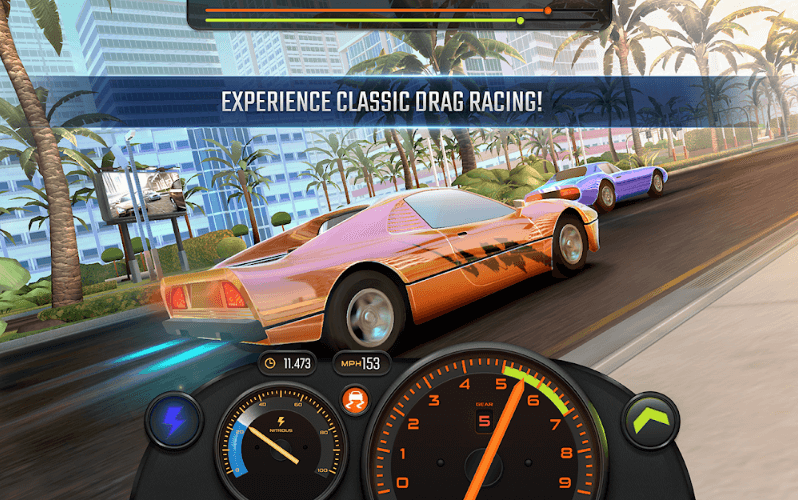 You can also play multiplayer matches with your friends and players globally to rank into the leaderboards. In this game, you can easily master the controls as they are basic and simple because of which you can start playing immediately after downloading and installing the game without spending much on practicing. To progress effectively the key is to collect your unique fleet, consisting only of retro cars, from classic and powerful American muscle cars, to fully mechanized sports cars. Before entering into major race test their power on the road in drag races. You just have to change gears on time and come to the finish first. Racing Classics PRO: Drag Race & Real Speed is available to download on Google Play Store.