Hey Guys! We are back with one more game review. This time we got one of the very famous games that is "Garena Free Fire". If you love to play survival games full of action then one is definitely for you. Garena Free Fire is a free-to-play survival game developed by 111dots Studio and published by "GARENA INTERNATIONAL I PRIVATE LIMITED". It is a survival shooter game. This game has a very basic objective that is to wipe other players until you are last man standing. There is no storyline you just have to kill other players in the given arena by your shooting skills.
The gameplay of the game is simple. In this game, you have to choose a character whether male or female. This character is summoned by you. When you enter the game, you will be thrown out from an airplane that will land at your selected starting point in an unknown battleground which is will be occupied by other 49 players. Then you have to safely land and find weapons, bombs and also healing kits. After getting enough needs. Now your focus should be to simply shoot and wipe out anyone you see. But it's not that simple as all the players seeking survival. To be a winner you should be the last man or woman standing. As you go through the game you have to manage many things like search for weapons, stay in the play zone and looting up your enemies. You will also get the extra beneficiaries in the game for this you have to go for legendary airdrops while avoiding airstrikes to gain that little edge against other players. After every fixed interval of time, the safe zone (denoted by a circle on the map) reduces you must try to get into the safe zone before the deadline to avoid damage to your health. There are controls like to attack, duck, and or to lay down on the ground. You will be aware of controls by playing multiple times.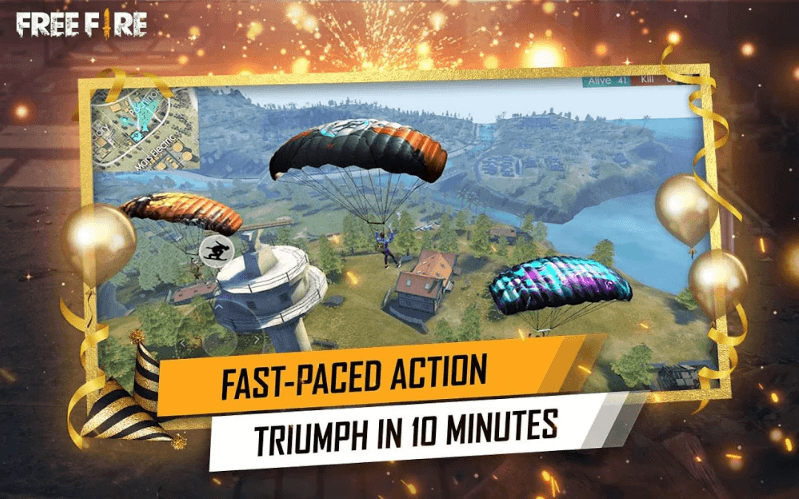 It has each session of 10 minutes having a total of 50 players on the battleground. You can master the game by doing many tactics for your survivals like you can drive vehicle, hide behind trees, or become invisible by pruning under grass. There is only one goal that is to kill other players. You can shoot in close ranges and also snipe down for long ranges. You also have an option to team up to create a squad with your friends having 4 players at most and start communicating with each other through the voice chat. Overall, if you need a survival game with basic graphics then absolutely go for it. Garena Free Fire is available to download on both Google Play Store and iOS App Store.