Hello Mobile Gamers, NetEase Games has launched its new mobile soccer game "Champion of the Fields", which you can download from the link given at the end of the post. Before that here is a brief idea what the game is, so in Champion of the Fields you have to manage your soccer team from the ground up to doing everything in your capability to make them successful. The gameplay is similar to the other games of the same genre like FIFA or PES, and the interesting thing is it has the official license for many soccer players. Have a look of the game trailer below.
As you complete the tutorial of Champion of the Fields you will be taken to the main menu where you will get to choose the game modes available. The online mode is one of the best modes in the game, where you get to play PvP against real players from all around the world. This game has excellent and realistic graphics, from the players to the stadiums. In fact, you will easily be able to recognize Cristiano Ronaldo, Lionel Messi, and Antoine Griezmann from their faces alone. The animations are really fluid, so every sprint, dodge, and shot on goal is beautifully executed.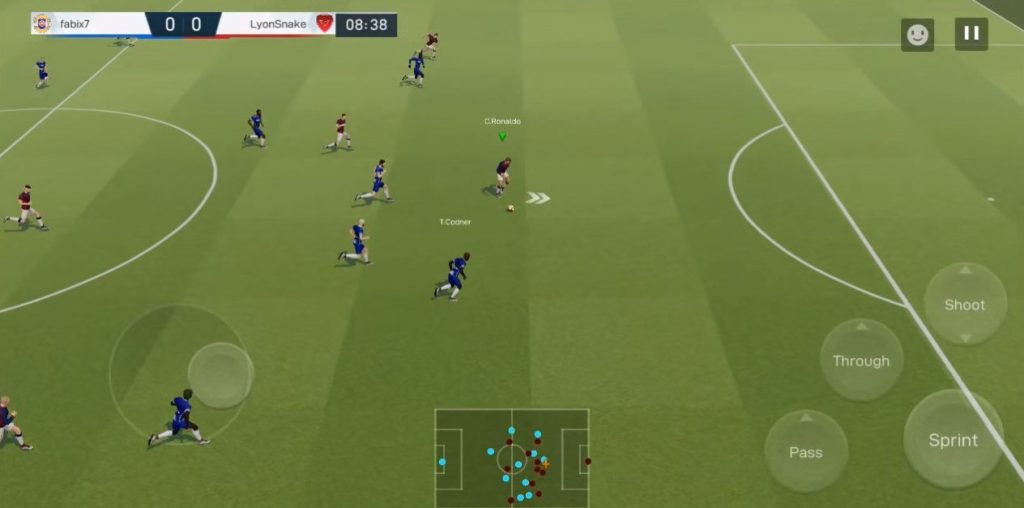 Talking about the gameplay of Champion of the Fields, it is easy to play. On the left side of the screen, as you can see above in the picture, there is a virtual D-pad by which you can move each player, and on the right side of the screen, there are four action buttons for sprinting, shooting, passing and changing the direction. As you keep on playing the game, you will get to unlock the new players and improve their abilities until nothing stands in your way. There is also an offline mode available in the game, in which you play against the AI, which is perfect for doing practice to face the real players in the PvP mode. Without a doubt, Champion of the Fields is a perfect game to entertain you for hours! You can download the game from the TapTap or from the links given below.
Click here to Download from Google Play
Stay tuned with Mobile Mode Gaming (MMG) for the latest Mobile Gaming News & Updates!