PUBG Mobile has been banned in India among the 118 apps from the Google Play Store and Apple App store but is still playable by many Indian players who can download the game by certain links. Recently, an invasion of privacy has come into existence. Error 403: PUBG Mobile has been experiencing Distributed Denial Of Service Attacks (DDoS) resulting in the disconnection of the players in-game. According to the social media accounts – Twitter, Facebook and Discord, PUBG mobile is working on this issue.
Security team members are working on resolving it and preventing hackers and cheaters to leak information. Accordingly, a new anti-cheat patch strategy would be released as soon as possible. According the most recent post of PUBG Mobile Community on Discord – They are encountering DDoS attacks on their security services causing connection issues to the players. The players have also faced a " server authentication error" while logging in their Facebook accounts.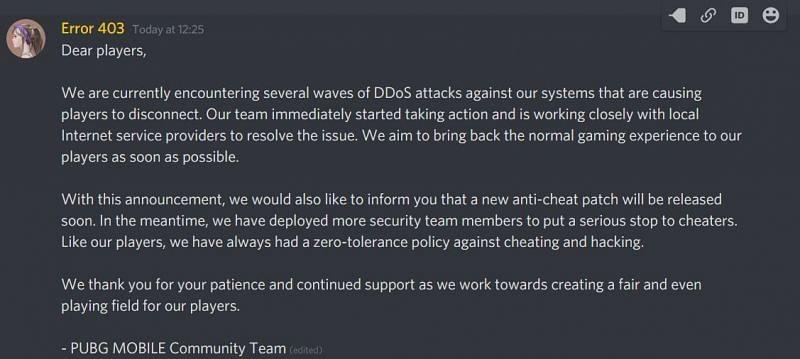 Not only this, the PUBG Mobile Lite players are encountering the same issue. The players have taken the issue to various social platforms as well by posting videos and pictures about the errors. The error is named "server freeze" as all the players freeze at their respective positions while playing a game and are not able to use the in-game assets. Being a game on the top charts in India, the players are expressing great disappointments.
The Security team has immediately started taking action on the issue by cooperating with the local internet providers and browser experts. The team assures the players that it will do it's best to bring back the normal gaming experience and an integrated graphic design, promptly. A recent tweet said that while the entire security team is working on it, there is no deadline for when the players can expect a solution to the problems, as of now. The team specifies it's zero tolerance policy against the hackers.