Pac Man Geo is a brand new game released by Bandai Namco last week. The game is an addition to the iconic Pac Man series. The game has one of the most interesting and unique concepts in any game on mobile devices. In this game, you can make a Pac Mac maze level from real life locations with the help on maps. The gameplay is same as you expect from Pac Mac except in real life locations. After many clones of the Pac-man games, fans were excited to see the actual company release an official Pac-man game on Android and iOS, but they were somewhat disappointed.
Gameplay and Features: 
As mentioned above, the gameplay is the same as you expect from Pac Man but in real life locations. The game uses map-location service to create a Pac-man level for the game. Here are all of the important features:
Pac Man in next-gen augmented reality using map to play the game in real life locations.
Make a maze and share it with other players
Items themed on local locations
Tour mode In which you play the mazes based on famous places around the globe
Worldwide ranking competitions to win limited edition avatars and badges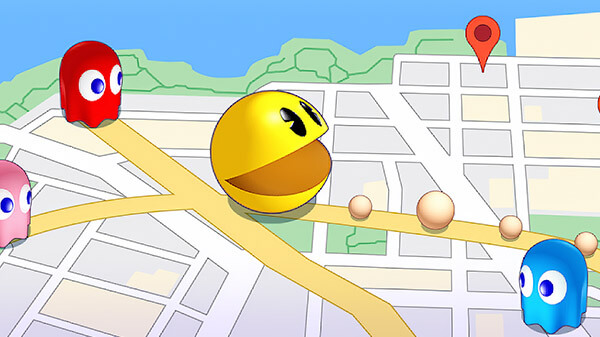 Critical First Impressions: What went wrong?
After reading all that, you might be thinking… "This game seems like fun" and yes. In small volumes the game is sometimes good fun but there are a lot of app bugs and glitches preventing this game from being fun. And on the other hand, the game doesn't have a solid "pro" to balance out all of it's "cons". Here are a few things that went wrong:
Since the game has no GPS utilization, the quality of custom made mazes is not the best.
Intrusive full screen adverts in the middle of the game.
Bugged UI that glitches out every other task.
Extremely slow and laggy even on the high end devices.
Sluggish controls that respond very slowly.
With that being said, we have to remind you that every newly released game has some issues. It just so happens that a few titles suffer more than others and sadly this game is in the far end of the spectrum. The game is quite unplayable in its current state but it has a ton of potential. The only criticism right now should be "Why was the game allowed to be released in its current state?" but that doesn't take away from the fact that this game might actually make a turnaround in the near future.
The game is free to play on Google Play Store and iOS. That's all for this post folks! For more awesome gaming content, keep in touch with Mobile Mode Gaming!