Call of Duty Mobile Season 10 details has been officially revealed. Season 10 has been titled 'The Hunt,' and it will be releasing in COD Mobile on 10 September 2020. Like every new season, Season 10 Update will bring new battle pass, new events, maps, modes, etc. However, Season 10 will not be as big as the previous season, which changed the game entirely by features like gunsmith because the developers are already busy developing content for Season 11, which is when Call of Duty Mobile will be celebrating its 1st Anniversary.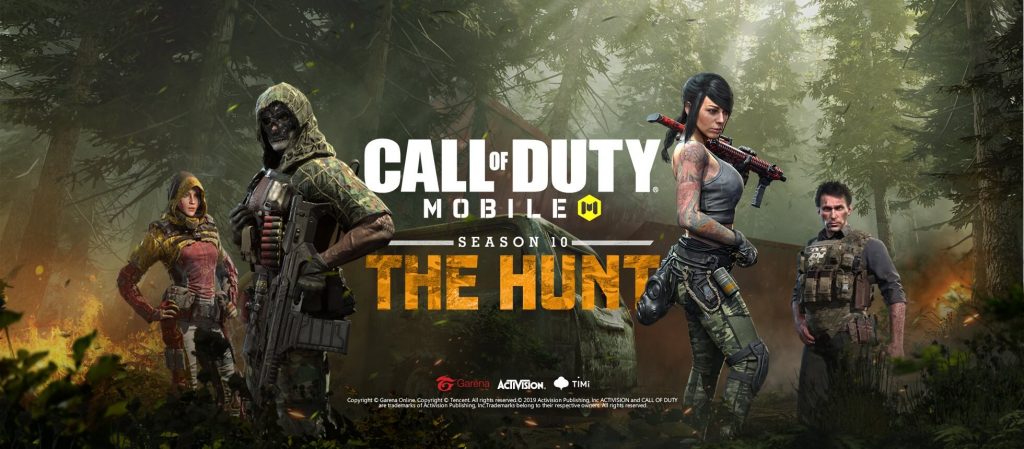 So you should not be expecting a bucked filled with content in Season 10 of COD Mobile, but even if the bucked is half-filled, it contains all the juicy stuff. So there is still more than enough to be excited about. So let's unload the bucket and find out what all new is coming in Call of Duty Season 10.
Battle Pass Rewards
Premium Battle Pass Rewards
New Epic soldiers: Mara – Valkyrie, Makarov – Splinter, Mace – Tombstone, Outrider – Amazonas
New Epic blueprints: Echo – Demon Eyes, GKS – Scion, LK24 – Backwoods, XPR-50 – Arachnophobia
New Epic "Bloodline" themed weapons
New Legendary Calling Card – Fatal Attraction
Free Battle Pass Rewards
New base shotgun: Echo. High-Capacity Shotgun with medium rate continuous fire. The perfect weapon for intense and persistent close-range combat
New Operator skill: Equalizer. Dual integrated machine guns with built-in suppressors for close-quarters combat.
New Event rewards
New Perk: High Alert. Your vision pulses when enemies outside of your view see you. Mark an enemy for your team by aiming down sights.
New Game Modes
1. Hardcore
A more intense multiplayer experience. Lower health bar, no health regeneration, no killcam, limited HUD, and friendly fire damage.
Available for Team Death Match, Domination, Hardpoint, Kill Confirmed
Available on Crash, Standoff, Summit, Crossfire, and more
2. Headquarters
Capture and hold the Headquarters to earn points. No respawns when defending.
Available on Crash, Terminal, Standoff, Summit, Crossfire, and more
New Maps
1. Terminal
The long-awaited fan favorite awaits boarding for for Call of Duty: Mobile players. Take the fight to the tarmac on this classic map with a new destructible glass feature.
Available for Team Death Match, Domination, Search & Destroy, Hardpoint, 10vs10 Team Death Match, 10vs10 Domination, and more
Terminal will soon be added to Ranked mode map rotation for Hardpoint and S&D
2. Pine
Enjoy the relaxing scenery and sound of gunfire in this close quarters map nestled deep in the forest.
Available for Gun Fight, 1v1 Duel
New Battle Royale Class: Hacker
Hack the enemy's mini map to conceal your position for a brief period, destroy most enemy devices, and prevent the enemy from activating class skills. You are immune to other Hacker's abilities.
Improvements and Optimizations
Battle Royale
Blueprint weapons are no longer pre-equipped with optic attachments by default. Sights/optics can be picked up and equipped to the optic slot. Sights on customized weapons are unable to be swapped in a match.
Other
Players can move through the after-match reports quicker. "Next" button will be displayed in XP summary and event progress page, and players can skip all animated updates.
Fixed an issue where sniper rifle shots occasionally may not register as hits"
---
Also Read: Call of Duty Mobile: Insane Gunsmith Loadouts for RUS-79U