Imangi Studios is back with another Temple Run game, but it isn't about endless running. Temple Run: The Idol Game is about runners, except you are the manager of the runners. The game is a different take on the Temple Run series, yet so similar in terms of concept and execution.
The player gets to manage the runners in the game by providing them with the perks they need. The runners jump, crouch, and move past the obstacles depending on the perks you assign to them. Also, the entire scenario is simulated to the player. The runners are either alone or in a team. The goal is to reach the location where Golden Idol is placed.
The perks are attained by spending coins. For instance, these coins help you to upgrade your stamina to run more. Depending on the coins/money, the player needs to spend it wisely on runners by upgrading their perks. The player can try different strategies to make the runners run a larger distance. In conclusion, the more coins you spend, the more distance your runners run.
The game has a variety of characters and interesting conversations between them if you fail or reach a new location. The music is similar to the previous Temple Run games. Also, the graphics are nice and simulation is fun to watch. The game has various artifacts and collectibles that might interest the players.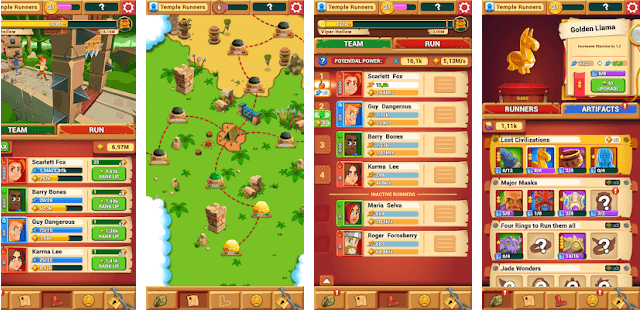 Temple Run: The Idol Game is available only on Android. Also, it is free on PlayStore and can be played offline. There are in-game purchases. The game is currently available only in few regions and it plans to expand more in the coming days. There are constant updates in the game to make the gameplay comfortable with the players. Moreover, the game might release in iOS soon. Give it a try if you like strategy or want to see a different approach in the Temple Run games.
---
Also Read: 5 Best Retro Games You Can Play On Your Mobile Phone