PANORAMIK GAMES LTD have come up with a new venture completely based on chess. Auto Battle Chess: Battle Royale is an RPG game that makes use of chess mechanics to make it fun and more challenging. Also, the game has different kind of modes and designs to give it an authentic feel.
Auto Battle Chess: Battle Royale is an online game that supports PvP and PvE mode. Concerning PvE, there is a whole campaign named "Journey". In this campaign, you can be part of an interesting story involving different worlds and quests. Also, the hero you choose has its storyline, ranks, and faction. You can choose over 100 heroes in this game. The heroes can be customized and upgraded. Also, character gear can also be crafted. You can combine different heroes to make a strong combination that can help you in winning.
Different types of competitive modes include PvP mode, Ranked Clashes, Guild Wars, and Battle Royale. Moreover, the game has quick matchmaking and the games that are played can last up to five minutes. This is done to ensure quick games and waiting time redundancy. Besides, the game offers bonuses to level up to get rewards and chess passes.
The game mechanics are conventional and less complicated. The auto battles are well organized. The idle quest system plays a great role in this game. The graphics are of high quality such that it can engage you in the battle for hours. Similarly, the characters/heroes are designed well. In addition, the music is in sync with the game, providing the player with a good experience. Most importantly, Auto Battle Chess: Battle Royale succeeds in designing a chess game that is both unique and fun to play.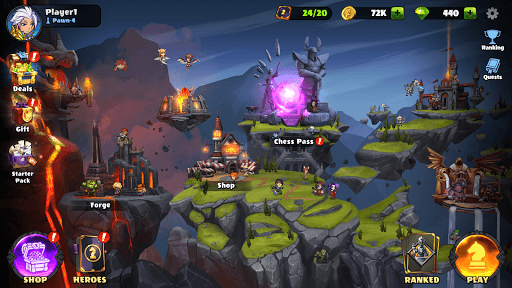 Auto Battle Chess: Battle Royale is available only on Android. It is free on PlayStore. Moreover, the game plans to offer updates in the upcoming weeks. There are in-game purchases. The game requires Android version 8.0 and up. In conclusion, if you are a fan of Strategy games with a mix of chess, do check out Auto Battle Chess: Battle Royale.
---
Also Read: Temple Run: The Idol Game – Released now on Android